For the first time in several years, my last trackday of the year was going to be in October instead of December, but seeing as I hadn`t been to Donington for a couple of years, I was keen to see how the car had improved since the last visit.
The Turbo had started making a lot more noise over the last few trackdays and a friend said it sounded like the recirculating blow off valve had failed. Whilst the `pssscchhh` noise might sound nice to some, it doesn`t do the turbo any good at all. I removed the valve from the turbo and the diaphragm had split (highlighted red in the photo). Fortunately I had a spare on my old turbo so I simply unbolted that and fitted it onto the car. A nice easy fix.
The passenger side rear wheel bearing had started rumbling at Cadwell but not enough to justify losing track time on the day so that was swapped over. Since I changed to the Polo 9N setup the wheel bearings are lasting for several years so I just buy the £22 ones from eBay and have a spare in the trailer. If it fails on a trackday I don`t need to swap the studs and can just use some bolts for the day but obviously the studs make changing the wheels far easier.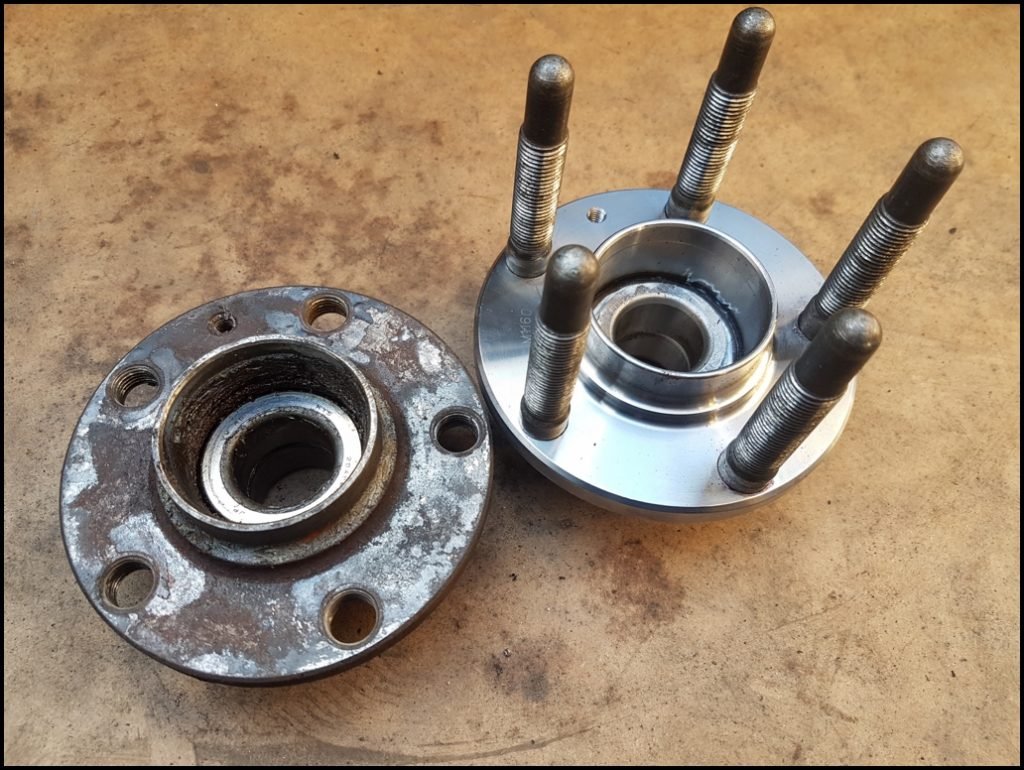 The final bit of work I needed to do was look at the brakes. From mid afternoon onwards at Cadwell the rear brakes had been either locking or not braking hard enough and I knew the pads were low. I didn`t realise quite how low until I removed them before fitting my spares… 
After a steady 1hr 45minute drive down the M1 to Donington it was time for signing on in one of the pit garages, shortly followed by the drivers briefing in the pitlane.
I may have been a bit keen to get out for the sighting laps…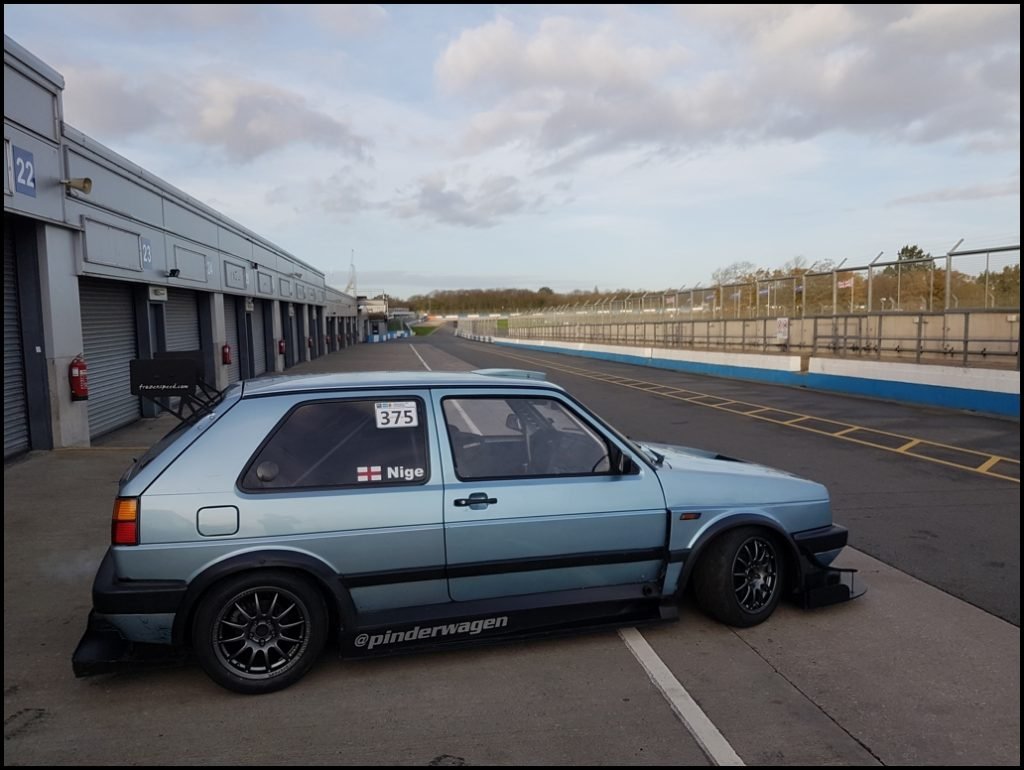 When the pitlane opened I went straight out and immediately noticed the front diff was just as bad as at Cadwell. It wasn`t locking at all and the inside wheel would spin up and push the car wide if I tried to get on the power as early as I was used to.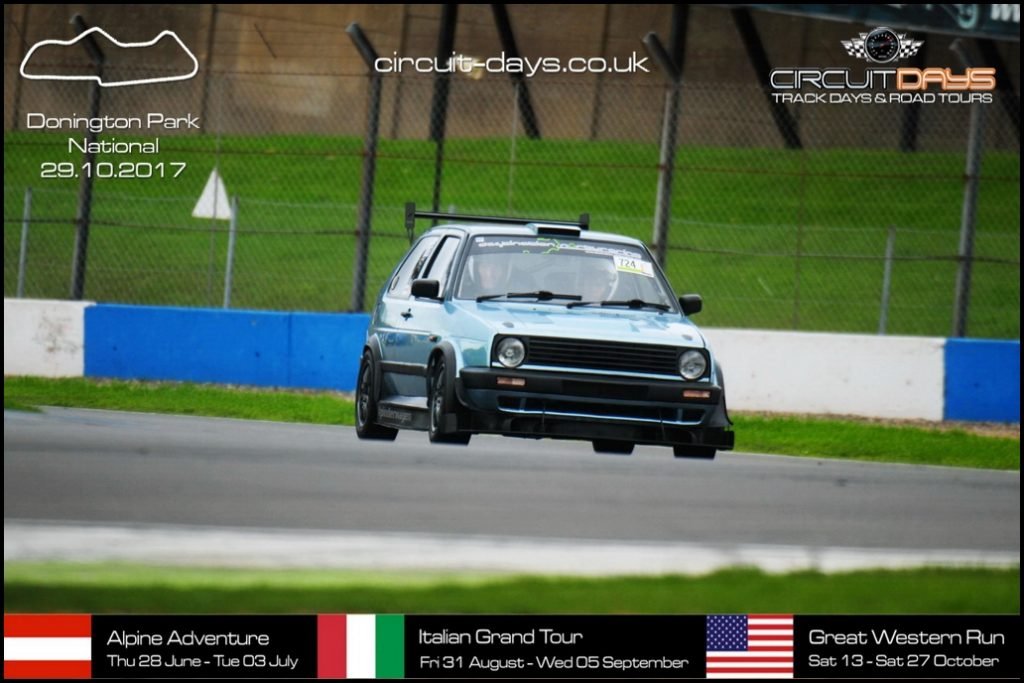 I came back into the pits and Oli asked if I had any suggestions for fixing his exhaust on his MX5. His flexi between the downpipe and exhaust had split on the first session and was leaking badly. 
"You need an empty tin can, go have a look over by the cafe"
 I could tell he didn`t really know why but fetched one anyway
He wandered off and came back with an empty baked bean tin. Gave it a quick rinse then Matt helped him cut the ends off then cut a slot down it.
Fortunately I carry a large selection of jubilee clips and they were able to use those and the tin as a temporary bandage to cover the Flexi. It lasted all day and he was able to get loads of laps in. Obviously replacing the Flexi once he was back home.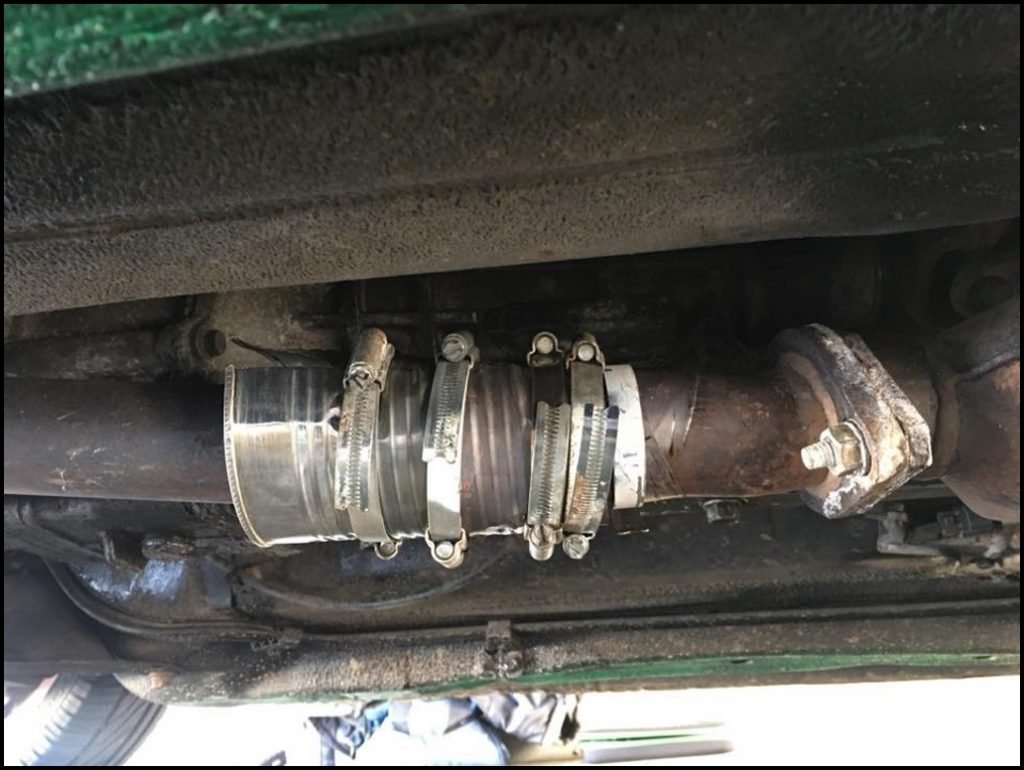 Before going back out, I had a word with the pitlane marshall to enquire about the driveby noise and how loud the Golf was, especially as the microphone is pretty close to the circuit here.
He radioed the control room and they asked me to go out for a few laps, keep away from other traffic but to rev it to redline on the start finish line to get an maximum reading. I went out for 4 laps, came back in and had a word with him and was delighted to be told it was only 88db Driveby 
. 
On the next session I had a huge lockup approaching the Old Hairpin. I had carried a load of speed through Craners and completely messed up my braking. Experience has taught me that I need to check the tyres after something like that and sure enough, it had gone straight through to the canvas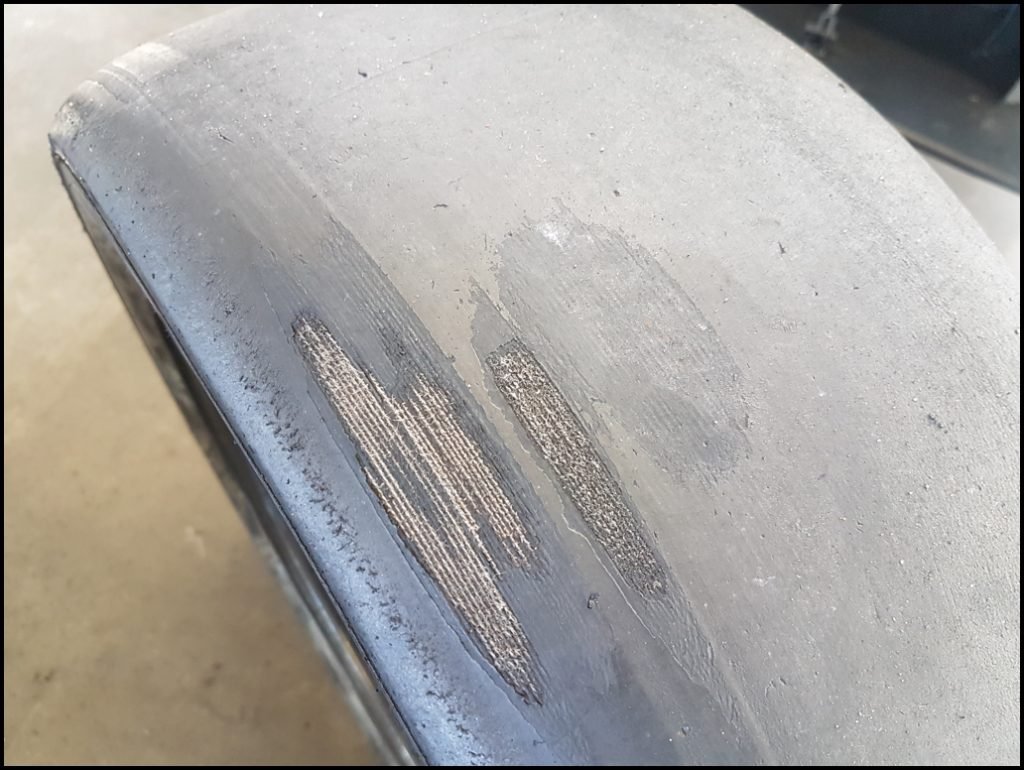 I had brought spare wheels, I knew those slicks were well worn and would probably need changing before the end of the day, but I thought they`d at least have lasted until lunchtime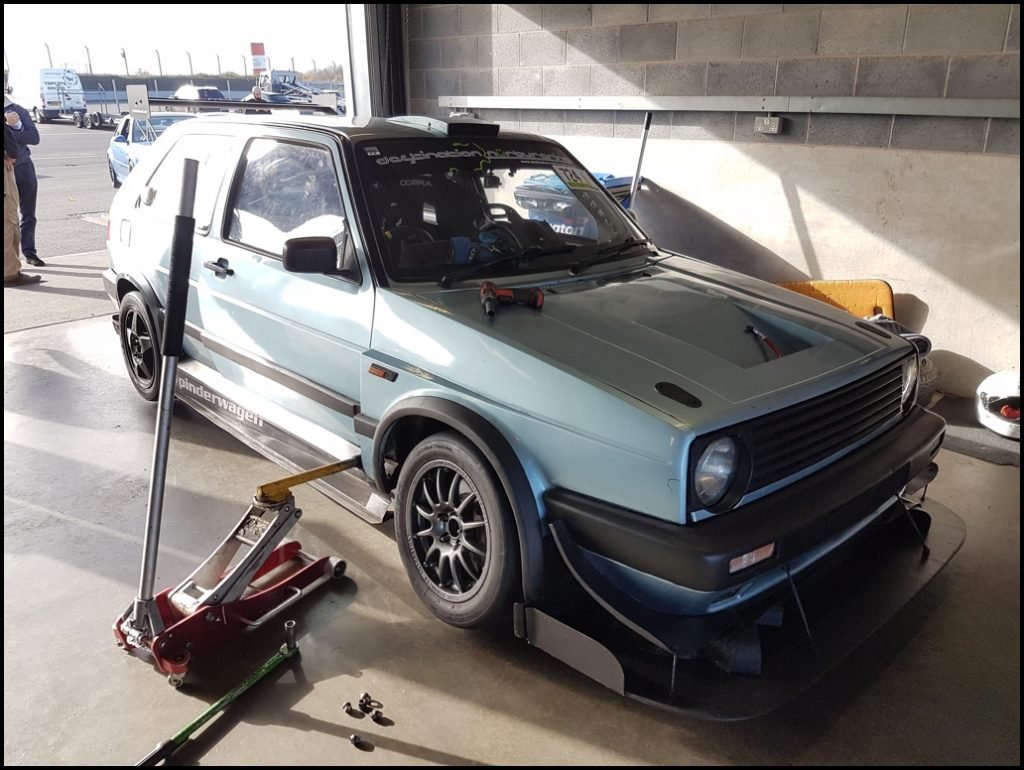 By now I was starting to understand how to drive around the Diff issue. Treating it like an open diff worked well and I just needed to carry less speed into the corners and wait longer before getting on the accelerator. It was frustrating out of some of the corners but it wasn`t the end of the world and I had to learn to be patient with my right foot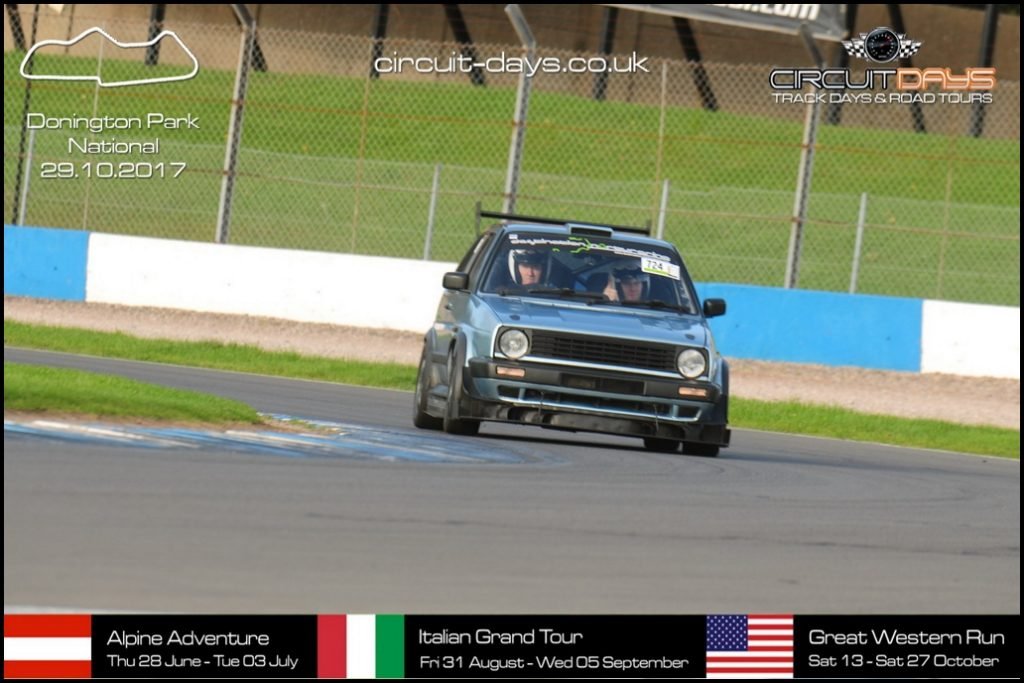 I then came across this Dean in his Megane and we had a great session together, I had the legs on him at high speed and was quicker through Craners but he had better traction and it meant that over the lap there wasn`t a great deal in it.
Pete was there with some mates in a Clio, we have spoken a lot about our cars (he`s building a Polo 1.8t with Aero) and he asked if I could take him out for a lap. You know me, I don`t need asking twice 
 I made sure I got my excuses in before we went out and told him that the diff wasn`t working, but he was more interested in how the Aero felt through the quicker corners anyway. We had a few clear runs through Craners and he was left in no doubt about the effectiveness of the Aero at high speed 
Lou came out for a session before lunch and as we exited the pits the Megane was just ahead. Followed him for a couple of laps then he let me past. A pretty clear session and Lou actually enjoyed it ! She doesn`t like following cars too closely so I avoid that and either drop back or overtake which she is happier about.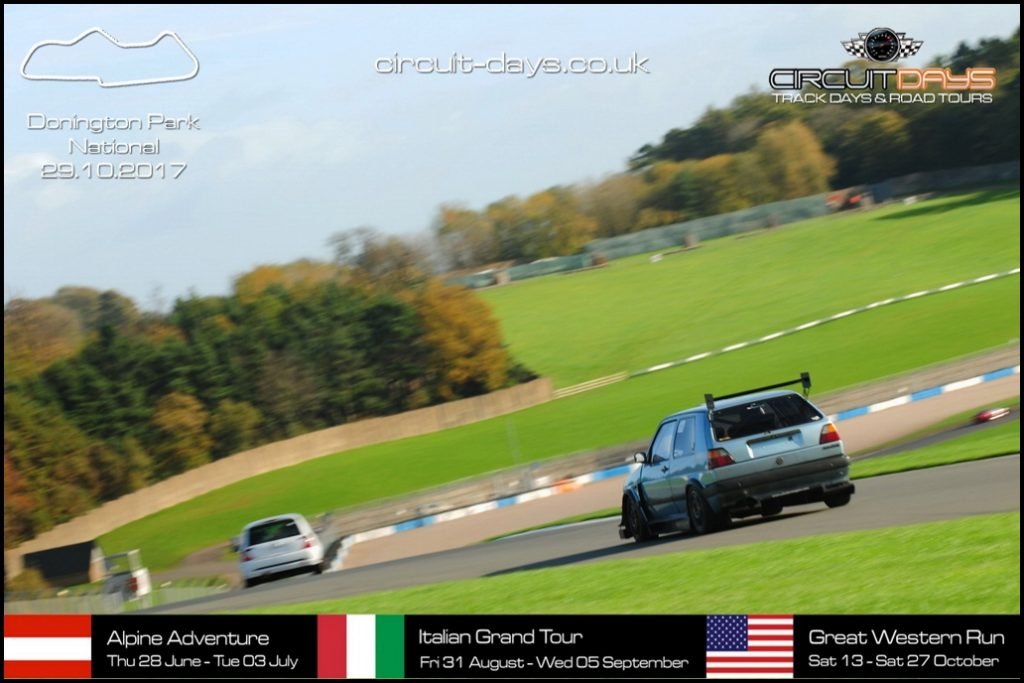 Lunch was an opportunity for a natter in the cafe whilst having a bite to eat and then topping up the fuel and ensuring the tyres were rotated to help finish them off evenly.
Back out and Steve had a break from instructing and jumped in the Golf to just sit and enjoy being a passenger for a session. Typically, whilst driving the boost dropped right off and the car simply wouldn`t accelerate. We tried watching the ecu parameters on the dash display to see if that would shed any light onto it, but we were struggling to see anything obvious.
If I kept it on part throttle it drove fine but was obviously slower, as soon as the revs approached 4,500 on full throttle it felt like it hit a wall and the acceleration stopped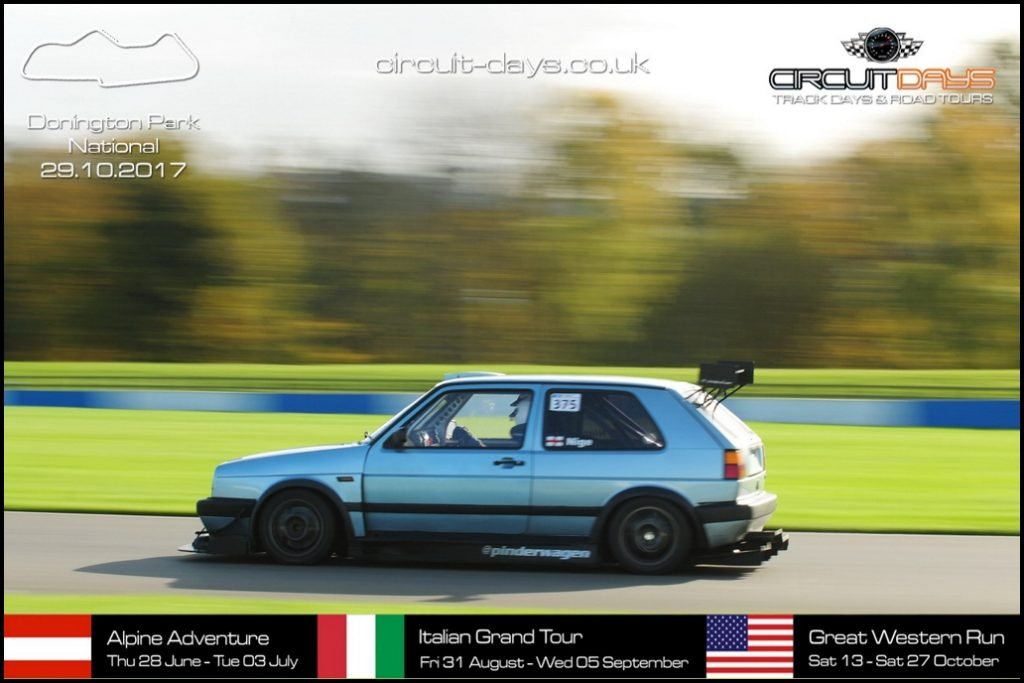 Back into the pits for a look and nothing appeared to be amiss and even though we spent some time checking the engine bay but couldn`t find anything. I went back out and it immediately did it again. This was no good. Was it something serious or were we missing a really obvious issue. 
While trying to diagnose the issue with the Golf, Lee was looking pretty fed up and the MX5 was on axle stands. Asked him what was wrong and he replied The lambda sensor has fallen out as the thread had failed on the sensor! It was far too noisy as there was a hole in the exhaust downpipe. It looked like it was day over 
Fortunately I had a spare wideband sensor in my spares package and I gave him that to fit and even though he wouldn`t have a lambda reading, it was good enough to fit and would seal the hole. To say he was happy after thinking the day was over would be an understatement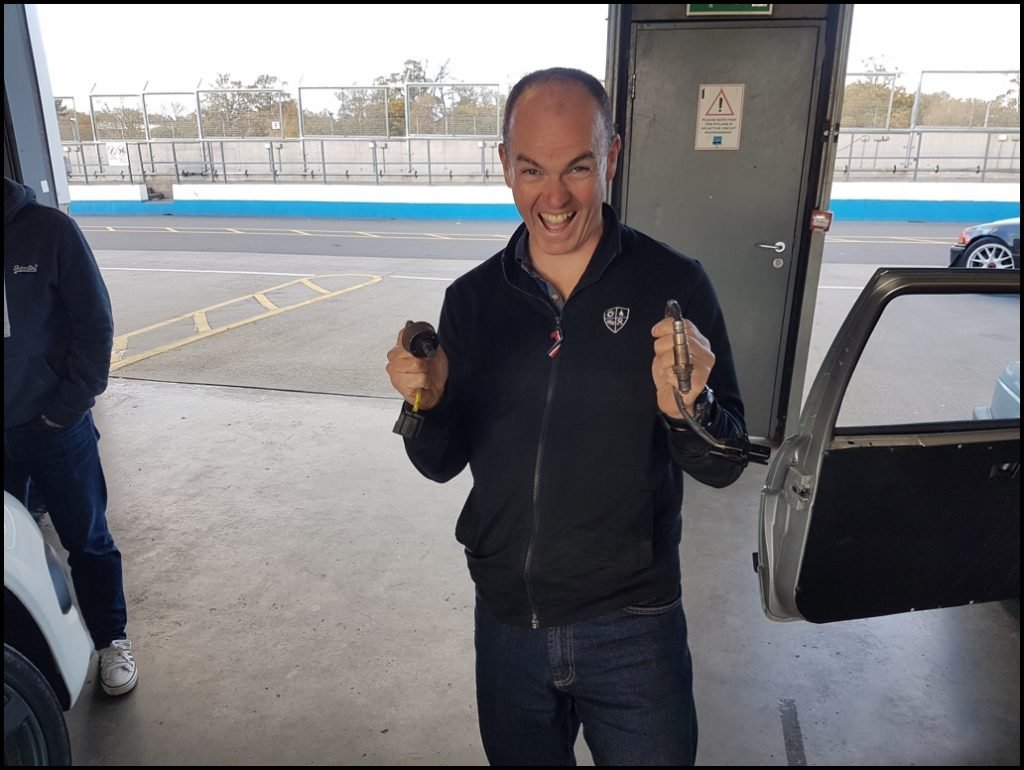 The Golf was still playing up so I asked Alex if he wouldn`t mind casting his eye over it. He owns DTA and he works with ECU`s every day. If anyone could spot an ECU or mapping issue, it was him.
After a drive around the paddock whilst datalogging to the laptop, we parked up and Alex had a look through the data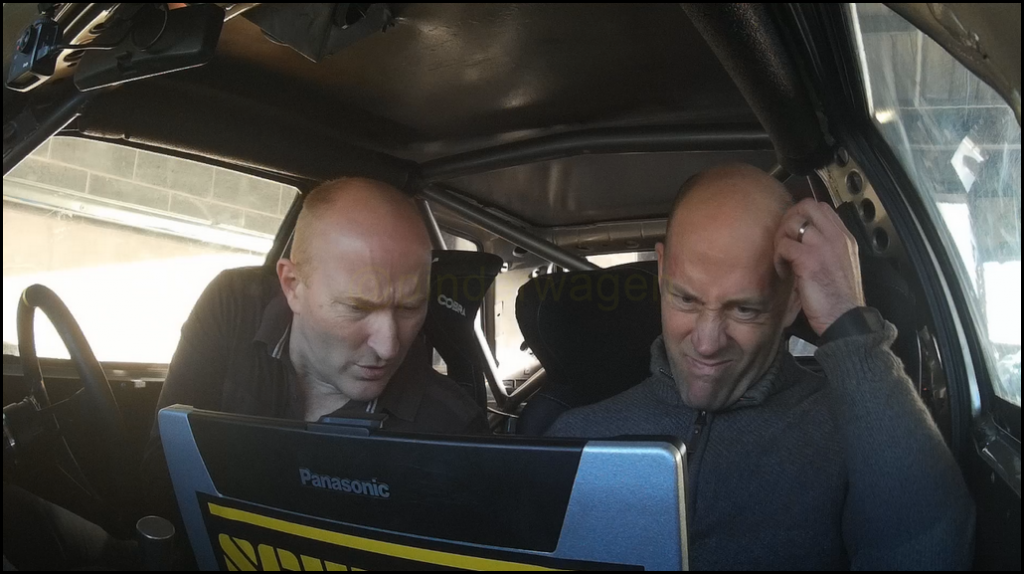 This was the data we were looking at and Alex suddenly said "I have seen this before, it`s an inlet issue, either the filter or feed is collapsing !.
 Look how the manifold pressure drops to negative even though you are at full throttle, the Turbo is pulling a vacuum of 0.12 Bar"
Sure enough, we found a problem in the inlet to the Turbo and after a few minutes it was fixed for the day. Alex rightly looks pleased with himself. It is one of those things where you look at the data and symptoms now and it is blindingly obvious what the problem was, but at the time when you haven`t taken a step back to think rationally you can often take longer to diagnose a fairly simple problem.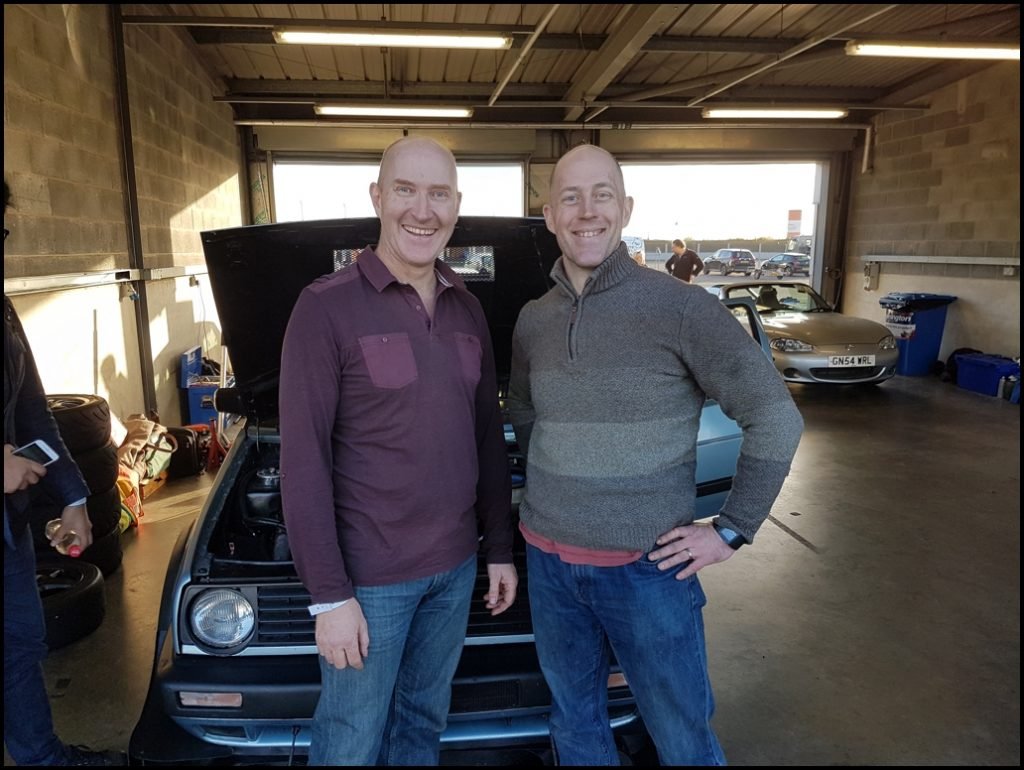 With a fixed car it was time to get lapping and Bex came out for a session. I thought she had been out before, we have known each other for years but for some reason these were her first laps in the Golf.
That smile never left her face for the entire session and she was grinning long after we had finished lapping. To get that reaction from someone after thinking the day could have been over was just what I needed and the issue was immediately forgotten.
The brakes do seem to take a bit of a hammering as you brake for the Old hairpin once you start carrying speed through Craners but since I uprated the brake ducting I have had far better pad life even under the harshest of conditions.  I still prefer the Performance Friction PF08 compound. The RS29`s are good but the feel and overall performance of them isn`t quite as good on my setup.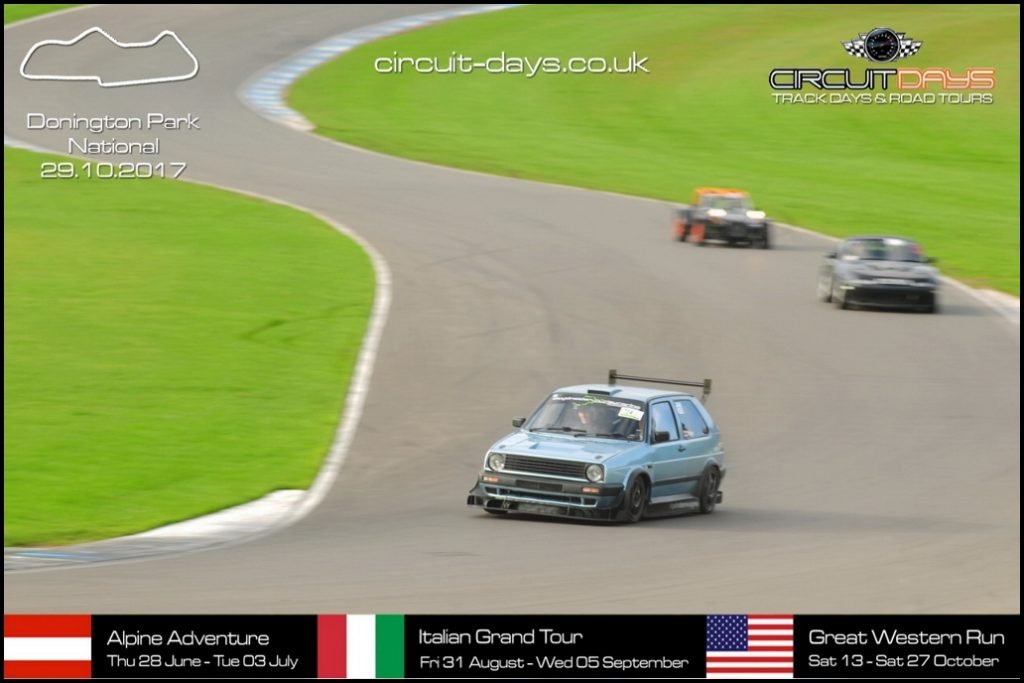 A rare Red Flag meant there was actually some queuing in the pitlane. Even then, the queue didn`t last long and you were able to come and go pretty much as you pleased and after a few minutes the queue had gone.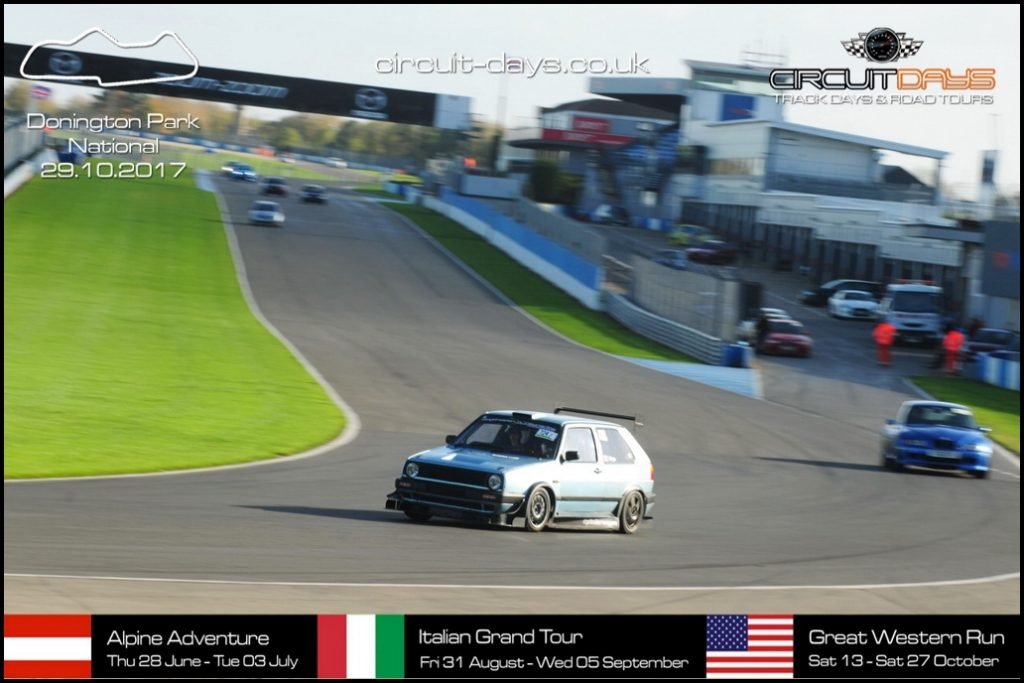 I finished off the day having done 200 miles even with the time lost with the intake problem. The Diff wasn`t working as a locking diff at all and I was having to drive round it but I knew I could sort that over the winter.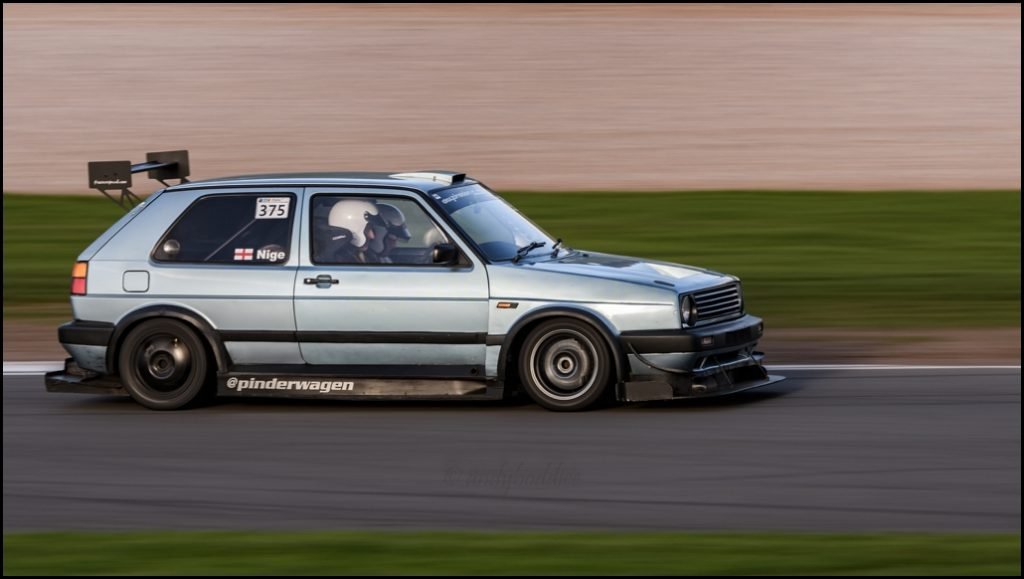 Being able to drive onto the trailer after a season of so many great trackdays made it all worthwhile. I know I could buy something newer, leave it stock and hopefully have fewer niggling issues but do you know what? I read back these trip reports at the end of the year and I am always amazed how few issues I actually had that stopped me driving. Things may wear our and cause issues but it is extremely rare that I can`t fix them and they end the driving. 
I`ve already stripped and rebuilt the diff and the reason it wasn`t working properly was quite simply because the internal clutch plates had worn out and broken ! 
They should have the internal tabs but if you look at the bottom one, the tabs have all broken off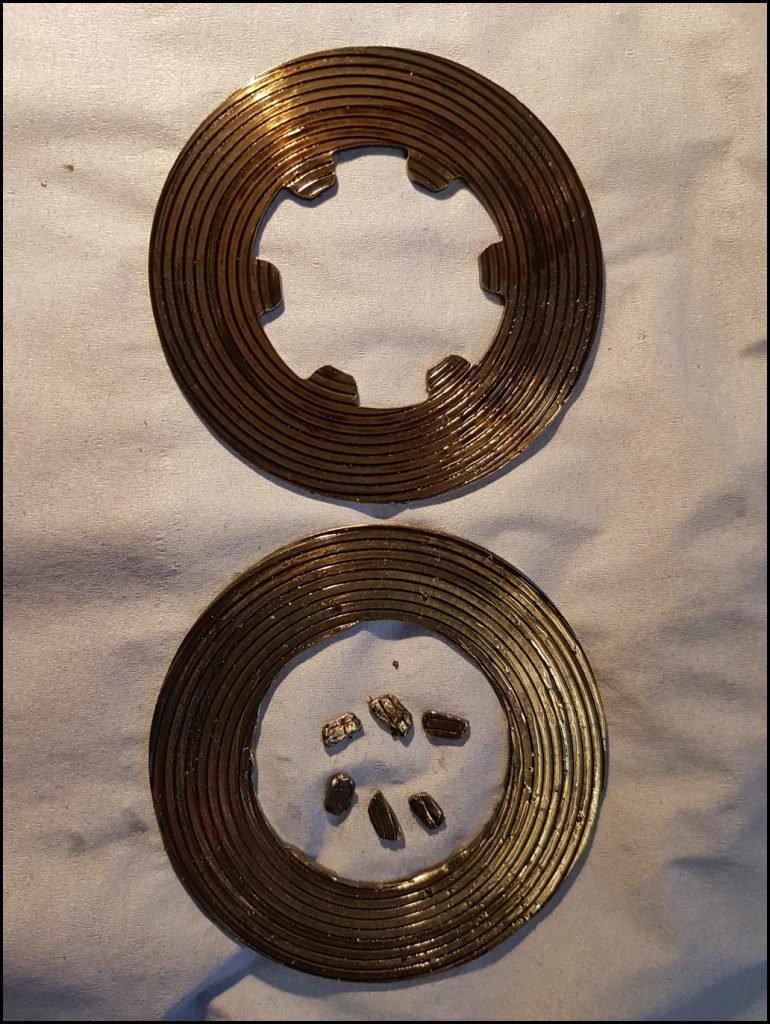 Once back home and unloaded I started the prep for the work I wanted to do over the winter.
In preparation for the inspection and checkup, I`ve removed all the Aero. It looks naked without it all 
The first trackday at Oulton highlighted a few electrical issues, so I rewired the ECU and fuseboard and since then the intermittent electrical gremlins never reappeared. The sill Jacking points have made changing wheels so much easier. I didn`t think such a simple thing would make a big difference, but with the flat floor and skirts it has made a huge improvement.
After fitting the new Cobra seats and Schroth harnesses I have found it much easier when swapping passengers. Not only are the seats incredibly comfortable but the harnesses make adjustment for different passengers a job that takes seconds instead of minutes.
After Rockingham I spent quite a lot of time measuring and correcting the Bumpsteer which really reduce the effect of kerbs on the steering. 
My first Nurburgring trackday of the year with Circuit Days wasn`t without issue. Once again I seem to have problems that nobody else experiences. I mean, who else has the wastegate arm snap off the Turbo !
My first wet Destination Nurburgring trackday was the first time driving the Golf after I had corrected the Roll Centre and it really made a noticeable improvement to the handling. It meant that even though it was a wet trackday, I was still able to get loads of enjoyable laps in.
A weird cam pulley slippage, after it hadn`t been touched meant an engine strip and rebuild was required. I didn`t want to run it in on a 2 day Ringmeister Prime exclusive trackday so I went to Cadwell with my wife and spent a day steadily building engine load and speed resulting in an engine that didn`t burn a drop of oil and made great power.
Next up was one of the most demanding 3 days I have ever booked. 2 days in the hottest weather I`ve ever experienced on a trackday at the Nurburgring for DN18 then straight up to BilsterBerg for an exclusive trackday the day after in similar conditions. The Golf was superb, no major mechanical issues and I was able to do 100`s of miles on 2 fabulous circuits.
Next up was my final visit to Cadwell Park of the year with a few mates for a completely issue free day.
I finished off with this Donington event and all that highlighted was the Diff requiring a rebuild and whilst I was at it, I removed the cylinder head for new valve guides as they were leaking a bit. I carried out some comprehensive porting and had the seats 3-angle cut and a 30 degree backcut on the valves. That will be covered in a post by itself in a week or so.
My first trackday of 2018 will be in early March and I am approaching the season with the highest level of optimism for the reliability and performance of the Golf for a long time. The abuse it took in the second half of 2017 with so few issues, proved that I am finally getting on top of all the little niggling issues you get when increasing the performance of a car as much as I have done.
People regularly ask me `whats next` and my reply is always the same. I know that carrying out this amount of development on a newer base would result in a car that is faster, but that isn`t what it is about. I don`t compete and my benchmark for performance is what I did last year and the year before. So long as I keep improving as a driver and the car doesn`t get any worse, there is no pressing need to `upgrade` by starting with something new.
That isn`t to say I`m not making plans…