I hadn`t planned on doing Cadwell again this year but when I saw a day advertised that was going to be attended by mostly VW / Audi cars and several people I knew were going, I decided to get myself booked on.
Even though it was 6 weeks since BilsterBerg I hadn`t done anything to the Golf apart from swap the brake pads side to side to even the wear and reduce tapering. Being able to park it up after a 3 day European trackday trip with nothing needing doing whatsoever makes for a very refreshing change and long may it continue… If that isn`t the kiss of death I don`t know what is 
I can drive across to Cadwell in a couple of hours so left home at 06:00 and had a clear run across. The forecast suggested it would be dry and warm and as dawn broke it looked like it was going to be a lovely day.
Unusually Matt or Cat weren`t attending and I had a spare passenger seat. Gav works at the same place as me and always asks how the Golf is doing. He reads every trip report and has driven 8 laps of the Nürburgring himself. I asked if he fancied tagging along seeing as he`d never actually been on a UK trackday. To say his reply was positive would be somewhat of an understatement !
We parked up, signed on and unloaded the Golf before the briefing. Gav was keen to help so he checked the wheelnuts were torqued correctly and set the cold tyre pressures to 24psi front and 25psi rear. They still need lowering after a session but it is a decent starting point.
Gav was keen to see how a trackday was run so after the briefing he came out with me for the sighting laps. The blind corners, gradients and narrow sections surprised him. I only used 50% throttle on the sighting laps, I wanted to save full throttle for afterwards…
I`ve done enough trackdays to know that avoiding the first 10 minutes isn`t always a bad idea on a full event so we checked over the Golf until the rush had died down and then went out to do a session.
The plan was to have the driver cam recording Gav`s face but the bloody thing didn`t work 
Out of the pits, nice and steady through Hall Bends and the hairpain, get a good exit out of Barn and once it was straight in 3rd I nailed it and pulled 4th. I could hear Gav start giggling from the passenger seat all the way down the main straight then he went very quiet as we went though Coppice and carried on laughing until we reached the Gooseneck 
 The rest of the session went without issue and I just built up speed talking to him all the time and explaining what I was doing.
We came back in and he simply couldn`t believe how quick the Golf was. He expected it to be quick in a straight line but wasn`t prepared for how urgent it felt and how it didn`t die off as I hit the redline. His face was a picture as I explained that was just the first session whilst I warmed everything up and we would end up going significantly quicker once the track dried up.
In his words "The sighting laps when you only tickled it round on half throttle… back into the pits, queuing for the first session and out on track… you tickled it through halls bends and through the hairpin you nailed it and I just giggled all the way round to gooseneck in absolute shock of the speed."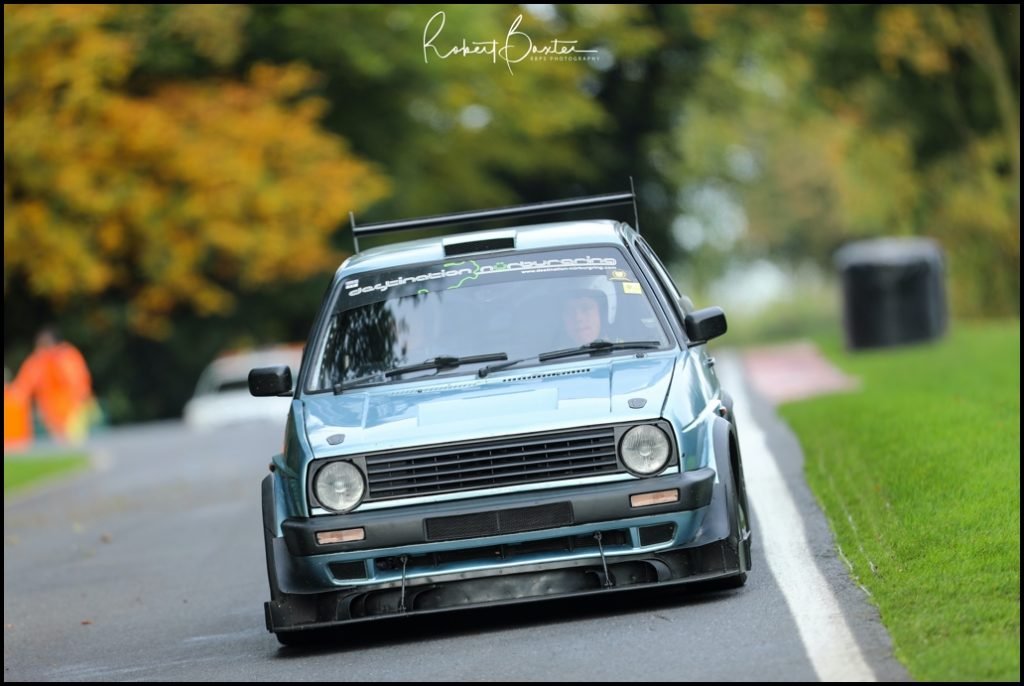 Checked tyre pressures and went straight back out. It was drying in places but still had a lot of damp patches to catch you out. Pace was increasing a little and Gav had a pretty good idea where the track went so I could explain what I was doing any why.
I was happily chatting away when I went into Park a little bit too hot with cold rear tyres and the rear stepped out and I ended up on the grass on the inside. No harm done apart from I stopped talking which is a good sign things are slightly amiss or if I`m trying harder than usual.
"When the back end came round due to the cold tyres how you suddenly stopped talking for a moment as you had to concentrate, but it still felt calm, composed and controlled from the passengers point of view."

Back into the paddock to give everything a once over but as expected, it was absolutely fine and all I had to show was some grass stuck to the splitter and skirt.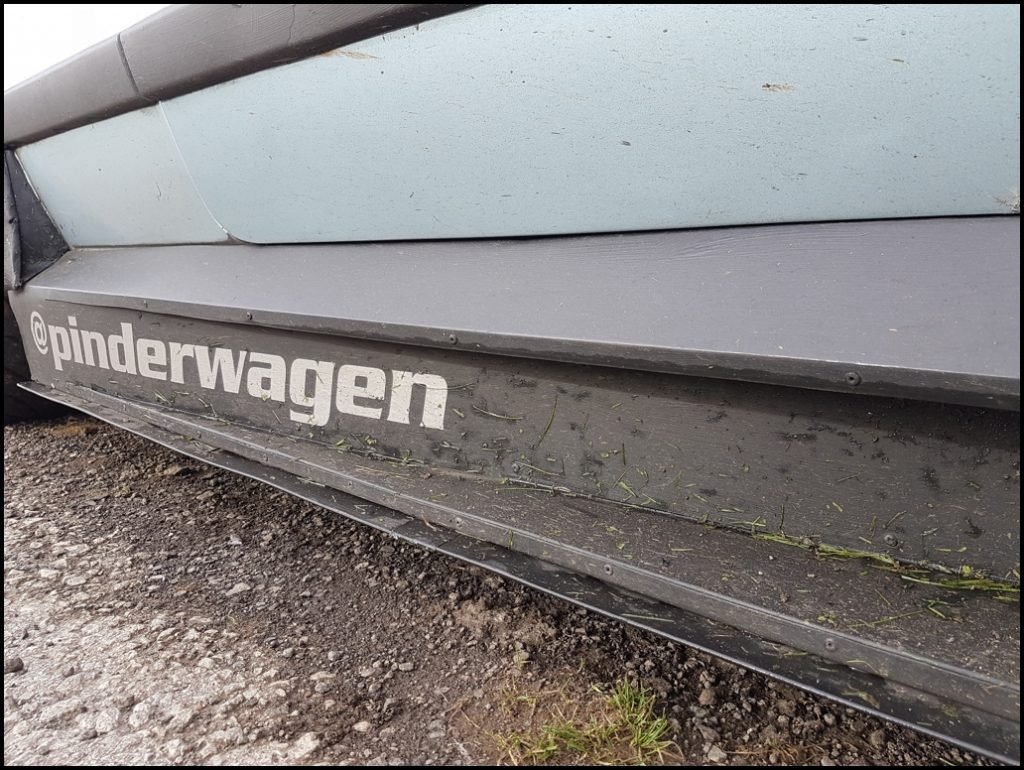 Wiped it down and went straight back out to enjoy the circuit now it was almost dry and the tyres were nearly up to temperature. When I saw Rob taking photos at Hall bends,  I just had to take some kerb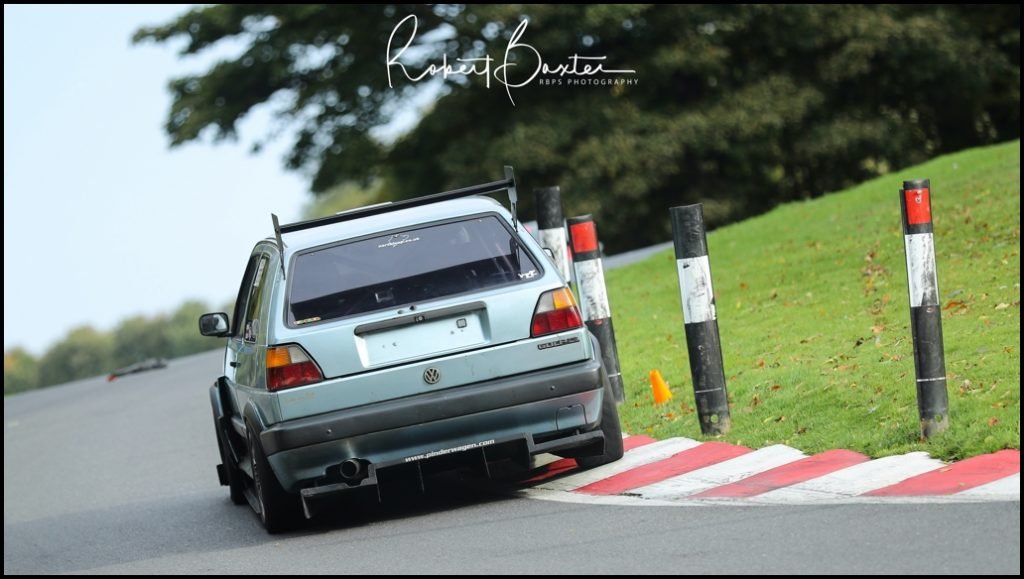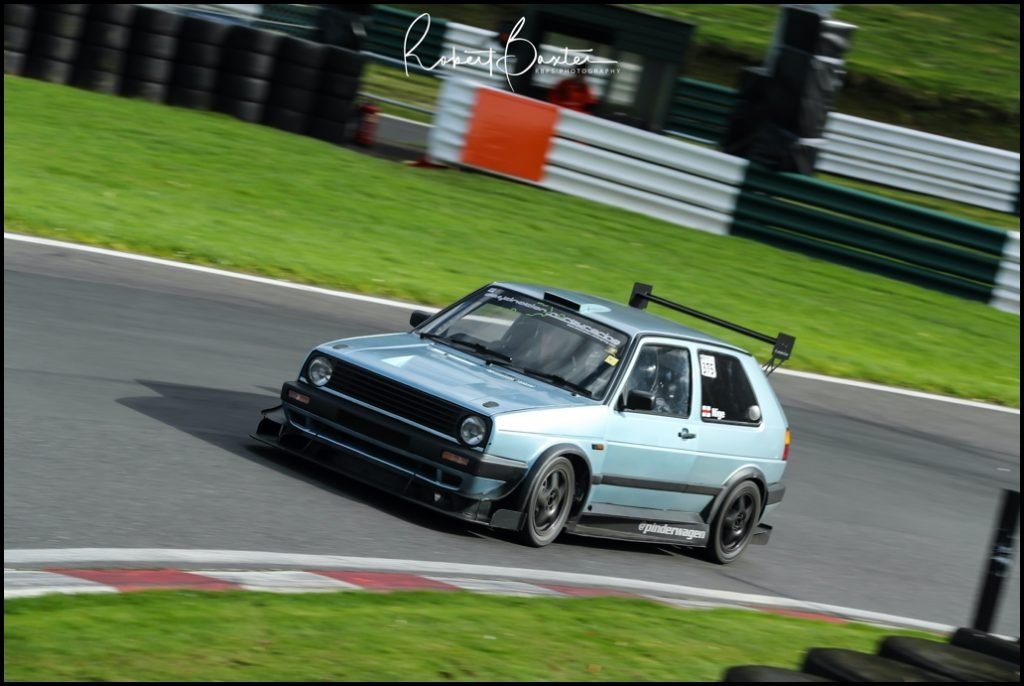 I was struggling out of the slower corners and my feeling from the Nürburgring and Bilsterberg was getting stronger. The plate diff clutches were wearing out and it was just spinning up the inside wheel. That was heating up the oil in the gearbox which in turn made the clutches slip more creating a vicious circle. I measured the gearbox oil after the session and it was up at 105°C and it was only mid morning.
Ram had seen my car from the outside but he is always keen to get into the passenger seat and we went out for a session. He noticed straight away the traction issue I was having with the diff underperforming but I was driving accordingly and it just meant I had to wait before I could get on the power and wasn`t able to use the diff to pull me through the corners. I don`t see Ram as often as I`d like to, not only was it great to catch up be we had some great laps and hopefully they helped his motivation to progress his MK2…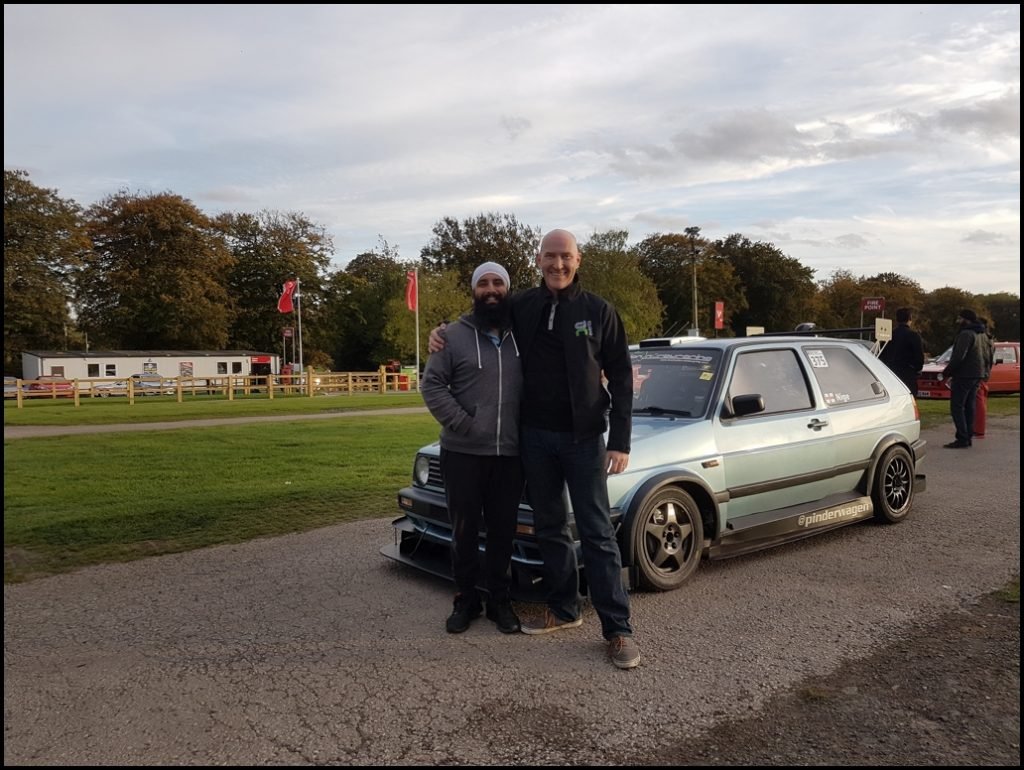 Dave was there with his MK2 on Throttle Bodies and that`s something I miss with the Turbo, that howl of the ITB`s on full throttle and the immediate response which makes them so good to drive. Andrew took it out for a lap and I followed to get some footage for him.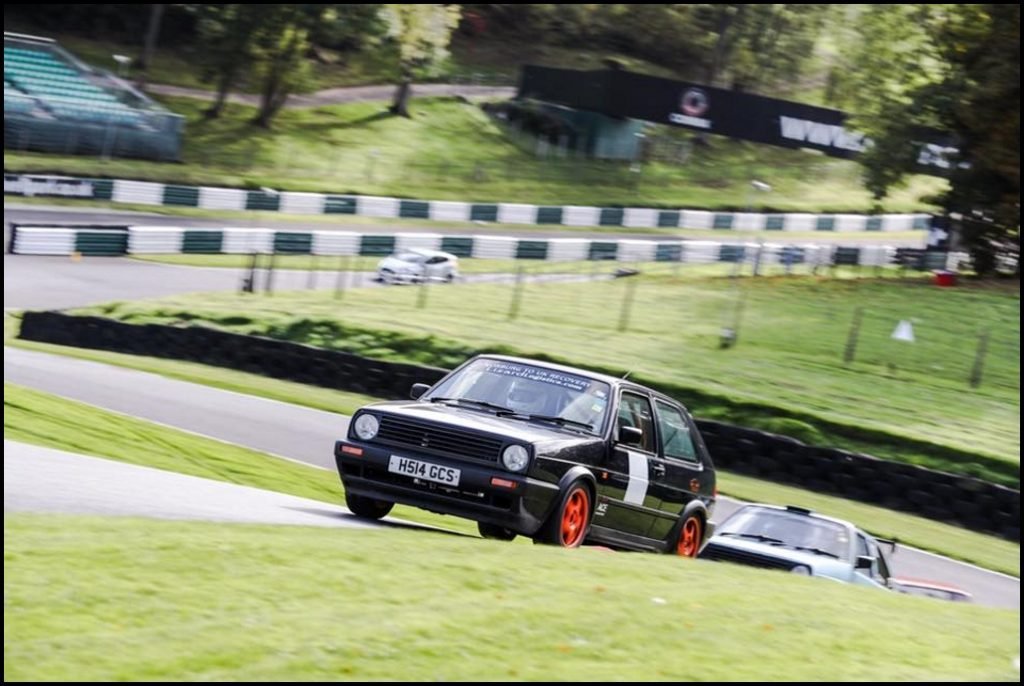 This actually brought home to me just how much my car has developed over the last 4 years. Looking at some old videos from Cadwell and the pace Andrew was driving was very similar to what I used to do with ITB`s, Quaife and no Aero. Seeing at how easily I can sit behind him now highlighted just how much mine has moved on 
The main reason I attended this day is because Gurds was there in his MK1. For those who haven`t seen it before, it is a very similar spec to mine, we have both followed roughly the same development paths and regularly talk in great detail about the cars and our plans for them and often bounce ideas off each other.
His engine is higher spec than mine, but is still a homebuilt ABF with tubular manifold but he has a much faster spooling and more efficient Borg Warner EFR 6258 Turbo compared to my old TD04-19T I picked up from an old Volvo. My Aero is much more developed and it is journey he`s just starting on his MK1.
"Sahib, do you want to come out with me and Ram can go with Gurds and we can follow each other for a few laps ?" 
Before I knew what was going on, he had strapped himself in and was ready to go. 
It was some of the most fun I`ve had on track for a very very long time. Whilst I enjoy following other cars at the Ring, this was different. I`m not sure if it is because both cars are pretty similar in strengths and weaknesses or not but we both felt the same. Gurds has very similar straight line performance with 0.1Bar less than me. That is almost all down to the more efficient turbo he has. If he ran 1.3Bar which I sometimes do with the wheel mounted button, then the gap would be even larger as my turbo is really struggling at that sort of throughput.
He had the legs on me out of the corners where I just couldn`t get the power down as well as he could but in the faster corners I closed up.
Back in the carpark and we spent quite some time discussing the session.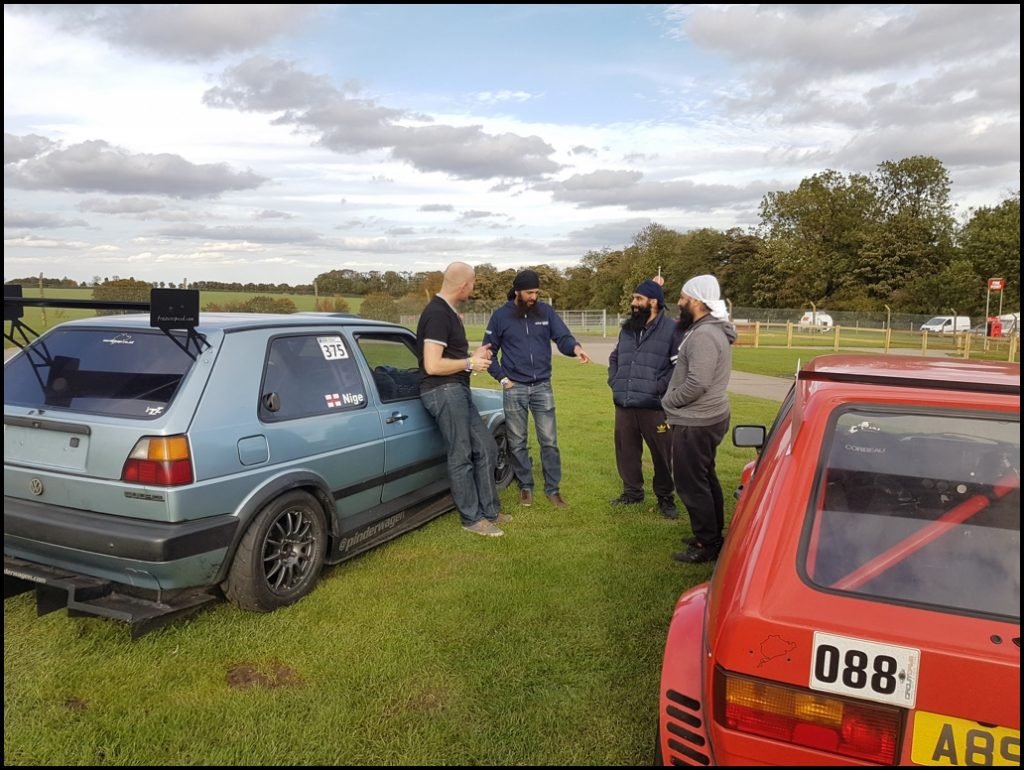 Happy? We most certainly were 
We regularly discuss driving each others cars but just never get round to it on the rare occasions we are on track together. Both cars were running really well, Gav was off getting a passenger lap with someone else so I wandered up to Gurds and held out the keys to the MK2. 
Is his own words.
Driving the Pinderwagen

I was startled as Nige stood there holding out the keys to the Pinderwagen. "Drive it Gurds, we've spoken about this a number of times" was what Nige said. Erm, ok let's go!

Strapped in we headed out. Nige likes the controls setup differently to what I'm used to. I found the steering wheel too close and the pedals a bit far away for my liking but meh, I could live with that. What I did have trouble with was the hypersensitive brake pedal. Nige is used to driving like this an must have a light touch now but for me it was impossible to heel and toe without slamming on the brake pedal. So I opted for basic down changes instead. I drove at a slow pace to take in the feel of the chassis and steering to acclimatise myself before building speed and I'm glad I did as the dead spot in the steering when changing direction took some getting used to also. All these things don't actually hinder the performance of the car however, they just need taking account of when driving faster.

A couple of laps in, I started to up the speed and explore what this car is about – Aero. The ability to change direction at speed felt comfortable and stable with fast sections of Cadwell Park taken in its stride. There was no edgy nervousness or movement and placing the car accurately at speed wasn`t difficult. The biggest difference between the Pinderwagen and my own Mk1 Golf is feedback. In Nige's car I could feel what the tyres were doing, how much the chassis was loaded up and even predict what the car was likely to do next more than in my own car. I have noticed this before when driving MK2 and newer chassis in other experiences too but didn't expect it as much on a heavily Aero developed car with stiff springs. However, this feedback actually made the car easier to drive if that makes sense and the car flowed and encouraged the driver to push on.

Power delivery was smooth and linear as expected given Nige's approach on boost delivery however there was more noticeable lag between gear changes and mid corner throttle transitions which is of no surprise given the type of turbo being used. Not a huge consequence but it meant some pre-emptive throttle application rather than reactive prods like I can manage on my own setup. Nige urged that I tried out the push to pass button on the steering wheel which gave a welcome extra push on the straights.

The whole point of this exercise was to get a feel of what the car was about, not set any records, so with that in mind, we pitted. After a good chat I thanked Nige and handed over the keys to my Mk1 Golf….
After that he passed me the keys to his MK1 with the warning "Nige, you`ve never driven with a pedal box before and you need to push the brake pedal hard, especially after you are so used to lightly breathing on yours to brake…"
Driving to the circuit and I knew what he meant, they felt so lacking in feel at low speeds and the steering was far sharper than mine. I know my front Geo isn`t quite right, there is a horrible dead spot on mine which wasn`t there on the MK1 at all.
Out of the pits and through Hall Bends, the gear ratios were shorter than mine as he has the 6 speed but it wasn`t the hindrance I thought it would be. The brakes were going to take some getting used to but they were actually giving very detailed feedback through the pedal although I struggled to heel&toe simply because I wasn`t used to the pedal pressure required. I can see that once used to that, H&T will be very natural with this setup.
Then I accelerated down the start finish straight going through the gear and wow, what a difference. I`ve tweaked my ECU to give the best response after a gearchange and even though Gurds is running the same ECU, his Turbo spools so much faster. I couldn`t believe how quickly it reached target boost after a gearchange and it felt much more responsive as a result. Mid corner throttle modulation was easier too, the improved response of the Borg Warner was far more noticeable than I expected. 
After a couple of laps he asked how I was doing.
"I`ll be honest Gurds, I am really struggling to feel what the tyres are doing. You have more mechanical grip that I do and with your diff working properly it really highlights than mine needs new plates. I`m just tuning into corners at a speed I expect to be able to go and then reacting if the car starts moving around rather than feeling it through the steering wheel and the seat of my pants. The car is really really good apart from the feedback from the tyres is different to mine and I don`t know if it`s me just not having the feel necessary or how I am driving it. It isn`t what I expected and I don`t know what I`m doing wrong" 
When we parked up he explained it was something he had felt before when driving other MK2`s. For reasons neither of us can understand, they just seem to give more feedback compared to his MK1. Even now, many weeks after the trackday after several discussions about it we are none the wiser.
Don`t read that and think I didn`t enjoy driving it. I most certainly did  
Gurds and I have spent many years getting the cars to where they are now and I fully appreciate the faith he showed in letting me drive. I know how he felt because I felt the same when he was driving mine.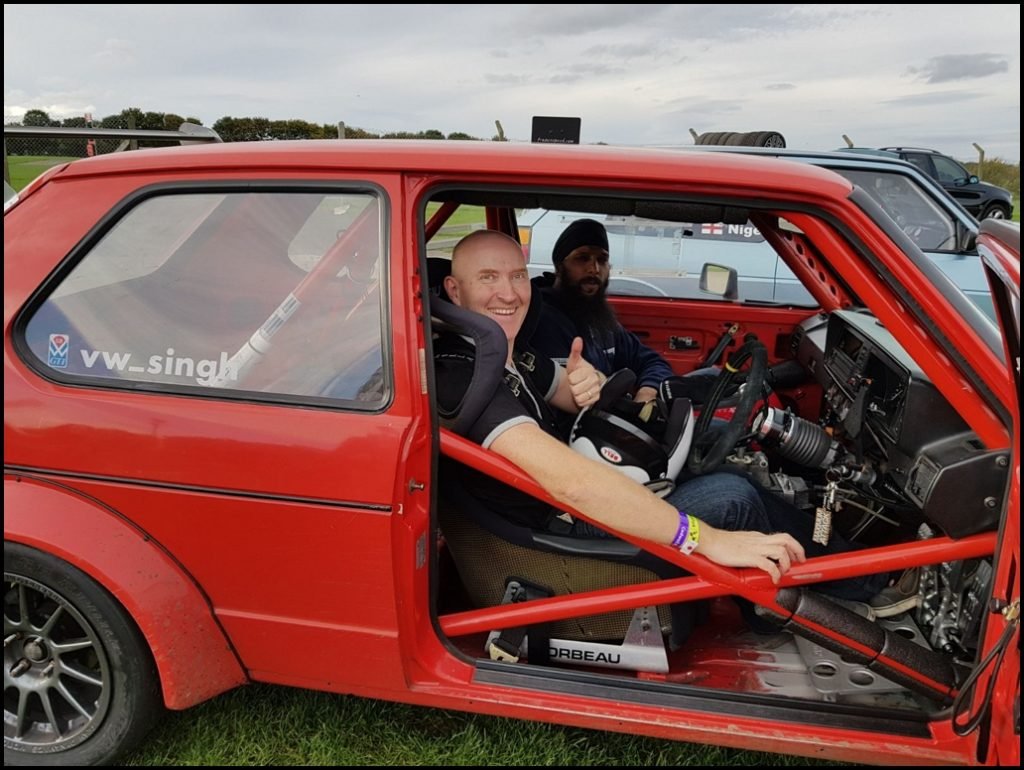 Took Ste out for a session. Tried to be consistent and accurate so he had time to appreciate what the car was doing rather than every lap being different. Consistency is something I always strive for and it means when I do try something new I can tell if it works or not but it also means it can take me longer to unlearn a bad habit once it has been pointed out to me.
After stripping 5th at the Nürburgring I was aware of the shock loading through the front wheels going over the mountain so always feathered a fraction over the crest. I never managed to get airborne, I`m sure I was quick enough, it was the Aero that kept it on the tarmac.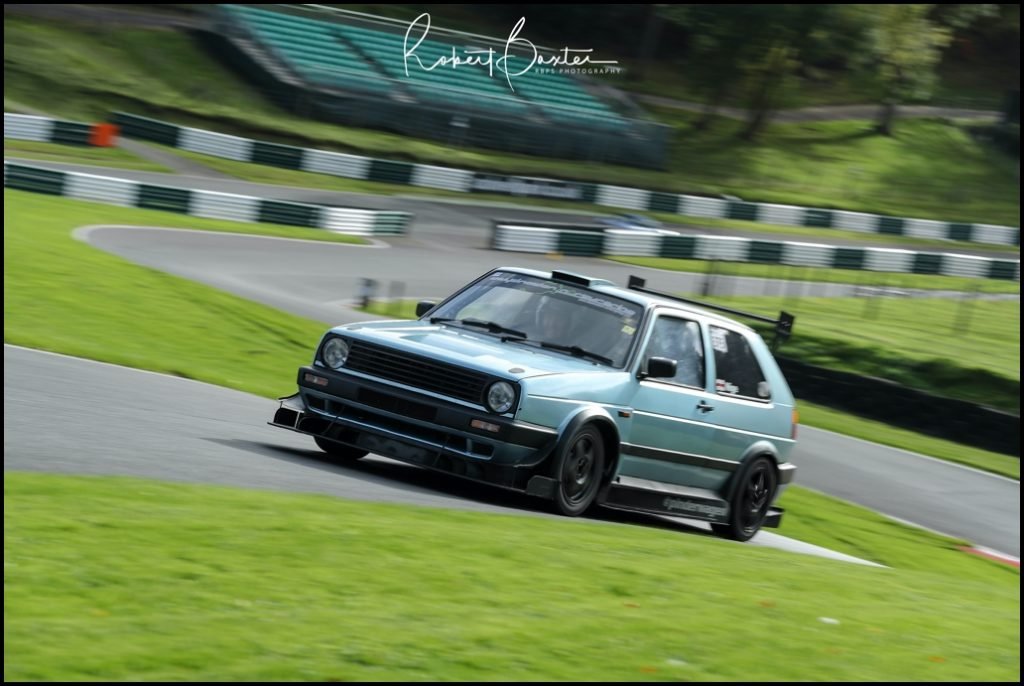 Exiting onto Park and I was using all the available track but being careful to keep off the grass that was still damp and very slippery. I`ve seen enough videos of how quick things go wrong if you get onto the grass there to make sure I didn`t do it myself.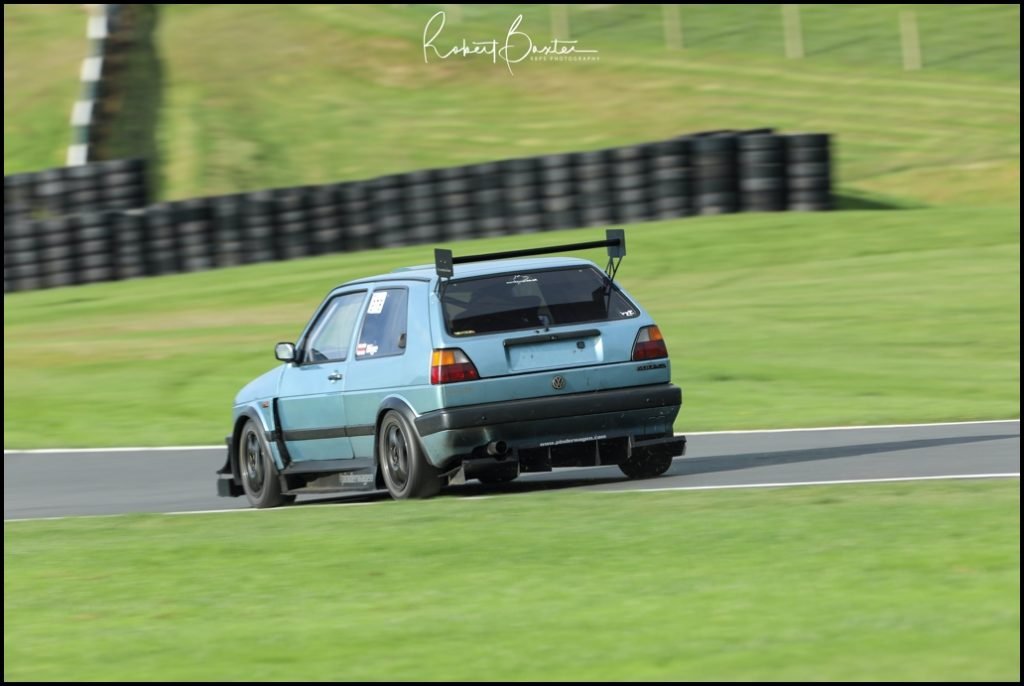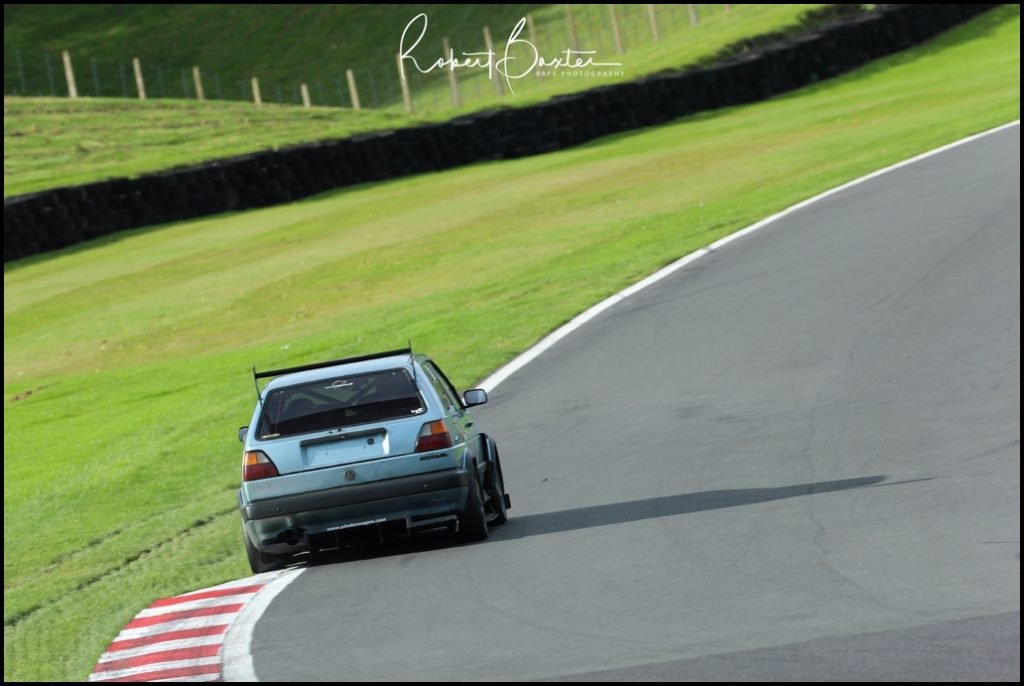 I was also running pretty close to the floppies through the gooseneck.
So close that they scuffed the front wing .
Taks was out in his very tidy MK2 R32 and it sounded fantastic.

By now I was really able to tell the diff wasn`t locking and checking the case temperature with the Infrared gun showed why. When the oil was 105°C, the ir gun showed the case at 95 so this meant the oil was running somewhere around 125 which is far too much for the oil I`m using. I`ve since fitted a pump and cooler from a 200SX and that made quite a difference. Once the clutch plates are replaced it should help keep the temperature of the diff oil well under control.
The only issue I'm suffering with is the gearbox oil is hitting 125°C which is far too high. Once it gets over 100 the plate diff starts to open up and spin the inside wheel which was starting to happen near the end of the day.
I do need to drive it more aggressively now compared to the Quaife, but I still try to be smooth. Which may sound like a contradiction but I'm still very calm behind the wheel and just driving purposefully in a different style to before. This characteristic of the plate differential is something that took me a while to understand but I am very happy with it now.
I don't mind the car moving around and when the rear wheel tyres were cold it certainly moved around a lot. Where I differ to the racers is that I try not to drive in that manner but they encourage it
Next to jump in the passenger seat was Eddie. He was there in his n/a ABF and last came out with me at Snetterton last year. I had just fitted an old par of slicks to the rear and they were a little wayward for several laps until I managed to get some heat into them. Whilst I don`t actively encourage the rear to move around I am pretty comfortable when it does and it helped with the diff as I was able to square up the corner exits and get on the power that little bit sooner.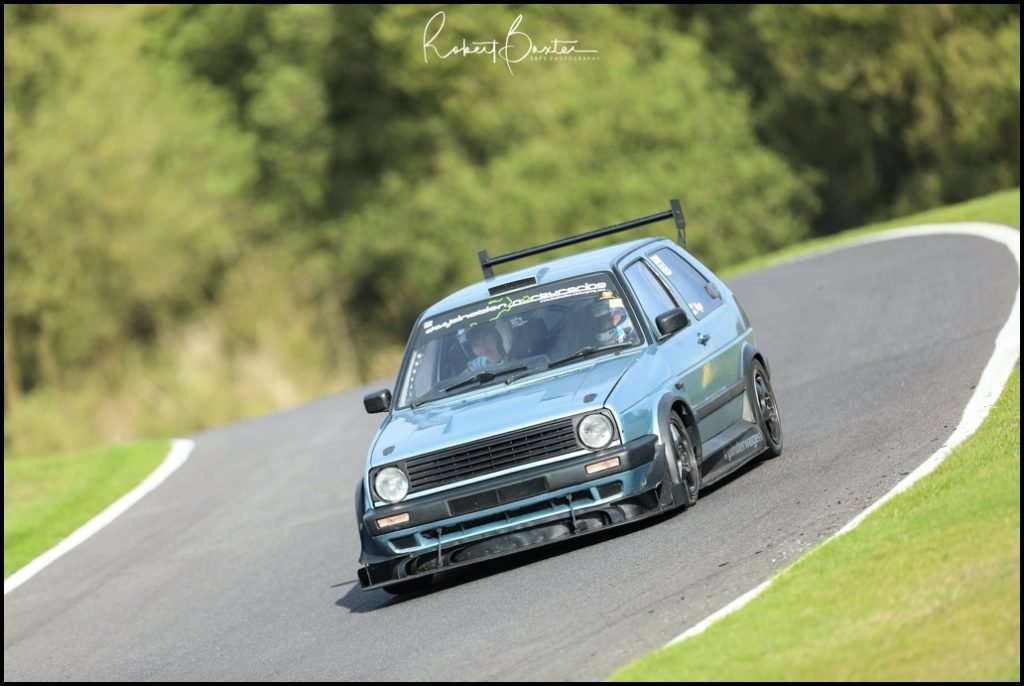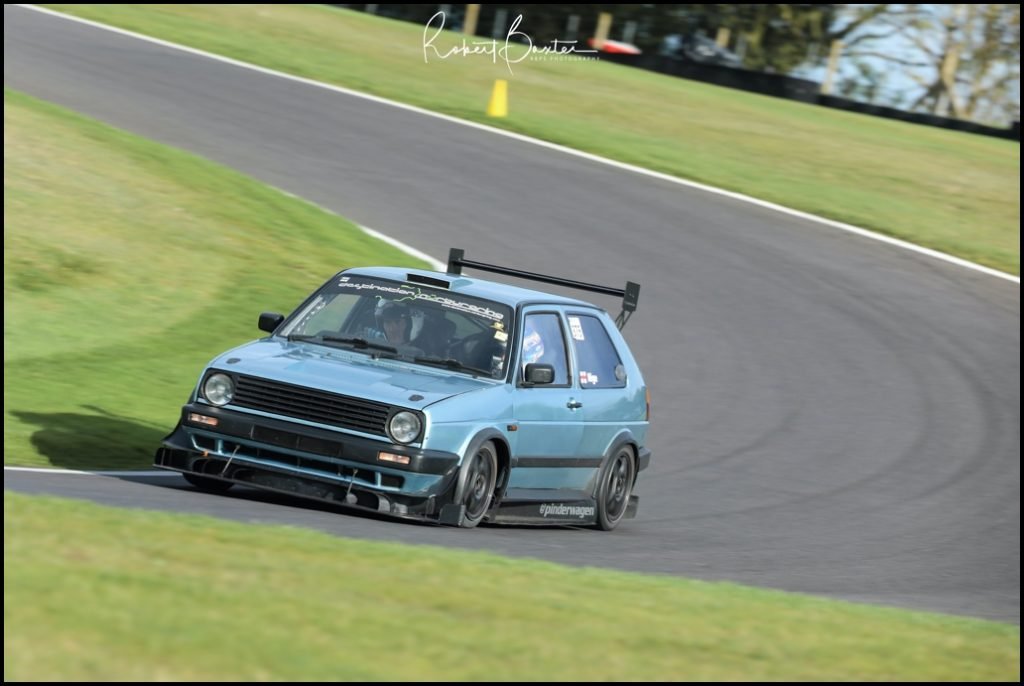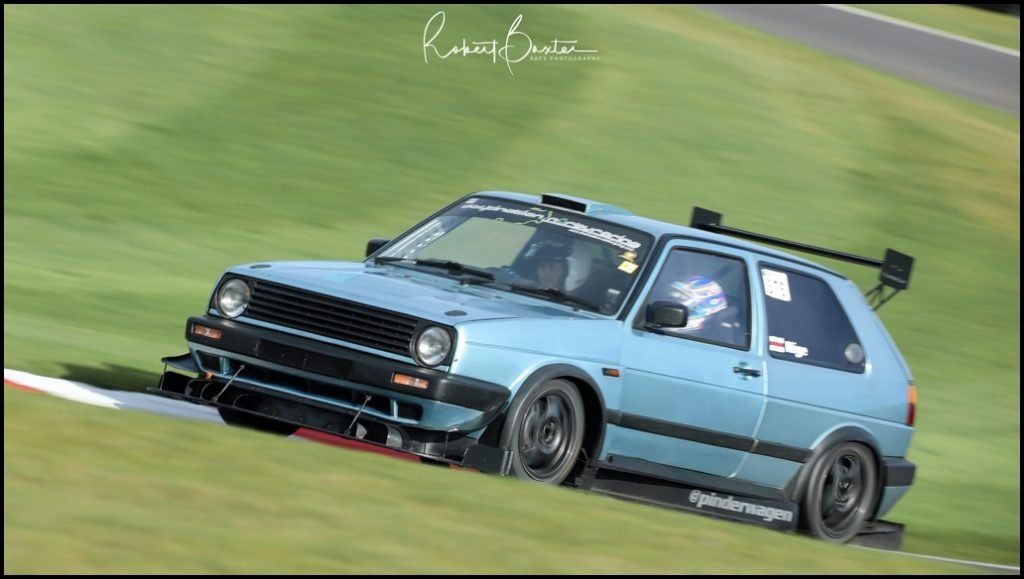 I think it is fair to say he enjoyed the laps.
"I realised you were in your element as the lines were tight and all clip points were targeted with precision. My racing friends say your fastest lap is when you are at your calmest and for me you were making rapid progress, with the car just gliding around any corner! You were concentrating on what was going on so I stayed quiet to allow you to drive the thing without distraction.

When you did speak to ask if I was happy for another lap as we powered out of Hairpin towards Barn, as I was learning the lines myself, was happy to go around again.
From the passenger seat and as someone who spends a lot of time, regularly tuning all types of engines with det cans, AFR measurements and my butt feel sensing what is going on, your car felt much angrier out of corners than my last passenger ride at Snetterton, where boost/torque/axle effort appeared to be controlled more gradually. In my opinion there is definitely more urgency from your lowest observed engine speed of 4000 rpm to 7200 rpm as the turbo boost comes in. I did not watch other gauges as I was listening to the engine.
I have also observed you have also perfected the art of pressing the "hi" boost button to increase pace at the right time.

Massive grip at at the end of the straight towards Coppice, with corner speeds approaching an indicated 115mph as you carried a great percentage of this speed towards Charles, where the car just seemed to defy normal grip levels as you turned into Park Straight.
Also significant pace and grip around Chris Curve into the Gooseneck, with a managed change of direction into Mansfield. In fact that manoeuvre taught me a lot that I was doing wrong.

The rear of the car on the outing was loose with the slicks and you used that to your advantage to steer around bends the car even at speed. Seemed in full control just before the hill (slow speeds little aero effect) when the back threatened to come around.

While you are still 100% calm at the wheel, you do drive with a bit more vigor, which you described as being down to having to adapt to the plate diff.

100% enjoyed that drive and glad I delayed my journey to York to experience what you car is like now. "
Gav couldn`t get the daft grin off his face. He had been taken out by a lot of people and for that I am very thankful.He was absolutely buzzing on the way home and kept saying what a nice bunch of people were there and how welcoming everyone was.
I was particularly keen to get him out in a stock handling MK2 and afterwards he understood why. He didn`t really have a reference point to my car and until going out in something else, he thought they were all like that. Afterwards he explain he finally understood what I kept talking about. The car didn`t feel boosted and I often mention it but he said he didn`t fully appreciate how it felt until sitting in the car himself. The confidence in the car at high speed is something I always mention but he thought it was normal until he had been out in the MK2 or Alex`s stock MX5. That is when he realised just how different mine was and how big a difference the Aero made compared to a standard car.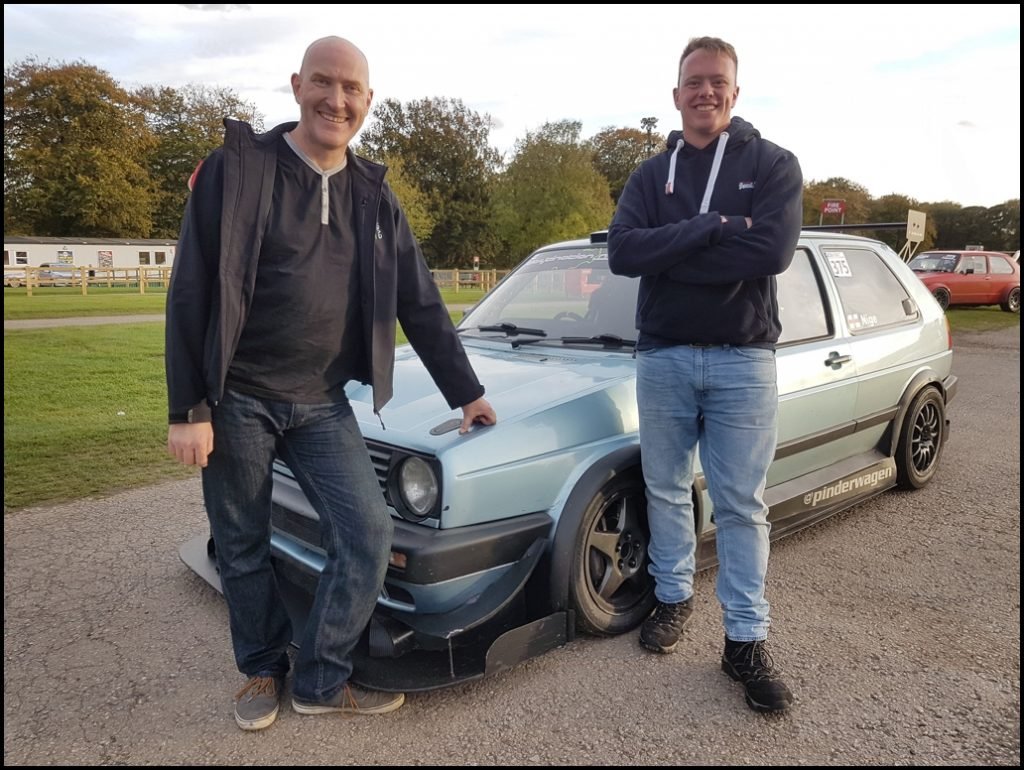 He summed up his thoughts afterwards for me.
How stable the car is and how much feedback it gives you, it felt like each wheel was independent and how it get when the wheel was under load or spinning up. As a passenger you could fee what each wheel was doing.

The power down the main straight was ridiculous with the boost button, made small work of some very capable cars.

Out of all the other cars I was lucky enough to get a passenger lap in, it was by far the comfiest and the most secure. As soon as you were belted in you instantly felt secure but also very comfortable.

The turn in speed and speed carried through coppice took a few laps for my brain to catch up with… at first I was sure we would go straight on but no we went round like it was on rails and as your confidence grew there was no drama the golf made very little work of the corner.

How the aero work is so intricate the golf looks so much more impressive in the flesh, pictures do not do it justice. Even at the end of the day I was noticing parts of the Golf I hadn't seen before.

I had to constantly remind myself that this was a turbo powered car not naturally aspirated, there was pretty much zero lag and the power delivery was so smooth that you couldn't feel it was a forced induction engine.

Most importantly it was one of the most enjoyable days with such a great bunch of people I've had the pleasure of experiencing hence my stupidly big grin all day and I was still grinning for days after when telling friends about it 
I'm absolutely delighted with how the Golf is performing at the moment. 
The only tools I needed were the jack, impact gun and torque wrench to swap tyres around. I checked the oil temp to satisfy my own curiosity but yet again, the Golf did a trackday where I completed over 200 track miles without a single issue