The first trackday of 2017 and I was keen to get back on track. I`d done a lot of work to the car over the winter and needed to test it. Arrived to a very cold and wet Oulton Park so left the Golf on the trailer and signed on then had the briefing before unloading.
The day was a sell out but it didn`t seem particularly busy at all.
It had stopped raining but it was bloody cold. It wasn`t snowing which was obviously a bonus !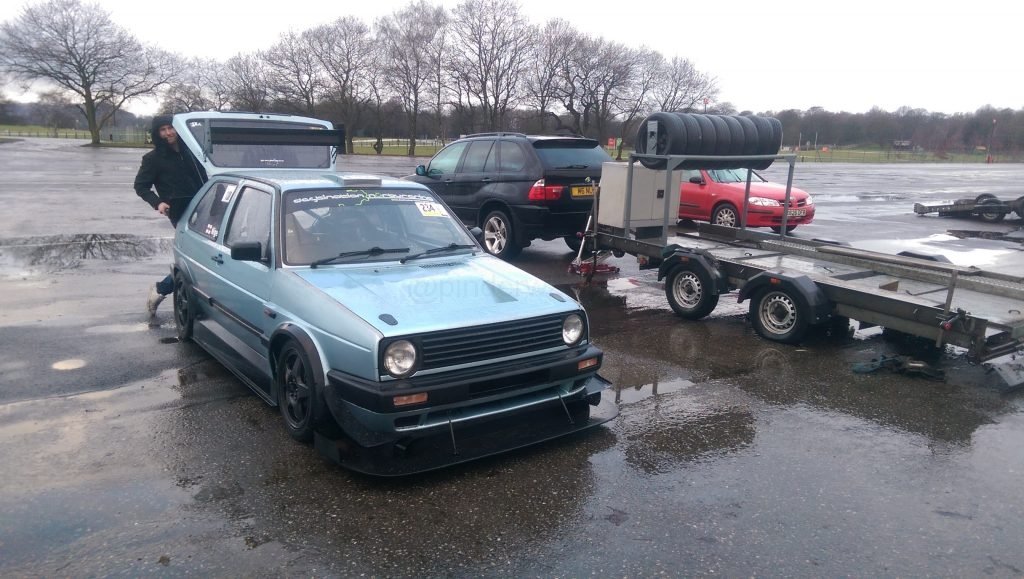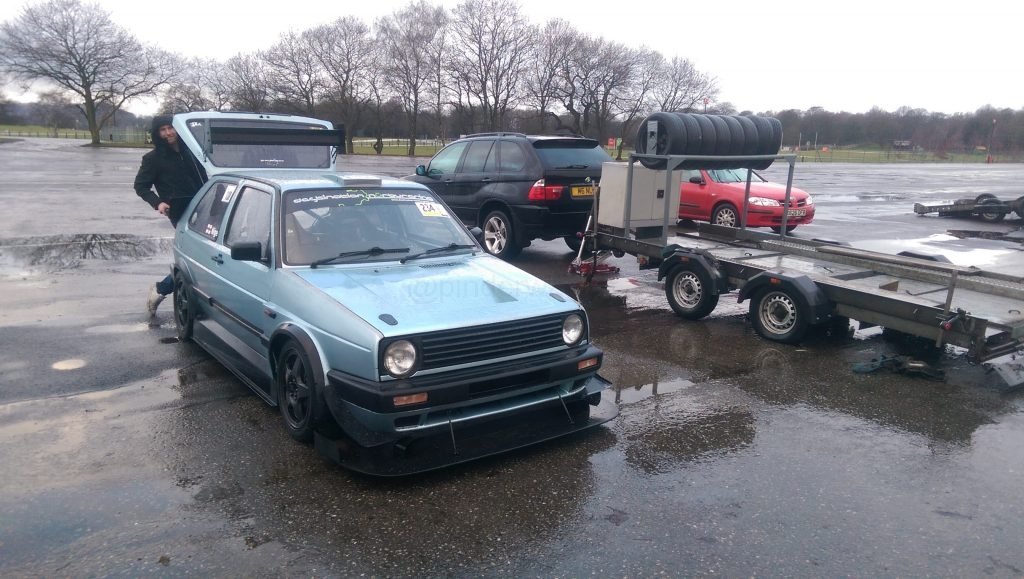 I hope the low trailer tyre wasn`t a sign of things to come. ! Blew it back up and checked this morning, it`s lost 10psi so obviously a slow puncture.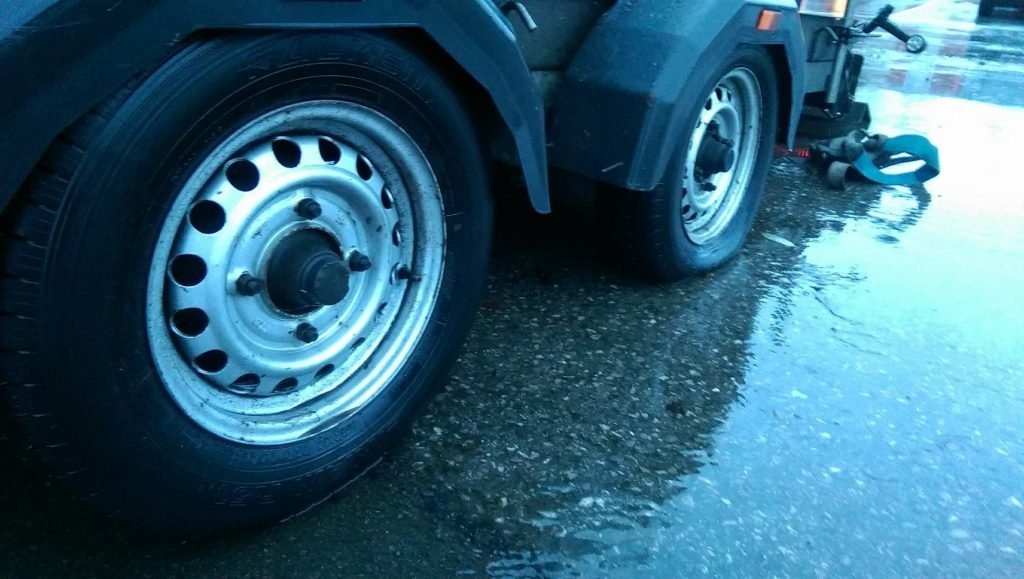 One of the winter `upgrades` was to swap from Megasquirt 1 to Megasquirt 2 by swapping the ECU which was very kindly supplied by Alex Flower. I`d hoped it would be a simple case of transposing the fueling table with minor tweaks. Sadly this wasn`t the case and when I put my foot down on the sighting laps the AFR dropped to under 10 ! Far too rich and we drove the rest of those laps with gentle throttle to avoid bore-wash.
An unexpected issue was the momentary loss of crank signal at 6,500rpm. It was as if we`d hit the soft rev limiter.
Back into the paddock and a quick tweak to the fueling table. We`d taken the Laptop expecting to make adjustments so it was no big deal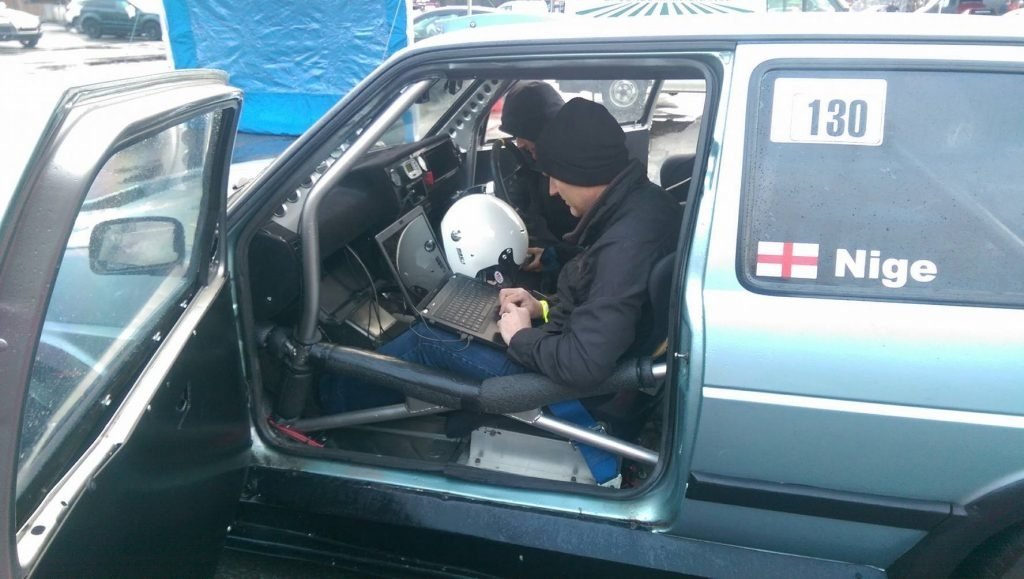 Back out again and the fuelling was much better but the issue of 6,500 rev limit was still there. The limit was set to 7,400 but there was something odd causing it to cutout at 6,500. Every Yellow line is where the ECU lost RPM sync momentarily. This has never happened before today.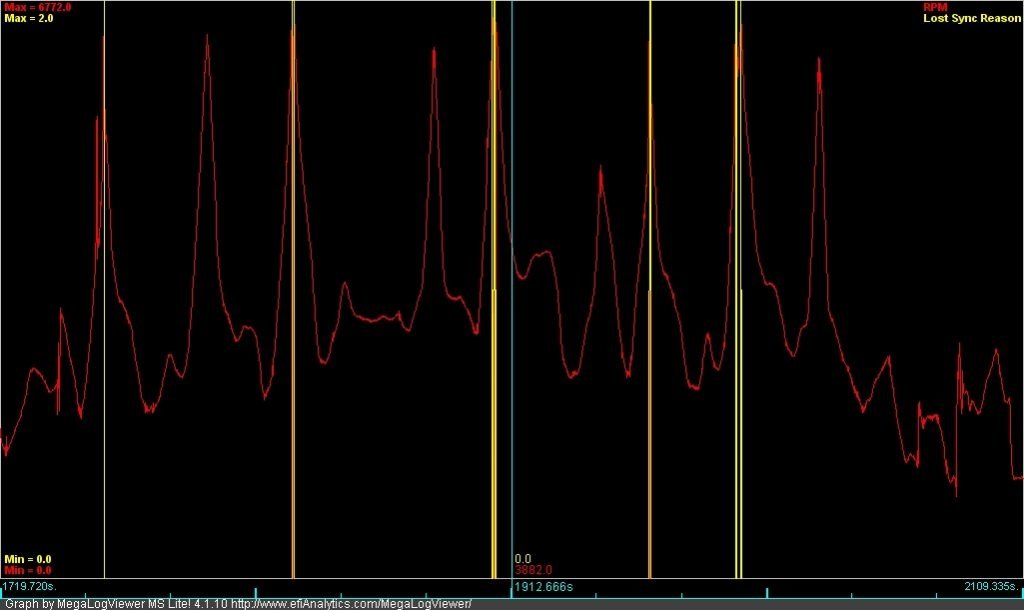 Circuit Days have started giving out free photos for 2017. Whilst they are watermarked you can still buy the high resolution unwatermarked version if you wish. Nick was out braving the weather and got some great shots which were waiting in my inbox by the time I arrived back home ! 
Lou was also on the Pitwall taking some pictures. The wet really shows the Aero having an effect as the spray from the Golf is always significant as it leaves a large plume behind.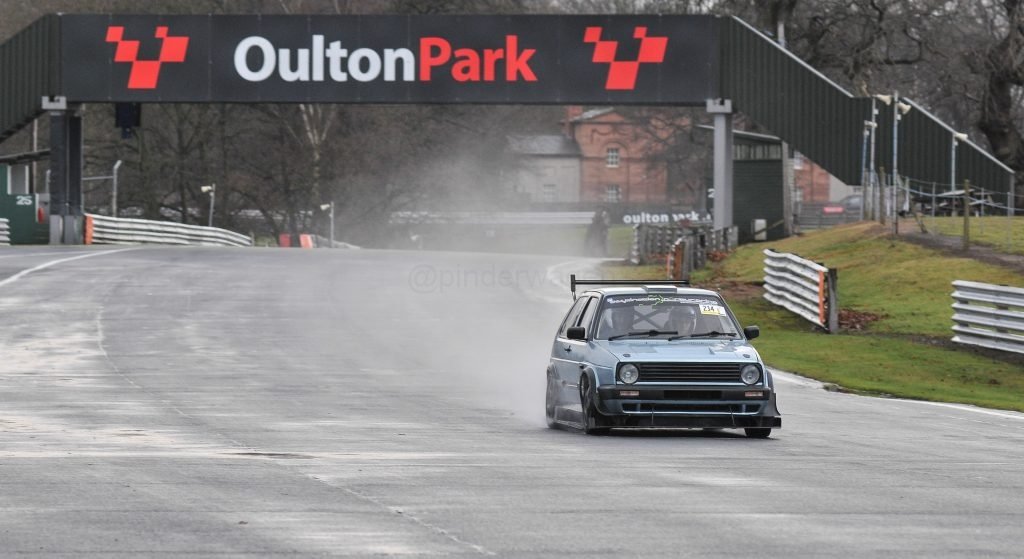 There is a large amount from the centre of the diffuser on this photo.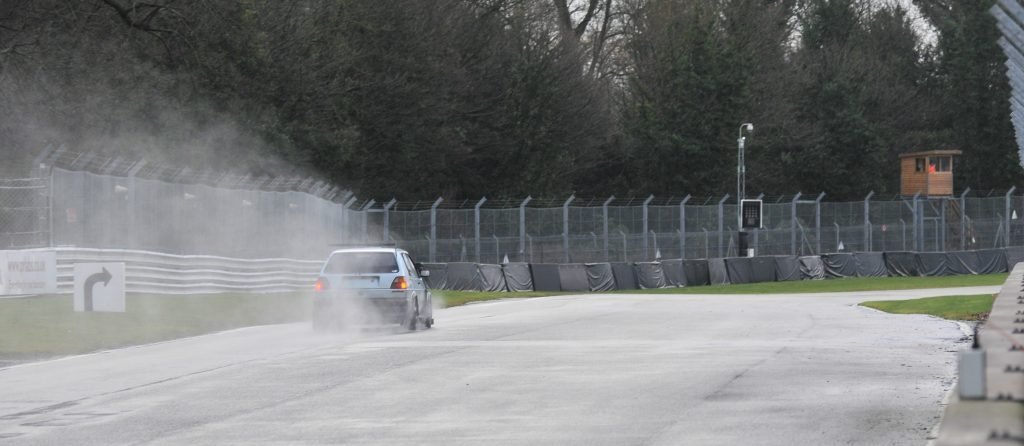 As it was still damp we disconnected the ARB. The standard Golf ARB isn`t particularly easy to disconnect as it sits above the Wishbone meaning if you do disconnect it the ARB will hit the wishbone. I`ve modified the mounts so one end can be disconnected easily and without fouling whilst driving. We removed one end and went back out.
I was hoping this would reduce the off power understeer in the damp I`m experiencing with the plate Diff and whilst it made a small improvement sadly it wasn`t as much as I`d hoped. I needed more steering lock for each corner, the car rolled more but apex speed was marginally improved. In the wet I`ll disconnect it but it was a small improvement rather than the large one I was hoping for.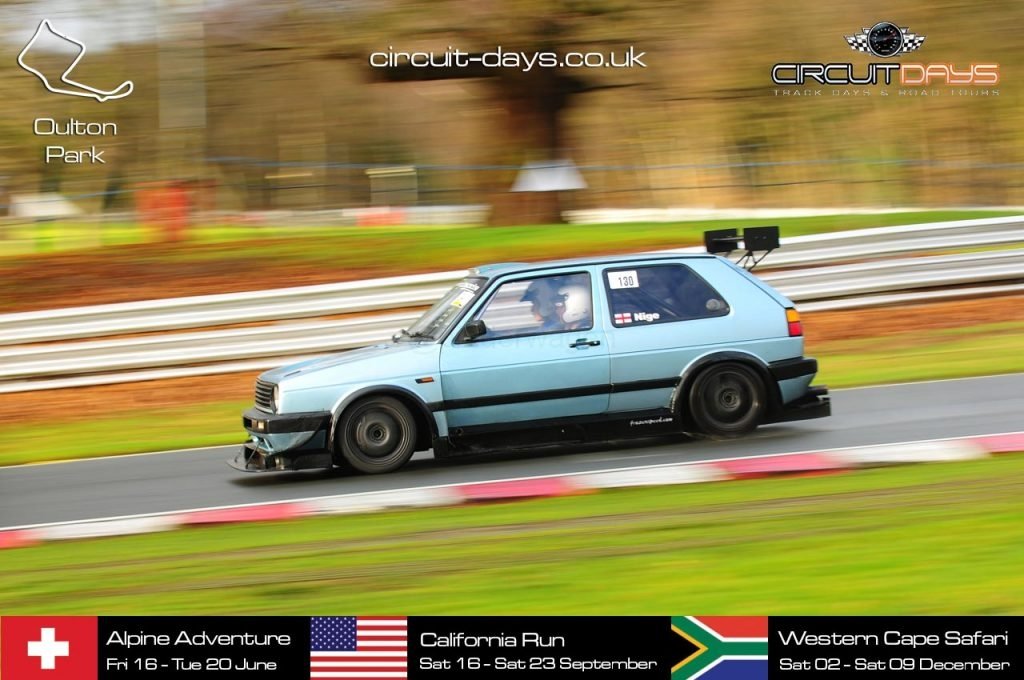 The 6,500 limit was becoming irritating and we knew it was an ECU related issue.
Fortunately I`d taken a spare ECU.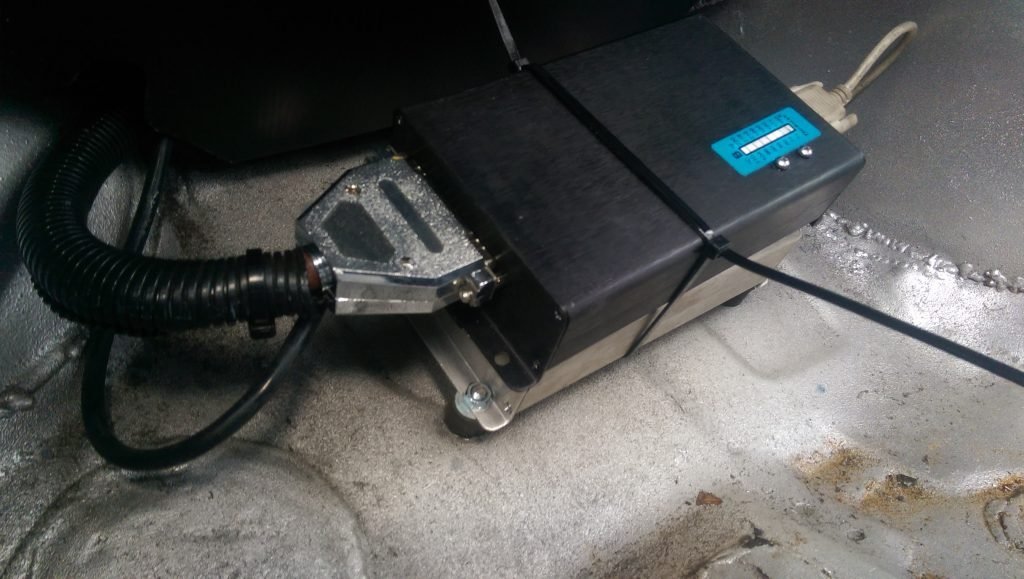 Many thanks to Gurds for sending me his ECU for a spare. We were concerned there could be an issue with the change to MS2 so he loaned me his incase I had issues so I could swap over and keep driving.
Back out again with the ARB reconnected and the engine revved cleanly to 7,200rpm once Gurds`s ECU was fitted. Nick had moved vantage points and it had stopped raining.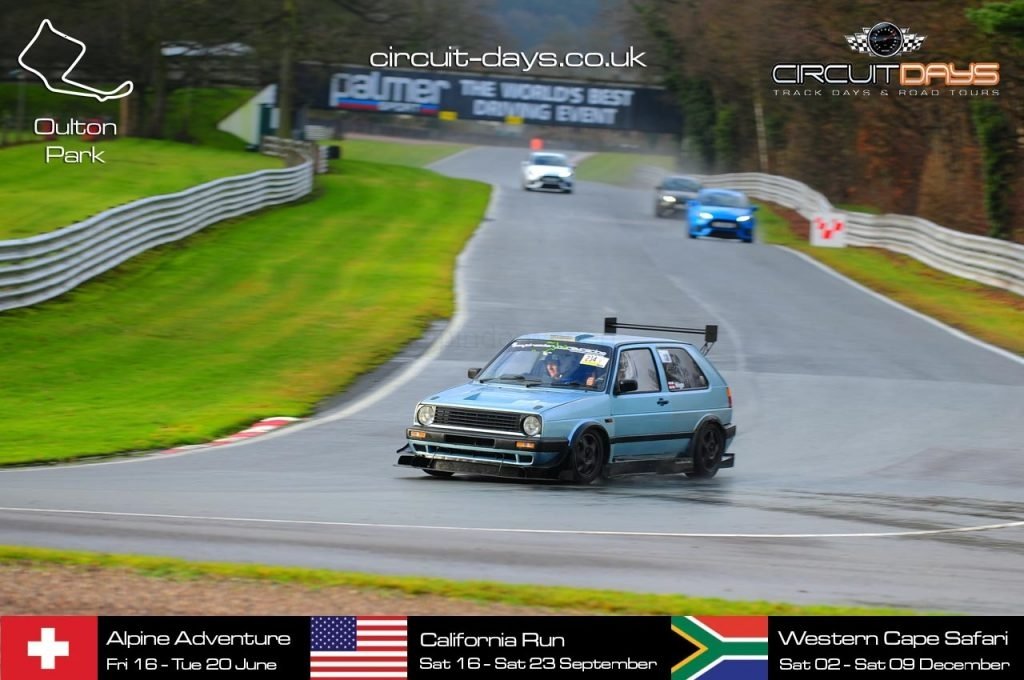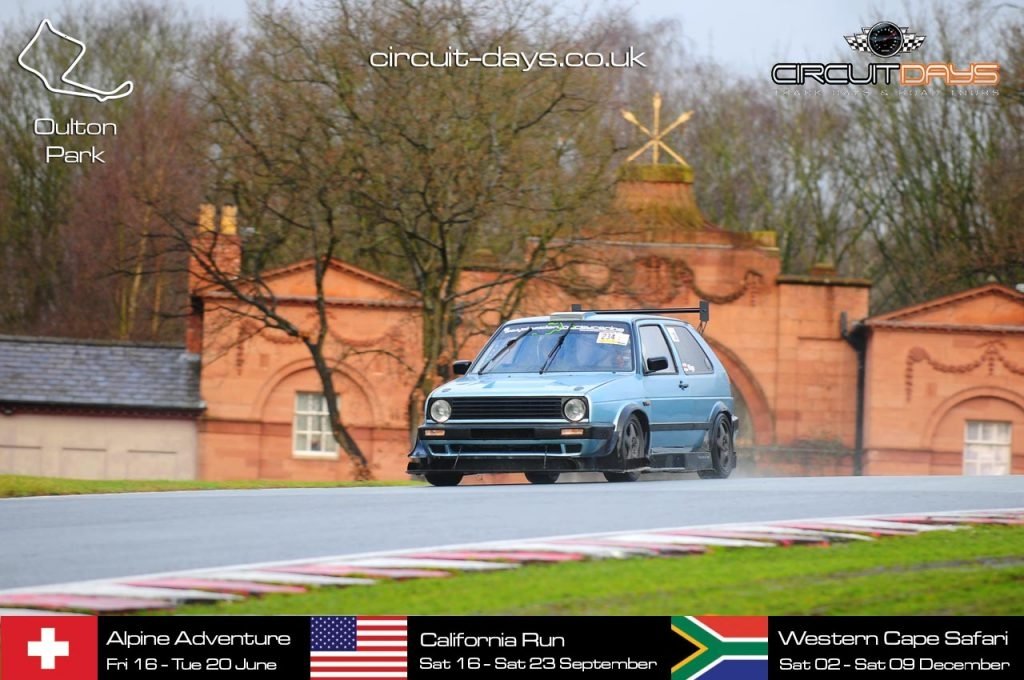 Ian was out in the MX5T and finding the conditions a little tricky at times.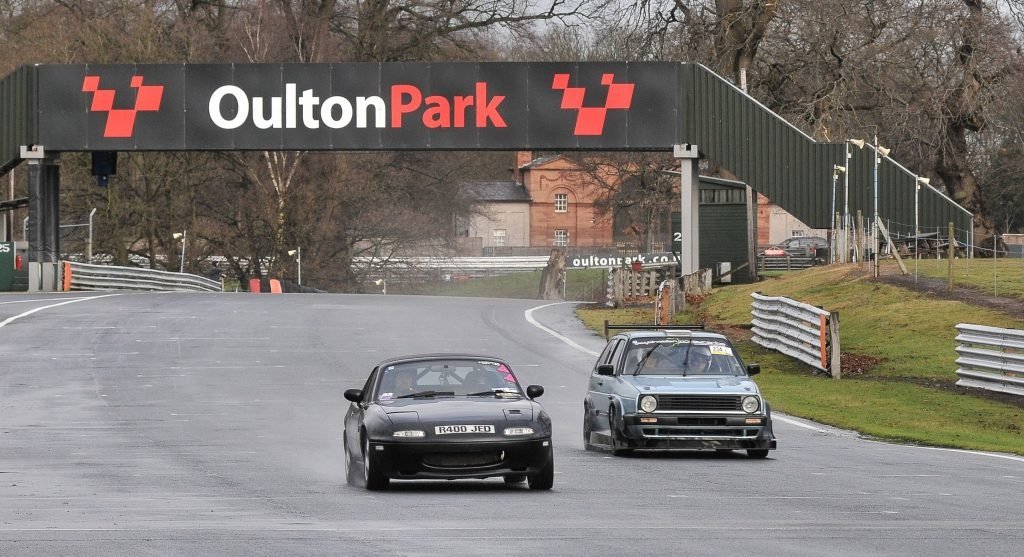 It was time to start taking other people out so Dave jumped in. He`s a good friend and went to Blyton last year. He was keen to experience a `proper` circuit as he called it and commented that the gradients made a big difference. It was still wet so I showed him the difference between the dry and wet line. He was amazed how not taking the dry line could yield so much grip !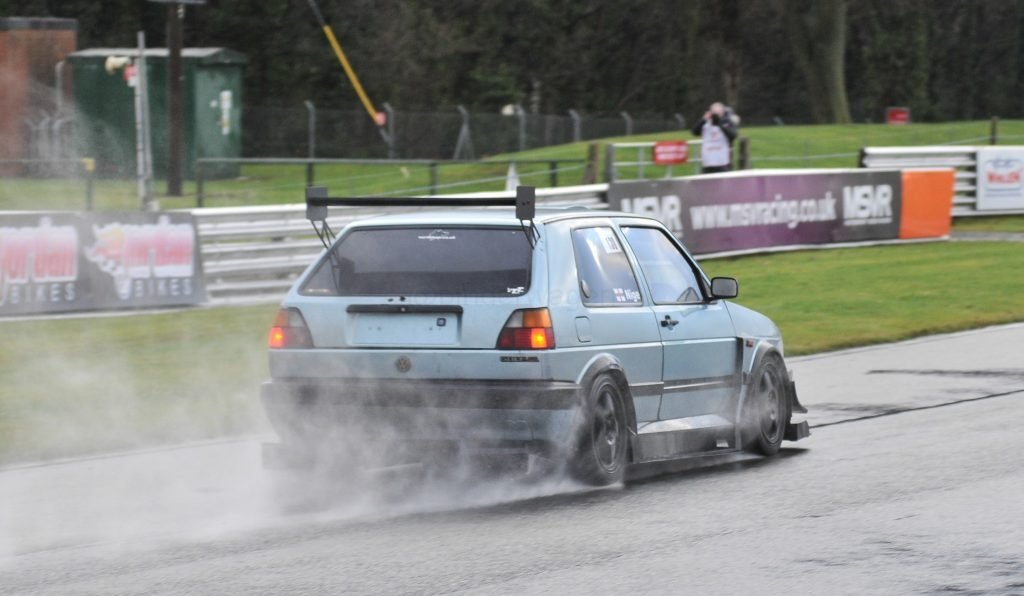 Simon was out in the Supra and tagged onto the back of me for a chase lap. I completely outbraked myself into Lodge and had to tiptoe round the outside.  As I`m typing this, I`ve just realised both my outbraking moments at Oulton were with Dave in the passenger seat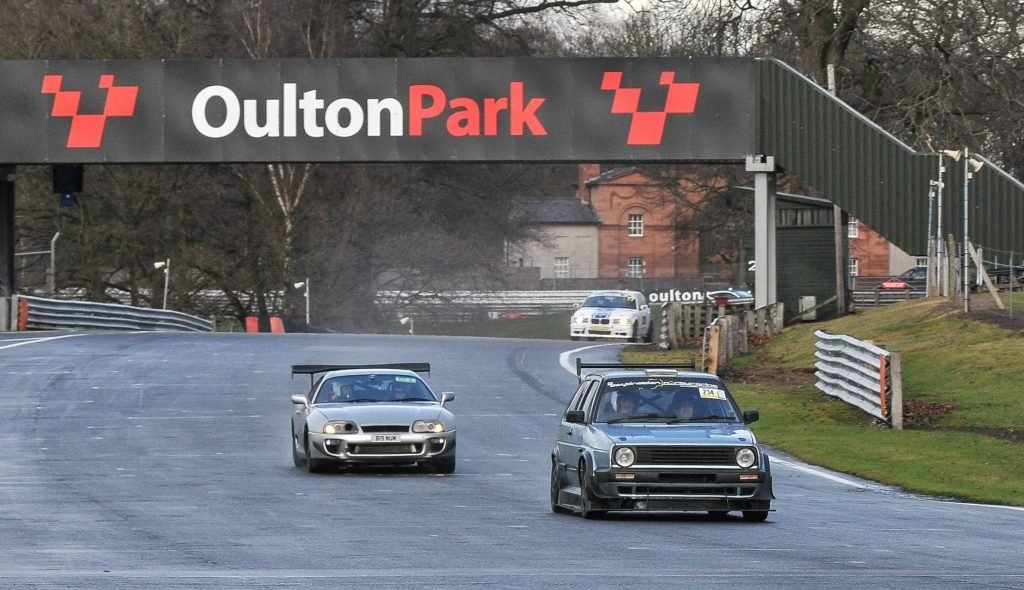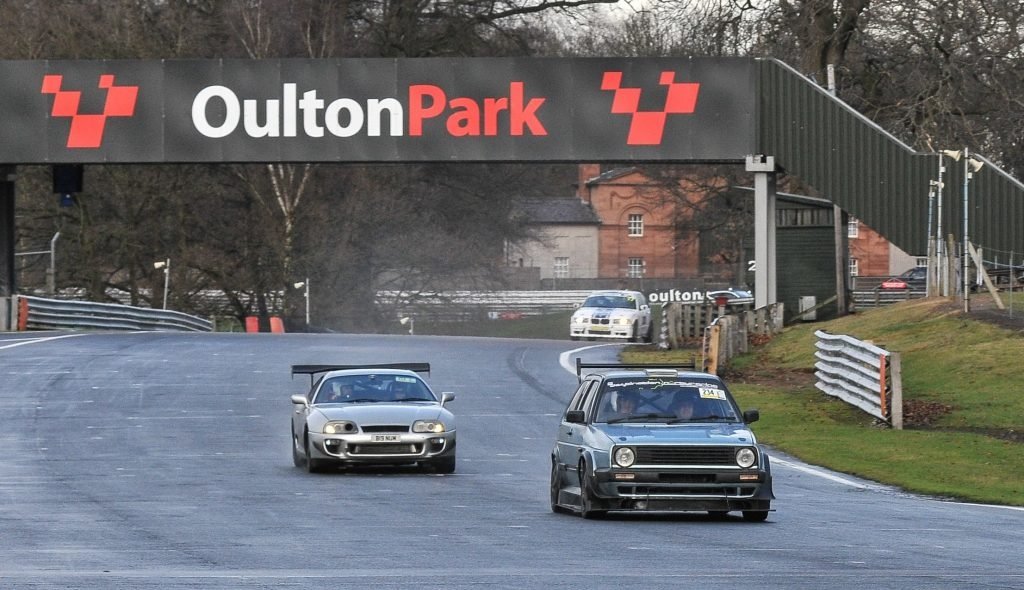 Lunchtime was approaching and I saw the Marshall had the chequered flag ready for the next time round so sat behind Chris in the 595. It`s a nimble little thing that`s for sure !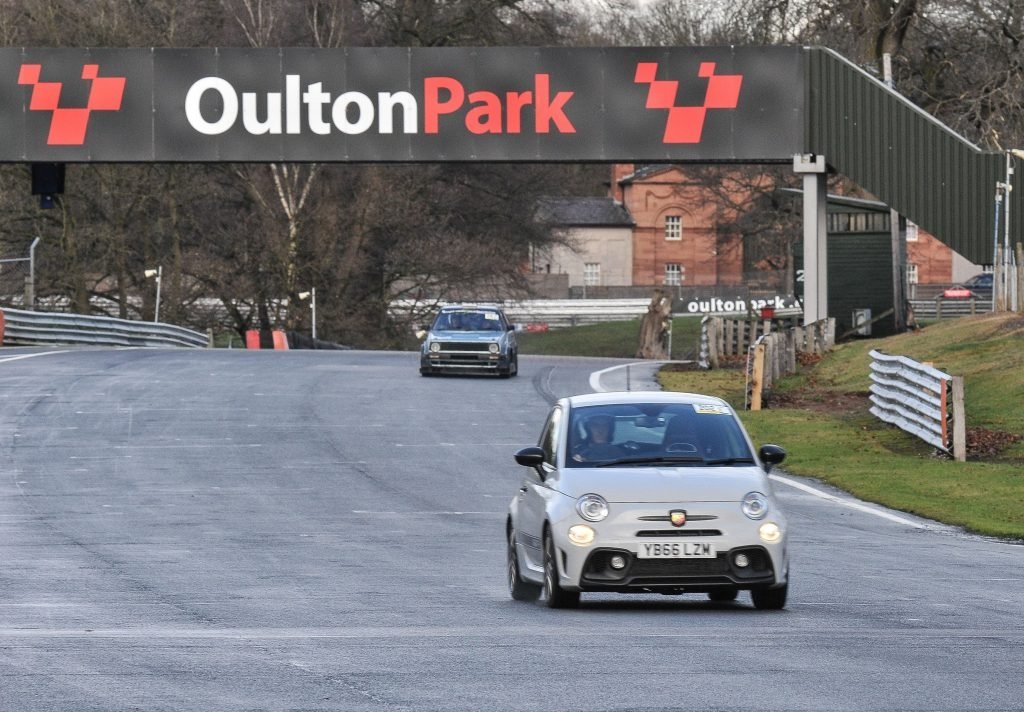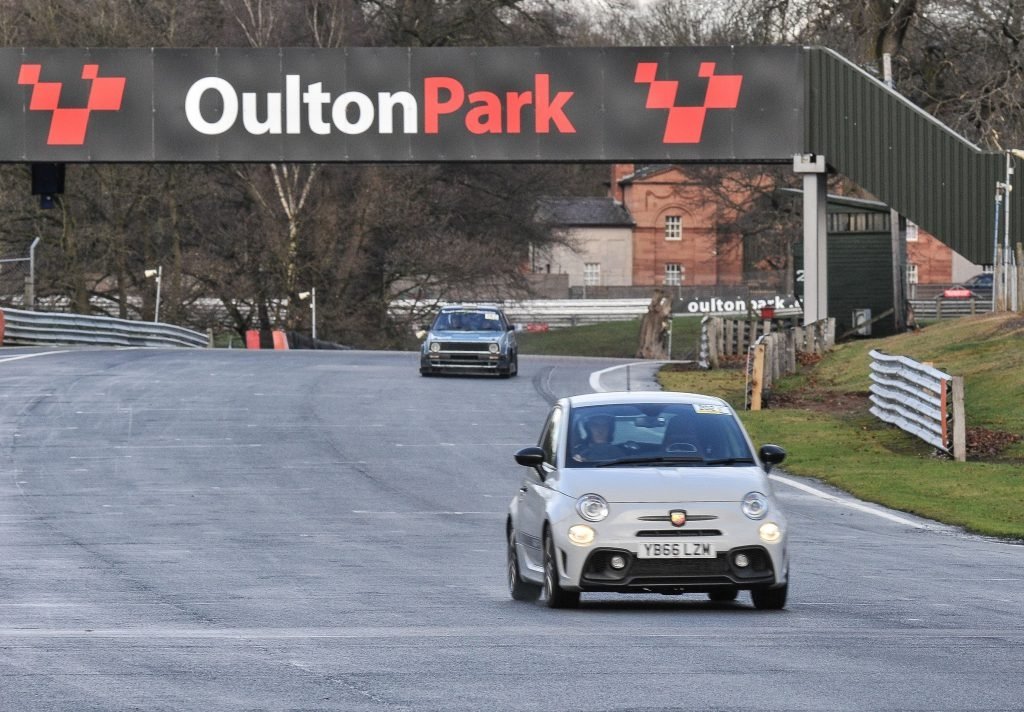 Went into the cafe for lunch and to warm up. As usual, I couldn`t finish the large portion but it was good to relax and talk about how the morning had gone and make sure we had a clear plan of what to do after lunch..
Back out after lunch and it was slowly drying but still too wet for Cups. The R1R`s were only going up a couple of a psi and the tread wasn`t starting to overheat at all. I swapped the CPU in my ECU and fitted that just to confirm the rpm sync loss wasn`t an ECU specific issue. It was fine all afternoon so I was confident it wasn`t the actual ECU itself causing the drop out but either a sensor fault, wiring issue or MS2 issue.
Whilst I was doing that, Cat stuck on a load of wool tufts she had prepared last night whilst the audience watched.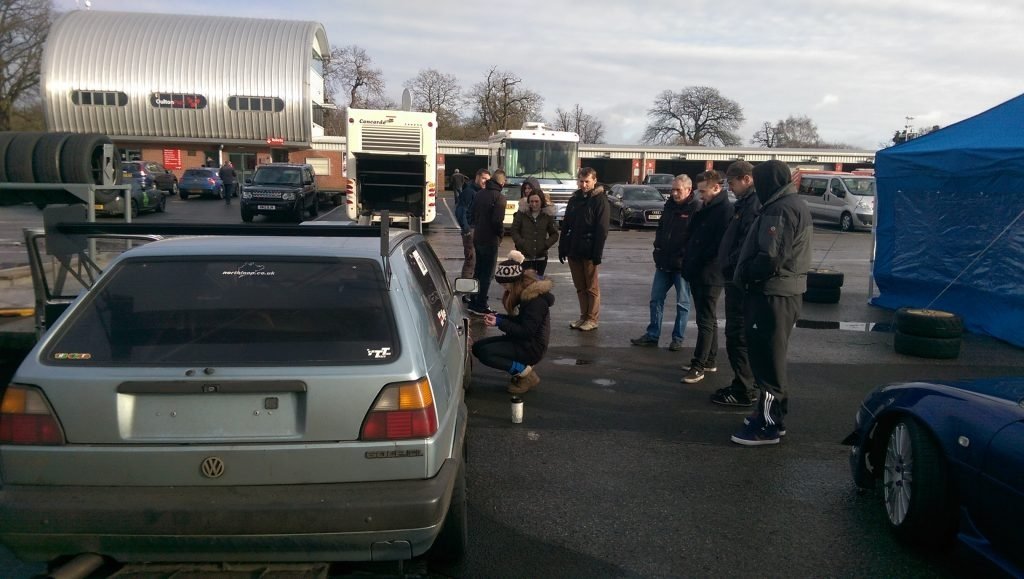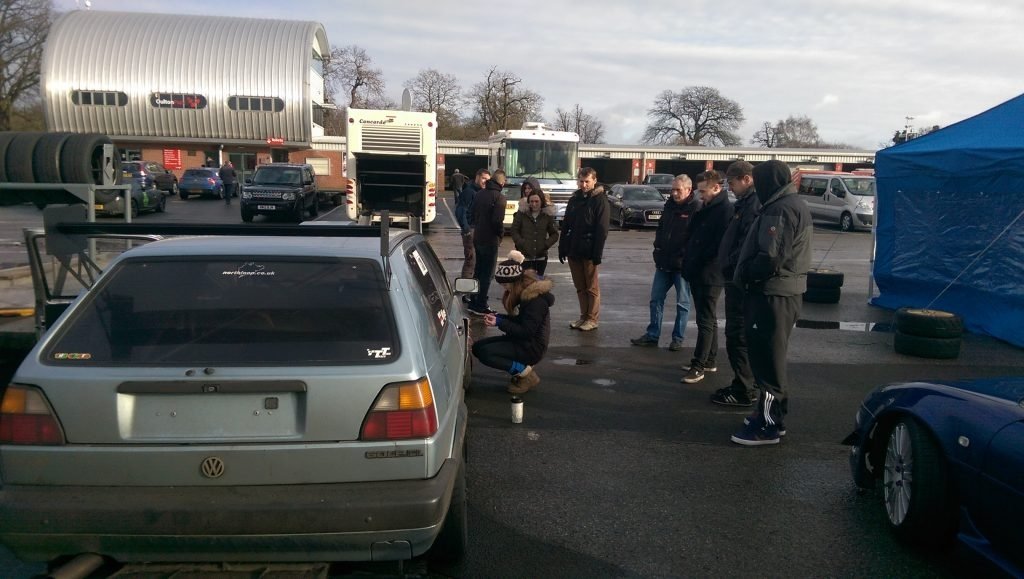 I`ve added a pair of front canards I made and I wanted to see the effect they made to the airflow around the front wing and wheel arch. I made a mistake and didn`t put any wool further back down the side of the car to see what was happening further downstream. I need to do that another time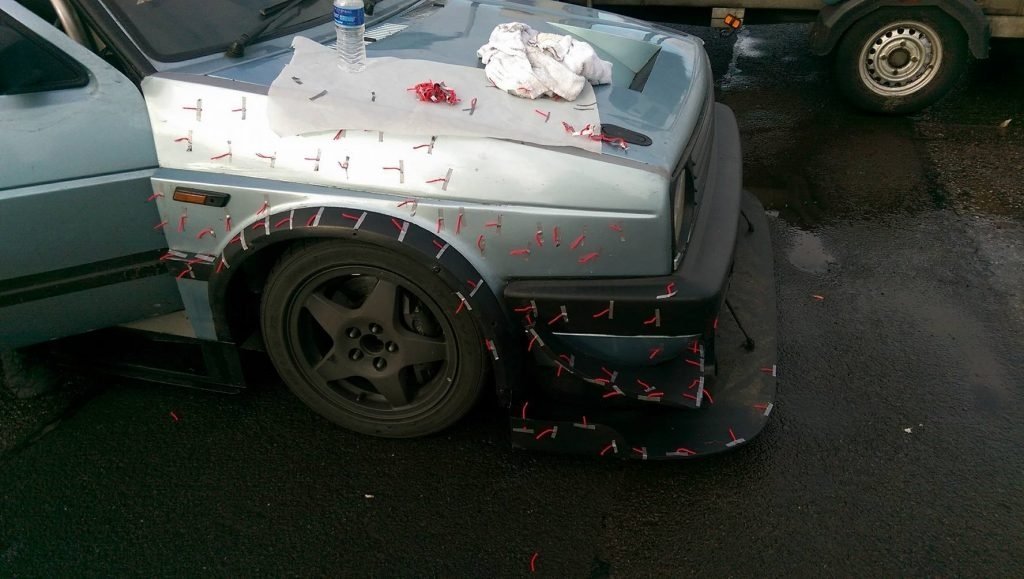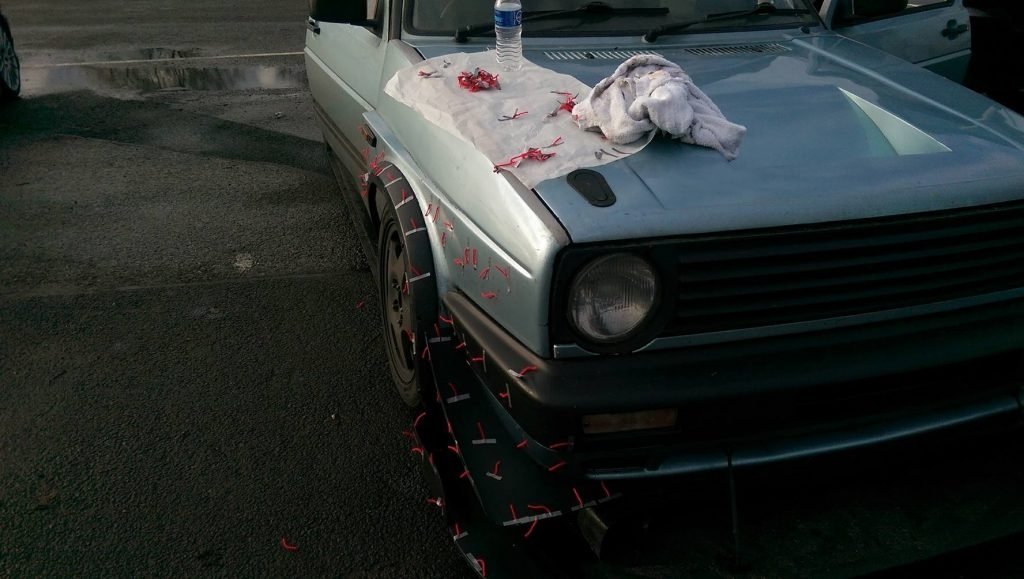 Once done I went out whilst Lou took some photos from the pitwall. I then came into the pits, removed the Canard and Matt took some photos so I could compare the difference.
The most noticeable difference is the air flows almost vertically upwards at the front of the wing, directly above the canard. Much more so than with it removed. It needed more wool around the splitter under the canard and along the side skirt but I didn`t realise that until looking at the photos afterwards.
Luke enjoyed himself but didn`t realise he needed to SHOUT to make himself heard. He kept talking in a normal voice and I had to keep telling him he needed to speak louder as I coudln`t hear a word he was saying as the car is so loud.
Apparently, when I`m on a trackday and have something I need to get done I can be quite focussed. I had a few people come up to talk and whilst I had time for brief chat, I was conscious of the time and may have appeared to be a bit `off`. This always happens and I feel bad about it later. I think I must have done it to Neal 3 or 4 times through the day. So much so that he asked Matt "Is he always like this?"
`Yeah…`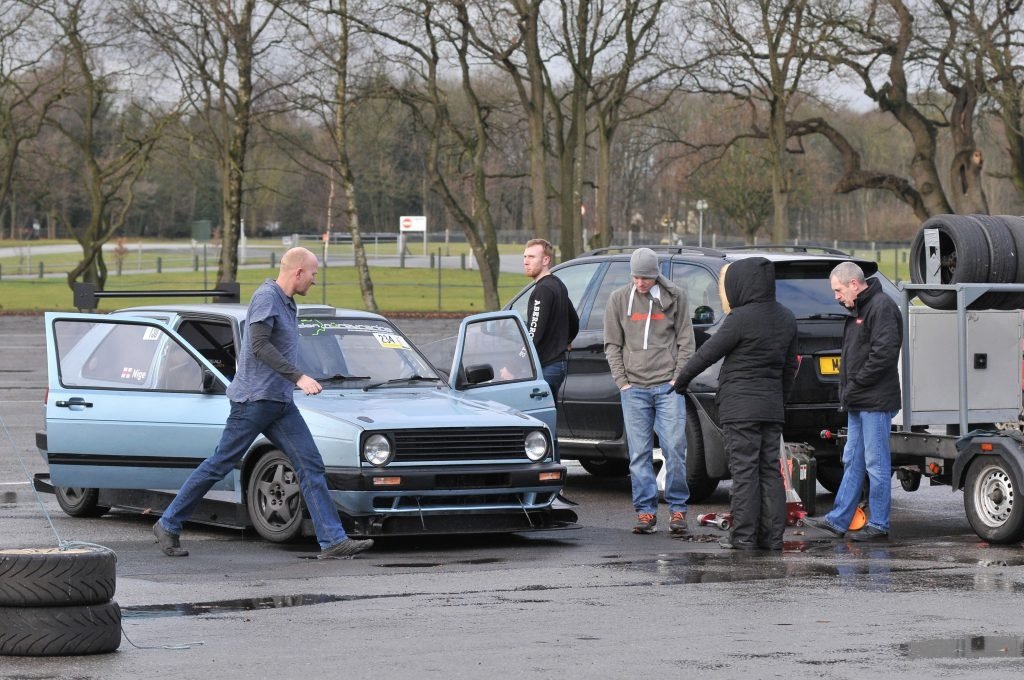 I took Cat out for a session as it was starting to dry. There was almost a dry line everywhere and after a couple of laps I felt a clunk from the front when I braked. Struggled to stop for the next corner so came back to the pits without touching the brakes at all.
Removed the wheel and it was immediately obviously what had happened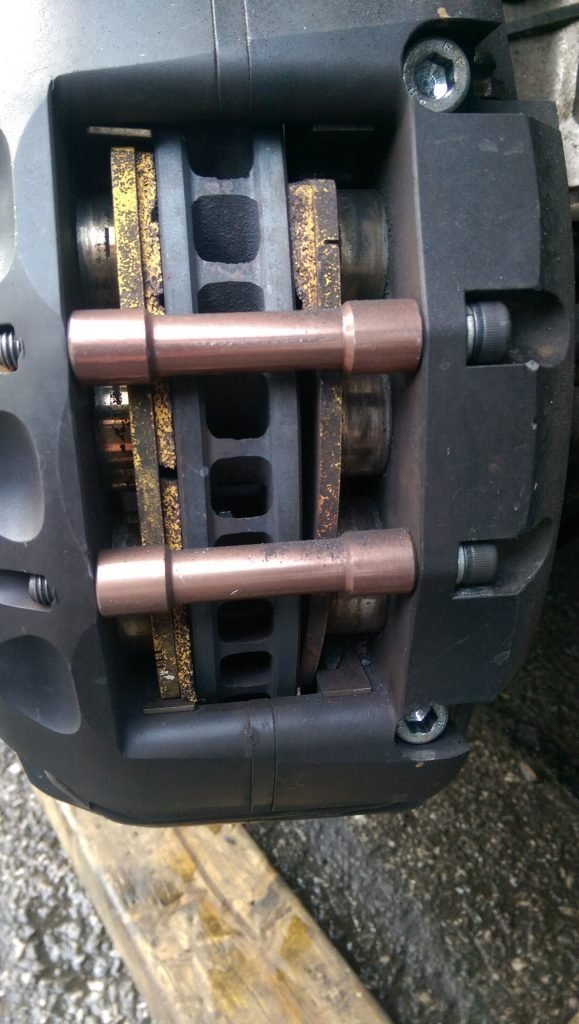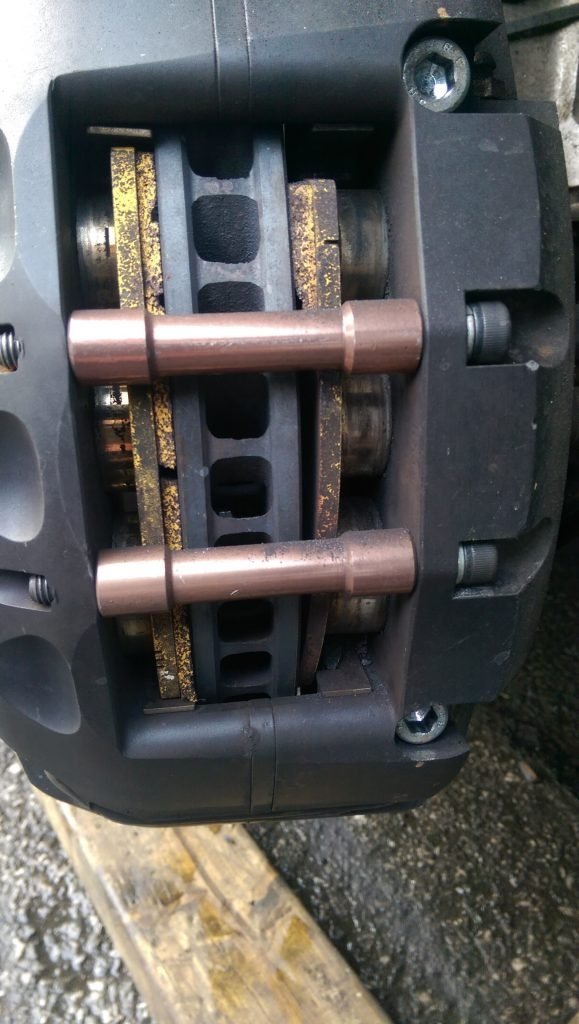 The friction material had come away from the backing plate. On the inner pad it had gone completely, allowing the pad to wedge between the caliper and the disc. On the outer pad it had broken off but was trapped in place. The nearside pads were the same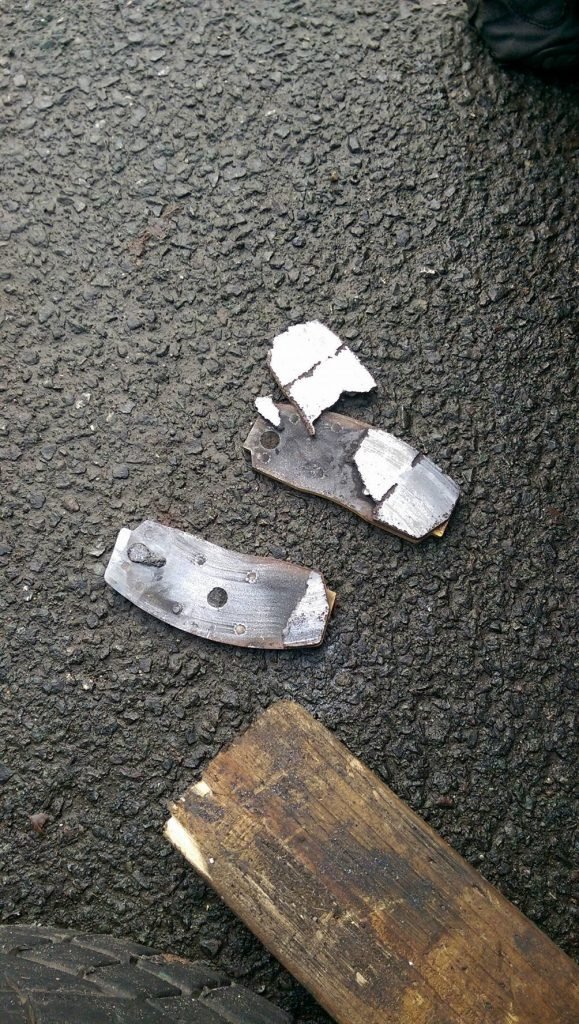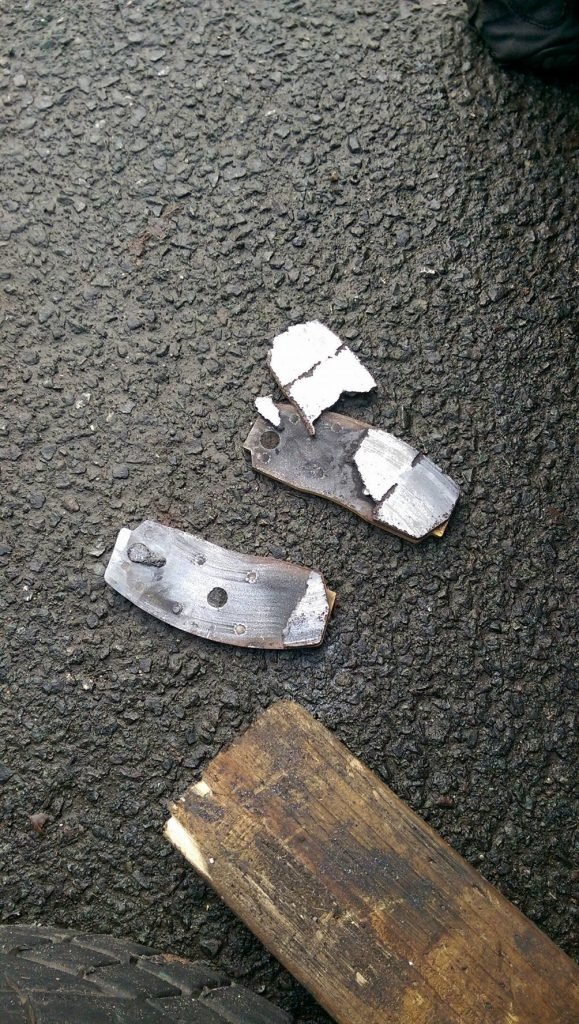 They were Pagid RS29`s. Is this common ? Certainly a new one on me !
I`d taken a spare set of part worn Performance Friction PF08`s which are for instances such as these. They are already bedded in so I can go straight back out and don`t need to worry about the brakes.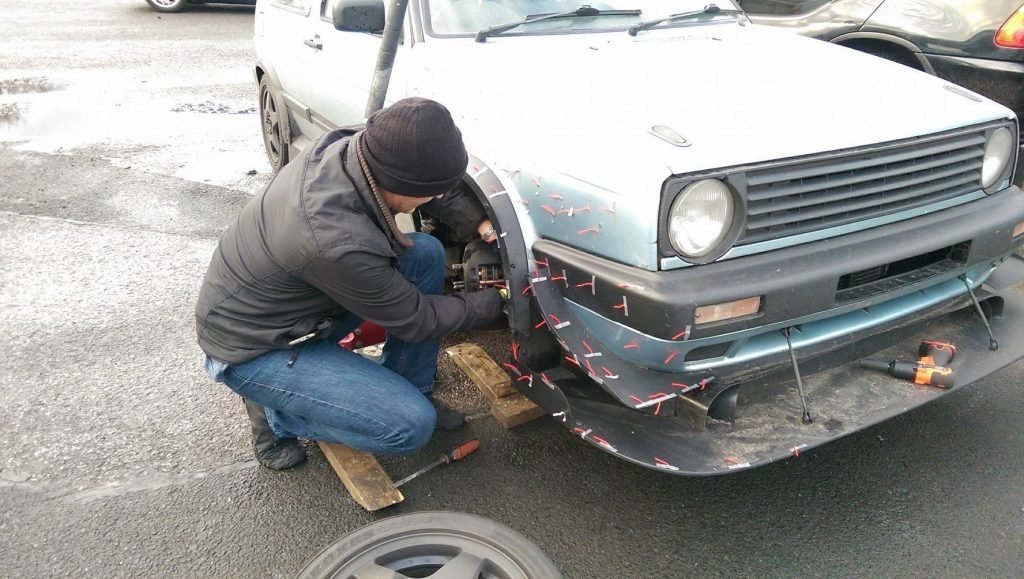 Matt and I fitted them whilst people had a nosey around the car.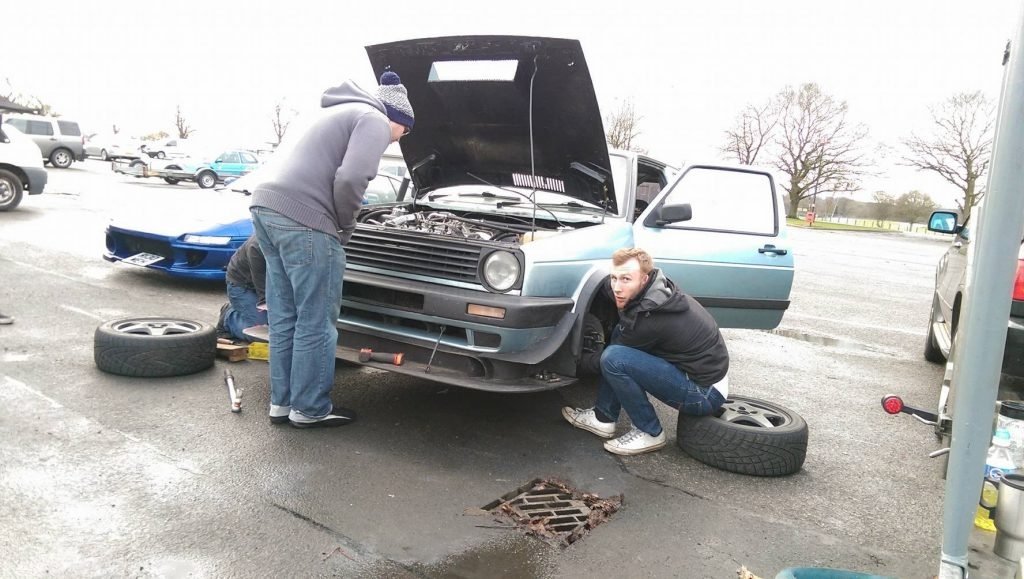 Back out again with Cat for a much better session. A nice dry line was appearing but it was still slippery off line. A decent session and I was pretty happy with it although the steering was particularly twitchy. Not quite sure what caused the change but I`ll check the alignment incase something has moved.
The new style sticker hadn`t come loose but it clearly showed the amount of grime covering the car in just a few hours on track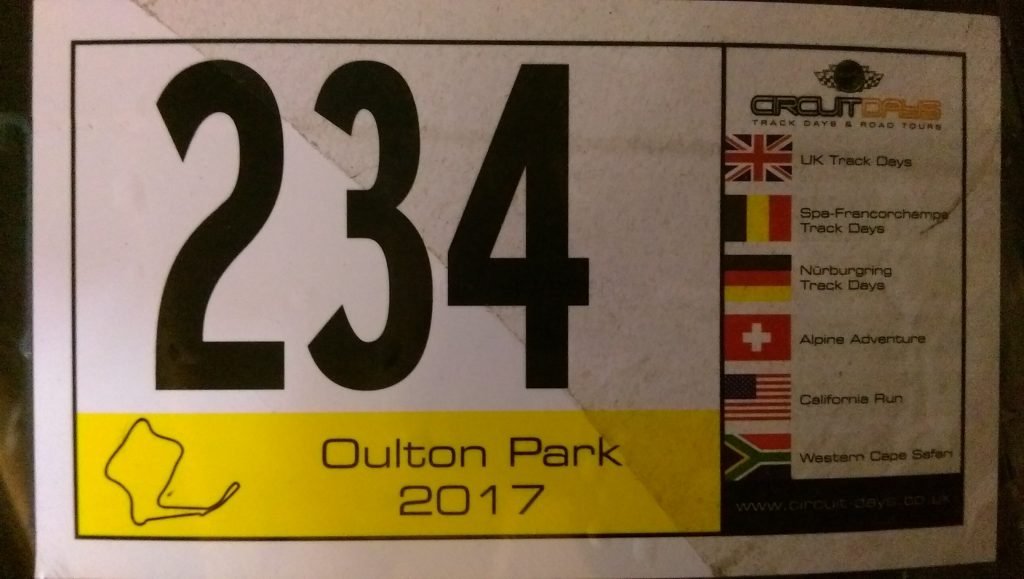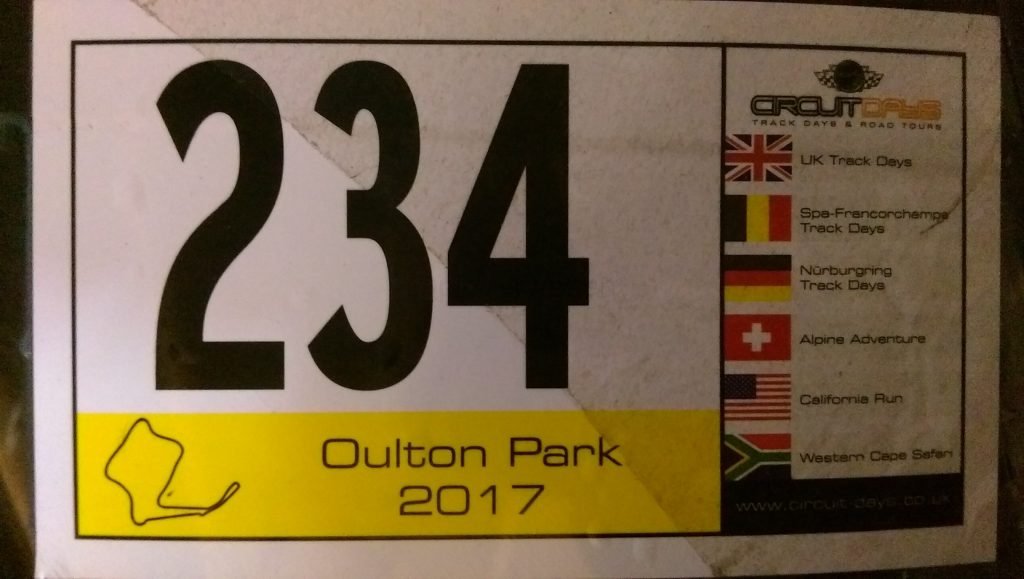 And then Dave jumped in for another lap. I wanted him to experience a lap in the drier conditions as it had been so wet in the morning. The boost map was still very mild, peaking at only 0.9Bar with a low midrange for good traction.
The effect of the diff causing the understeer was reducing as it dried out but even going round Island bend, if I was off the throttle it would push wide but as soon as I applied throttle it started tucking back in. Both Matt and I agreed that in the damp the Golf was better with the Quaife but in the dry it was better with the plate diff so long as I drive accordingly.
I`d bought a new helmet at Autosport and have ordered a Hans device. Neal very kindly loaned me his and whilst it wasn`t particularly comfortable it didn`t restrict me head movements as much as I`d feared. I tried a Schroth one at Autosport and that sat better on my shoulders.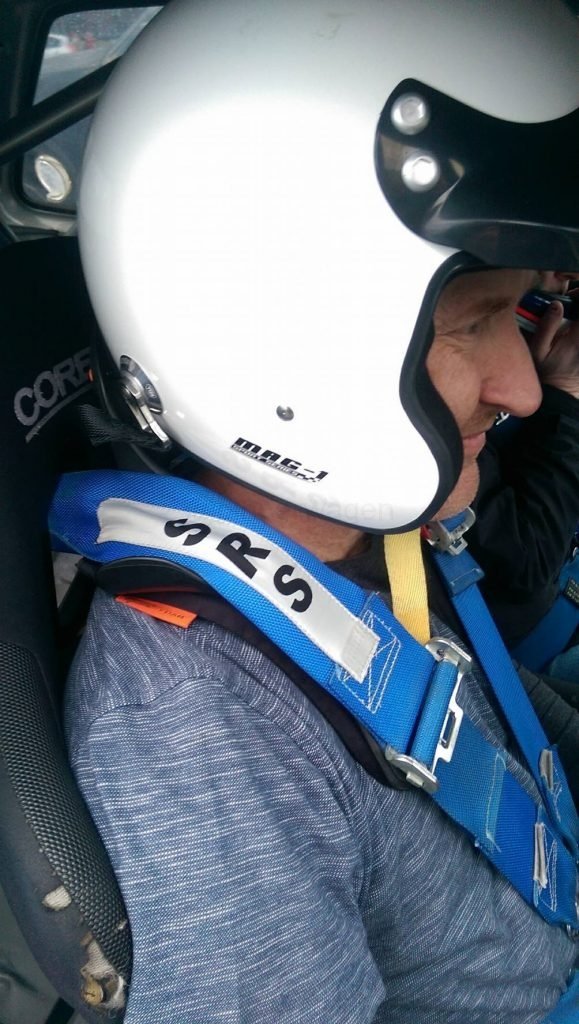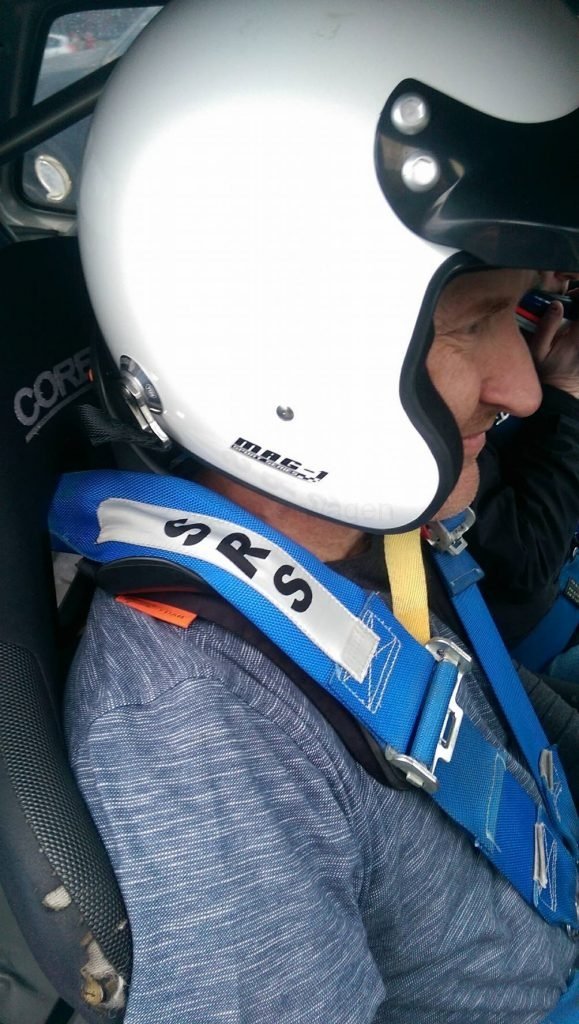 Enough Diff & Hans talk.Lets talk about my off into the gravel instead… 
I passed the white car after he ran wide through cascades. Put me to the left before turning into island bend. I tried to keep it tight, which is why I touched the kerb on the left but even though I was slower than before, by around 4mph, my line was compromised and I still washed out. I saw the cars ahead but couldn`t lift mid corner, I had to wait until I was straight. That put the front right on the damp and I believe that locked slightly.
The inset video in the corner is from a couple of laps earlier that was 4mph faster but I stopped in time. It`s there to show I could take island at that speed, just not on the line I took whilst catching a slower car…
 The previous 2 laps are shown in Red and Blue. I was quicker on both those laps but the big difference is I was on the line I wanted AND I was able to trail brake into the hairpin. The Green trace is the lap where I ended up in the Gravel.

I would still have been able to stop but the 2 cars in front were slower than I was expecting and I didn`t want to risk turning in as I was shedding speed incase the car was still there. I felt the Gravel straight on was the better option rather than hitting a innocent driver.
I accelerate midway round Island, that is to reduce the understeer and keep the rear planted. Whilst I wanted to lift off earlier I knew from previous experience it would unsettle the rear and also run wide.
I stood on the brakes and locked up at the last seconds, but it was far too late.
The bottom line is I didn`t anticipate the speed of the 2 cars ahead. I should have realised the closing speed was high and slowed accordingly but I was concentrating on the car I was passing and the resulting line I knew would be compromised though Island.
This caused a Red flag and as I`ve said before, I absolutely HATE doing that. 
The Marshalls arrived in under 2 minutes from me entering the Gravel which is a superb response. It`s good to know that IF you are ever in need of attention due to an incident on circuit, the Doctor can be there in minutes.
Apparently I`d "made it a long way into the gravel !". As a result, the pickup also ended up getting stuck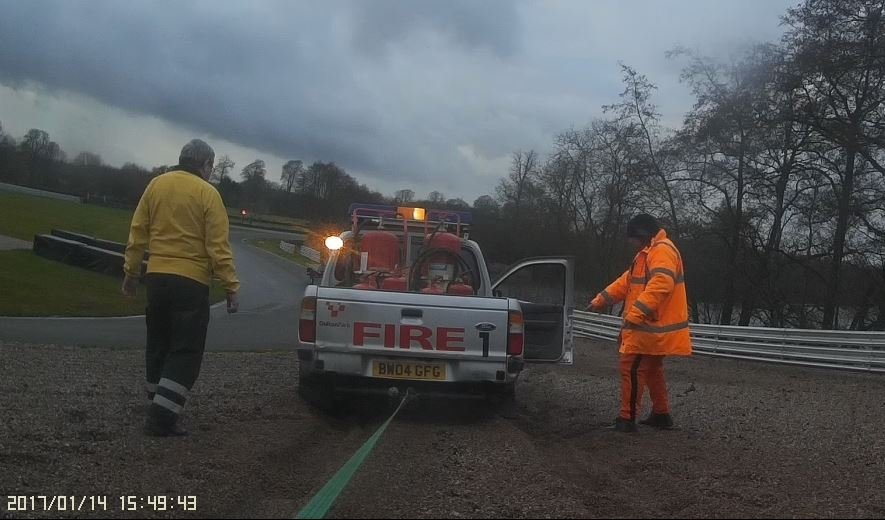 They needed the large flatbed to tow out the recovery truck AND the Golf at the same time.
The Doctor and the Marshalls were brilliant. Having an off is something non of us want to do but their were extremely professional and didn`t even use the opportunity to take the mickey…
Steve came over when I returned to the Pits and asked what my excuse was…. My reply of "Driver error I`m afraid"  was met with a `You need to tell me more than that !`..
Dave had a good laugh about it, particularly as Ian had taken him out and had a moment too. Dave wanted me to pass on a message to Ian and Rich
Great mates you have. So friendly and to take me out too was great. Please thank them when you see them next time. And to come off the track in different places was very thoughtfull of you all to show me different areas of the track you don't always see
I think that`s why we get on so well. He`s just as sarcastic as I am… 
Matt jumped in with me for the last 5 minutes after I`d removed a load of gravel and had a quick check around to ensure there was no gravel lodged anywhere it shouldn`t be and that the steering arms were undamaged. Happily I saw the chequered flag whilst lapping in a car with no issues apart from some gravel rattling around that I`m sure I will be finding for weeks…
I had a lot of things to test and whilst not all were as successful as I`d like, I`d taken spares just incase there were issues which meant I was still able to keep driving. I only managed 145miles on circuit but with the amount of stops to change things I was delighted with that. I`ll cover the winter jobs I did in another post later.
Next outing is Rockingham in March so I should have plenty time to get it ready for then.