I`d always fancied going to the Goodwood days run by ACE Engineering, but as they are sessioned and it`s a bloody long way to go, I could never really justify the trip to myself. Fortunately, Steve & Helen tagged the day onto their wedding, so it made it much more convenient to attend the trackday.
Sessioned days have never appealed to me, but Goodwood are really strict on their noise limits and by running sessioned days, they are able to keep the average noise limit for the day under more tighter control.
First off was noise testing, car warmed up nicely and idling whilst waiting for the queue. Drove into the noise testing bay, revved to 5k and there were CLOUDS of smoke coming out of the back !! WTF !
Occasionally, if it`s idling for a long time, it`s a bit smokey, but this was much more than I`d seen usually. It was fine when I put it on the trailer, and when it passed the noise test `Just under mate, 97db` I was a little concerned. Revving it again and the smoke was much reduced, I wondered if the Turbo seals were passing. Hmmm…
First session out and I accelerated slowly out of the pits. I didn`t want to leave a smokescreen behind and fortunately, it wasn`t too bad but still far worse than usual.

On the main straight, I accelerated and it seemed fine, but something I need to keep an eye on
When changing gear, there was a puff of smoke.

Spent the first session overdriving. I`d swapped the pads side to side to even out the tapering, usually I do this after each event, so the tapering is minimised. I hadn`t done it after day 1 of DN10, so they were badly tapered and that meant the pad contact with the pad was reduced. Brakes were shocking for the first session ! Still managed a 1:35 on the last clear lap of the session, so I was pleased, but knew there was loads of room for improvement. Gearing was good, hitting just under 140 approaching Woodcote and 133 approaching St Mary`s.
Back into the paddock, checked everything over, gave the front brakes a bleed incase that was the issue (it wasn`t) and checked the oil (none used).
Swapped the tyres diagonally, the aim was to try and get some heat into the wheels for the rest of the day.
The circuit is very well maintained.

Next session and the smoke was far less on leaving the pits, brakes were better as the pads were wearing level and my lines were a little better.

3rd session and I started pressing on a bit. Hmmm, maybe that was a mistake. Went into St Mary`s too quick, the cold rear right said "No chance" and the back end came round.
Initially, I thought I`d caught it.

But I wasn`t quick enough for the snap back.
Back into the pits for the deserved telling off.

Gary was out taking some great pics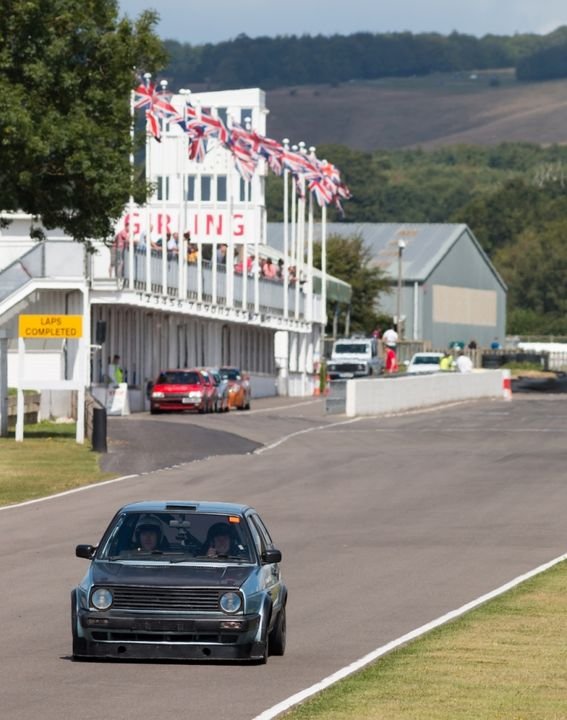 Had a look through the data at lunchtime, Matt and I had been discussing the lines and I wanted to put it into practice after lunch. Matt was busy helping Simon, so I was able to take out Tom for a session with Prawn after lunch.
Initially, Nick followed me, then I let him past and I followed him.
On the straights, there was very little in it. Once I had a bit of a slipstream on lap 2, I actually closed up. Nick was not braking as well as usual and I closed up on him in the braking zones, something neither of us expected and he addressed it the next session. Enjoyable laps and Donington should be interesting, that`s a circuit he feels more comfortable at.
Oakie wandered over to see how it was going. Asked what my laptimes were, I don`t look when I`m on track, I datalog and look when I get home, but I loaded it up and saw I`d done a 1.27.9 Nick said that wasn`t bad at all. He used to instruct at Goodwood and in his M3 he`d only managed a 1.26.x, so I was within a second already. I was chuffed with that, I didn`t expect to be so close so quickly !
I was happy with my line through the chicane. Close but don`t touch. Lou could only take a few photos before she went off for Helen`s hen do.

Tried running the kerb on the inside of St Mary`s, but it unsettled the car and pushed it over to the right.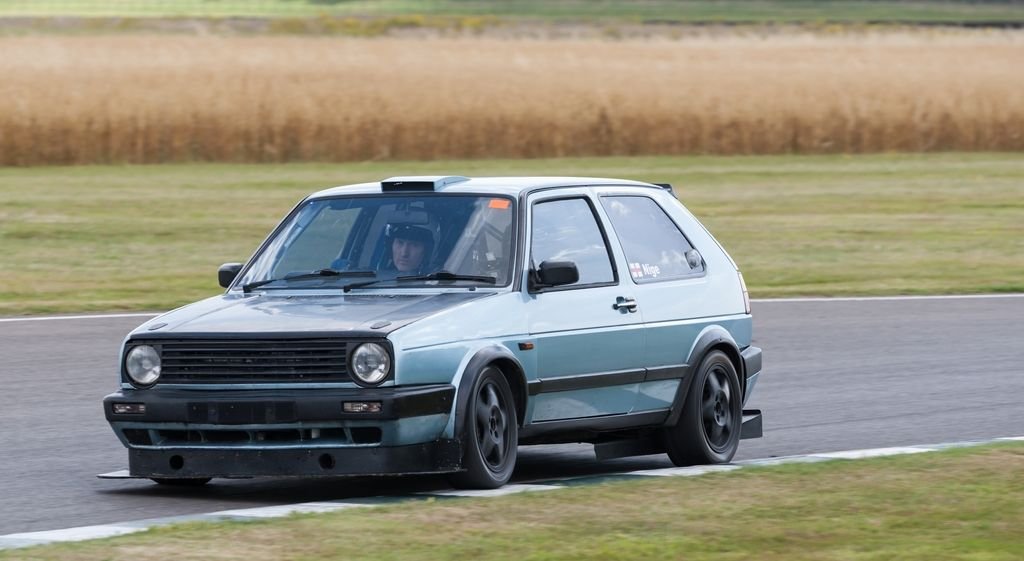 Checked it was clear behind and did a WOT run in 4th from 2,00rpm to 7,200.
Green trace is RPM
RED is boost, the spike early on is where the boost controller starts working to limit the spike you usually get in a F/I car. Still room to tidy this up a bit, but it`s difficult on the road, it happens so quickly in 2nd or 3rd. I need to do it in 4th, but then I can`t check it higher up without ending up at highly illegal speeds.
Yellow is AFR. No idea what the big spike is at 3,000rpm, I haven`t had that before. The mixture is too rich at the top end, dropping all the way down to 10.2. That`s due to the additional fuel pump doing it`s thing and me not getting the fuel map tweaked properly. After this run I took some fuel out of the map at high RPM and it settled around 11.0AFR.
Boost is starting to drop off above 6,500 Even the boost controller can`t help, it`s just the wastegate spring being too weak and not holding boost. To be honest, I don`t run up there and a slight reduction in boost isn`t a bad thing anyway at those RPMs.

Nick said I might enjoyed trying to keep up with Garry. Yeah, right…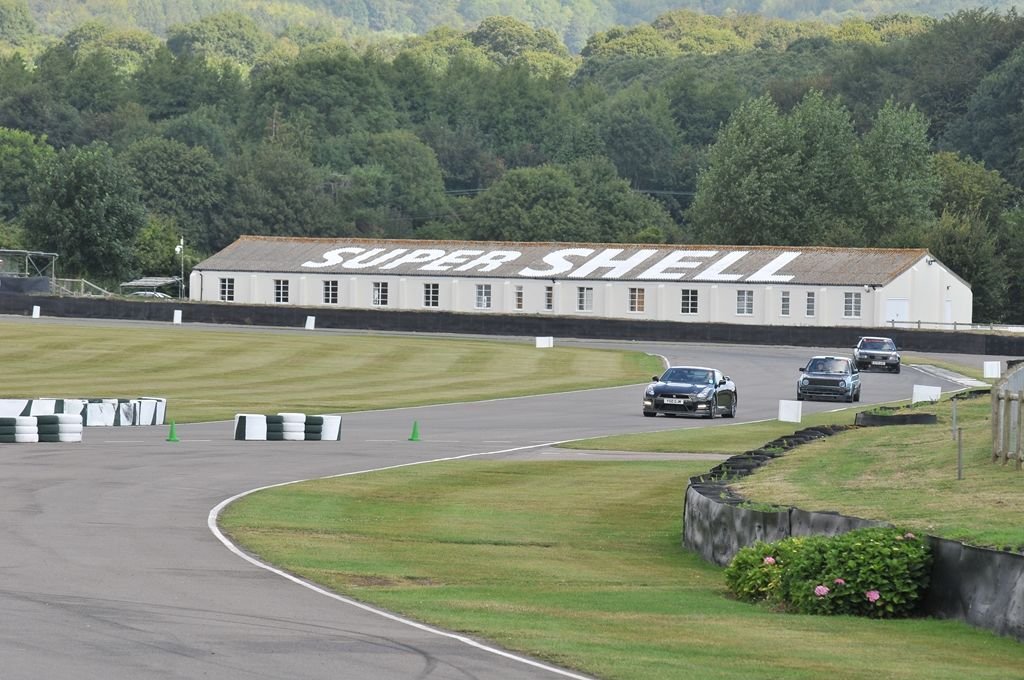 Apparently, my Golf `goes well but looks ****`…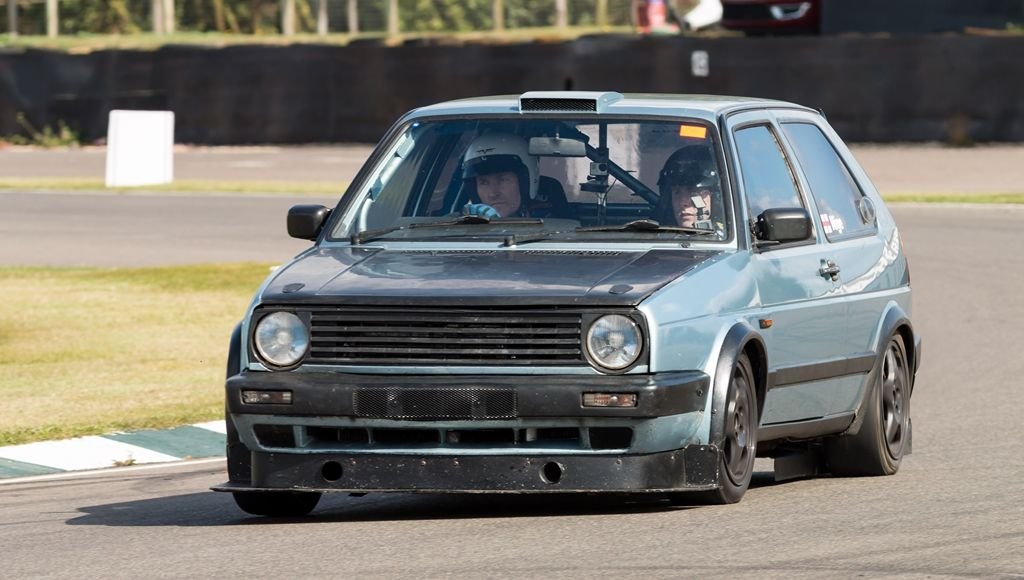 Unfortunately, Simon had terminal engine issues so I took him out for a session later in the day. 3 laps 1.27.x on the bounce, and much smoother. A few places I knew there was time, but I was happy with that and he seemed to enjoy himself. Whilst I`d been running close to the chicane tyres earlier, I just clipped it when Simon was in. Not enough to move the tyres or throw the car offline, just left a white mark on the sidewall and corner of the bumper, but boy, the staff didn`t like that at ALL
Oakie wandered over later on.
"Nige, I`ve had a look at my incar from last year. I didn`t do a a 1.26, it was a 1:31…."
`Don`t worry Nick, it`s not as if you`ve been before and used to instruct here and this is my first visit…`.
"#*#*#*!!**… grumble grumble" and off he wandered.
Rest of the day was uneventful. No drama, no car issues, just enjoyable laps on a lovely circuit.
The issue with the sessioned day and staggered release onto the circuit meant there weren`t many cars around to have fun laps with. Either they were round the other side of the circuit, or we were running at difference pace.
The day ran very smoothly. The sessions ran well, no real delays and everyone was where they needed to be. A big thumbs up for the organisation of this Gareth & Nick
Seeing as I was already in the area, we decided to hang around after the wedding for another day and stay for the Javelin day on Tuesday. Car flew through the noise test at 94db. NOTHING had changed since Saturday, I`d left it on the trailer yet it was 3db lower, same noise tester, just different day. No wonder people find it so hard if they are running close to the limit..
Matt didn`t want to drive on Satuday, but said he`d have a go on Tuesday. Pulled out of the pits and it misfired BADLY. HUH !?
Back into the pits, spent an hour trying to diagnose the fault, checked plugs, crank position sensor, Tacho feed and eventually found MSDroid had thrown a spanner in the works and unintentionally changed some ecu settings ! Arrgghh..
Reloaded a map from earlier in the weekend and it was perfect. Went out for a quick run before lunch, and had my best lap so far, a 1.26 !
I`ve often wondered how hot the Turbo / Manifold was getting under the bonnet, so I positioned the Hitachi camera under the bonnet. Get`s pretty hot under there !
I`m not sure if the engine movement needs addressing. I`m pretty sure it`s the rear engine mount that is allowing the movement. It isn`t particularly worn, but just naturally allows movement. I`m tempted to replace it with a DIY mount, same as the front engine mount I made the other month.
TURN DOWN THE VOLUME before watching this !