I last drove Knockhill way back in 2013. Back then it was simply 'Niges Golf' and was normally aspirated with around 170BHP. The car has moved on massively since then and I've been keen to go back, but available full days at Knockhill are few and far between. They do a lot of evening sessions, seeing as it's almost a 6 hour drive, there is no way I'm only going for a couple of hours.
Matt had never been, even as a passenger so when I spotted a full day Openpitlane in June I booked on. Knockhill are a bit weird. Their second driver pricing is the most expensive in the country, at 50% of the main car driver cost
We were quite late booking and weren't able to book places for both of us, but we were both able to get booked onto the evening session with Scottish M Trackevents, a Scottish based BMW car club.
The forecast was glorious and rather than taking my PS4`s, I took extra unmounted Slicks. As Matt and I both run the same 235/610 R17 tyre, it seemed sensible. A lockup and flatspot can easily ruin a tyre and seeing as I had the tyres anyway, it seemed wise to take them with us.
Matt's diff had been rebuilt by JC Racing, it has double the number of friction plates, 3.9 Final drive and they were very clear that it would need an oil cooler. The only problem was Matt picked it up the night before. Rather than a last minute swap he had already fitted the spare stock open diff he had for the drive up then piped up the new one so it was ready to bolt up when we arrived in Scotland.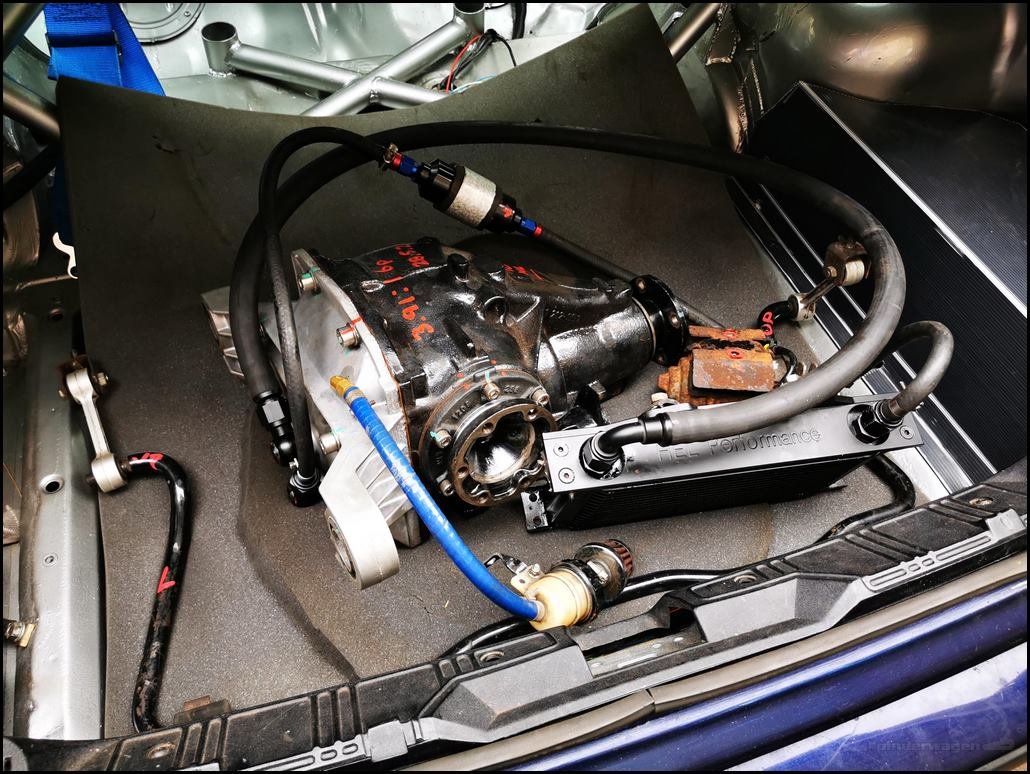 We drove up the M6 and eventually entered Scotland. Only another  2 hours to go.
That's the biggest issue for us with Knockhill, it`s just so bloody far away.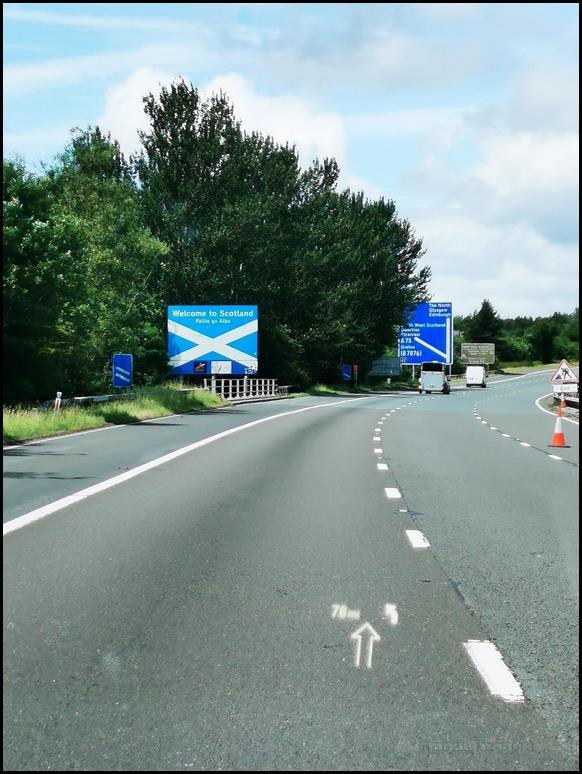 I've known Steve since I started going to the Nurburgring back in 2005. The plan was to visit him, leave my trailer and the X5 there and drive to the Airbnb in the E36. We swapped the diff over when we arrived, 45 minutes from start to finish wasn't bad at all. After Matt had taken it for a short drive to check everything worked he came back with a huge grin on his face. Apparently it worked, very very well indeed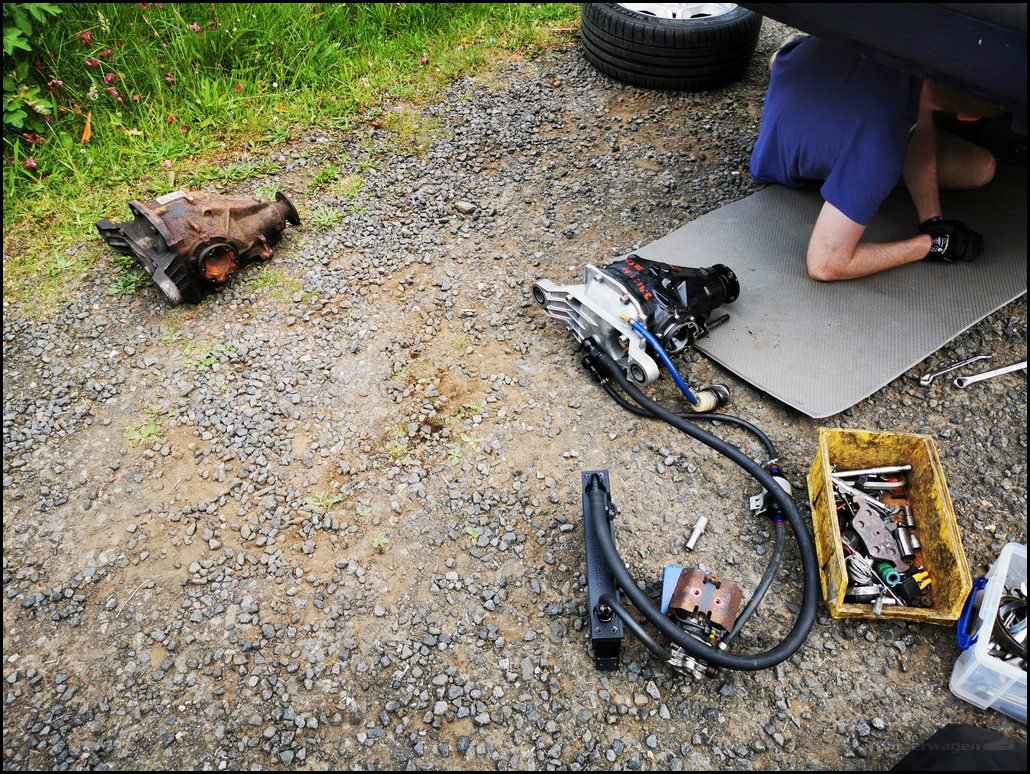 The rest of the evening was spent catching up with Steve and being introduced to Lorraine (his wife). We sat outside to eat and spent hours just chatting away. He'd been out of the trackday scene for a few years and was taking his M4 across tomorrow.
We were staying at an Airbnb nearby which only had on-road parking, hence leaving the X5 and trailer at Steves and Matt driving us across. Even on that short drive, I soon appreciated the comfort of the X5 on the road and was pretty pleased I didn't have to drive it back to Yorkshire. Both Matt and I slept well and after an early start and drive to Steves, we were on our way to Knockhill.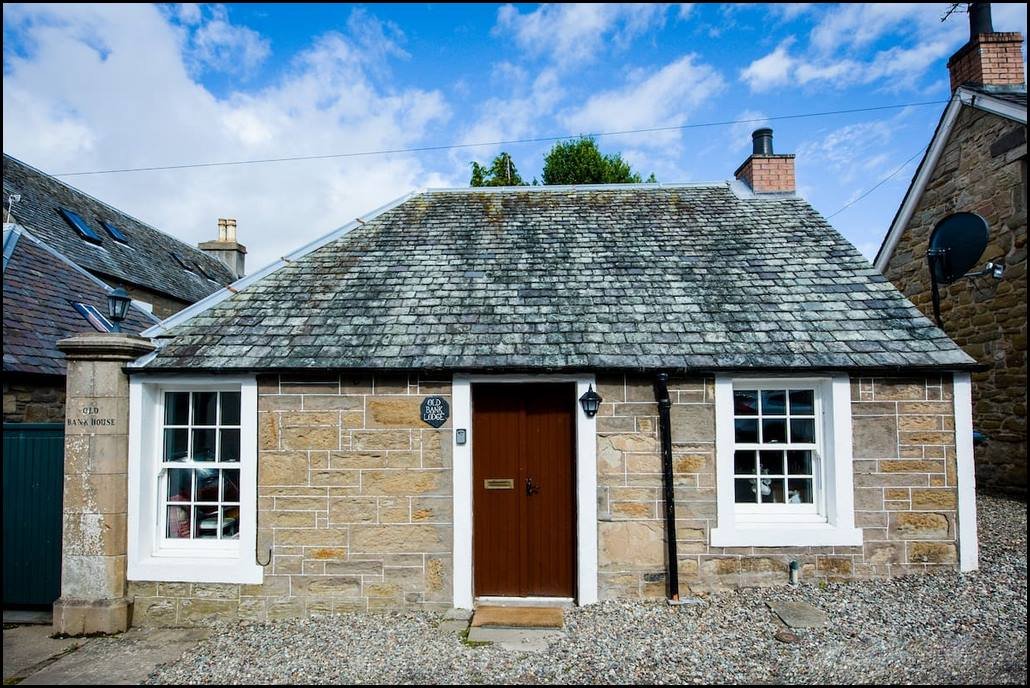 I'd taken the Gazebo, not for the rain but as somewhere to hide away from the Sun. It was still cloudy when we arrived and unloaded but a few hours later we were thankful for it. Matt switched onto Slicks and I emptied the Golf. We were ready to go !
The only problem was, we didn't have 2 drivers stickers…
There was no official photographer on the day, so the only on track photos I do have were gratefully received from spectators on the day who looked me up afterwards.
The plan was for Matt to passenger with Steve and myself during the morning, then we'd switch stickers at lunchtime and he'd drive. Both of us would be able to drive in the evening so we'd end up with the equivalent of a full day each.
First laps out and I quickly remembered the circuit, but any reference I had from before was long gone. The amount of power was more than double I had last time, the car handled better and it meant a total recalibration. It's a very busy circuit with almost no time to rest. I was concerned about the hairpin onto the start finish straight and wasn't sure if I'd have enough grip or if I'd spin the inside wheel. After a couple of laps I quickly realised the diff and slicks were giving me ample traction and I didn't spin the inside wheel at all. Too much throttle and I spun both of them up instead
Knockhill is one of the only circuits I know that runs a reverse configuration on the same layout. Today was the usual clockwise version but the fact they run days the other way for cars and bikes meant the kerbs can't be sawtooth. Hitting those the wrong way could be catastrophic. Instead they were smooth concrete kerbs with a larger sausage kerb on the inside. I try and use the kerbs most of the time, but at Knockhill it's critical. If you don't Duffers Dip and the Chicane are much tighter and you lose a load of time but if you get it right it's very satisfying.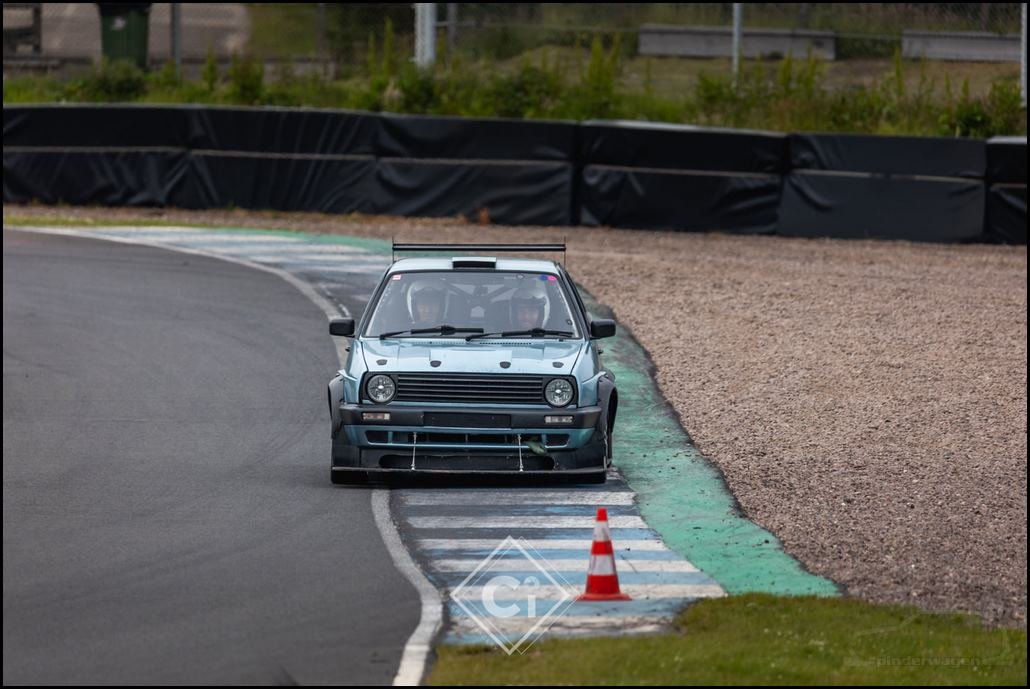 By the end of the first session both Matt and I had agreed it was a circuit that rewarded aggression. I don't mean overdriving, but you needed to attack the circuit and use all the kerbs to get the most out of it. Just my kind of track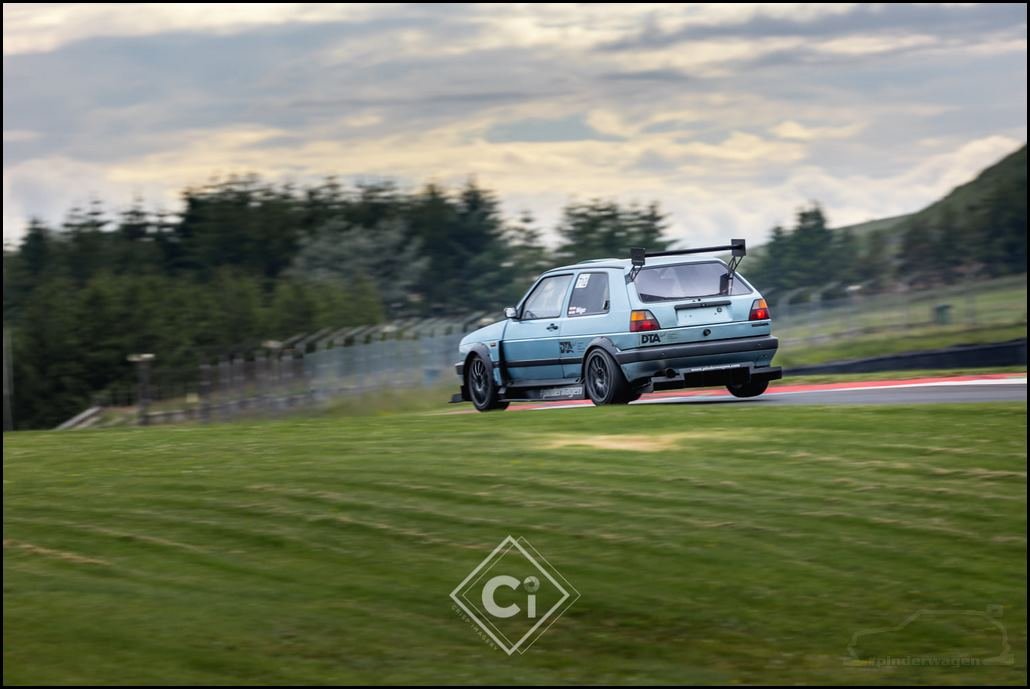 Jamie lives fairly locally so he drove across for some passenger laps. He's driven Knockhill a lot so his feedback was useful. It was only a small tweak here and there but I'm always up for any tips I can pickup. Even if it's something I know won't work with the Golf, it's worth trying just to see.
For once this wasn't my fault !. I had to make a small excursion off circuit. A car had rolled on the exit of McIntyre and the circuit was covered in broken glass from the windscreen. The session was red-flagged as a result but I was on track and the only way to avoid the glass was to cut across the grass on the inside. It was bone dry and there was no danger of getting stuck in the mud and I wasn't the only one who came back in with some grass stuck to the front of the car.
Steve jumped in for a passenger lap, he was interested to see just what the Golf was like, it was normally aspirated the last time he was out with me so this was going to be interesting.
As the rolled car definitely wasn't going to go out again, a trip to see the man running the day seemed in order. Well, there was a place available now so it seemed like a good idea to see if Matt could get out on track ! Sure enough, after explaining the scenario and that Matt had already signed on as a driver a deal was done that we were all happy with. This meant Matt was able to get out on track with me.
It's always a bit strange driving by myself. I'm so used to having a passenger that it took me a while to get used to it during the pandemic. The car is definitely faster when it's just me though.
The weight of a passenger was soon evident. When I was following Matt I could keep close, when he was following me he could keep close. As soon as one of us had a passenger, they just couldn't quite keep up with the other car and over 5 or 6 laps it was possible to pull out a noticeable gap. It's a measure of how closely matched our cars are around here that it was so obvious. I've gone from missing having a passenger next to me, to trying to offload them into Matts car instead of having them in mine
Chasing Steve in his M4GTS was an interesting experience. In a straight line he just disappeared but the more nimble Golf was able to close back up through other sections. Matt was always looming in my mirrors and he was grinning afterwards.
Whilst it wasn't done to intentionally cause the following cars an issue, Steve kept drifting around the hairpin. Usually this isn't a problem but that slight sideways moment caused Matt and myself to lift the throttle just a fraction. At that exact moment Steve gained traction and pulled car lengths we were never able to close up on the straight. I thought it was just me but after the session we were chatting and Matt mentioned about Steve drifting and causing lost time. "I had exactly the same thing !
" Once Steve realised what we were talking about he wouldn't stop grinning

. The git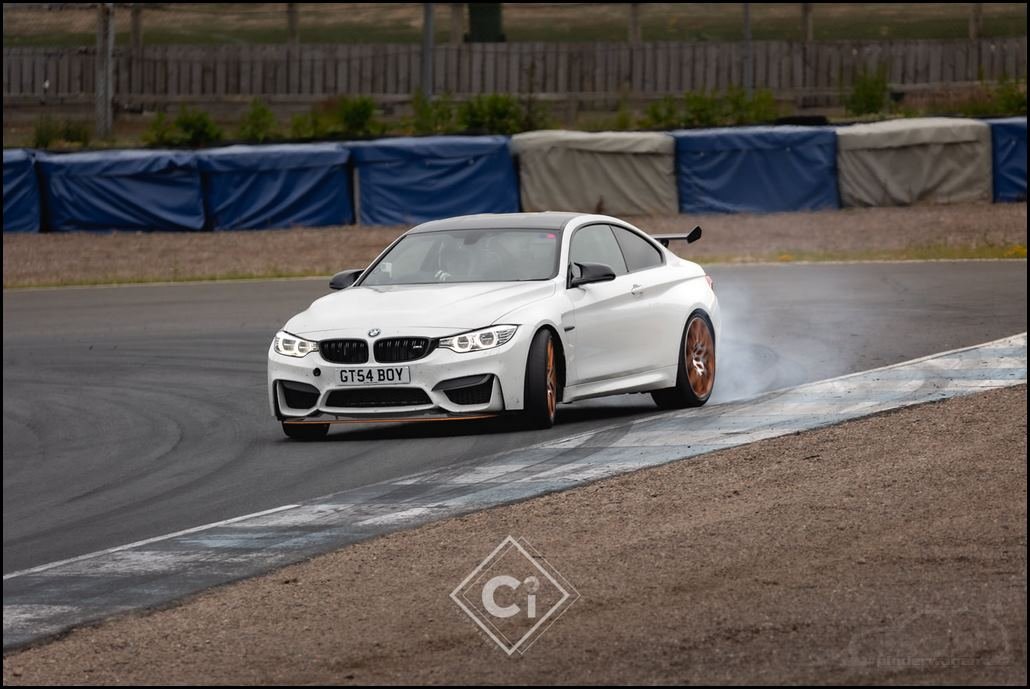 The Golf is fairly softly sprung compared to some race cars and there is a dip just before the chicane which caused the splitter to momentarily touch as the car fully compressed the springs. Thats why the small upright panel on the side skirt just behind the front wheel is bent, the whole skirt grounds out pushing it upwards.
I mentioned earlier, you can take all the kerb you want without worrying, that's not quite true, if you touch the inside sausage kerb it throws you onto 2 wheels and by the time it settles, it makes the compression at the bottom of the hill quite sketchy !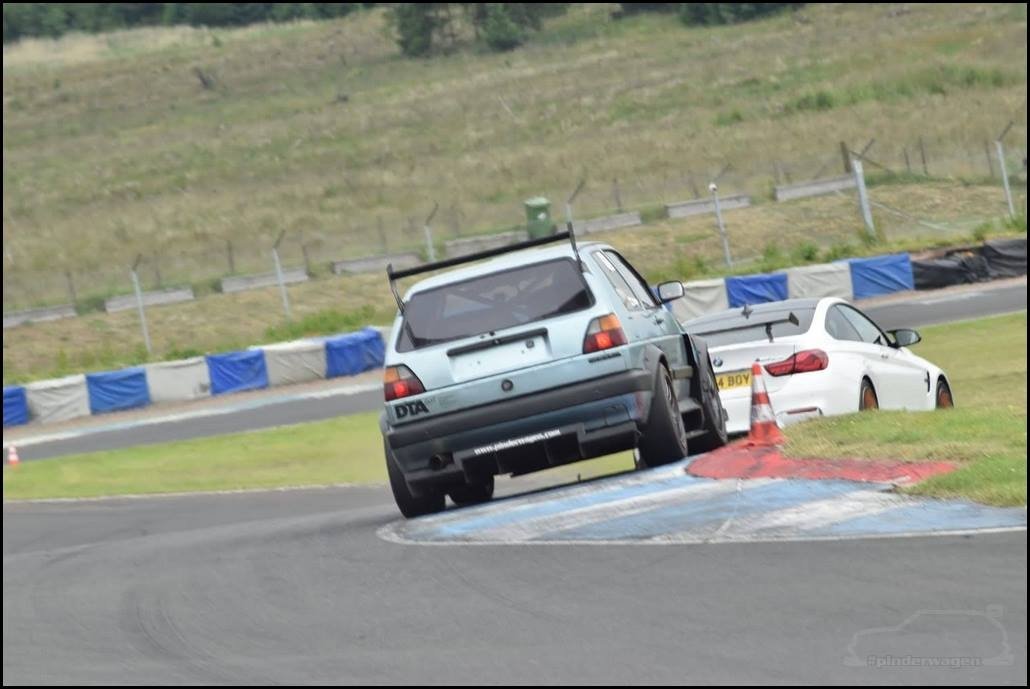 Video of the same session where I chase Steve and Matt is behind but this time from Matt`s E36. Through Duffers the E36 is definitely more stable than the Golf and he closes up every lap.
Whilst catching us up after getting delayed by traffic he set his fastest lap of the day which was a 56.6. Remember that number, I mention it again later…
A spectator sent me an external driveby of that session
Steve followed me for a few laps late in the afternoon and where somewhere like Silverstone would see him disappear, the tight and twisty Knockhill saw me just eeking out a gap but it was extremely marginal.
I was able to get a clean lap myself and looking back at the data it was a 56.6. Exactly the same time Matt managed in the E36. I find it quite amazing that 2 drivers, one in a FWD Golf and one in a RWD E36 both set identical fastest laps 
I had pulled into the pits and was just entering the paddock when the engine died and wouldn't restart. The Marshall on the pitwall asked if I'd like a tow back to our parking area. Seemed a lot easier than pushing so he towed me round. It only took a moment to diagnose, turning on the ignition and the fuel pump wasn't priming. After checking the fuse I spotted some but marks on the top of the relay.
Removing it showed the crimps had been getting very hot. Opening up the relay afterwards and it appeared the contacts were not touching fully, causing a high resistance and drawing excess current. A spare relay was fitted and I was back out within moments, that was in June and I never had another problem with it all year. Just one of those component failures I guess.
Matt was rotating the Slicks to try and even out the wear. The front left was taking a particular battering on both cars and I took advantage of the onsite tyre fitting to get a couple of the spares fitted late afternoon.
L > R Steve. Matt. Me. Jamie.
As I mentioned earlier, we were able to get on the Scottish M Trackevents evening session after Steve vouched for us not being dickheads. It was a brilliant evening and there were some high powered M cars being driven on track, being up to speed after already spending the day on track was definitely an advantage in the early laps
The circuit is quite hard on brakes, the chicane for example is from 120mph down to 32mph and with a lap under 60 seconds, there isn`t much time for them to cool down but I was delighted that I experienced no fade whatsoever. The pads wore quite a lot but the pedal was there everytime I needed it, only suffering from a little bit of pad knockback after the chicane if I took a lot of both kerbs.
Once the evening session was finished Matt swapped back onto the PS4's for the drive back to the airbnb. As the car had been parked a while, the tyre had actually melted into the tarmac and pulled a large chunk of it out when he jacked it up. I know slicks get sticky, but that was ridiculous !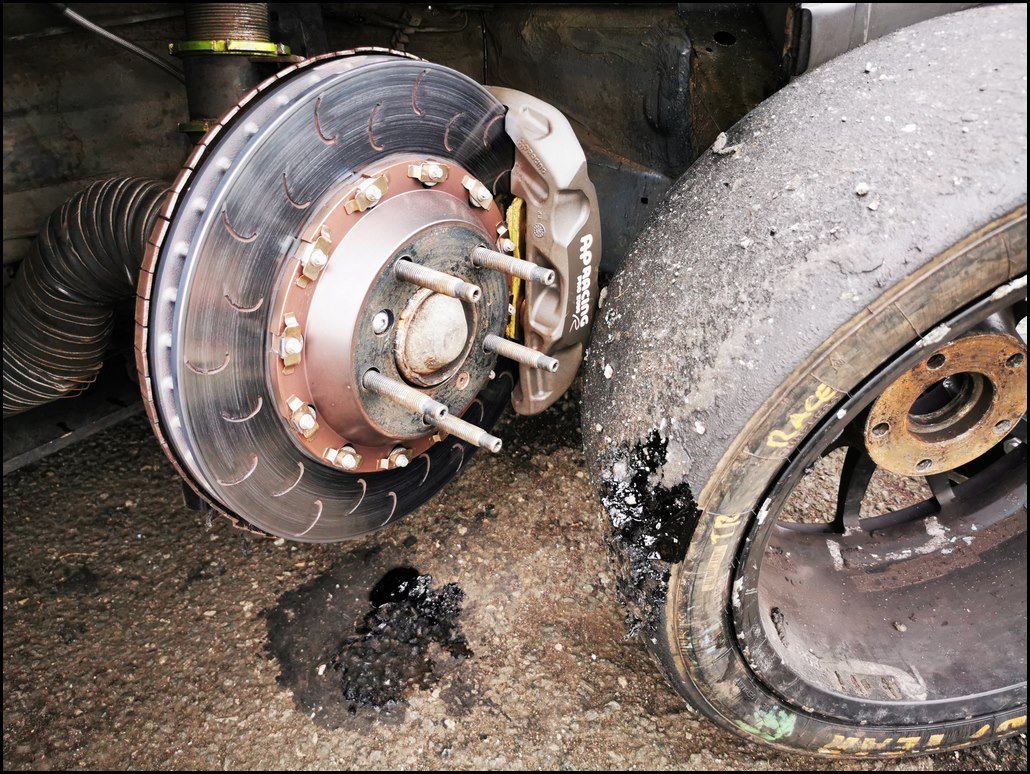 At the end of a day and evening session the Golf was still in one piece and if necessary could have done another day tomorrow. I've been striving to iron out the weakpoints and now I'm finally at this point, I can tell you, it feels great.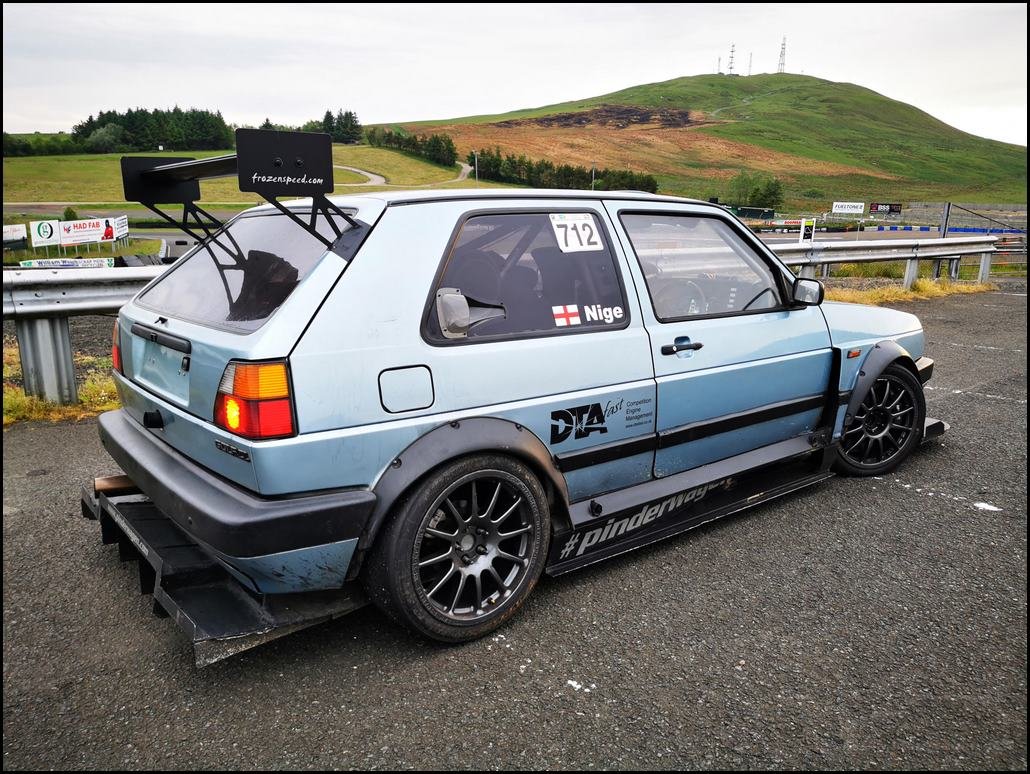 Without a doubt, this was THE best trackday I did in 2021. I drove as fast and hard as I could all day long and all evening and apart from a failed relay, I just changed tyres and added fuel. I never even thought about mechanical sympathy or issues. The clutch was sticking when releasing the pedal at the end of the day which meant slightly slower gearchanges, that turned out to be the release bearing sticking on the input shaft. The Release fork had worn allowing the bearing to twist from it's normal orientation. A new fork sorted that out.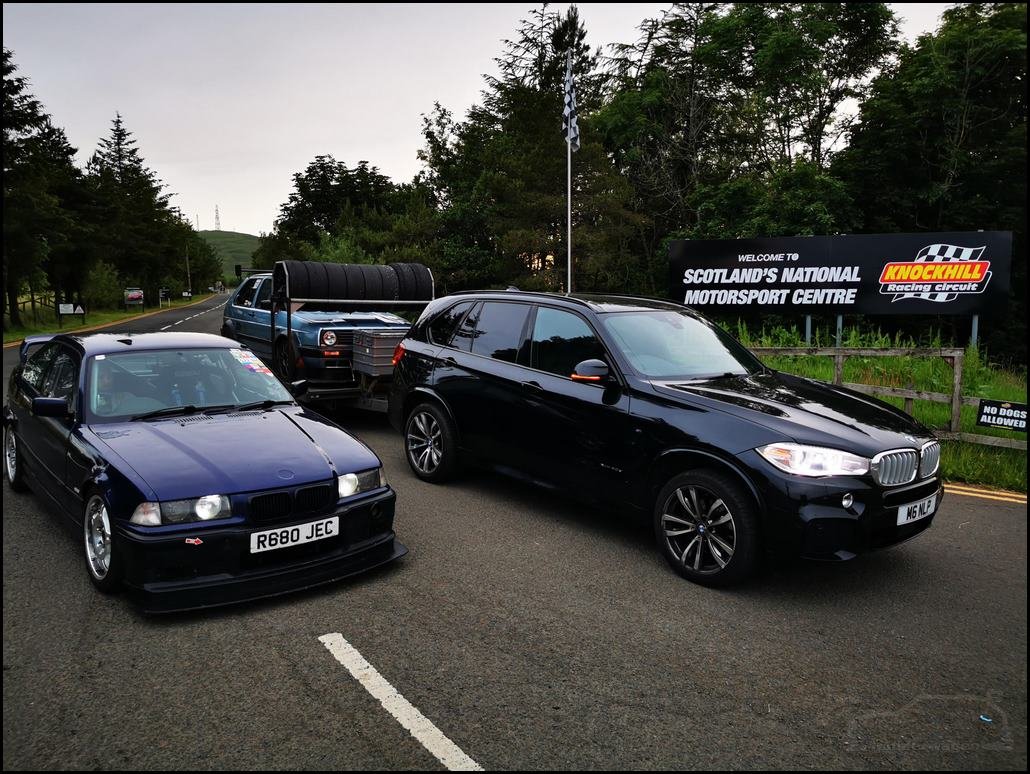 After a long day we headed back to the bnb for something to eat. It was 11pm by the time we'd showered at sat down to eat but Matt and I were still buzzing about having such a thrilling day on track. A beer just finished it off nicely before calling it a night.
The next day saw the long treck back home, we stopped at some services on the M6 for some lunch and to stretch our legs. This has been the only trackday so far where Matt have said how much he'd prefer to trailer it. Usually a couple of hours in the E36 is fine, but 6 hours is a long time sat in a car with not a lot of ventilation on a scorching summers day.
I definitely intend to do another day at Knockhill. Matt was as positive about the day as I was and he too is keen to do another. Some circuits don't look that good when you watch a video or for some reason you don't come away particularly enamoured with them. This was the opposite, it's a great little circuit and the fact we both had a pretty trouble free day meant we could focus on what's important.
Driving.
Somewhat surprisingly I`ve had a few messages from people asking if they can support me in some way. I`ve set up a buy-me-a-coffee page for those of you who would like to do so, it allows the opportunity of making a small donation towards future Golf development 

.