Had a steady drive down to Bedford on Sunday afternoon. Sat behind a lorry for over 100 miles at 56mph. Averaged 28.2mpg. We weren`t in a rush so it didn`t matter.
Parked up and Sparrow was already there.

Went out for a meal with Andy & Hayley Jebson, Sparrow, Matt & I. Burger, beer and a catch up. Great evening
Up rather early next morning… Looked on my phone and saw Gurds was up early too. Then Ram joined us, all up before 4am.
Sat in the room waiting for the briefing having a good chat and looking forward to the day

Eddies MK2, Mine and Pauls immaculate 16V

Briefing given by Andy, went pretty smoothly.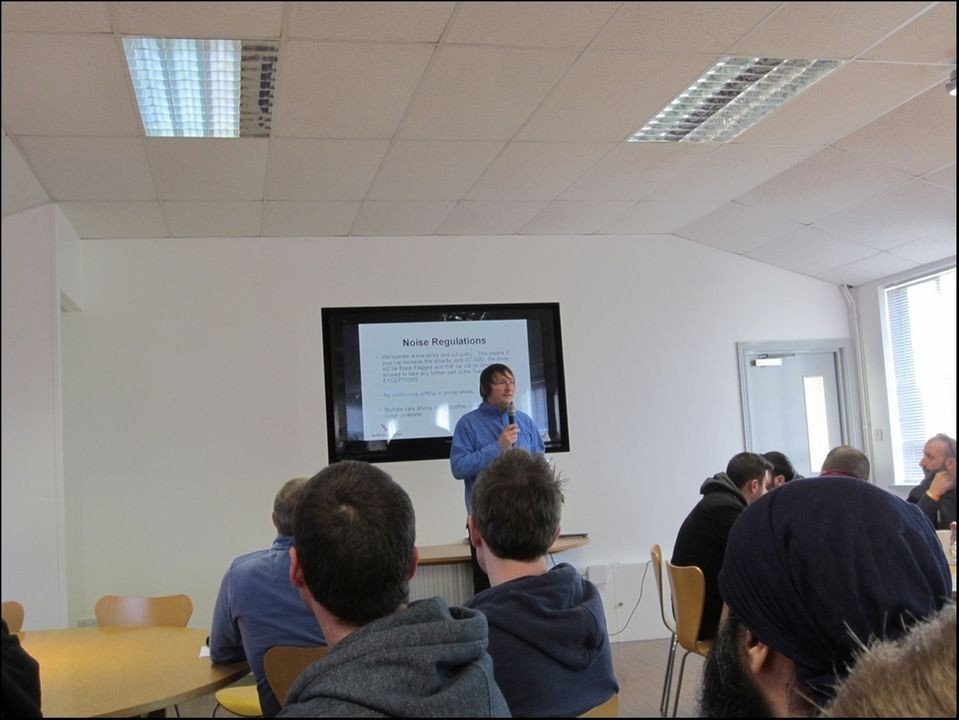 Over in the Garages which Javelin had put together, cars were unloaded.

Windscreens cleaned

Is it time to play yet ??

I fitted some almost new Yellows for the first few sessions. Hated them. Couldn`t press the pedal any harder and it wouldn`t lock the wheels. Shame, They were always absolutely fine when I was running lower speeds.
Switched to some RC8`s, they were low but I`ve ended up with several sets of pads with a few mm left as `emergency pads`. Decided to use them up today before they fell apart. These lasted 2 sessions and cried enough
Matt swapped for a set of RC6E`s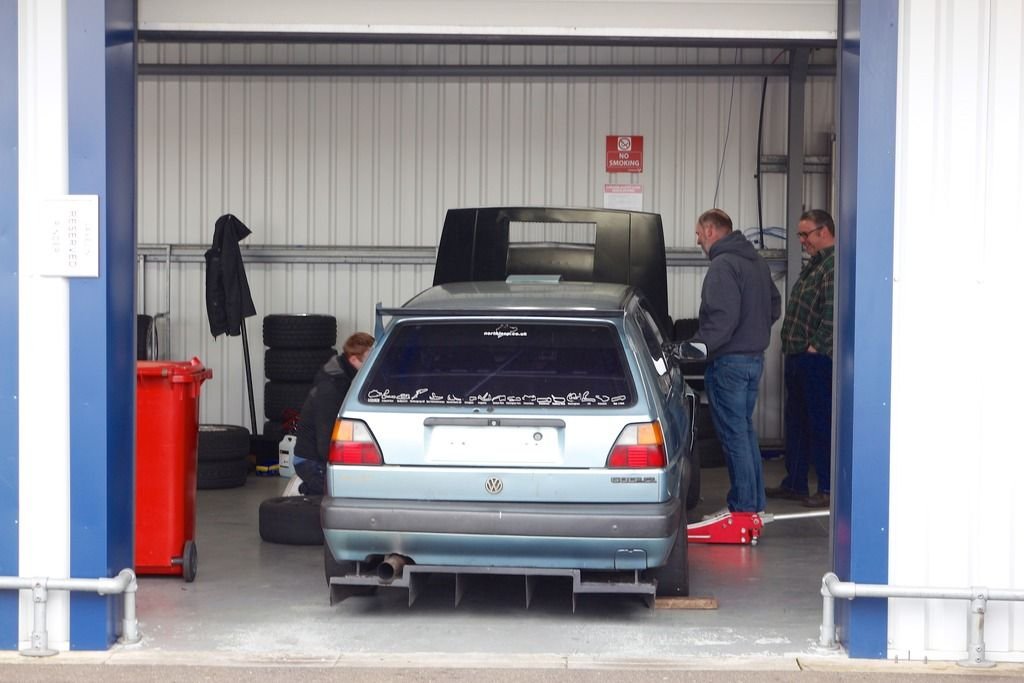 I`ve said for some time that mine is looking shabby. Next to Paul`s 16V, it looked worse than usual !
Keerat and Ian looking at Keerat`s Edition30

Henry had to bring the Megane, Ian brought the red MK5 that`d he`d bought on the way down !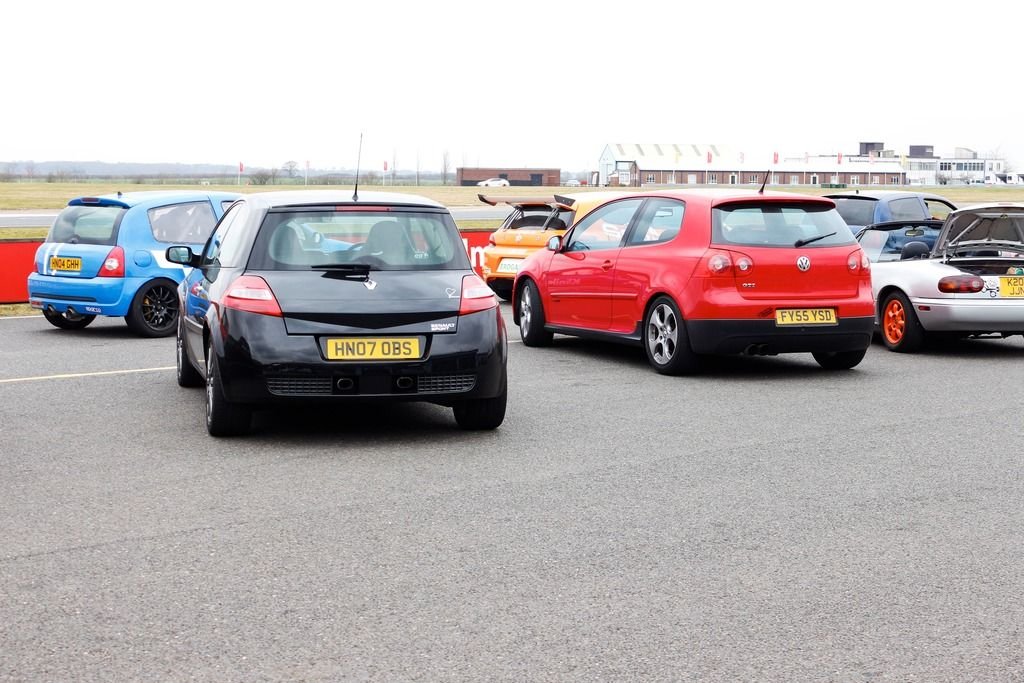 Jenvee ready to go.

After a few sessions to get some data, I fitted the splitter extension. Datalogs and feel from the car didn`t show any increase. I had a feeling the existing length was about right as it was and this confirmed it. I`ll be making a new one to the same length as the existing one (without extension)

As discussed in my 4-pot thread, the brakes were getting rather hot. Even after a cooldown lap, they were still glowing !

Cold slicks, 1st lap and 3/4 turn of left lock going through the right hander
Graph looks complicated, but it isn`t really.
I did a 4th gear pull from 2,000rpm to 7,100rpm.
RPM in Red.
AFR – Grey, very close to the target 11.5 once in boost, which was excellent. I`m happy with that and don`t need to touch it again at this boost level.
Yellow trace is the boost curve. Comes on from low down, pulling 0.65Bar by 2,900rpm and rising rapidly, then the ecu dumps a load of boost (Green highlighted part) and produces the nice curve I`ve mapped it for.
The pale yellow trace is the run from Rockingham.
The highlighted pink section shows the 4-5000 rpm boost has been lifted compared to the Rockingham trace. That`s exactly what I was aiming for and this will be left alone now.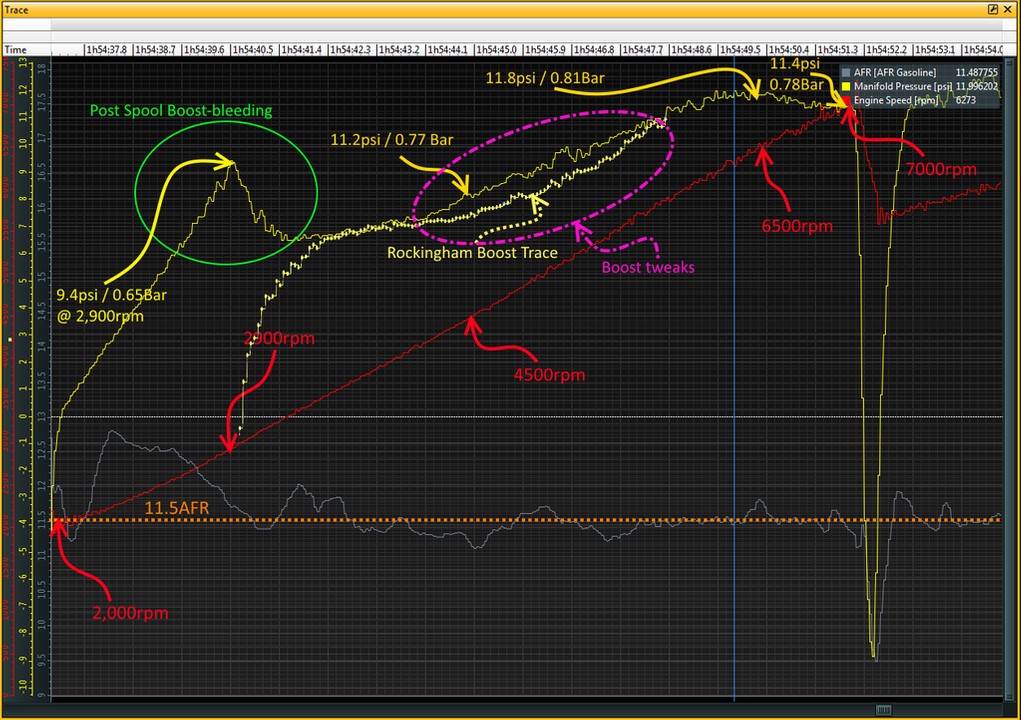 I`ve had a very intermittent ECU issue over the last few years and have been unable to pin it down. It was much worse at Bedford and we had to pit after a session. The ECU kept resetting, very unpleasant to drive.
A typical datalog from a session was like this, White was coolant, Yellow was Battery voltage. It looks to spike a lot, but the actual range is pretty small.

Ran a new, temporary fused supply to the ECU from the battery. Problem fixed
Next session trace is far cleaner !

Turns out it was a noisy 12V supply to the ECU that was causing the issues. I need to re wire that, it was only temporary for Bedford so I`ve ordered a small fusebox and relay board that will only feed the ECU
Bedford was a cracking day out, I expected some brake issues with the lower pads, but it highlighted the fact that I`ve run stock single piston, cast calipers and brakes for as long as I can..
No photos, Matt never had chance.
I do have incar, the GoPro lens re-focussing fixed that issue !
http://www.youtube.com/watch?v=XJ0V-7dNZJk
I wanted Matt to drive the Golf again and Bedford is ideal, he took it out and instantly gave me a list of things he didn`t like…
Geometry isn`t right, it pulls left and doesn`t turn in sharply enough – True.
Accelerator pedal is too high to H&T easily – agreed, low pads make it worse
Clutch is too sharp when you lift off the pedal – He`s used to hydraulic
Lifting off mid corner is unpleasant when the Turbo dumps boost – I said the same when I first drove it after adding boost last year. Needs more finesse on the accelerator when lifting
I think he liked it..
Gurds then drove it for a few laps, not really enough to get used to it unfortunately. He had similar feedback to Matt, but really didn`t like the (lack of) brakes and poor turn in. Said the rear end wasn`t as mobile on mine either. He said it felt more like a bigger N/A engine than a Turbo, which really cheered me up.
Gurds and Alex had similar thoughts to me about the diff, it never seemed to be `lacking` and the car had good traction. I`m more confused on that than ever now.
Next outing is Anglesey in May, I have a lot I want to do before then. Photos will eventually follow…..