Whilst Knockhill was the best trackday in terms of driving as hard as I could for a full day and evening session with no problems, this Cadwell trackday turned out to be the best in terms of having fun and a laugh with mates.
We were camping over the night before again and arrived to a pretty empty paddock.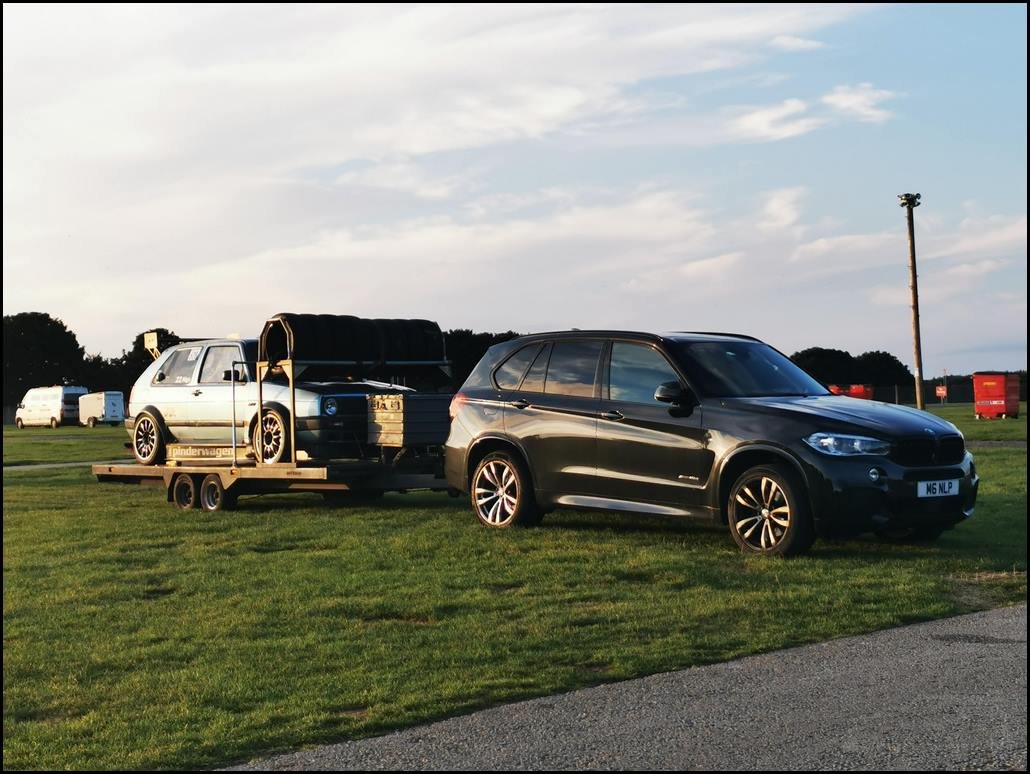 Cat was camping with me, Matt & Gav were driving across in the morning.
By the time we'd pitched the tent, unloaded the Golf and put up the Gazebo, John had arrived with his Seat and Gurds had unloaded the MK1.
Before darkness started falling we all agreed a trackwalk was necessary. Keerat hadn't driven Cadwell before and Gurds was showing him some of the key pointers whilst walking around the circuit.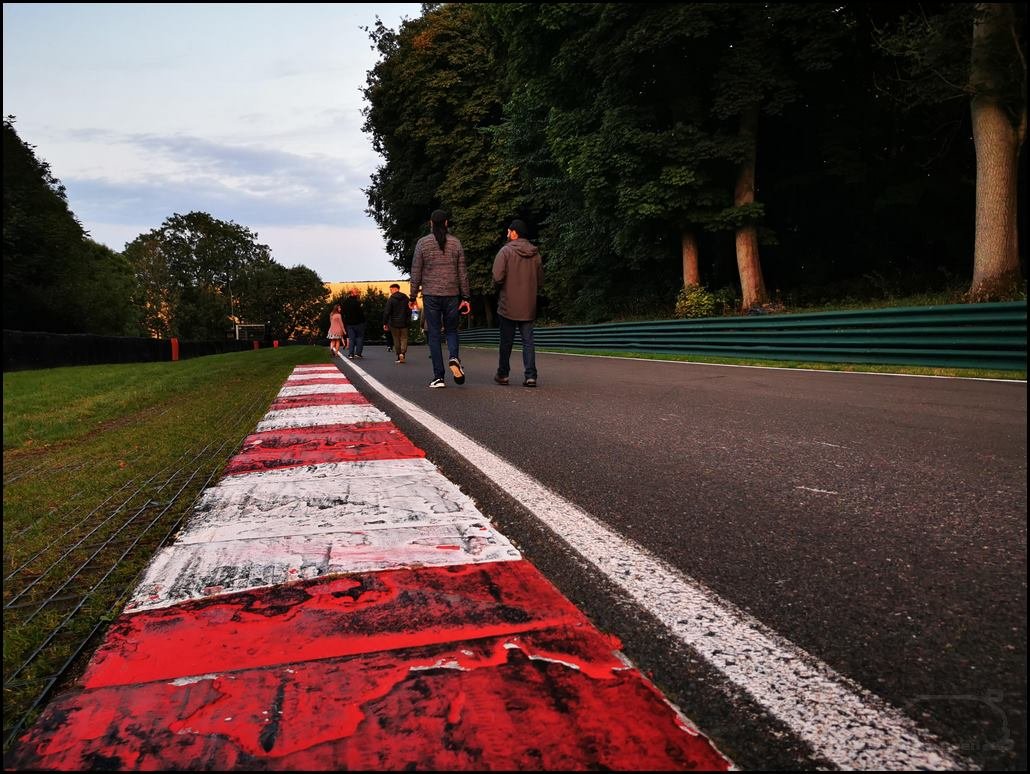 It's hard to capture just how steep the entry into Coppice is from a photo. It's a blind uphill left hander that you approach at well over 100mph but walking the circuit gives a very different appreciation to the gradient.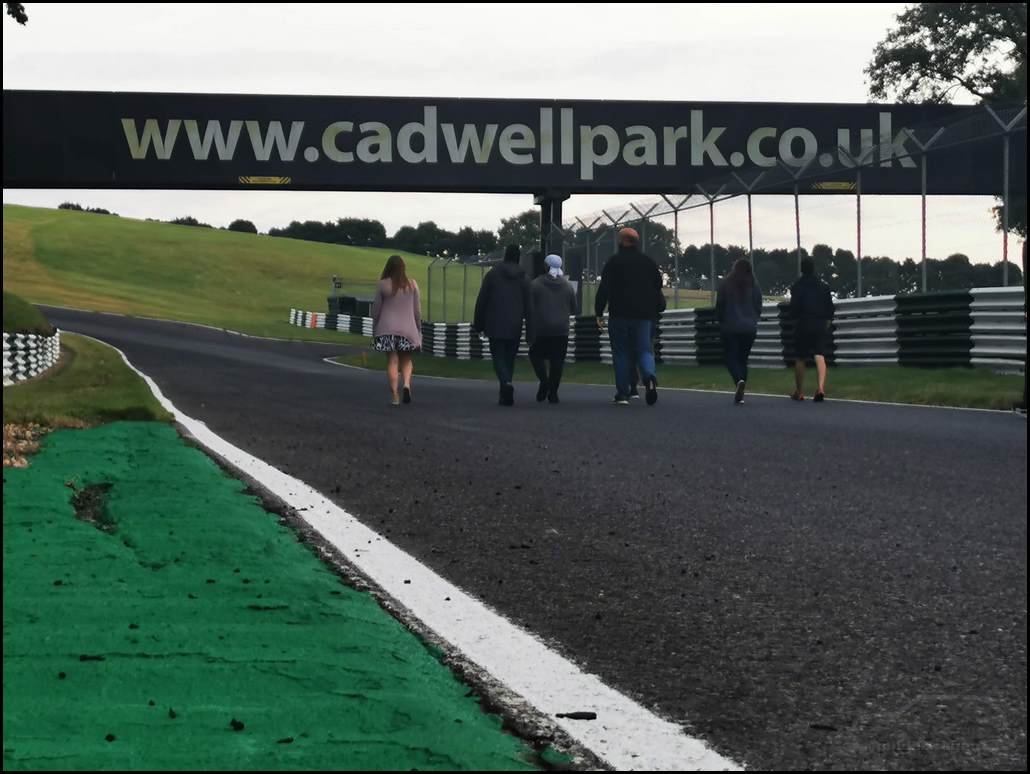 The evening meal was a BBQ, Gurds made a temporary table using one of his trailer ramps. Very effective it was too.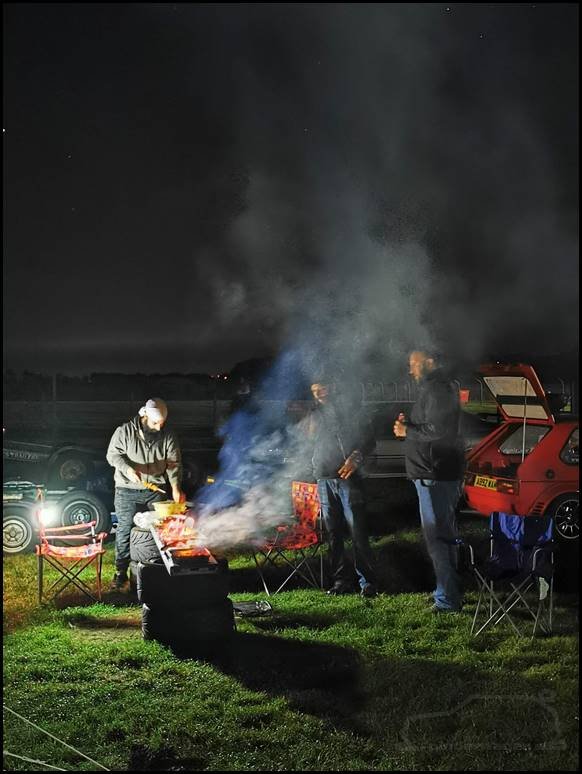 Woke up to a clear but chilly morning and with the forecast being for a dry day, it was a great start to the day.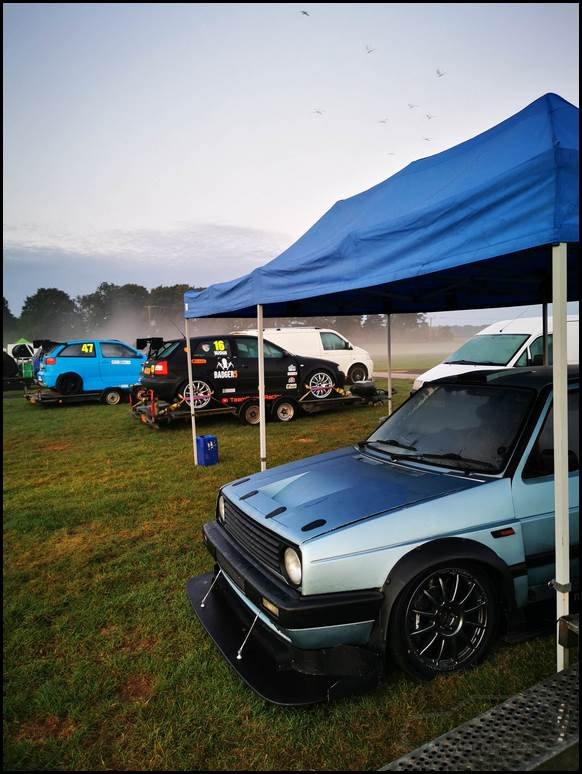 Matt and Gav drove over in the morning instead of camping the night before. The E36 is not exactly designed for long distance cruising.
First session out of the way and tyre pressures set. Then straight back out with Cat for a few laps with Dave following in the seat. The Golf felt spot on and I was up to pace straight away. I think this is going to start happening more often now as I've done most circuits a lot of times over the last 17 years and it doesn't take me long to get into the groove.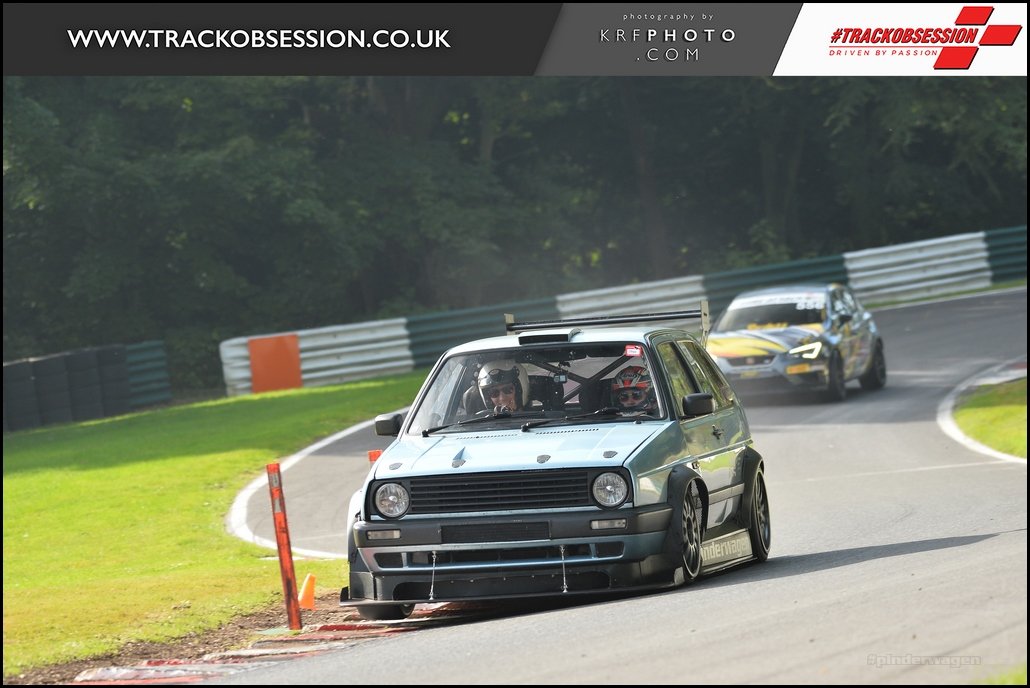 Even though Gurds and I are very good friends and talk often, we don't share many track days together so its always a delight when we are on the same day and we make a point of going out together. His current turbo setup and lighter weight is immediately obvious on the straights but over a lap, we are very close. These are exactly the type of sessions I look forward to and then watch back months afterwards. Chasing a mate, on a trackday, in very similar cars, what more could you want!
Next session was with Nick but after half a lap the boost hose popped off the turbo. This doesn't happen often, but I have found from experience that once it has blown off, its difficult to get it to stay in place. Its a fairly easy fix and we were back on track 10 minutes later.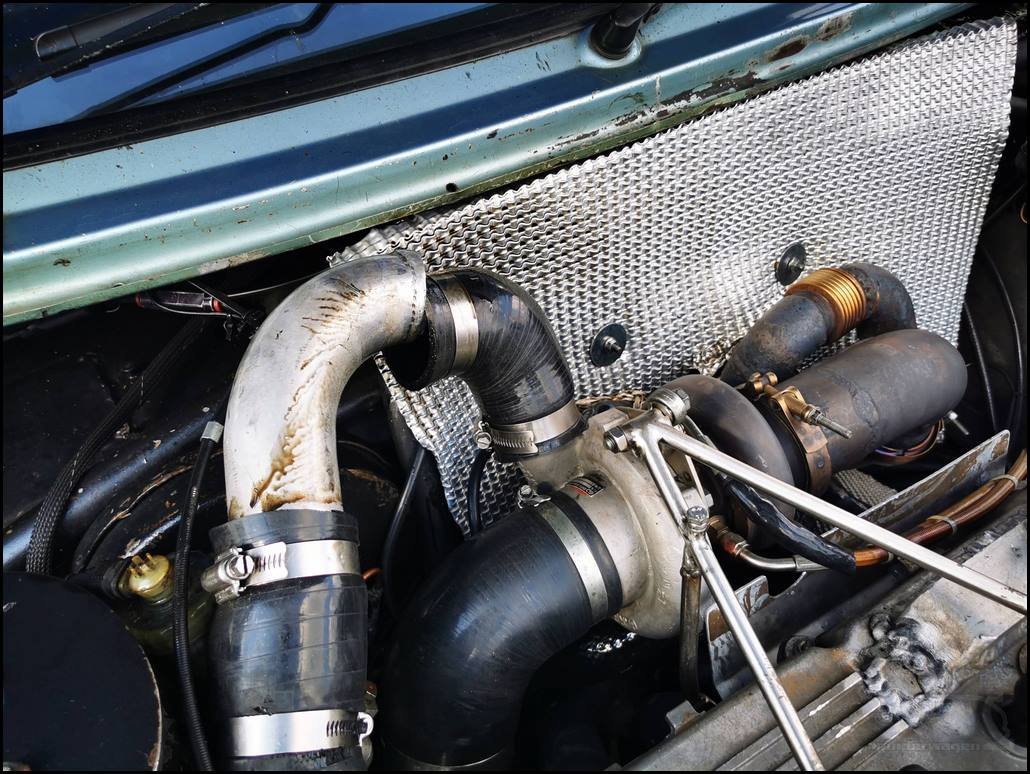 Braking at the end of Park Straight I went to change down the gears but it was stuck in 6th. This has never happened before but no amount of force would disengage the gear. Pulled off the track at the Hairpin as there was no way I'd be able to get up the pit exit in 6th. There was nothing obvious around the shifter mechanism so the next step was to remove the gearbox end casing for a closer look.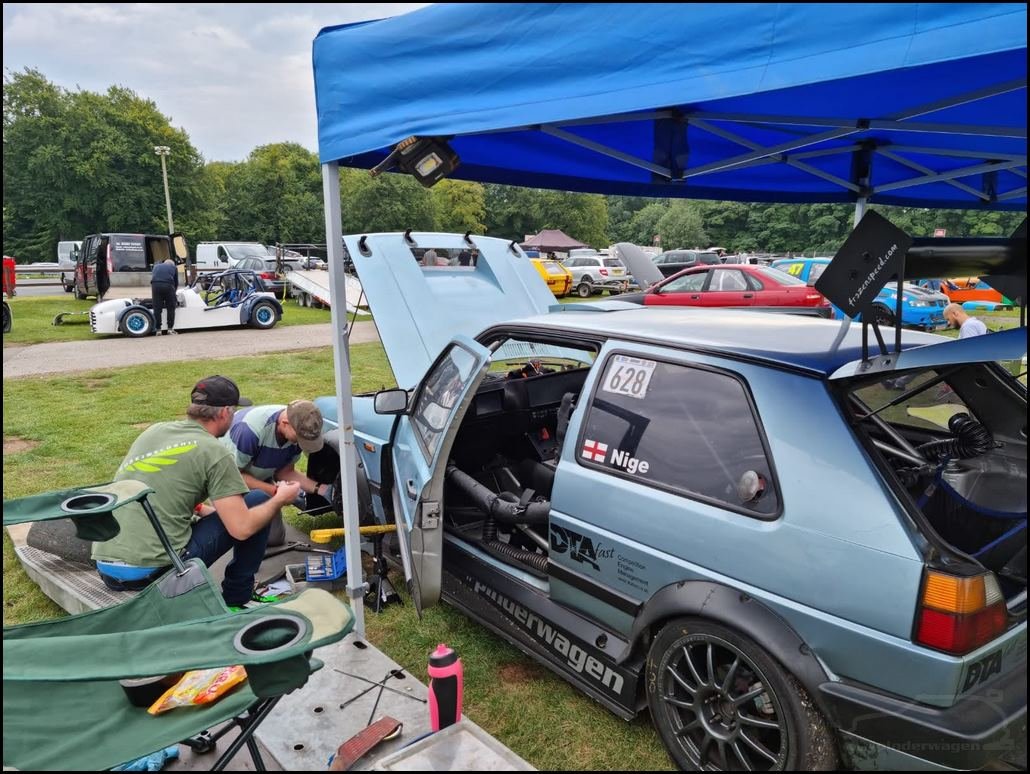 Everything looked okay, but even with someone moving the gear lever it would not come out of 6th.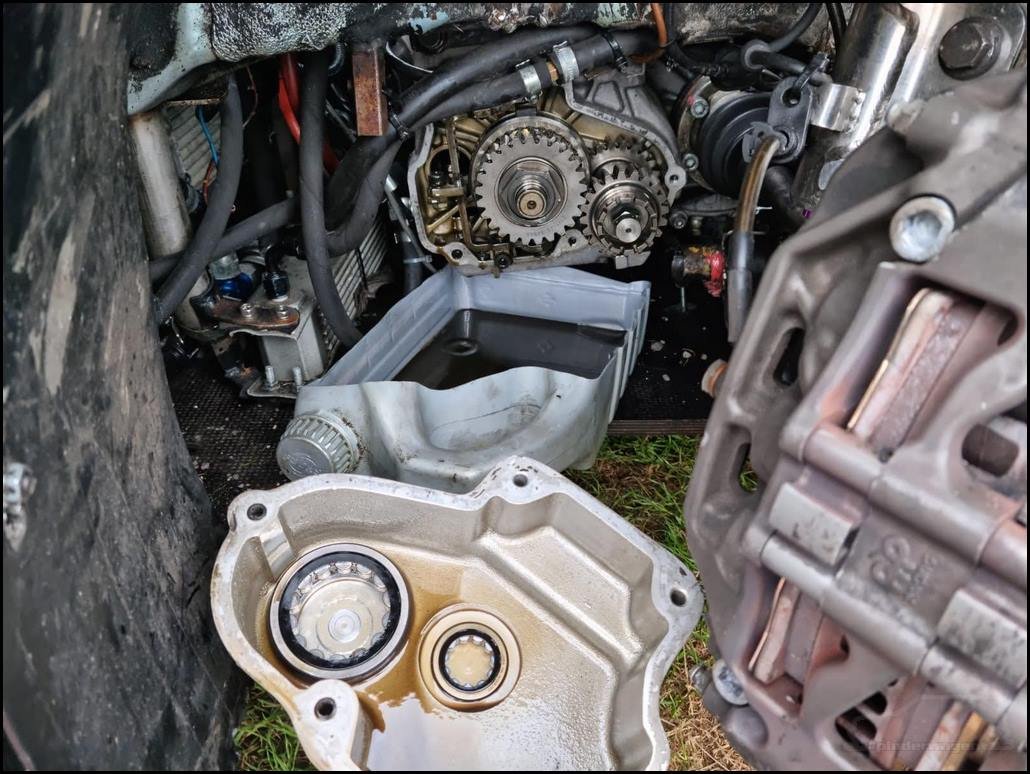 Closer investigation highlighted some wear in the end casing as can be seen by the witness marks on the photo below. The only way this could happen was if the fifth/sixth gear assembly had moved axially.
The next step was to check the securing bolt hadn't loosened, but as soon as I put the socket on, the issue was immediately obvious. The retaining bolt had sheared.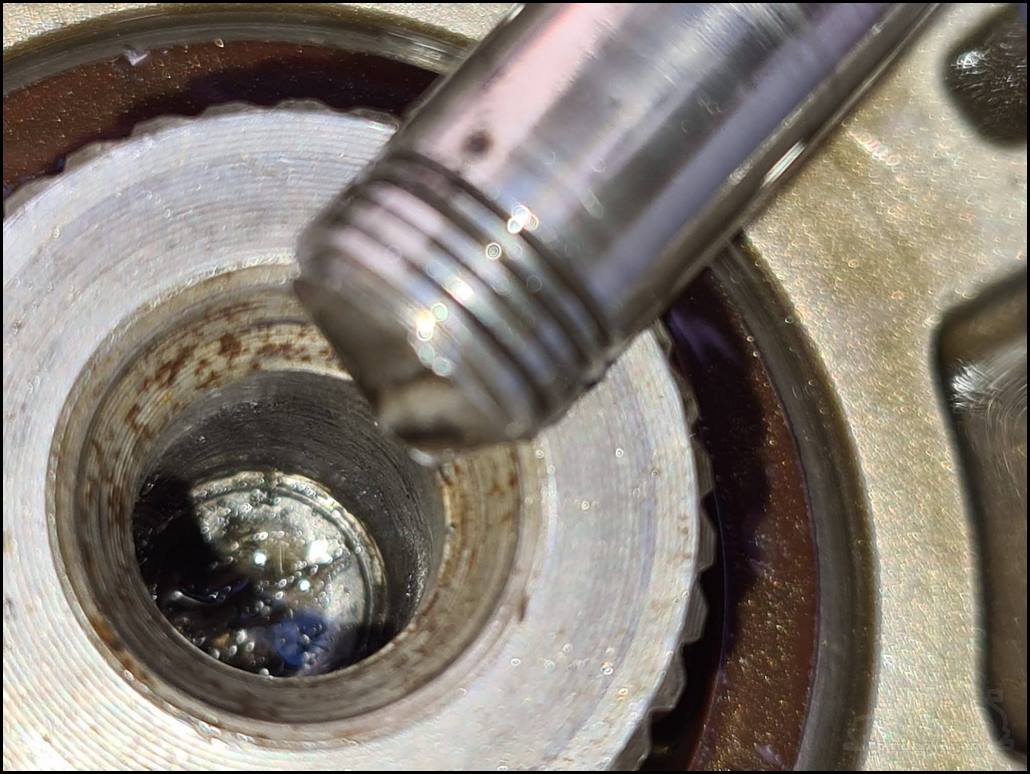 This had allowed the gear assembly to move relative to the synchro ring, this then jammed and actually snapped. No wonder it was stuck in gear !. I was able to reassemble everything but would have to continue the day without using 6th gear. This isn't a huge issue at Cadwell as the only place I use 6th is at the end of Park Straight to give the engine a breather. Everything was reassembled to get me through the day but obviously a more permanent repair is needed before the next trackday.
This is the first mechanical failure I have had this year so whilst disappointing, it didn't stop the day and is something I know can be repaired relatively easily.
When driving you can feel the tyres are loading up but its only when you see photos after the event that you realize just how much load you're putting through the car.
In between sessions we were all excitedly talking about the laps we'd just had, everyone was having a fantastic day and even though there were a few red flags when the marshals needed to replace the floppies, we were still getting loads of great laps. Gurds only met Gav a few years ago through trackdays, but this photo sums up how everyone was feeling on the day.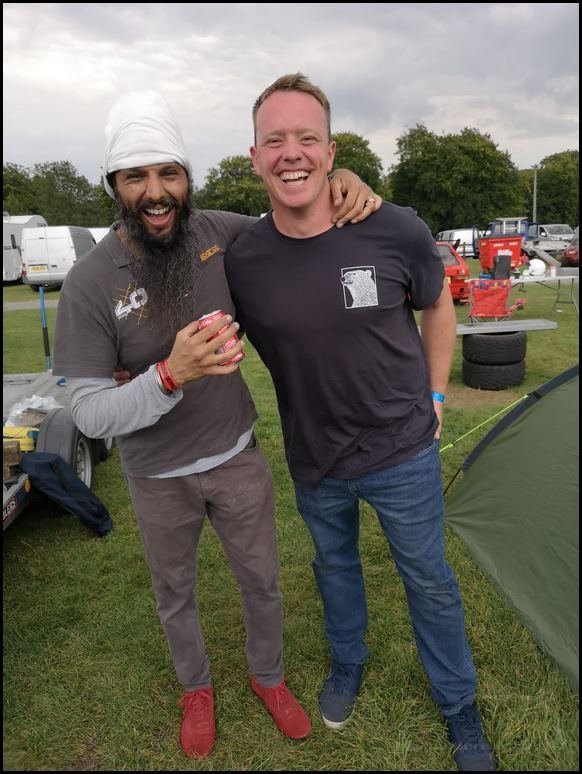 For the middle of September, you can't really ask for better weather than this.
I was tweaking the tyre pressures by using a infra-red temperature gun across the tyre tread, if the tyre is overinflated, the Centre is hotter than the edges, under inflated is the opposite. Finding the right pressure from a tread temperature point of view and then slightly adjusting to give the required handling is something I do without even thinking about it anymore.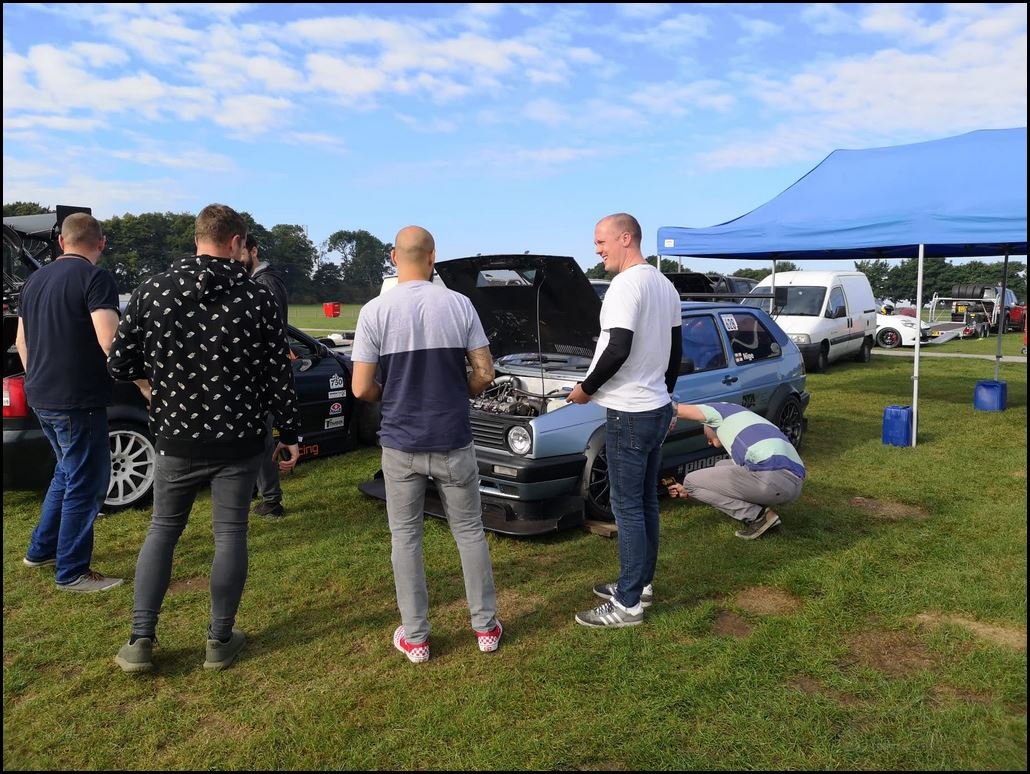 The day was run by TrackObsession and as a thank you for a group of us promoting the day on social media, James offered the opportunity of a lunch time track photo shoot.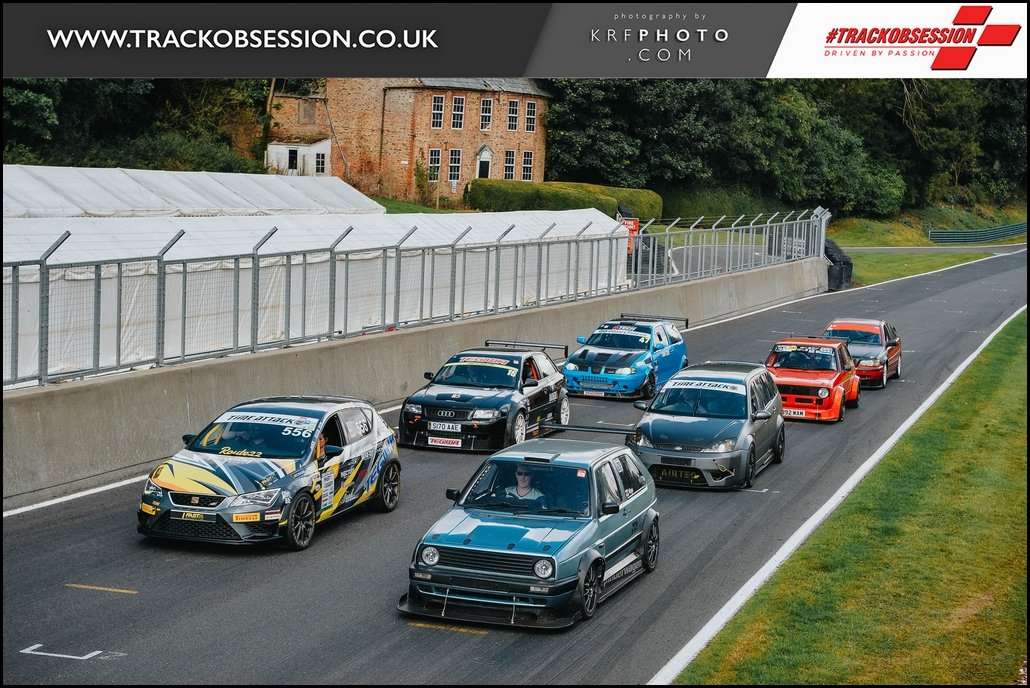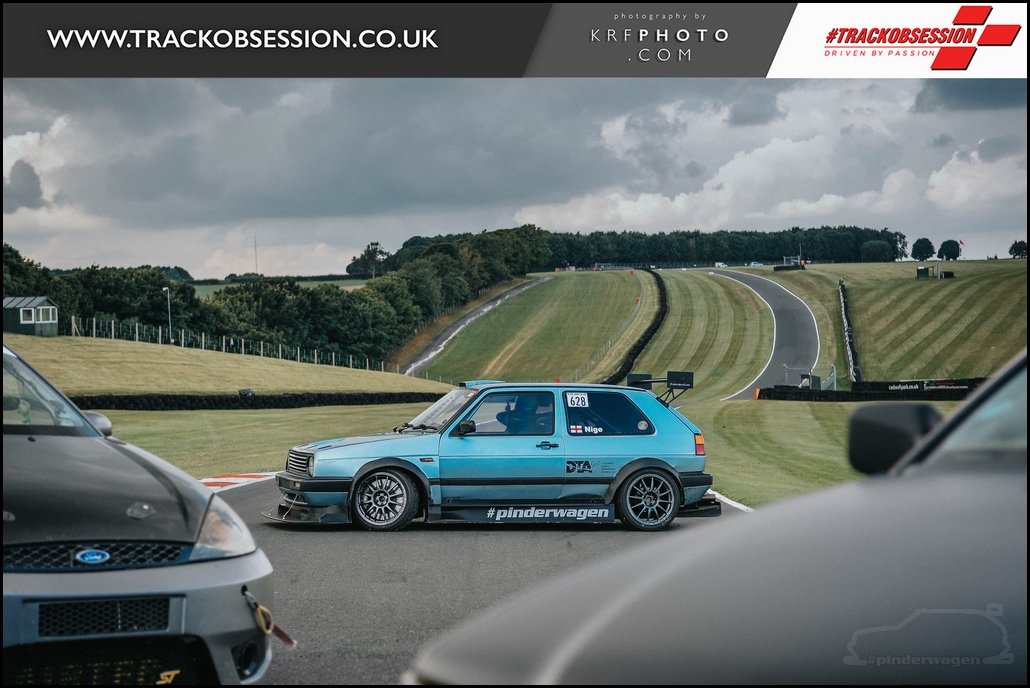 This is one of my favourite photos of the Golf in a long time.
I particularly like camera car tracking shots like this. Its not something you are often able to get, in fact, this is only the second time I've had a tracking photo of the Golf taken in the last 15 years.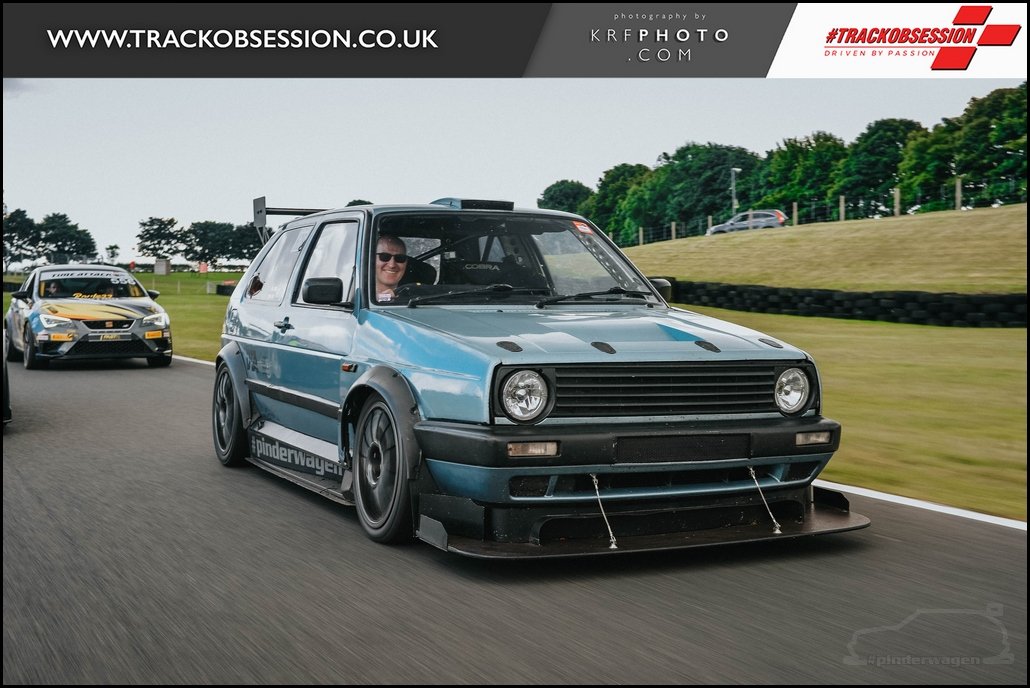 Sam owns a MK2 with a 1.8T engine that he often takes on track. He's been asking for a lap in my Golf for a while. This was the perfect opportunity to take him out for a few laps and its safe to say, he was quite surprised at just how well a MK2 could handle on track. Over the years I've taken out 100's of passengers and whilst many enjoy the experience, some of the best reactions are from fellow MK2 owners as they are able to feel the difference in handling and stability of my Golf compared to their more standard one.
He then tried following for a while but that didn't last very long.
Matt has often said he doesn't particularly like Cadwell. He much prefers Oulton but thats not to say he wasn't going quickly. The new diff was really working well and despite a significant power deficit, he was almost as quick as we were as he made up the speed elsewhere.
Despite the gearbox issue, I was still able to lap as much as I wanted.
TrackObsession have several top flight instructors on their days and I always take advantage of the free tuition. Today it was James Gornall, who has won several different championships and was a BTCC driver. We built up speed over a couple of laps where he was just watching and then he started offering some areas for improvement. Each lap I was pushing harder and harder to understand how his suggestions felt and worked.
We caught Mike in his Time Attach Civic through Hall Bends but he then sped up and I chased for what was a very enjoyable lap. The 100HP difference was particularly noticeable on the two straights but despite that, the Golf gave a good showing of itself. When a passenger like James says, "I am enjoying this Nige!", you know things are going well.
I spoke to Mike after the track day and it turns out we both work at the same company. Its a small world. Since then we've spoke often about our plans for 2022 and beyond.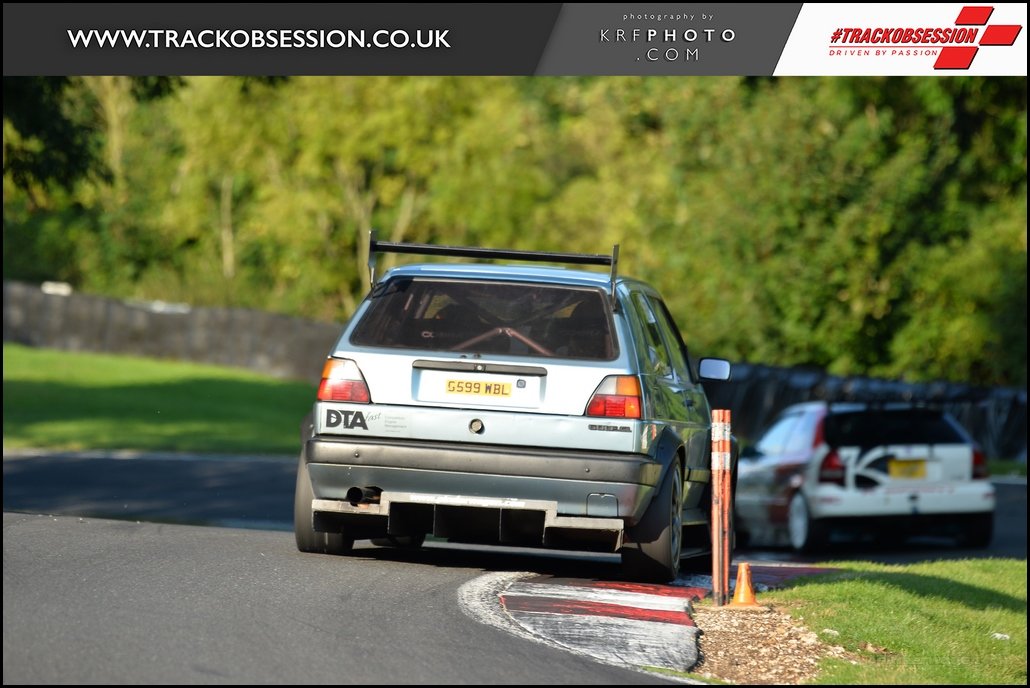 The final session of the day ran until the checkered flag and we all came away from the event having thoroughly enjoyed ourselves. The number of red flags was frustrating at times, but they were almost all for floppies being knocked over. Cadwell seems particularly bad for this and they even came over the tannoy at one point asking people to please not touch the floppies otherwise they had no option but to red flag the session whilst it was replaced. Apart from that, the day ran really smoothly although as I always find, I ended up out of sync with certain people and as I went out for a session, they were just coming into the pits. Its weird how that works, you make all the plans in the morning to lap together, but by mid afternoon you never see each other on track.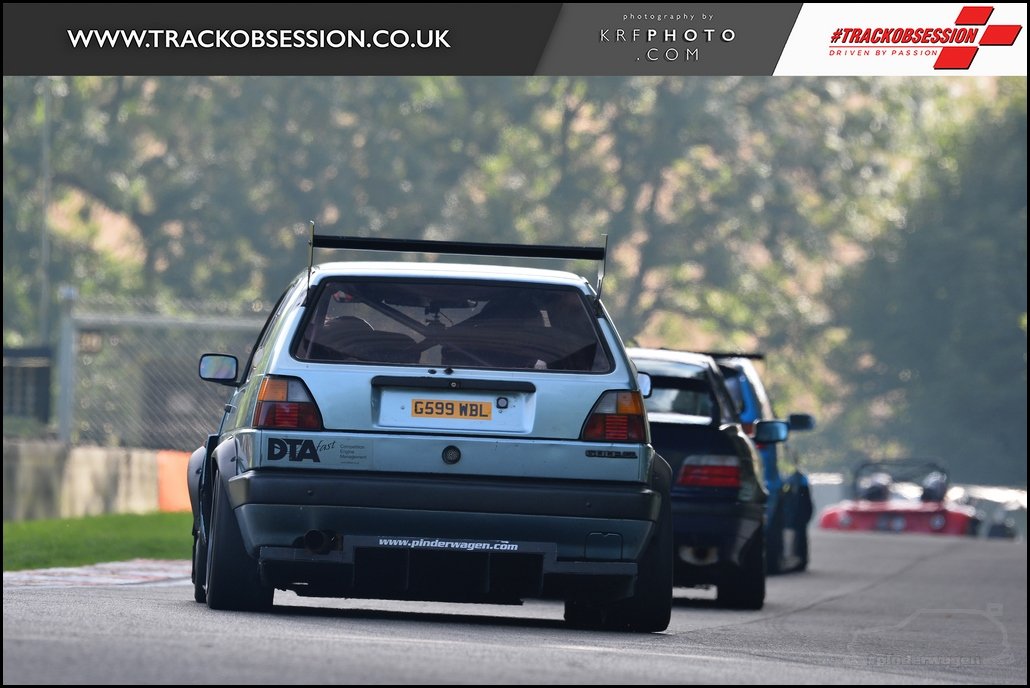 As I mentioned at the beginning of this post, Knockhill was a pure driving day and whilst that was obviously the aim today, chatting with friends between sessions certainly adds a different dimension to the day. Given the choice, I'd take todays paddock atmosphere along with the Knockhill track time and I'd have the perfect UK trackday.