Donington is my second closest circuit, and I haven't been since 2018 so was keen to get back this year. It`s under 1hr 45 mins away so after a short drive in the morning we arrived and found the  main paddock behind the pits full of cars and trailers so trying to do my best to follow social distancing, we parked at the other side of the cafe with 3 other cars.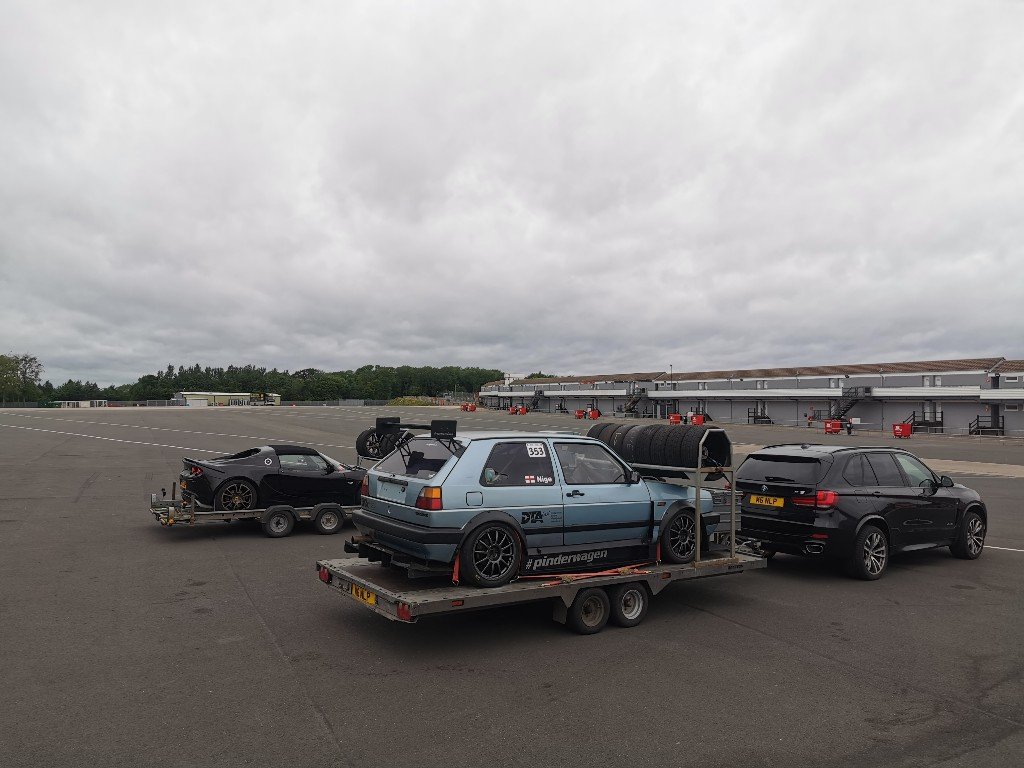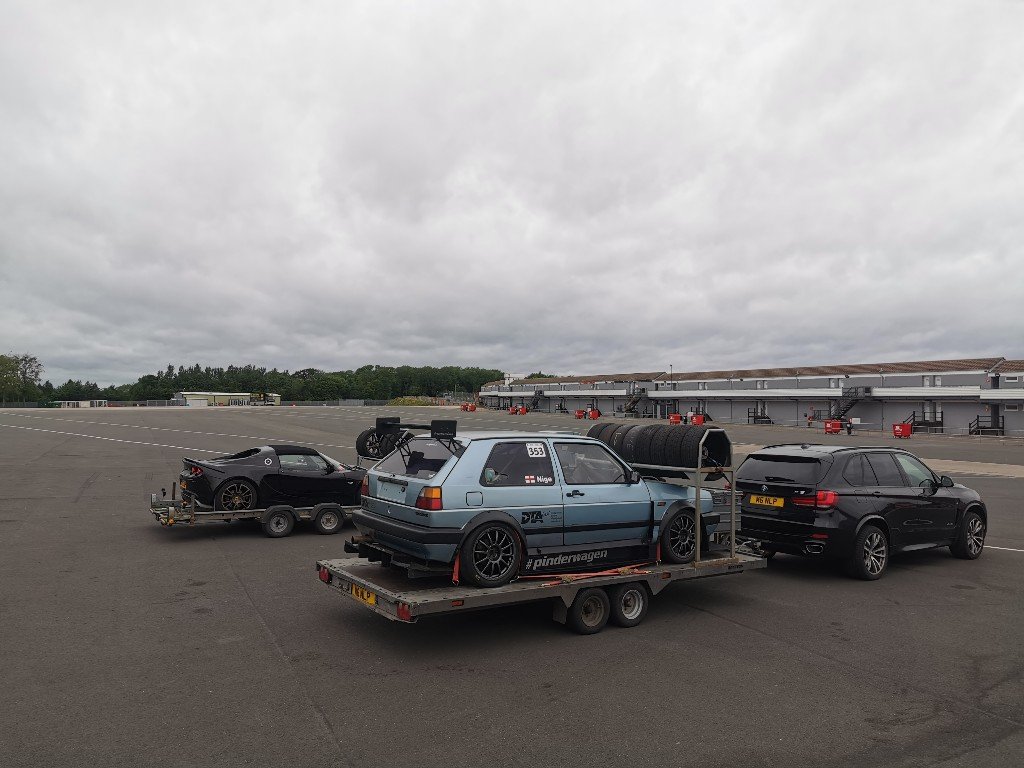 Walked across to register attendance and collect wrist bands. Prior to attending the day, all drivers had to complete an online briefing questionnaire which meant it was simply a case of showing your driving licence, your name was checked on the list, and if you had completed the briefing, you were given your wrist band. It was done without issue and is a much slicker system than sitting in a large room trying to listen to the briefing when sometimes, people around you are talking to themselves. It does lack personal touch from the TDO, but I still prefer this online registration system.
Queued for the sighting laps and completed them without issue.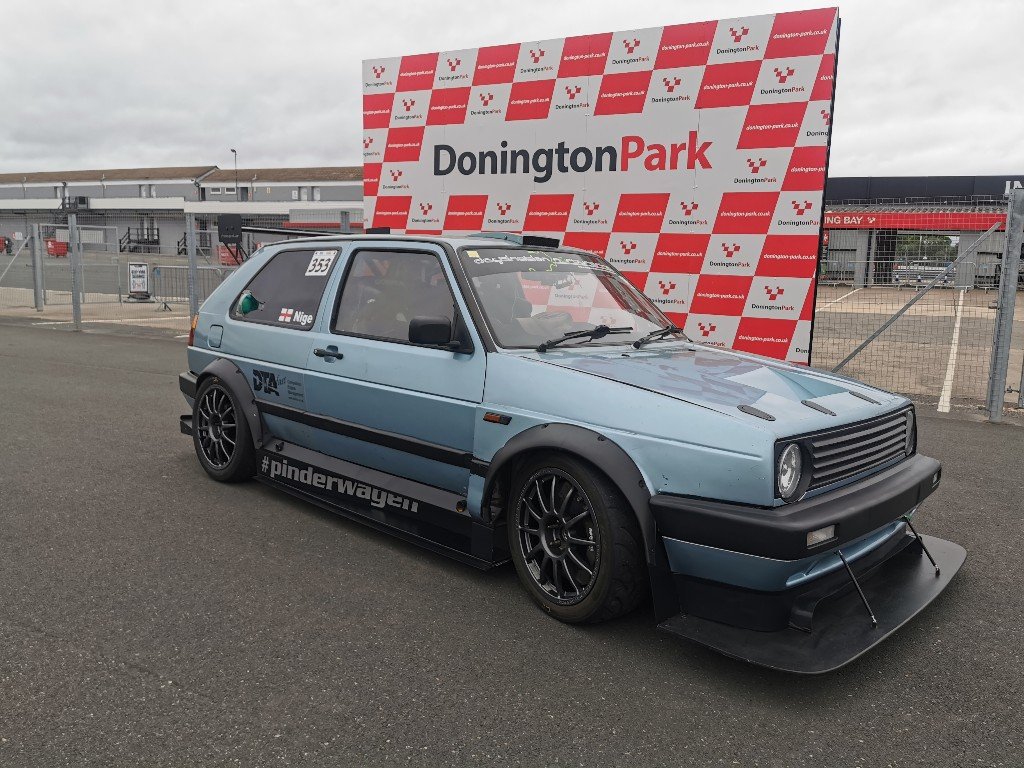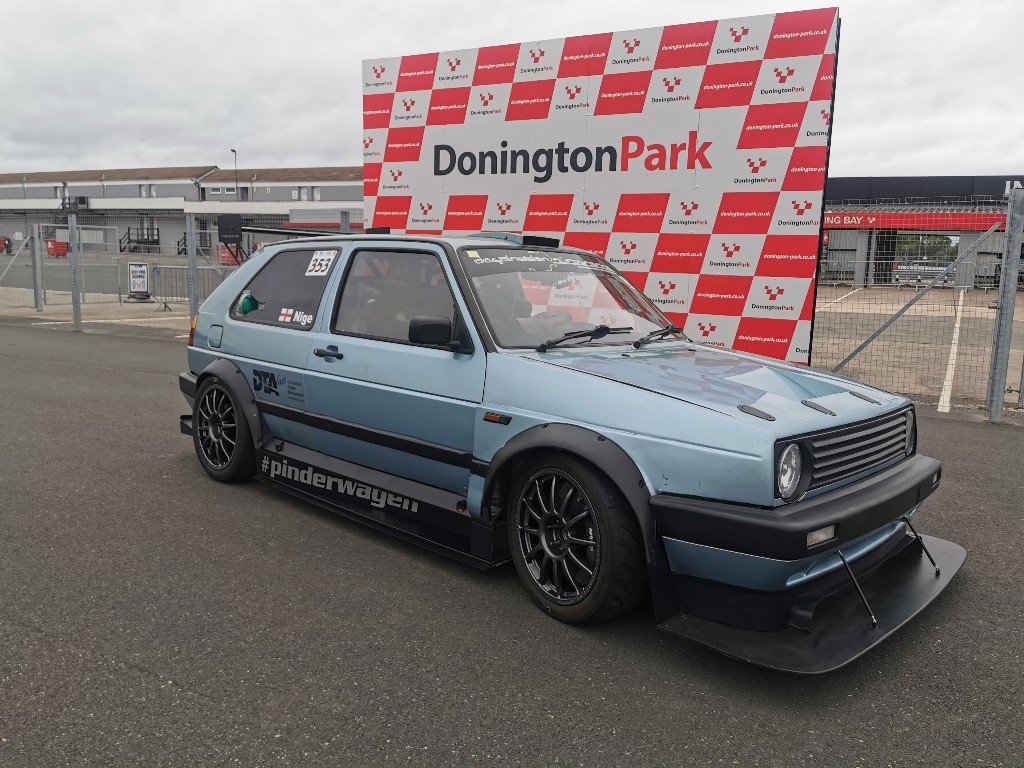 I went to the event with Lou, Matt and Cat. Matt went out for the first session as my passenger. I'd noticed at Cadwell that post intercooler temperatures were higher than before but wet conditions made proper testing difficult. I'd taken a spare front bumper with the large rectangle cut out in the middle. My lockdown cosmetic work was to fit a new bumper and this did not have the cut out which I believe was causing the issue. After gathering a full sessions worth of temperature data, we swapped the nice new bumper for the old tatty one.
Taking Cat out for the next session and it was immediately obvious that oil temperature had dropped 18 degrees and air temperature 15 degrees. That's a huge drop from such a simple change !.
This graph is 2 overlaid sessions, the lower plots showing temperatures.
The Green trace is Boost. Red is RPM
White is Air inlet temp. Blueis Oil Temp. Red is Water Temp
The next step is to cut a hole in the new bumper, but do it neatly.
The track was dry then occasionally we'd have a few minutes of drizzle which made it very slippery so I held off fitting the slicks.
Took Lou out for her only session of the day, she loved it… Especially when we had a moment exiting the craner curves. Lol.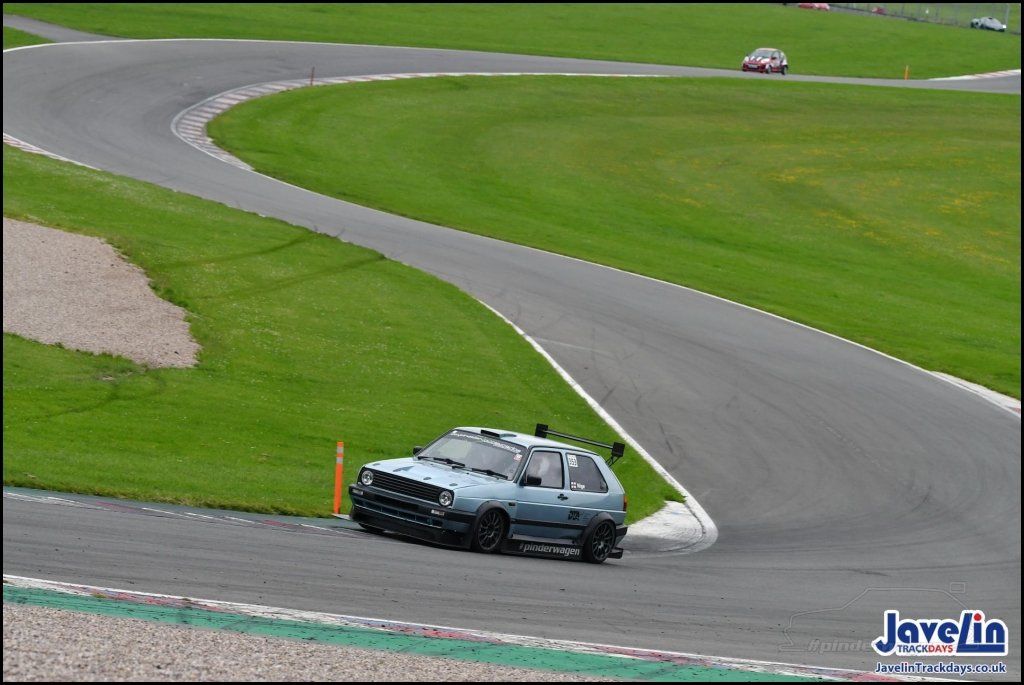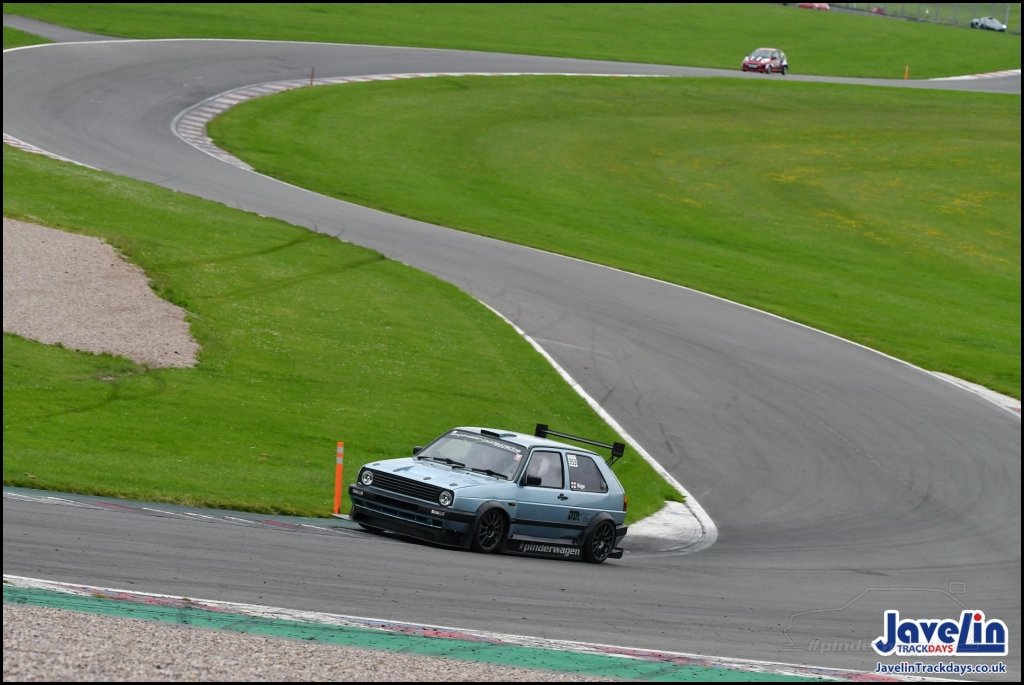 It dried out so we fitted the slicks. The first lap out of the pits and the E46 was closing quickly. Not wanting to hold him up, I took a tight line through McLeans to give him opportunity to pass without being held up. The problem was, by keeping it so tight with cold slicks, the back end stepped out causing the E46 to slow down. We had a laugh about it afterwards and he appreciated the gesture even though my execution was lacking.
Once slicks were up to temp we had an excellent session and only had to come back in when the dash flashed a low fuel pressure warning which made me realise I'd almost run out of fuel.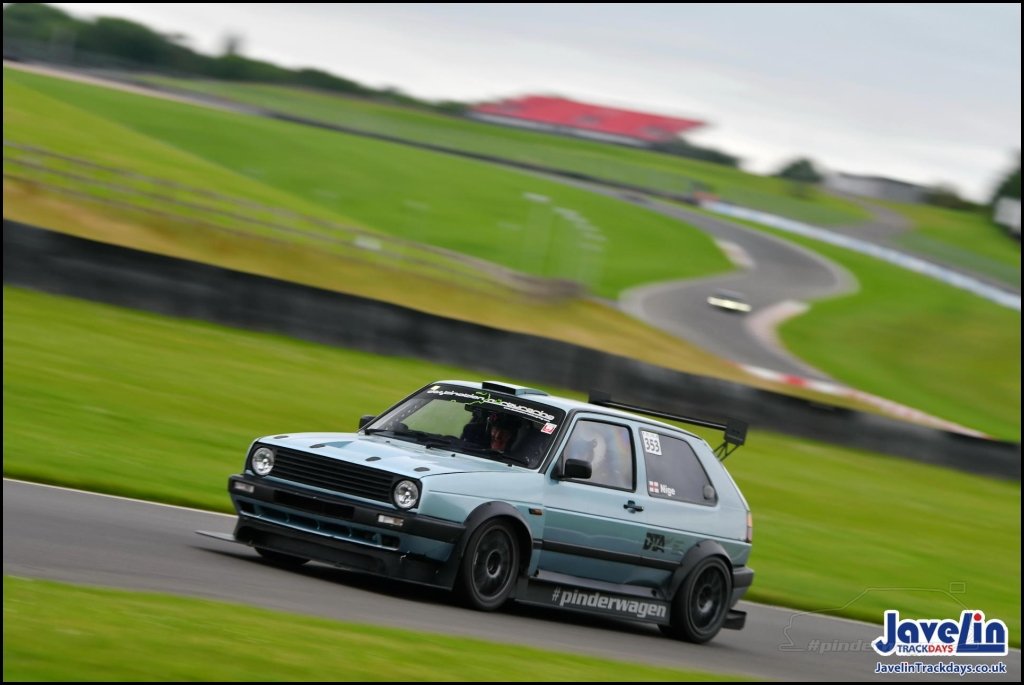 Topped up from the jerry cans and went back out with Matt. Caught up with Graham in his E46 M3 race car and tagged onto the back of him for a few fun laps. Even though I have a huge front brake set up, I just don't have the same stability under braking as an E36 or E46 BMW. I don't know if this is the wheel base or front and rear axle weight ratio but there was no way I could brake as late as him. Once I realised this was the case, I dropped back a little before each braking zone.
We then swapped places and Graham followed me, and it became quickly apparent that I was quicker in certain corners, particularly Redgate which surprised both of us, but it was the same lap after lap, I could get on the throttle nice and early and the new Gripper plate diff really helped pull the car through the corner.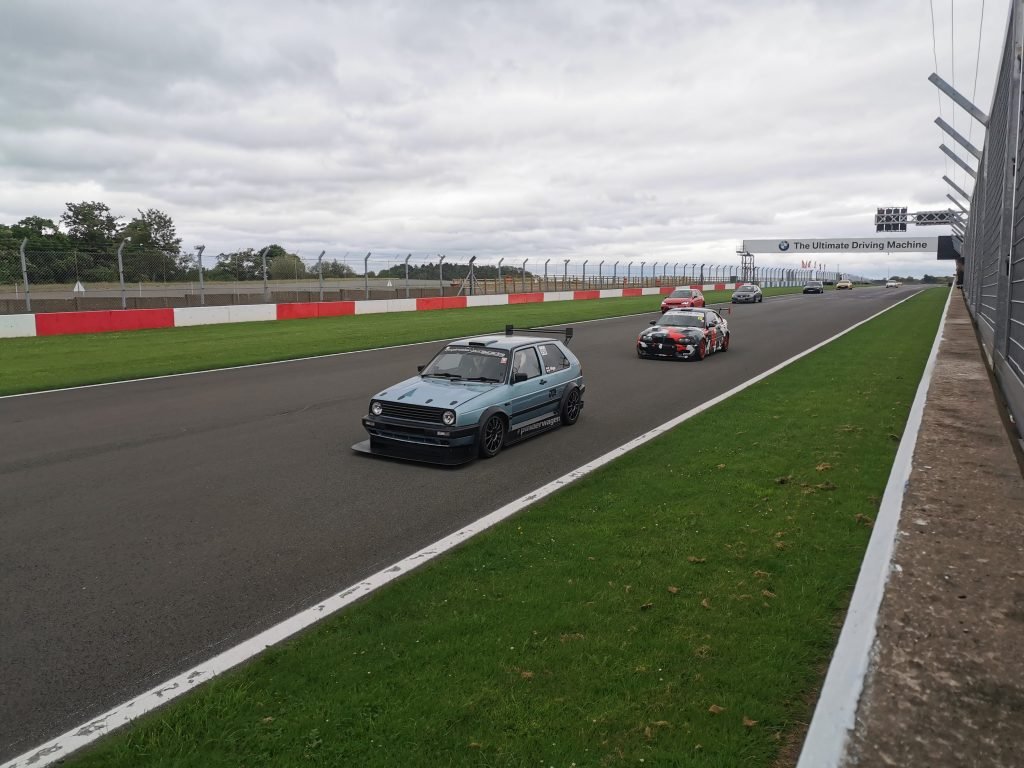 The session ended for lunch and we both had a good social distant chat about the laps. Rather than eating in the cafe, which was actually only takeout, we'd taken sandwiches and snacks.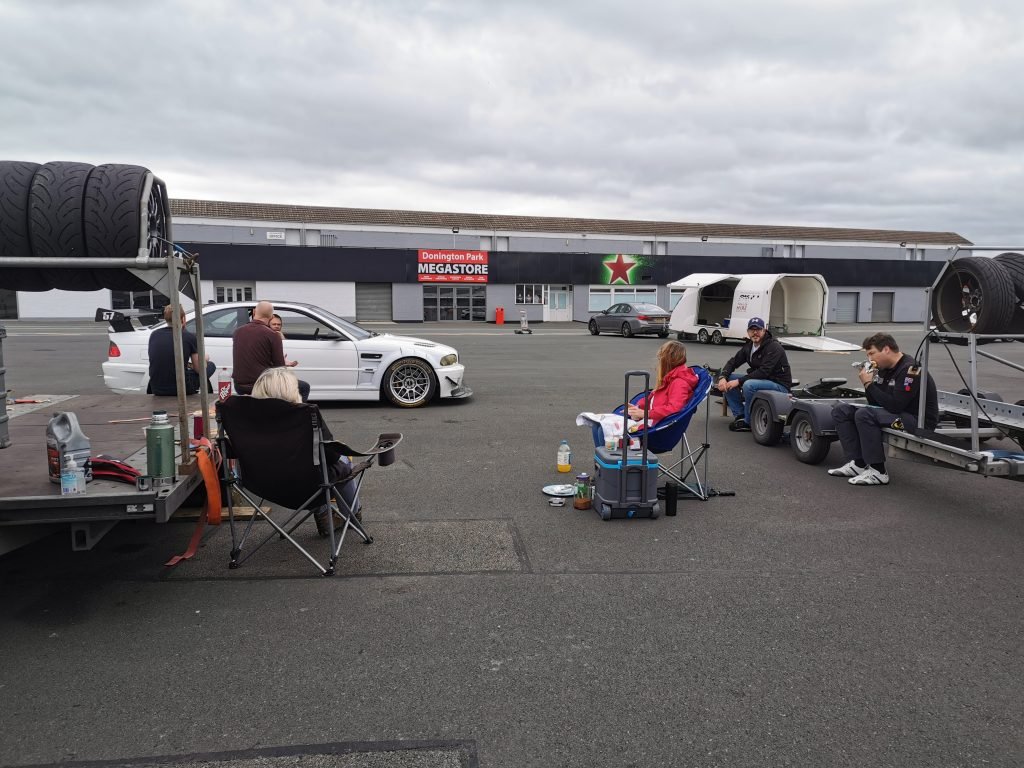 I'd been running the Raysbestos ST45 front pads but I just don't like them as much as the Project Mu, the ST45 are also incredibly dusty, both Matt and I were amazed at how much build up there was on the front wheels after just the morning session. The initial feel through the pedal with the Pmu compound just feels better on my setup.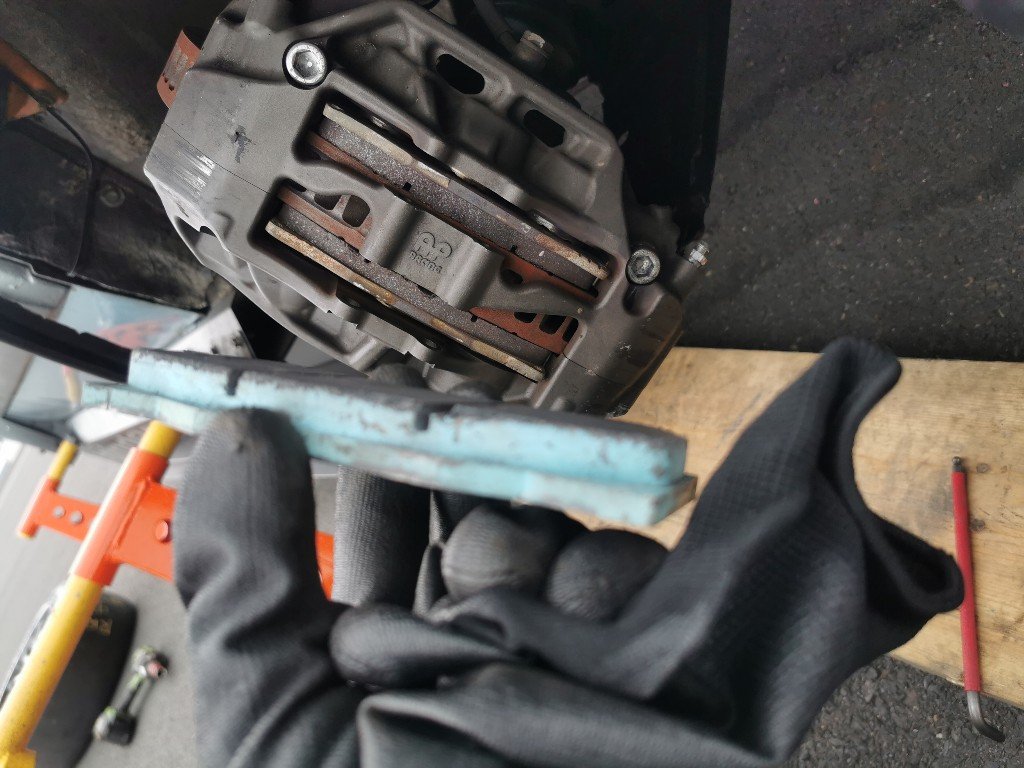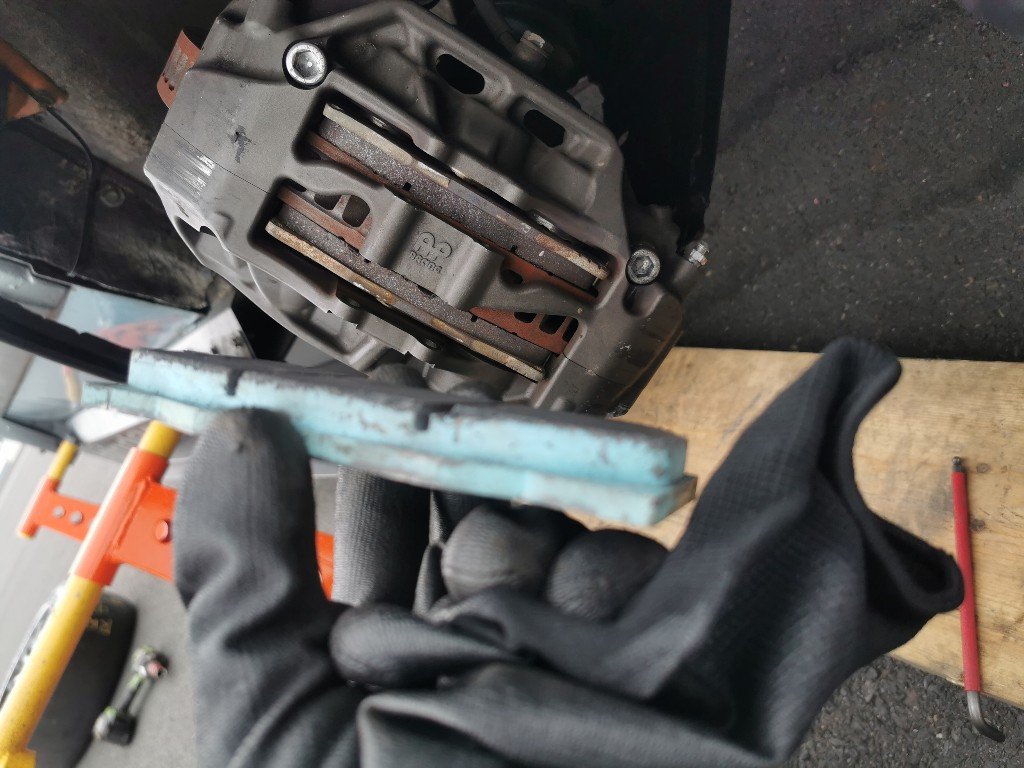 After we'd eaten, we rotated the slicks and swapped the front pads.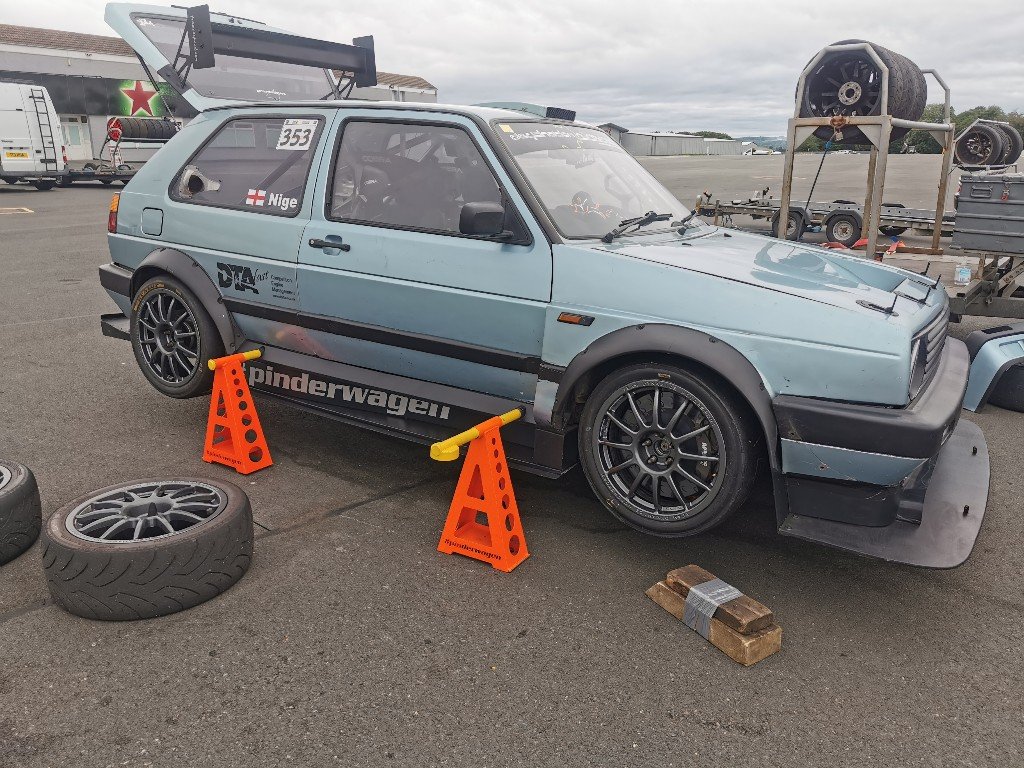 Cat went out with me after lunch and after a couple of laps, the session was red flagged for a quick recovery. Parked in the pit lane behind Ian and asked if he was okay for me to do some close formation lapping.
I don't think he realised his exhaust glowed red and occasionally spat out blue flames.
Matt was in for the next session when it started raining again. As we came into Redgate, a Caterham in front spun. The AMG Mercedes ahead stood on the brakes as did I. My issue was, he had ABS and I don't!!! All 3 of us ended up almost stationary on the circuit before getting going again.
The rain stopped the lap later and it only took a few minutes for the track to dry out again.
We were just about to come back into the pits when we caught the white E46. As everything was up to temp we decided to stay out to play for a few laps. He indicated to let me past but I pulled in behind him and gave a quick flash of the headlights so he knew I was happy to follow. Very similar to Graham, he had much better stability under braking than I did but I was quicker through Redgate and the old hairpin.
I left it on the mid boost setting and even then I just had the legs on him at the end of the straights and it made the laps much closer. It would be easy just to deploy full boost and pull away on the straights but that's not particularly challenging.
We were out for 25 minutes and I think the guy in the little Twingo, was probably a little fed up to have been lapped twice during that session as he was obviously pressing on. I'm sure he still had a great day and this variety of cars on track is what makes track days interesting.
The front tyres were getting very squirmy by the end of this session and even though the pressures were pretty stable, the air inside them was at 80°C when I came in and measured the surface temperature was 75. That will explain the front end washing out then.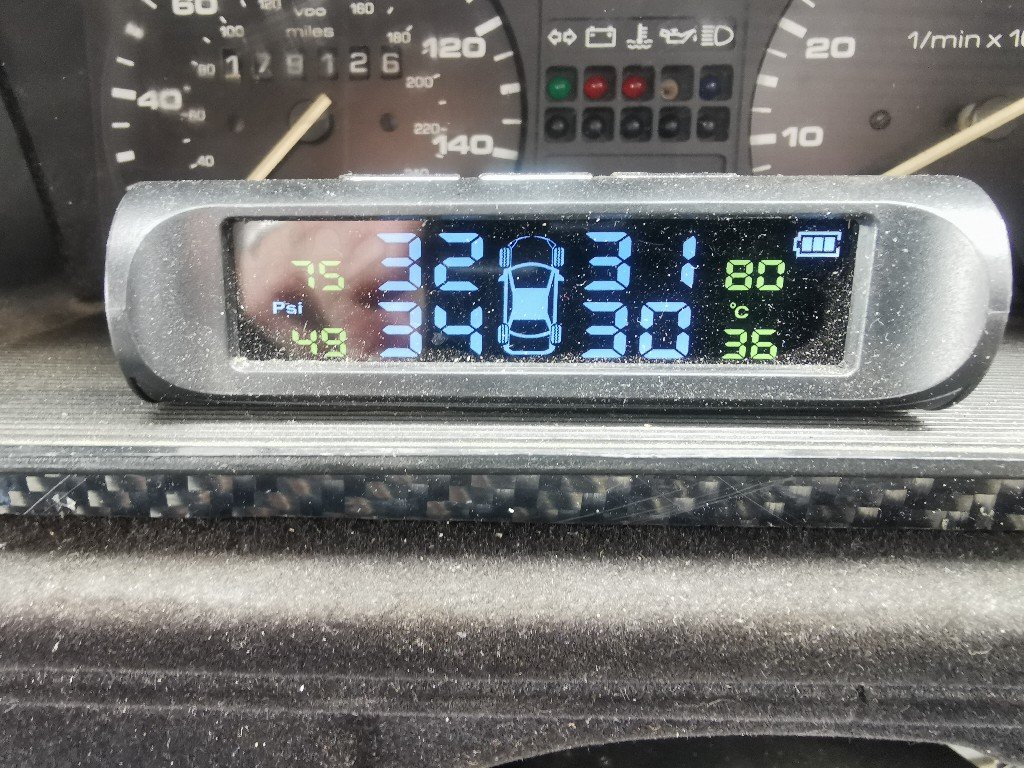 After refreshing myself and letting the car cool down a little, Cat and I went out for a very enjoyable session. The only reason it was cut short, yep, I was low on fuel again.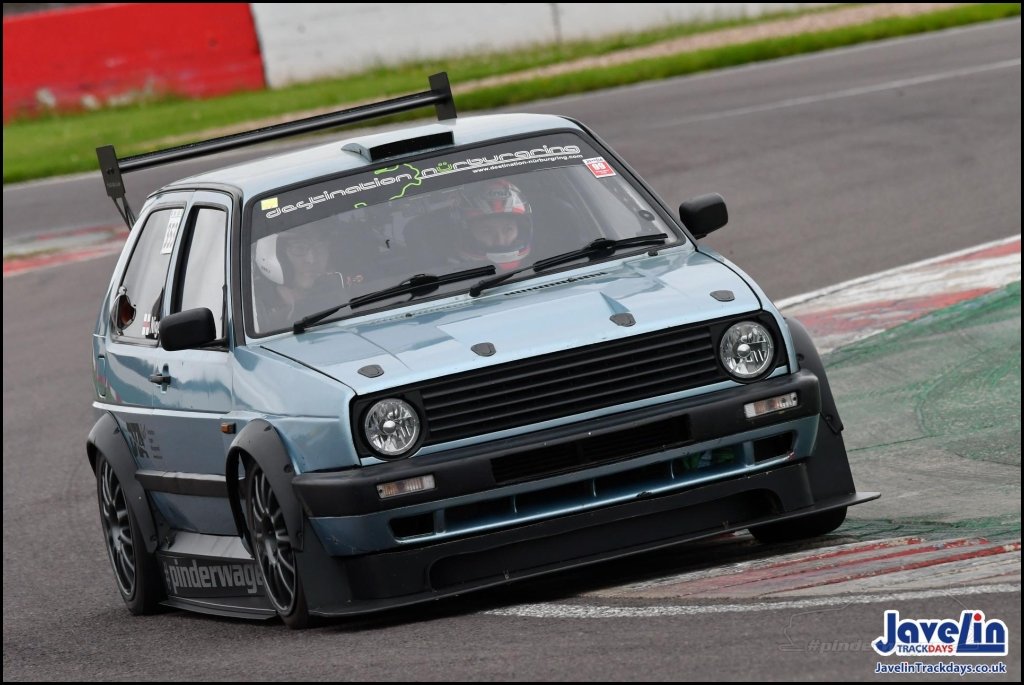 Back out with Matt and I saw the Team Legacy E46 race car ahead. As I was exiting the chicane, he was just turning into Redgate. 4 laps later, as I was exiting the chicane, he was just turning into the Redagte 
 that would have been a fantastic session if we'd have been closer together, as the pace over a full lap appeared almost identical. The last couple of laps before we came in found me struggling a little bit on right handers. I didn't realise why at the time, but it became obvious at the end of the day when I spotted the front left slick was completely worn out. 
Before this track day, I'd rewired quite a few of the systems in the car and also fitted a higher amperage alternator to address a failing voltage issue at high revs. This issue is now completely fixed, although it did require some tweaking of the ECU fuelling table throughout the day to completely remove voltage compensation effect which had been applied with the smaller alternator.
Chequered flag signalled the end of the day.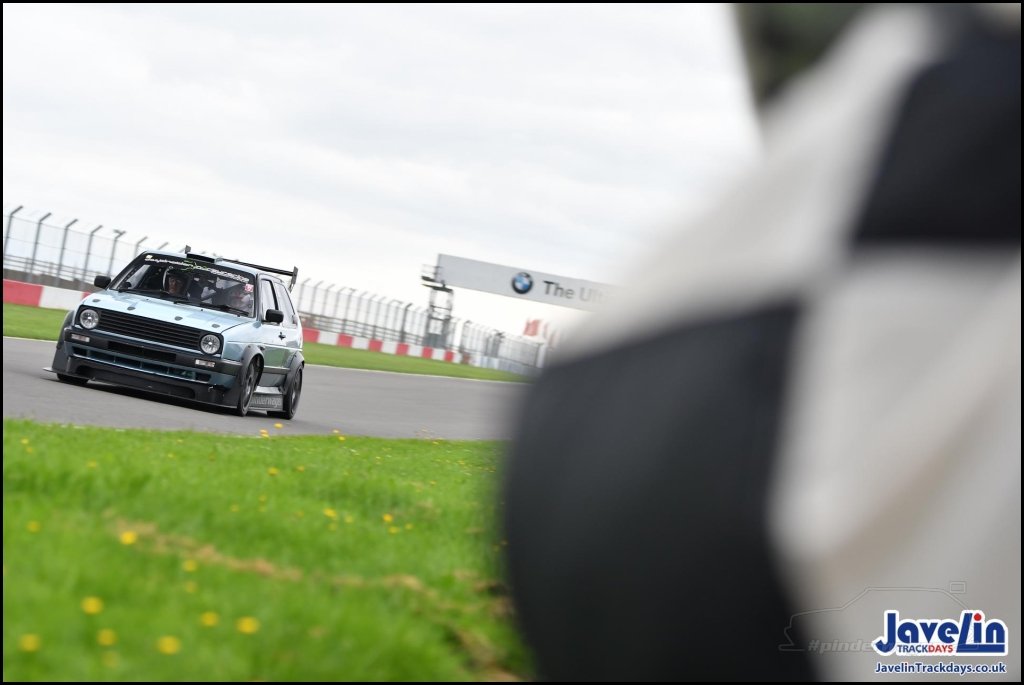 The only problems with the Golf were 2 worn out tyres.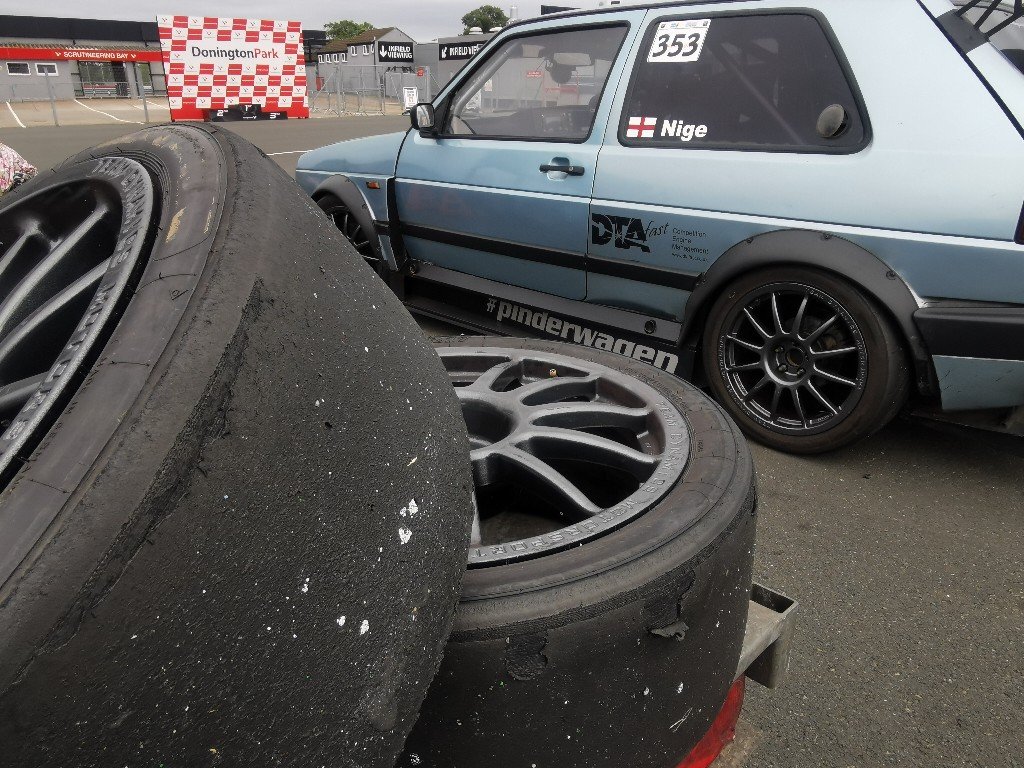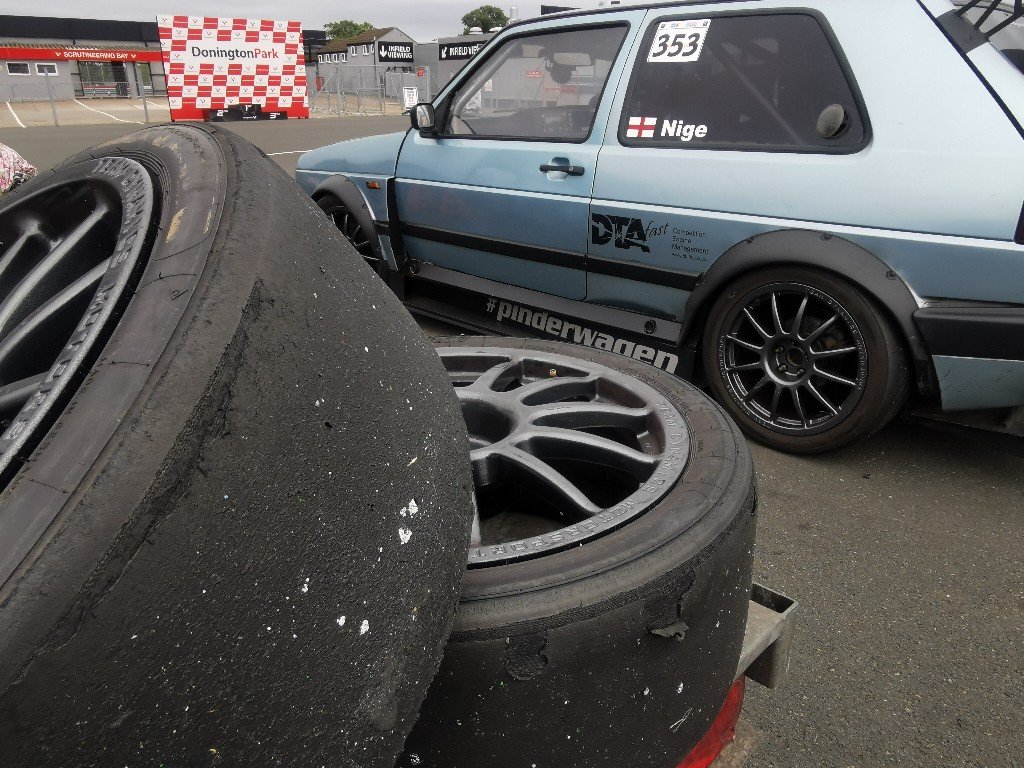 This is another track day where all I have done is put in fuel and a bit of oil and lap and lap and lap. Its taken quite some time to get here but since the issues with oil pressure last year, which are now resolved, failing CV`s are now the only weakness that I'm aware of. My driving style in high CV load situations i.e. going over curbs on full throttle, had been tweaked slightly which so far seems to have stopped failures. I`m sure that`s tempting fate, but we shall see…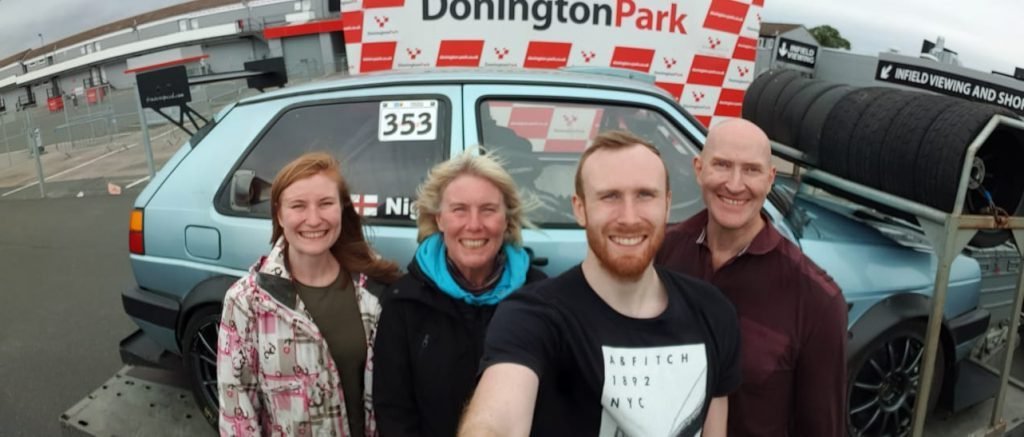 Click to rate this post!
[Total:

6

Average:

5

]