Donington Park last week was a complete success with zero car issues. My back to back testing of the closed and centrally vented bumper, showed a huge benefit in terms of oil and air cooling efficiency. Last weeks job was to cut out the middle of my bumper and try and do a neat job of it. I ran a closed bumper at last years Ringmeisters event but when we were chasing an overheating issue, we did a very rough and ready job of chopping a hole in that one. What made it worse, was the thermostat that had failed closed which was causing the overheating issue.
This bumper was sourced to replace that one and so I wanted to make sure the cut out was done as neatly as possible. Made a stainless surround with integrated mesh, this is before painting.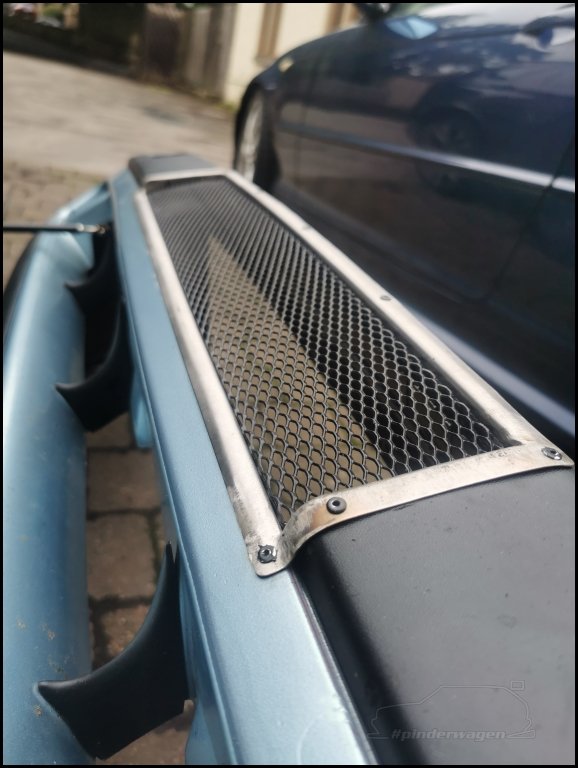 Only Matt, Cat and myself were able to attend this event as Lou is a key worker and was unable to get time off. Due to social distancing measures, we were unable to bring anyone else outside the household so Gav had to sit this one out 
Finished work on the Tuesday, drove straight across to Hull and were on board the boat with 15 minutes to spare before the official gate closing time.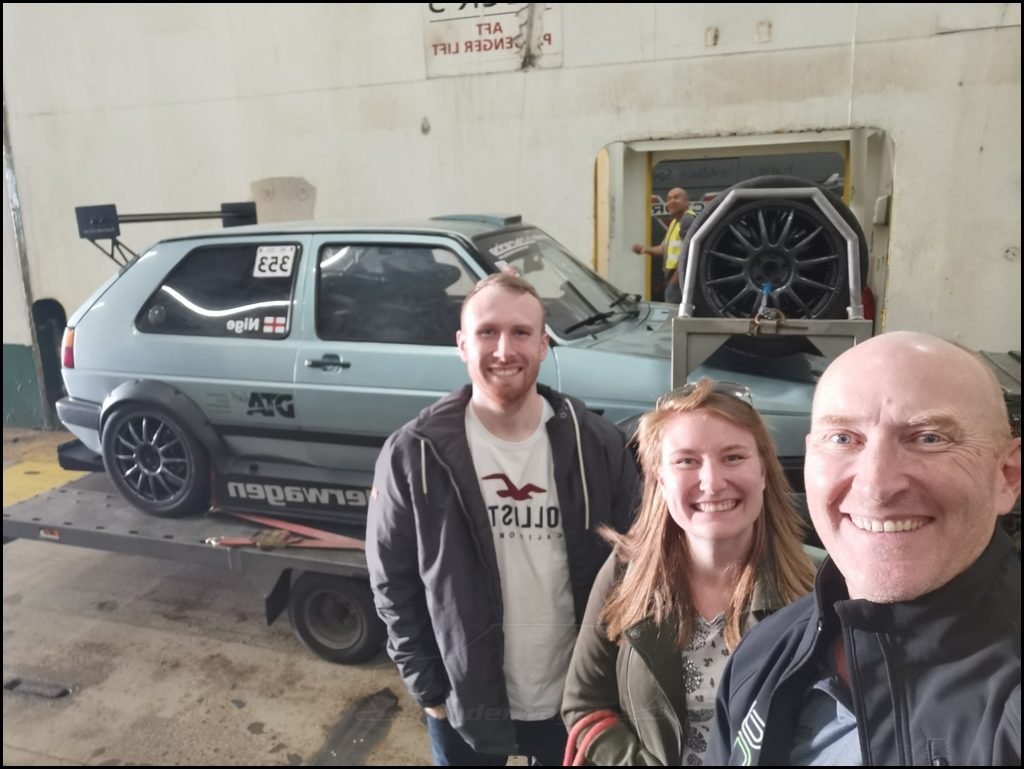 Our plan was to go onto the top deck for a beer, then as soon as the ship set sail we'd grab a pizza from Starbucks, go back to the room and watch a film.
The bar on the lower decks was closed to minimise people gathering.
On the sundeck we spotted Chris and Rob and so we joined them for a beer and a natter.
At around 20:30 we headed down to Starbucks with Chris and Rob to get some pizzas. When we were given the receipts to wait at the table, we saw that we were the only people who had ordered pizzas that evening. It was the emptiest I've ever seen the ferry and apart from us 5, there was only one other person in Starbucks.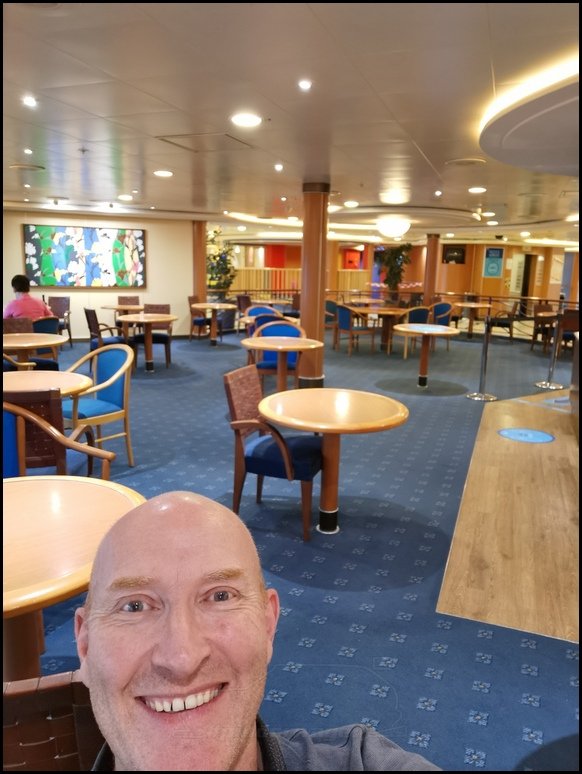 Jonathan from Edinburgh Watch Company  is a sponsor of the DN events and his son Connor joined us for an hours conversation before we called it a night and went to bed.
After getting showered we went to Starbucks for a cup of coffee and heard repeated messages that wearing face masks whilst walking about the boat is compulsory. We were all very surprised at the number of people not wearing masks, the vast majority appeared to be freight drivers. Nobody wants to go around wearing a face mask, but in the current environment it has been decided that if everyone wears one, there is probably a reduced chance of catching/passing on Covid19. I really don't think it's such an onerous thing to do but apparently some people don't feel the same. 

We had the quickest disembarkation I've ever had at Rotterdam and were on the motorway 30 minutes after docking.
Even though we've been coming to Germany several times a year since 2005, I still follow the satnav, especially as the current one has excellent real time traffic reporting. The satnav hadn't reported any traffic delays but I commented we didn't seem to be going the usual route. This was confirmed when going around the Antwerp ring-road and we arrived at a toll booth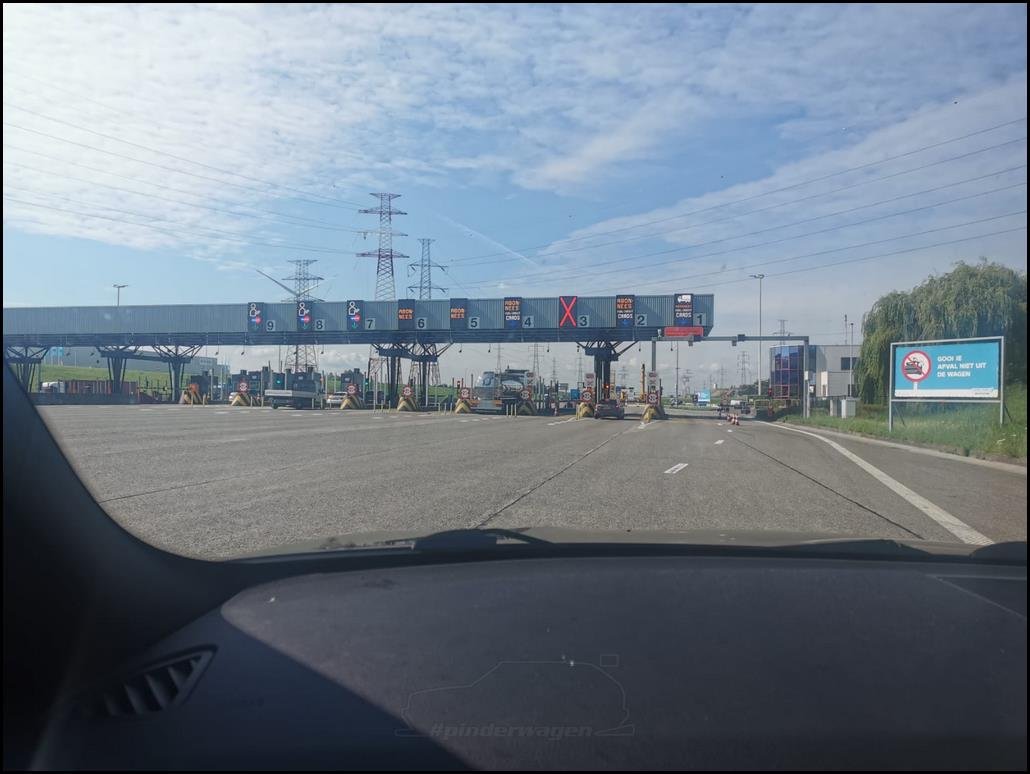 After quickly scrabbling around for some loose change, we were off on our voyage of discovery along this new route which took us past Zolder.
The next hour passed pretty uneventfully and then we entered Germany and were onto the derestricted autobahns. As I am towing, that doesn't make any difference but we saw a bright red UK plated Porsche GT3 who went absolutely flying past. 20 minutes later the satnav popped up informing us of a delay on the route and asked if we wanted to take the suggested diversion. This was on a clear single track B road and about 25 minutes later we were back on the autobahn. I 'd loved to have heard the reaction of the red Porsche driver as he shot past us at well over 100mph for the second time
. He had obviously stayed on the autobahn stuck in the traffic whilst we had followed the diversion and probably didn`t understand how we were ahead.
Filled up at the ARAL with 102 RON as usual. Then dropped off the trailer at the guest house. Rather than having a face to face briefing as usual, Darren created an online version for people to complete before arriving. That meant all they needed to do was pick up their wrist bands and car numbers. This streamlining of the signing on process meant Darren didn't need our assistance this time so we just turned up, picked up our pack and spent the next hour chatting instead
After dropping the car off at the guesthouse, we walked up to the Pistonklause to join the others for a meal.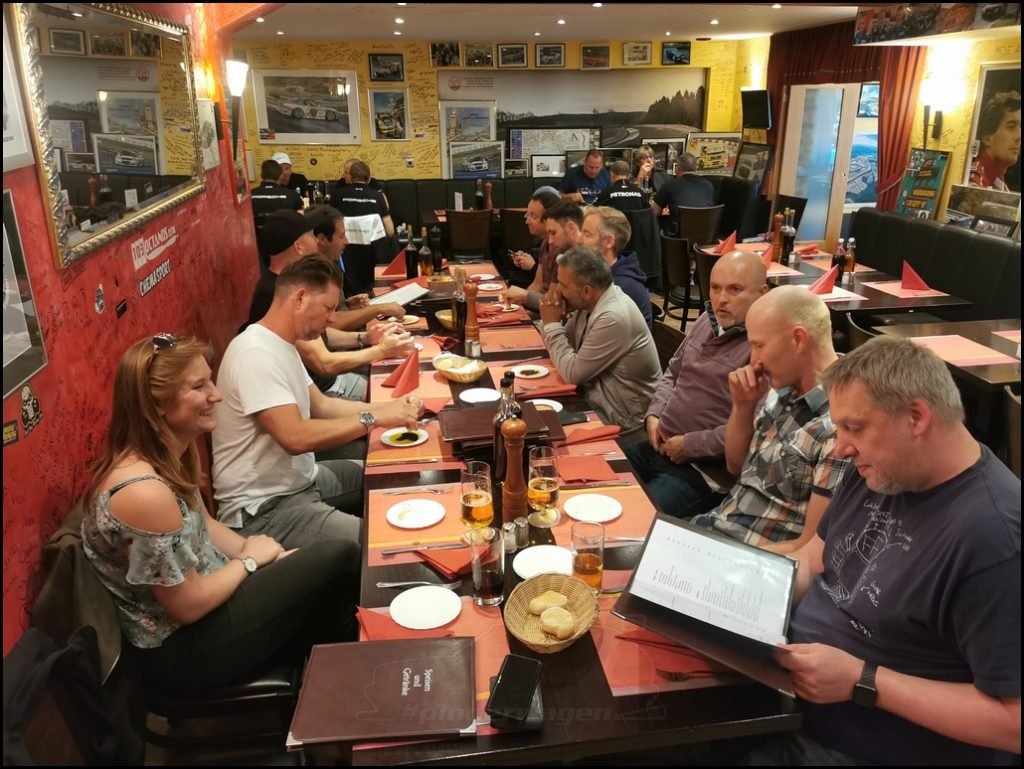 This was the first time I'd been out for a meal or a drink since March and I will be quite honest, it felt a bit weird being so close to so many people even though everyone was following the social distancing protocols.
Day One
Woke and looked out of the window to see a very wet driveway. The sky was very overcast and forecast of rain all day looked accurate. After breakfast I unloaded the trailer in the car park and we set up a couple of gazebos. One for the gate staff and the other one for whoever was going to be checking wristbands before people went out on circuit. We expected this to be for protection from the sun, but it turned out to be just as effective at keeping off the rain.
We still had a quick word with all the drivers going out for their sighting lap, reminding them of no overtaking until the green flags were waved, the only difference this time was we stood a couple of steps back from the car and spoke quite loudly whilst wearing masks and trying to drink a cuppa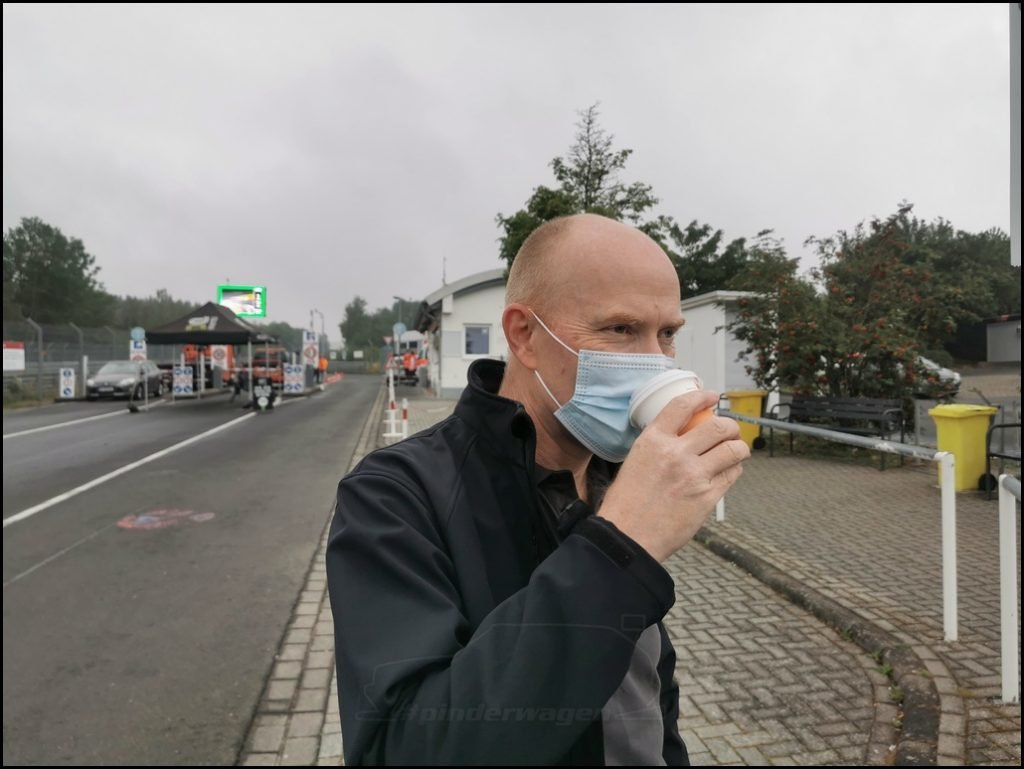 These days are very quiet but I don't recall ever seeing so few people going out for sighting laps on a trackday. Quite a few of the drivers simply didn't bother driving today as the forecast was for sunshine tomorrow and they didn't fancy going out in the wet.
Cat came out with me for my sighting lap.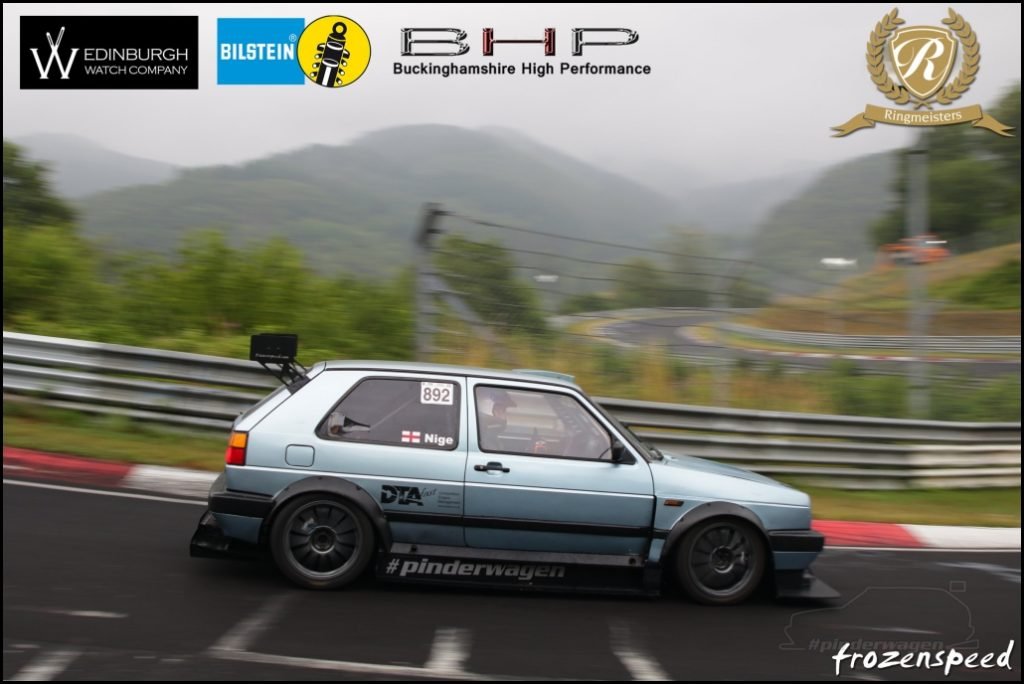 It only took a couple of corners to realise the circuit was VERY slippy. No big deal as I have driven enough laps in the wet to know to take it steady until you have a good understanding of the conditions. There was no rain falling and only a little bit of water on the track which meant my worn Direzzas were absolutely fine but I was ready to switch to the wets as soon as conditions worsened. The sighting laps don't really get the tyres warm so as soon as the circuit went green, I did a couple of laps on the bounce and then came in to adjust tyre pressures and soften the dampers a few clicks.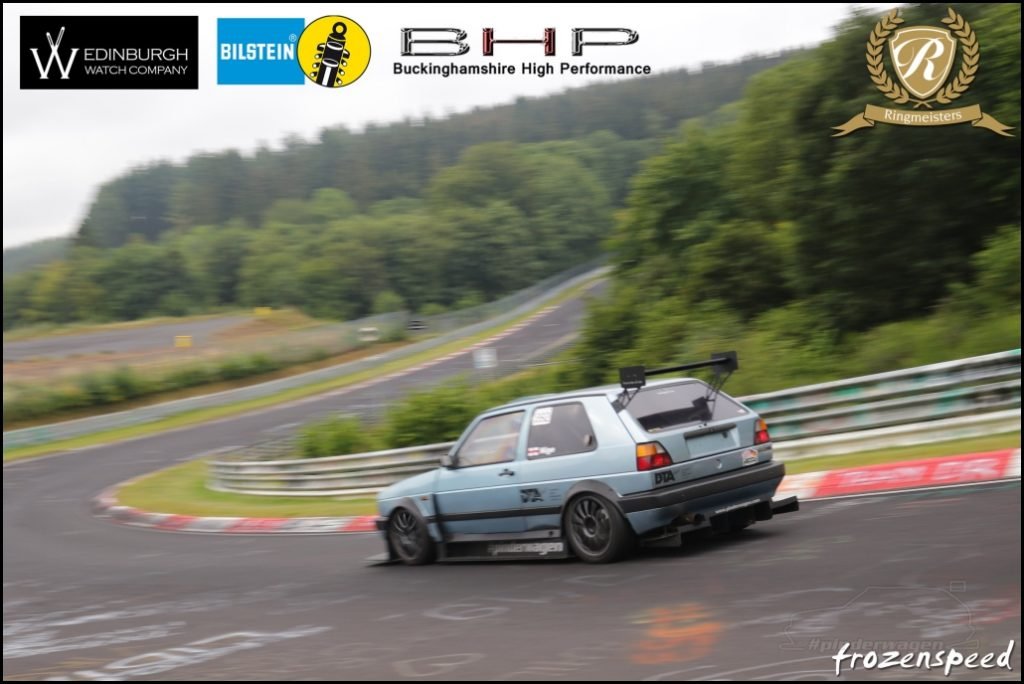 Matt came out for a couple of laps and even though I offered to let him have a drive, he declined explaining he has zero desire to drive a FWD car in these conditions as all it would do is make him wish he was in his E36 where he could have drifted a little bit instead.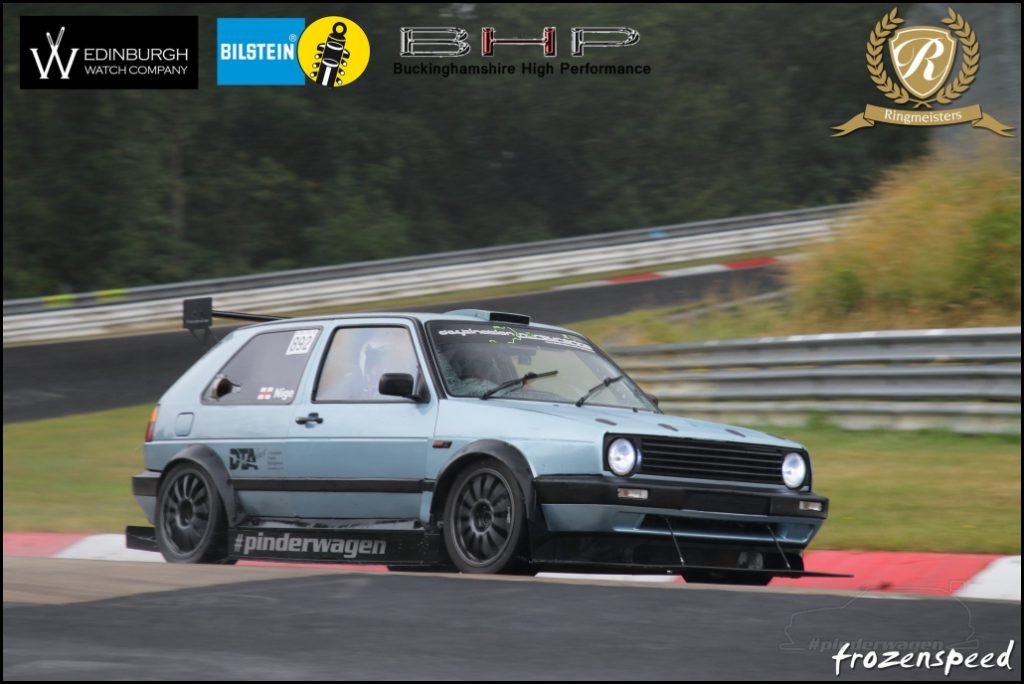 Cat was my passenger for the next two laps and after a while, I saw a car in the distance which we were slowly catching. It turned out it was the R8 Ring Taxi and once we caught him, I sat back so I could watch his wet lines and hopefully learn a few tips. When following someone I don't know I always leave a decent sized gap, as usually they move over thinking you want to pass if you close up too much. Even though I've done a lot of wet laps I picked up a couple of very useful tips and lines that I have never tried myself which actually worked extremely well. In particular the exit of Weirseifen and the approach to the Karussel. I'd been struggling with braking zone for the Karussel and when I saw the line the Ring Taxi took, I commented to Cat that I would try that myself next time. Sure enough, there was far more grip and I didn't lock up at that point for the rest of the day once I switched to that entry. The rain was falling by now and I knew this would be the last lap on Direzzas before switching to the Toyos.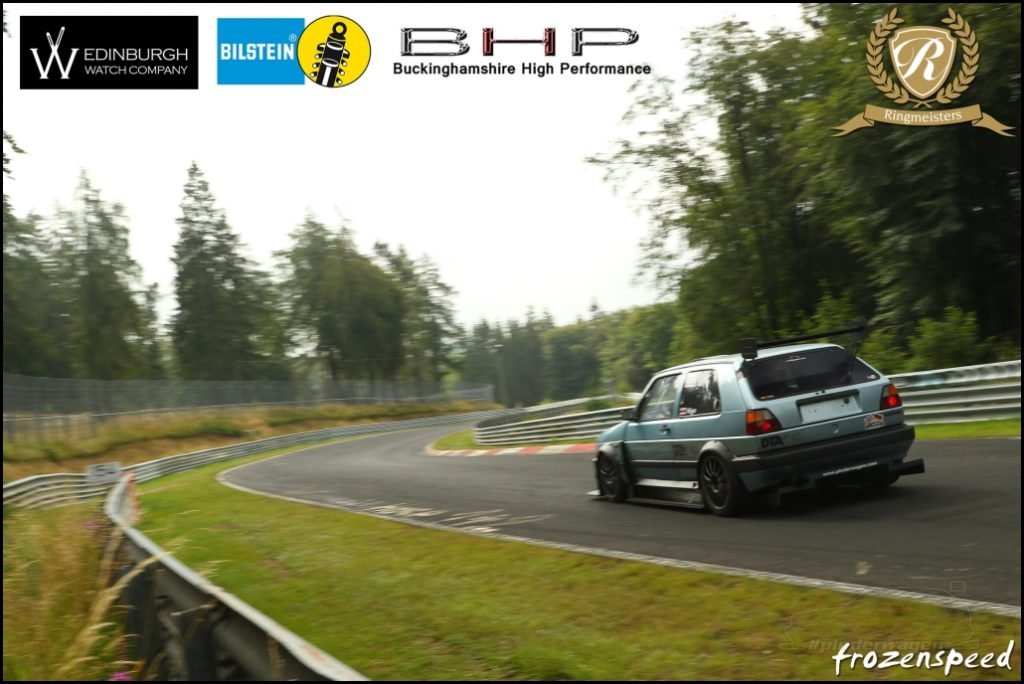 Later on that day, I saw the R8 driver and mentioned what a thoroughly enjoyable lap that had been and how useful I had found it following his wet lines. His immediate reply was, "What tyres were you running?". I am pretty sure he expected me to say full race wets, when I replied, "Just some old Direzzas", his face actually fell for a moment and he replied, "Oh"….
That lap was definitely one of the most enjoyable of the morning and also very informative.
Swapped over to the wets, which are actually soft compound 888's with a deeper tread cut into them. They are pretty good at clearing the water but aren't the grippiest wet weather tyre I've ever run. They are definitely a step up from the Direzzas but not as good as the full Pirelli race wets I ran a few years ago. It probably doesn`t help that they are from 2015 and are getting past their best now
We were just starting to get some heat into them when both Matt and I agreed it was time for a bite to eat so we broke for lunch.
As always, on the Ringmeister Prime events, food and drink is included free from the Devils Diner. I am never particularly hungry when on a track day and even less so on a day like today when the circuit doesn't actually stop for a lunch break.
Both Cat and Matt spent quite a bit of time checking wrist bands at the barrier and as it was so quiet were making note of the order in which the cars went out and then trying to guess who would have overtaken who on the lap. Even though I often say these events are quiet, I don't think people reading can fully understand just how quiet it can be.
Perhaps when I tell you a one point there were only seven cars on track and the most out at any one time during the day was 35 you may appreciate just how quiet it was!
I've known Simon Hart for quite a few years now and despite being on several trackdays together we've never made a conscious effort to go out together. This was something we wanted to address on this trip. We agreed that I'd follow for the first lap and then we'd switch and Simon would then follow me. The reason we had this discussion was so that the lead driver knew that even if the chase car positioned itself for what looked like an overtake, it was actually just a different line and in conditions like this it was simply for visibility.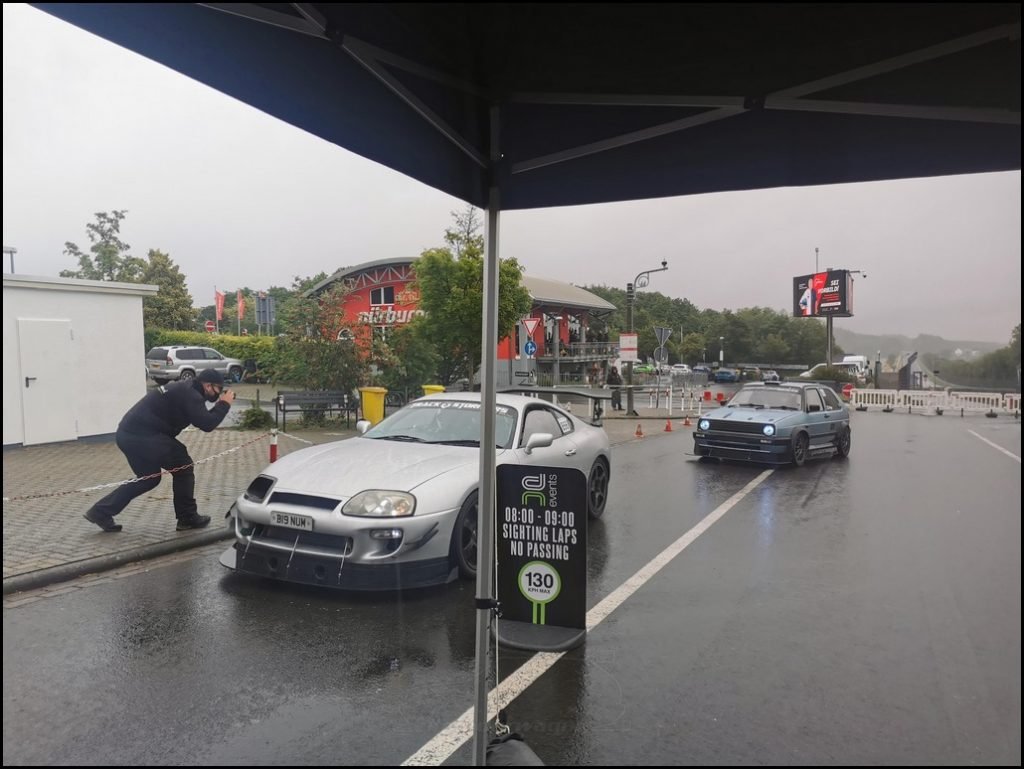 As soon as we reached T13, both Matt and I commented that we were going to be soaked by the end of the laps. The roof scoop is incredibly efficient at feeding nice cool air into the cabin and it made a huge difference to driver and passenger comfort when I first installed it a few years ago. What it is also very good at is catching spray from the car ahead and dumping it into your lap
Simon has a couple of boost maps and can activate them from steering wheel mounted buttons just like me. I knew he wouldn't be using his 700 HP map in these conditions and both of us were surprised that on 1Bar the performance of our cars was almost identical. The downside to following close is reduced visibility and I certainly wouldn't do this with someone whose ability I wasn't as confident in. The amount of spray thrown up from the car ahead means even on full, the wipers sometimes struggle. Matt even commented going up Kesselshion how racing in these conditions must be very difficult at times. I always look well into the distance to identify deep water running across the circuit but when following close that is impossible and you end up reacting rather than anticipating. This was evident by a small moment exiting Flugplatz and a much bigger moment approaching the Pflangzaten jump where I ended up with a third of a turn of steering lock whilst going in a straight line! 9:14 on the video below.
A few people had asked how the Golf was performing throughout the day and I had been delighted to be able to respond that it was going extremely well. What Matt and I noticed was a significant increase in oil consumption. This was quite strange as I certainly wasn't losing any externally which meant it had to be burning it instead but there was no visible smoke from the exhaust and even when I asked Simon to make note of it he said there was no oil vapour or smoke and if I hadn't told him it was burning oil he would have never known. Little did I know that these were the first signs of a developing engine issue.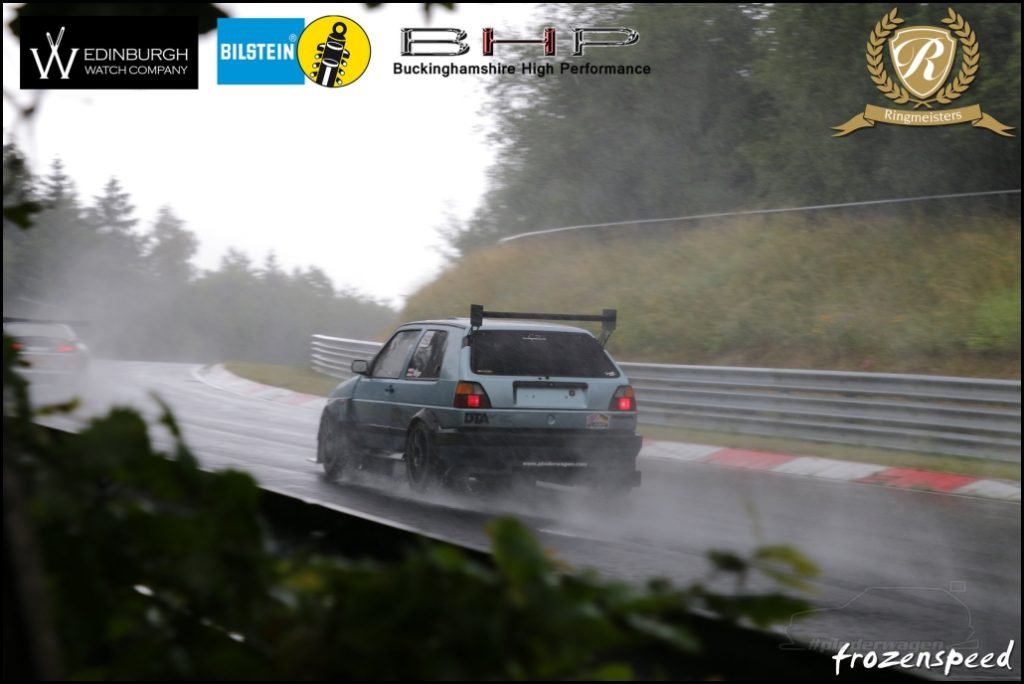 The penultimate lap was going well until I braked for Metzgesfeld 2. There is a small bump in the braking zone and I must have caught it slightly different to the rest of the rest of the laps that day as the front wheels locked as soon as I touched the brake pedal. I don't have ABS and instinctively know to cadence brake when the front wheels lock. I release the brakes, press the pedal again and they locked for the second time. Hmmmmm… This was not ideal.
I started rapidly pumping the brake pedal but with less force than before and whilst it did slow the car, I had run out of tarmac. I am still not quite sure how I managed to keep the car out of the armco but I did! I noticed the curb dropping away sharply on the left so rather than immediately rejoining the circuit I aimed for the end of the curb where the grass was at the same level as the tarmac. The problem was this piece of grass I was driving along became too narrow and the rear left wheel dropped off the curb causing the car to slew sideways. This resulted in much arm twirling and me still managing to keep it out of the barrier.
Martin from Frozenspeed was taking photos on the approach to Kallenhard but sadly didn't manage to catch my heroics.
Even though I knew that we'd had quite a big moment I was able to carry on driving as we quickly recognised and understood what had caused the near miss. I was particularly keen to do another lap so I didn't finish the day on a negative. The next time round I did brake a little earlier
The only signs of my off was some grass still stuck to the splitter and a slightly bent strake on the diffuser.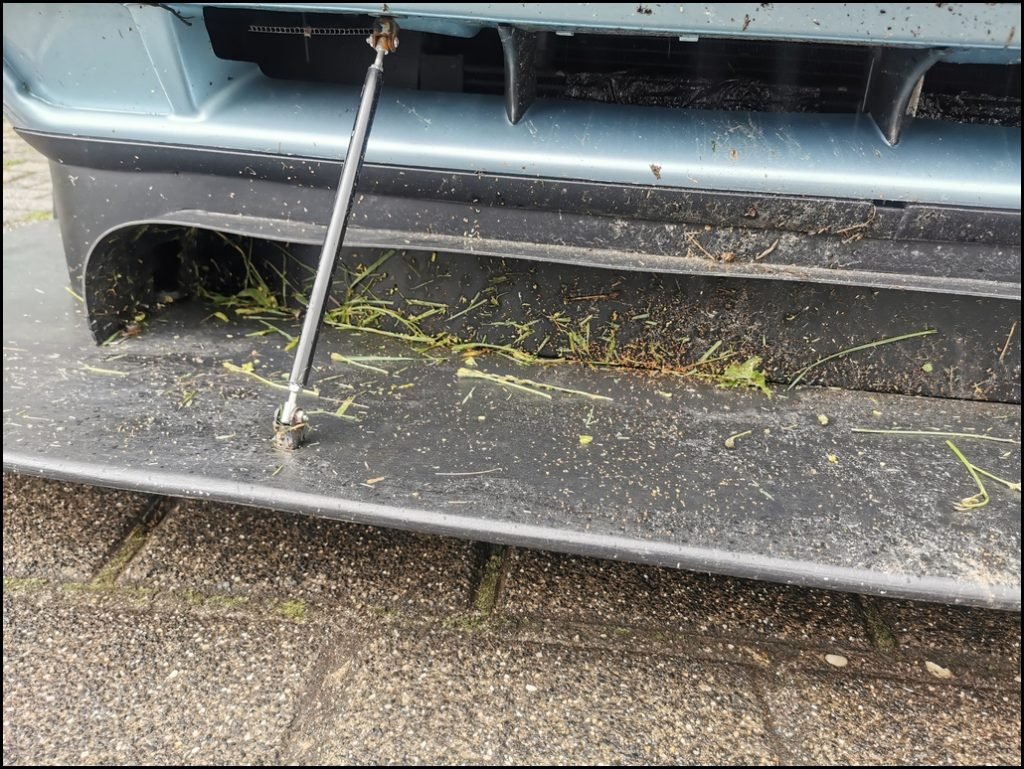 The forecast for tomorrow was drier so we switched back to the Direzzas before putting the Golf back on the trailer for tomorrow.
As often happens at the Ring, the sun came out just as the driving finished, I've had this happen many many times during TF although in the past it usually started raining just as the track opened after being sunny all day. That did mean it was quite pleasant when we were giving the car a once over after the day.
Thursday night and we all met up in the Comfy Corner. Its become something of a tradition that we eat here at last once every trip. Not only because the food is excellent, but because Jorg is a good friend and it's always good to see him again.
Day Two
Friday morning saw light cloud with a forecast of much better weather to come. This is more like it.
Cat helped take the Golf off the trailer, but decided that was as far as she wanted to drive it!
Sighting laps with Matt and we both agreed that within an hour it would be suitable conditions to fit the slicks when the tarmac finished drying.
The next two laps with Cat showed that we would probably have to revise our plan as the surface was drying really quickly.
The idea was to get up to speed on slicks and then do another chase/follow session with Simon. Joining the circuit he went past so I took the opportunity to tag onto the back of him. I knew we were both on Direzzas which meant neither car had a tyre advantage. Same as yesterday, the cars were very similar in performance on the 1Bar boost setting.
We agreed to do a flying lap and then come back into the car park. Flat out down the main straight saw a gps speed of 159.6mph, this meant 165mph was definitely achievable when I turned up the power.

Braking for Aremberg and I thought I heard the engine note change but accelerating down the Foxhole and checking the gauges didn't show anything amiss and the acceleration seemed okay.
As I slowed for Adenau Forest, Matt asked, "Did you hear the engine note change?".
I responded, "Yes. I don't know what it is though, lets see how it accelerates towards Metgestsfeld". It seemed to pull okay in third and fourth but it just didn't feel quite right so we drove the rest of the lap on part throttle to make sure we didn't make it worse.
The trailer was in the overflow car park along with all my tools. First we checked the data log but that didn't show anything and apart from a slightly richer fuel mixture everything seemed ok. I noticed when reviewing the logs last night that the AFR had been dropping through the day, this is strange as it is usually rock solid. I suspected it was due to the massive increase in oil consumption yesterday. No connectors were loose so we removed the plugs and fitted the compression tester.
Cylinder 1, 2 & 3 were all within 0.25Bar of each other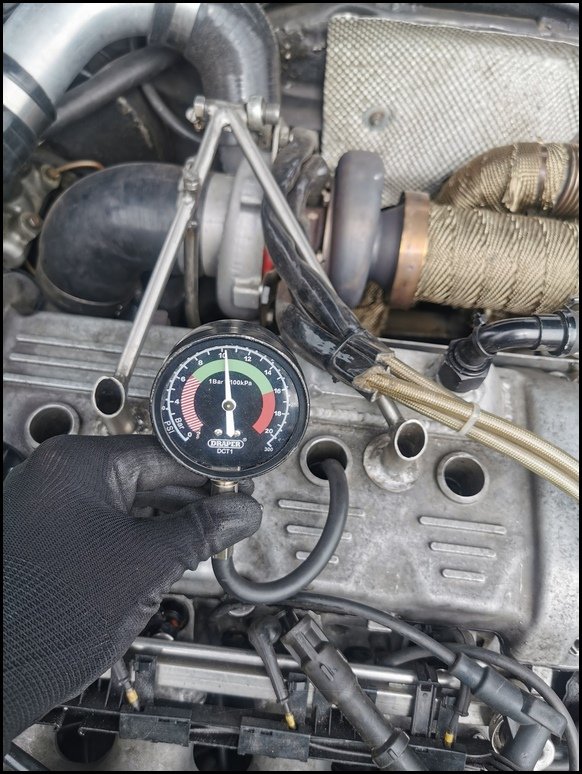 cylinder 4 was at Zero !
I suspected this was day over 
 I was going to just put the car on the trailer. However Matt pointed out I wouldn't be able to take any passenger laps so it was worth spending a bit more time trying to diagnose the issue. First off we removed the inlet manifold as it is pretty easy to do and both inlet valves were opening and closing with no visible problems. Now the exhaust manifold had cooled, we could remove the turbo and manifold. Looking into the exhaust ports didn't reveal anything obvious. Next step was to remove the cylinder head and by this point we knew it wasn't going to be a simple fix.
With the head off we first looked at the pistons and didn't see anything obvious apart from looking quite oily.
Both camshafts removed so we could manually push onto the tappet to open and close each valve. None appeared to be sticking and all operated freely. Turning over the cylinder head and the problem was immediately obvious.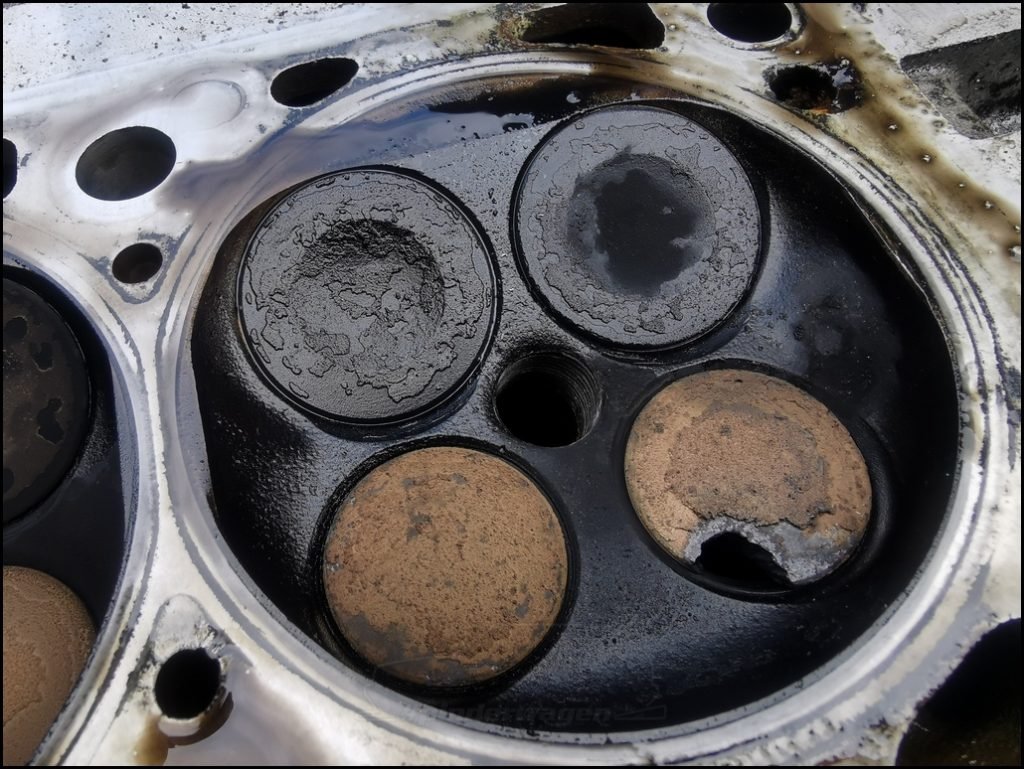 I had a melted exhaust valve in cylinder 4 
. My spare 'ready to fit' cylinder head was on a shelf in the garage at home, so no quick fix today. When I say my spare head, I mean one of them…
I suspect the oil hugely affected the combustion process and caused build up on the exhaust valve seat. As the majority of valve cooling takes place when the valve is closed  through the valve seat the valve apparently overheated on the flat out run from Flugplatz to Schredenkreutz.
This shows the high spots where only part of the valve was touching the seat metal to metal instead of the full diameter.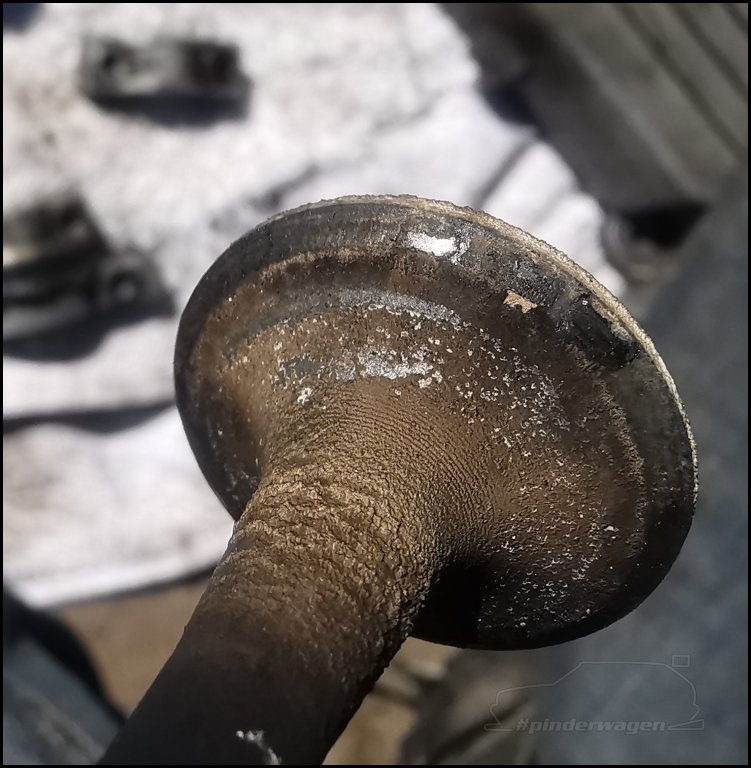 That's what you call a burned exhaust valve !
Incredibly the Turbine was undamaged.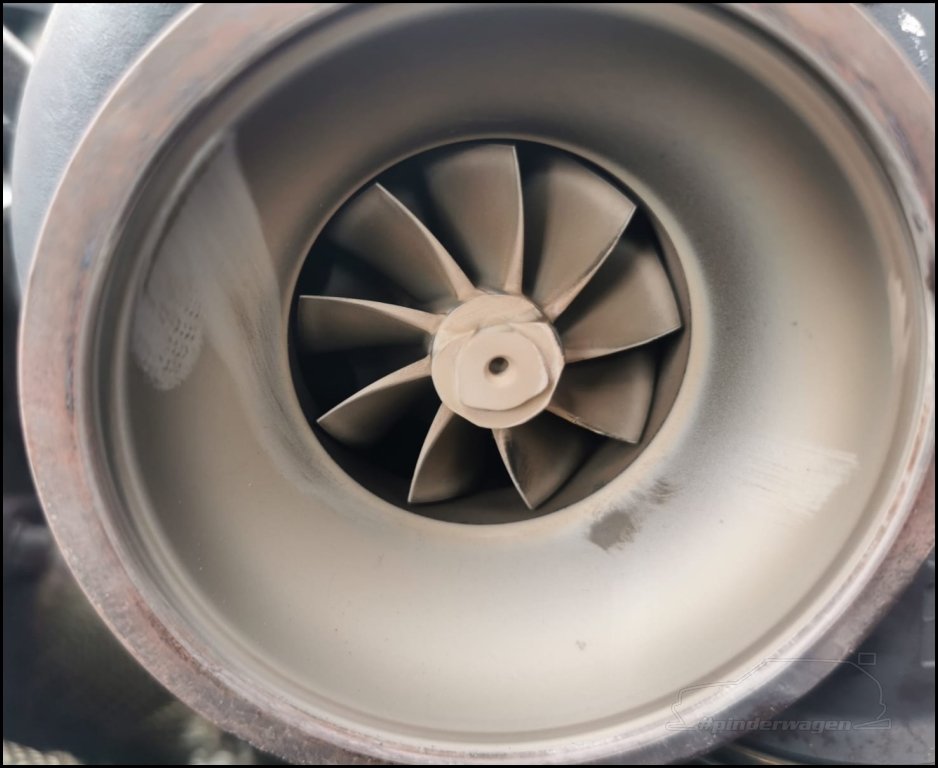 Strangely I wasn't as depressed as Ringmeisters 2019. That was simply me not understanding the freshly installed accusump. This appears to have been an internal engine failure and not something I could have avoided. We'd already agred that we would strip the engine upon our return to get to the bottom of the oil usage so it wasn't as if I didn't plan to fix whatever the issue was, but as the engine felt to be running as normal there was no indication of a need to stop driving any sooner.
There were two steps to address this failure.
No.1 to fix the oil usage which would stop the build up on the valve seat.
No.2 to replace the standard exhaust valves with some uprated Inconel ones, so even if this issue happened again the valves wouldn't melt before I had time to fix the problem.
Whenever I have an issue or failure not only do I fix it, but I try to improve the build to stop a reoccurrence. I am well aware that I will get the odd weird issue,but I try really hard to ensure I never get the same fault twice.
Whilst Matt and I were pulling the Golf engine to bits Cat had been womaning the barrier. Roy took over for a while so she could bring us some chips and nuggets for lunch.
We were just about to push the Golf onto the trailer when we spotted a Dutch guy getting his trailer stuck. He was trying to tow uphill on the loose surface, the front wheels were spinning and the van and trailer slid sideways, wedging the back of the trailer against a large boulder. Grabbing a strap I drove across in the X5 and towed the van and trailer up the hill. As I was pulling away I could feel the individual wheels scrabbling for grip as the car shuffled the torque around.
What made this failure particularly frustrating was by now the temperature was in the high 20's and track conditions were amazing.
Over the years I have realised I am quite pragmatic about these sort of things. I understand there is a risk of failure with a highly developed car, but damn, why are the worst ones on the best events

Chatting to people in the car park for the last few hours was enjoyable, although standing by the barrier watching people lapping in what turned out to be perfect conditions was irritating.
Cat and I met cars leaving the circuit at the end of the day to collect Transponders as people often forget and have to be chased after the event.
After packing up, had a quick shower and walked up to Zur Nurburg. We've started going here on the last night, its good food and within walking distance so I can have a couple of beers just to chill at the end of the event.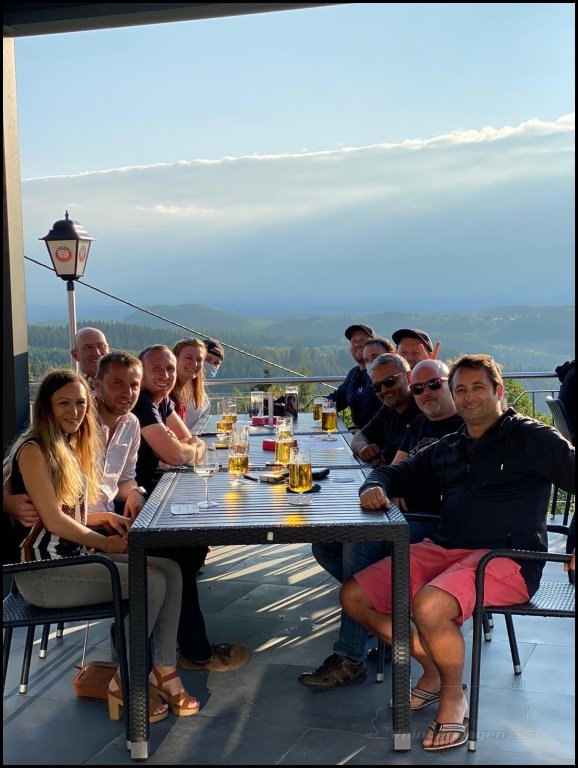 Had a very enjoyable evening together. This group have been going to the Ring together since 2005, some even earlier and it became one of those evenings of sharing tales from years ago. The Ring is a large part of all our lives and evenings like this, having a laugh with good friends is not something I can see ending any time soon 
After a leisurely start the next morning we loaded up the Golf, called in Lidl for our usual restocking of wine for Lou and had one of the best drives across Europe to Rotterdam I can recall having. It's weird how some trips seem to have delays from road works and traffic and others like this one, where its completely delay free.
Rather than eat in the bar, we ordered pizzas and ate them in the room whilst having a beer.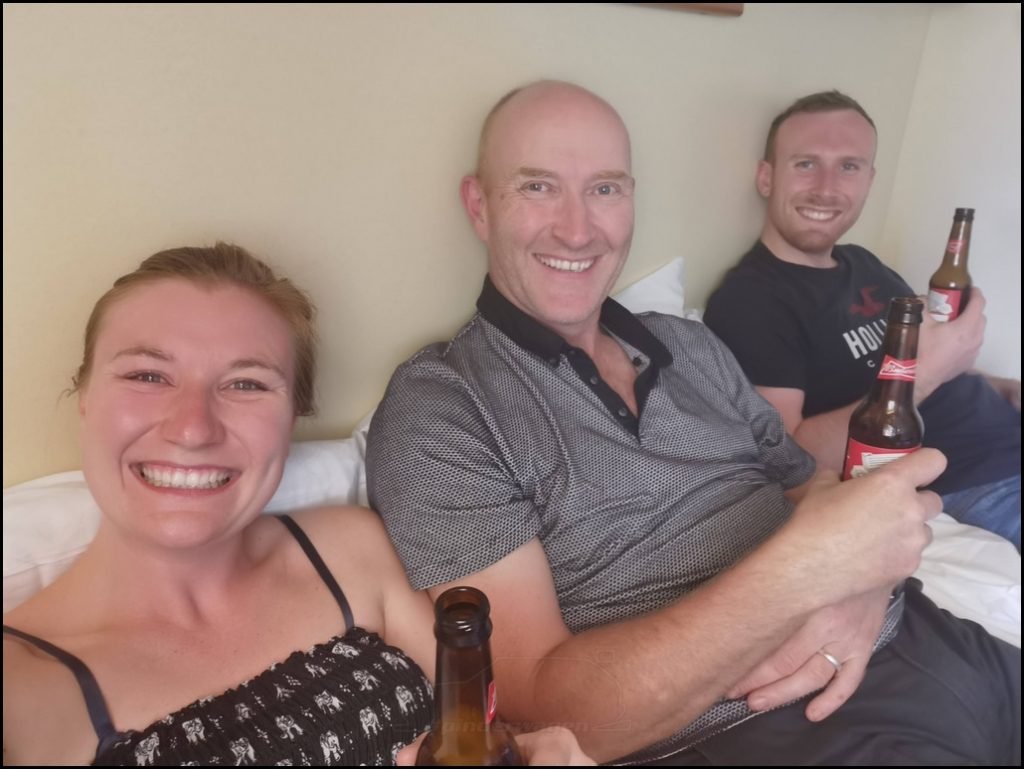 We had downloaded the F1 and watched that whilst eating.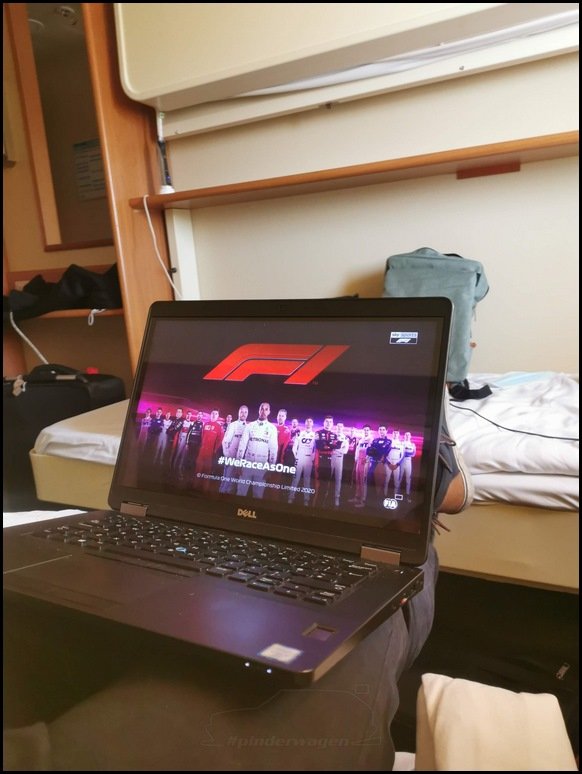 Thats two Ringmeister Prime events in a row where I've had engine issues
.
What makes it doubly frustrating is I've had none at any other time in the last two years. I know the long straights at the Ring stress the engine more than anywhere else but I've done plenty other Ring track days without a problem. I know we can't choose when things break and I do all I can to avoid failures but it is bloody upsetting when they happen on the best track days. As I mentioned earlier I wasn't as upset as you'd think about this. Something broke in what has been a very reliable engine and has been seriously abused over many 1,000's of track miles. I still haven't been able to pinpoint what broke, but the new engine seems to be spot on at the moment.
I often get comments about the Golf, "always breaking" and reports like this are the ones that stick in peoples minds but since Ringmeisters last year I have done 9 track days with zero engine issues. By that I mean absolutely no problems at all apart from adding a bit of oil and fuel. Those reports have no issues and people quickly forget them.  Of course I would like 100% reliability but do understand like anyone who runs a track car, that sometimes things just break despite all your efforts.
This was still a very enjoyable trip and spending time with good friends is a huge part of why I do these events, those good memories are what I choose to remember rather than the issues.