Cadwell Park was my first post lockdown track day and had been booked since early January. Little did I know at the time what a different experience it would be.
I'd used the time since the Oulton track day in March to do some cosmetic tidying up and also to review the feedback I'd received from Mike Epps, I was supposed to do 2 days at Spa, 1 at Snetterton and another at the Nurburgring but these were all during lockdown and were cancelled.
I'd sourced and painted a new front bumper, then made a new splitter and airdam complete with cabin vent scoops.  It looks much neater, just need to make some canards to finish it off. This is the only photo I have pre-Cadwell.
I also made new sideskirts to replace the old ones that were somewhat battered.
Before the event I received the event instructions that explained the Covid-19 precautions for the event.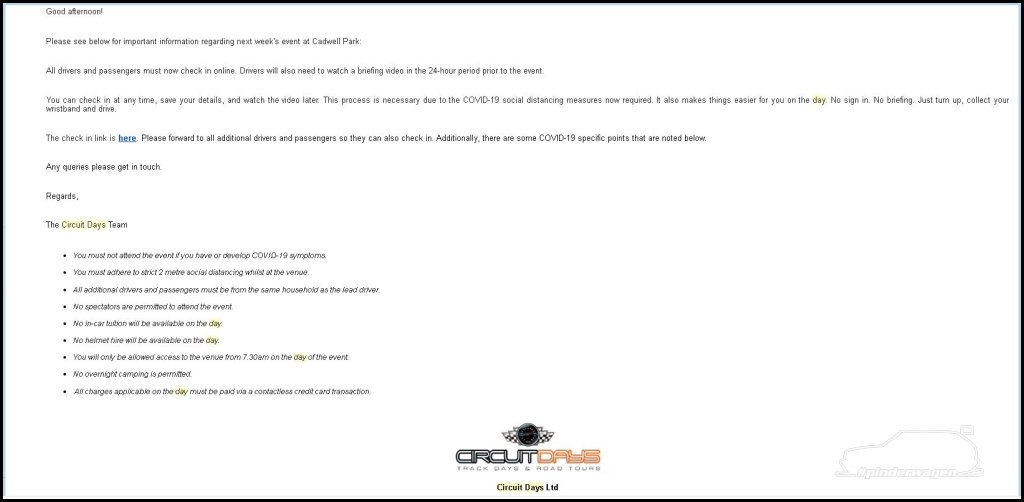 Rather than a drivers briefing on the day, MSV have an online system where you have to listen to a presentation which is in sections and only when listened to can you move on to the next step. Personally, I'd have made it interactive with questions at the end of each segment to prove it had actually being listened to.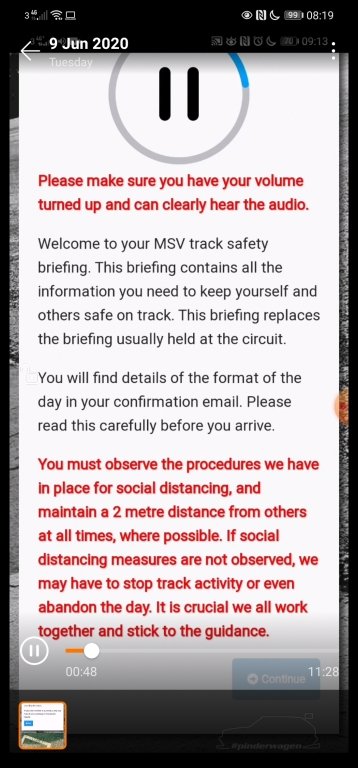 The drive over was trouble free but the weather was pretty unpleasant, after the last 3 months of glorious sunshine, it typically started raining the day of the track day. Arriving at the circuit and the Covid-19 signs were everywhere. You had to queue to get in, prove you were attending the track day by being checked off the list of attendees and give names of any 'helpers' who were coming to assist.
After parking up in the paddock, which was spread out over a large area to ensure everyone kept well away from each other, it was time to walk to pickup the drivers band. The route was one-way to the desk with Rob & Chris sat behind screens.  Once there you gave your name and were given a wrist band once they checked on the list that you were signed on and had completed the online briefing.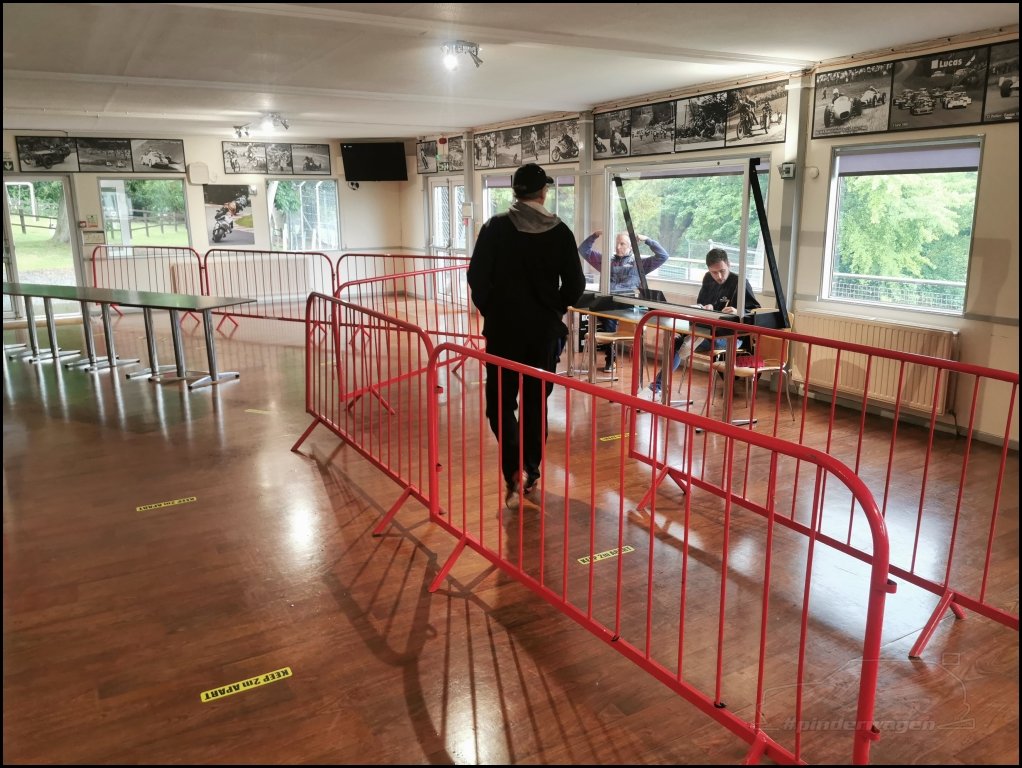 Steve didn't really have any words for Chris at this point… 
You then left the building by the side doors onto the balcony overlooking a very wet Cadwell Park circuit. Signs for keeping 2m apart were everywhere.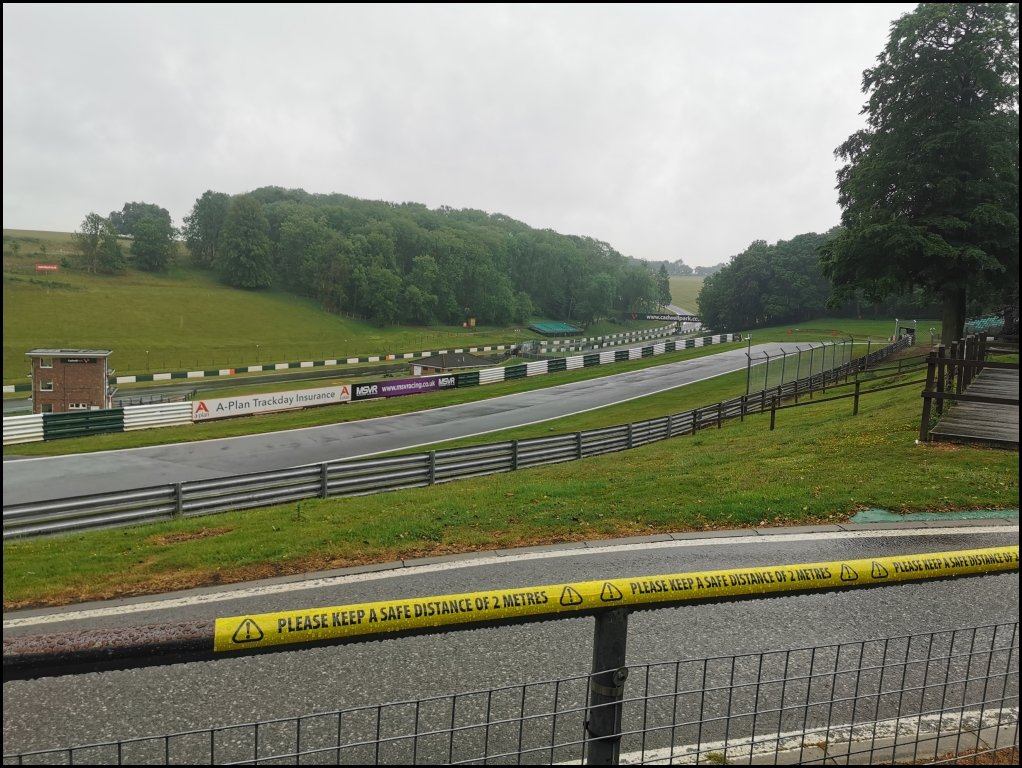 Golf unloaded and ready for the sighting laps. I'd fitted the wet weather tyres last night as the forecast was so bad. I had a few people ask about them during the day, they are 2015 Toyo RR1's which are basically an SG (Soft) 888 with trad cut into them. Definitely better than the direzzas in standing water but not as good as the Pirelli and Dunlop full race wets I've run in the past.
Into the holding area where the car was noise tested if you hadn't done it in the scrutineering bay. As expected, I passed easily at 95dB static. That's without the quiet system being fitted too which is around 89dB.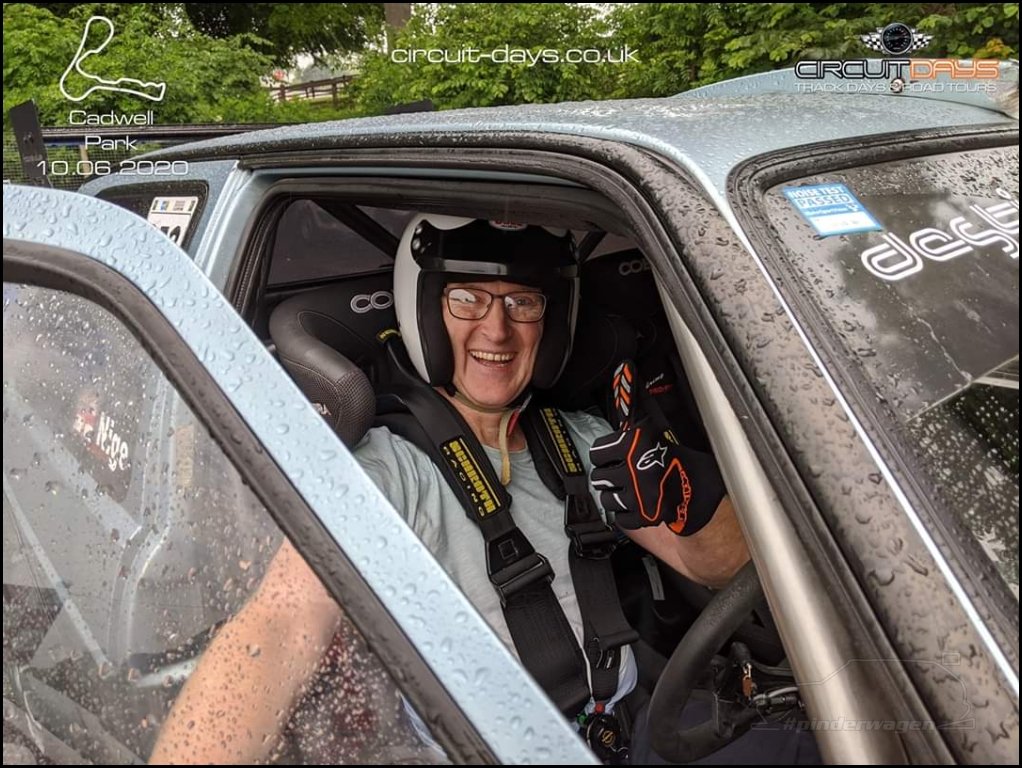 The sighting laps went without issue but I noticed a lot of standing water, particularly on the start-finish straight.
Due to a failure of the front facing camera I only have video from 2 sessions during the entire day, this is from late morning but the water here during those first few laps was awful. On my first lap out of the fits I aquaplaned badly.
One poor guy managed to crash in a straight line, he hit the water and it spun him sideways and across the track into the armco 
After that first lap I lifted down the straight until the water started receding.
First session was stopped due to a red flag as someone had gone off, even in sections without standing water there was still plenty of spray being thrown up.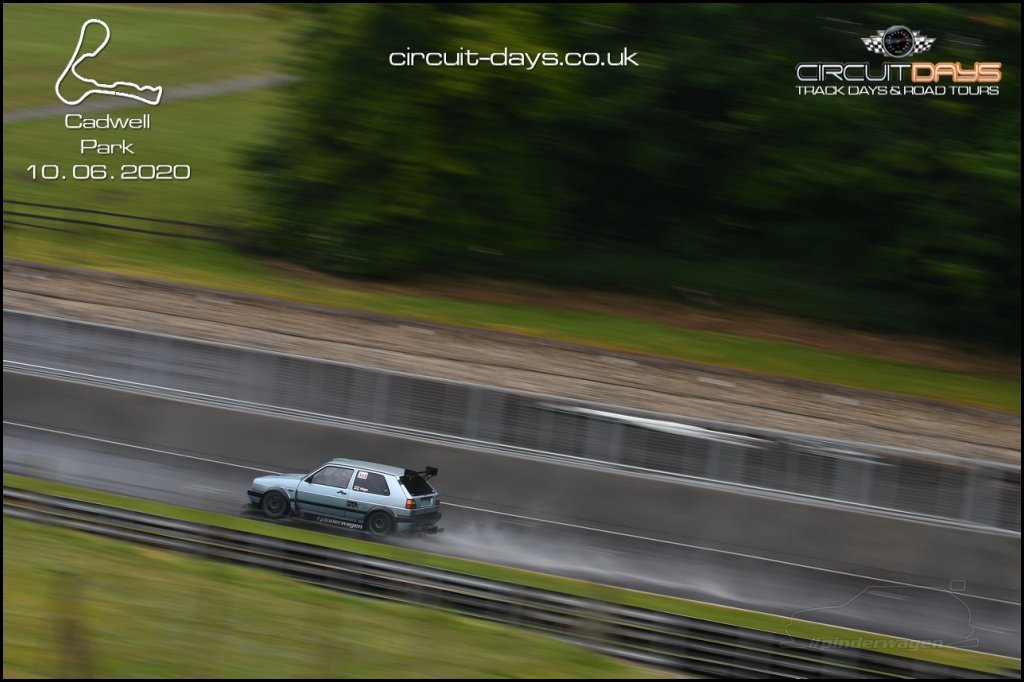 Back into the pits to adjust the tyre pressures then back out on track. Everything was going well and I was building up speed when I heard an exhaust blow. Back into the pits and as soon as I opened the bonnet I spotted the problem. The EGT sensor I fitted last year had popped out. I hadn't re-tightened it in 12 months and it worked itself loose.
The hardest part of the job was waiting for the exhaust to cool down, once it did I slid the sensor back in and nipped up the nut. That turned out to be the only issue I had all day 

Whilst I was replacing the sensor David wandered across for a chat. We'd been talking online before the event and the plan was to get some laps together on track. He's running over 400HP in his Corsa and I was explaining about how I can cut mine down to 290 in wet conditions (I've replaced the 0.7 with a 0.6 actuator spring to drop the base boost level) and how having less power is actually quicker as you aren't always fighting wheelspin.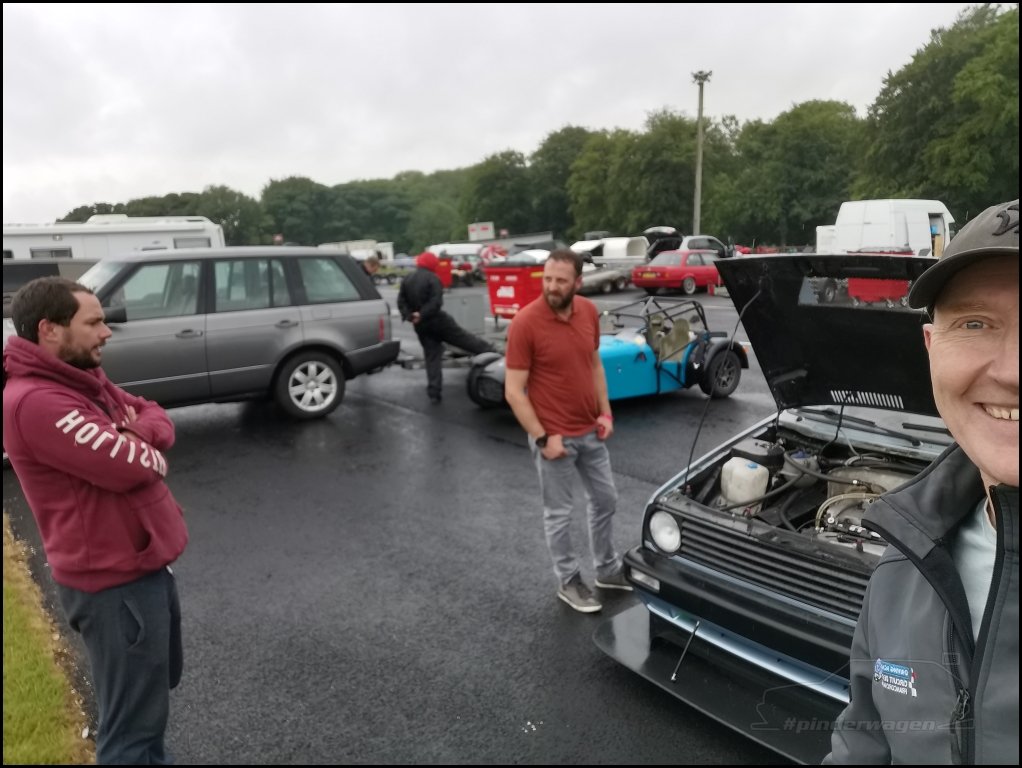 Once fixed it was time for some more laps before yet another red flag stopped play. People were going off regularly and the number of early stoppages was disappointing.  It did give me chance to give the Golf regular checks and adjust tyre pressures but I would much rather have been on track.
I caught up with Harjun for a lap and thought I'd tag onto the back of him for a few laps. After a nice drift through Coppice then all the way around Chris curve I realised this is when I most missed a passenger. Being able to talk about something like that whilst on track is something I find enjoyable and it adds to the experience of the day for me.
Saying that, I'd much rather lap with no passengers than not lap at all. I'm sure all the sensible ones amongst us understand that we have to approach track days differently this year, hopefully that means they continue to run in this modified format rather than not running any days at all.
I wasn't surprised to see him black flagged. Turned out the marshalls were absolutely fine with him drifting, they could see it was intentional and he was in control, what they didn't like was his helmet mounted GoPro. Once that was removed he was straight back out.
His S54 powered E30 is quick. He's been building it for some time and whilst having the odd teething issue it went really well all day. In a straight line it's very very similar to the pace of the Golf on 1.5Bar. Looks like I'm going to have my work cut out to keep up with Matt then 
The rain had stopped and whilst it wasn't dry, the standing water was slowly going and I was able to get some heat into the tyres.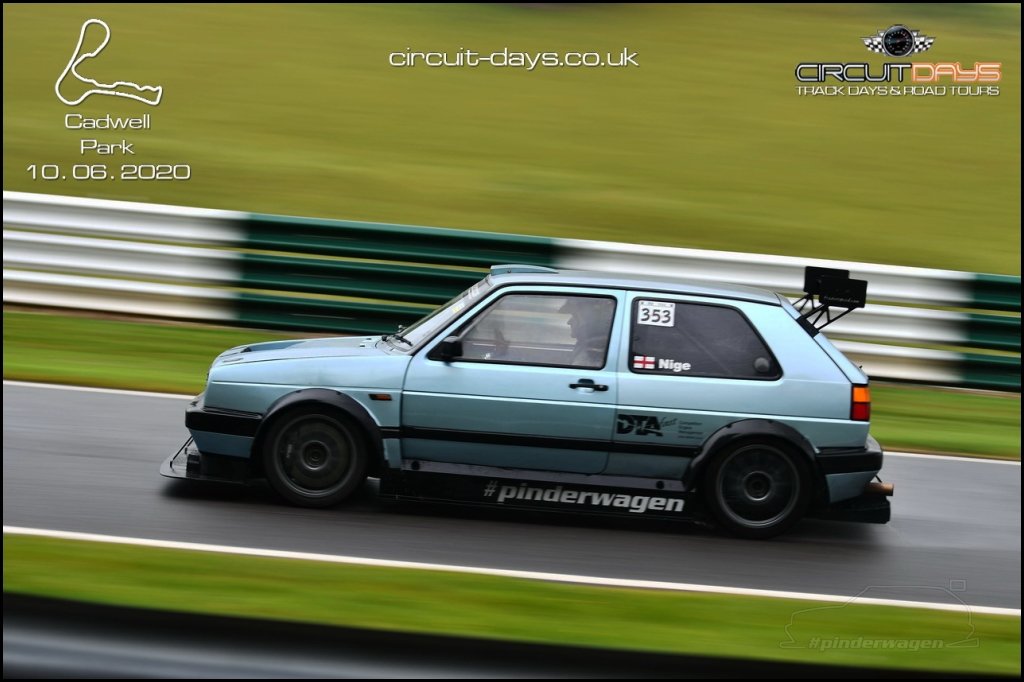 Parked up and saw the sidewalls dry on the rears for the first time all day and a few light patches of tarmac !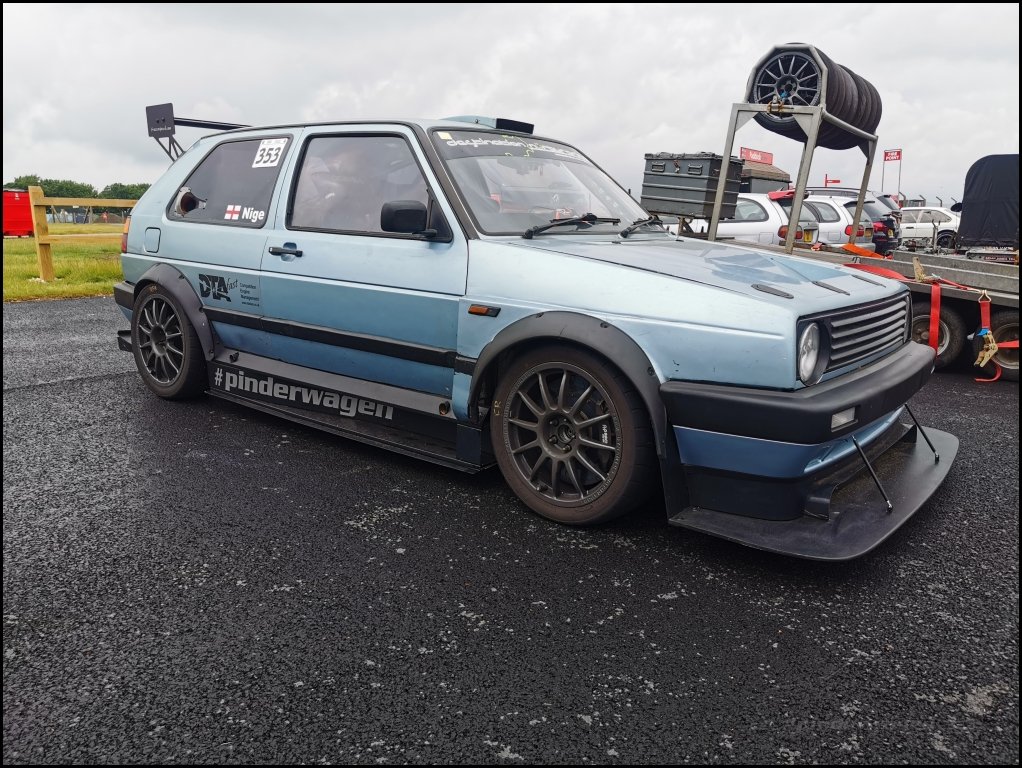 I was struggling for low speed grip on turn in, it kept washing wide and then gripping up no matter how smooth I was. Softening the front dampers right off definitely helped.
David was there with his Time Attack Corsa. We'd spoken online and then earlier in the day. Caught him mid morning and followed for a couple of laps. Still very wet so not that quick but good fun nonetheless. The camera issues meant this was the only session I recorded all day.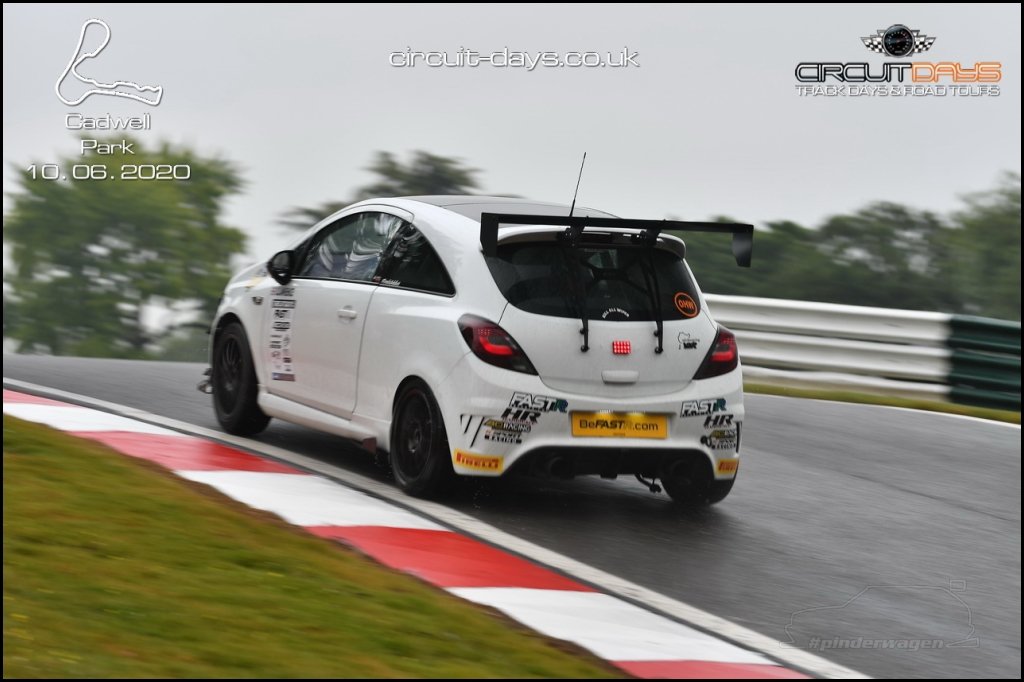 I'd left the rears on soft for some rear end stability but no only did that cause more understeer it allowed the car to lift the nose and squat down on the rear under hard acceleration 
Over lunch I wandered over to spend a bit of time with Karan, Harjun and Polay. I usually take Polay out when we're on a track day together but sadly that wasn't happening this time. Karan was making excuses about his tyres being old and too hard…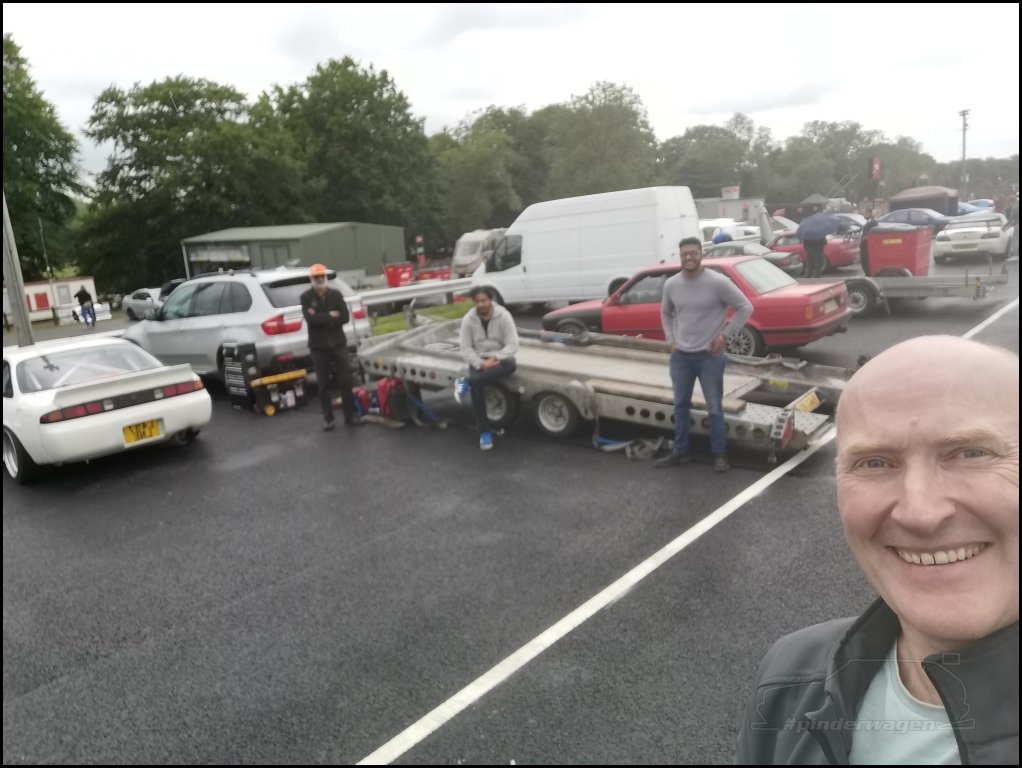 The track was drying over lunch so I decided to swap the fronts to Direzzas but leave the RR1`s on the rear. I have done this often, especially if it's a cool day and I'm struggling to get heat into the rears.
Went out and had 3 great lap. Sam caught part of it on camera.
Typically I realised I hadn't refuelled and had to come back in to add more. Then it started drizzling. Not enough to need the wets but just enough to add that horrible greasiness !
Followed Karan for a lap, as usual he was sideways everywhere 
These 2 photos sum up his driving perfectly. Accurate transition mid sequence and the marshalls were happy to let him play. Brilliant.
Caught Alex who I'd met at the ring last year but he was sliding around everywhere. Apparently worn Cup2's aren't good in the damp. That was his excuse and he was sticking to it 
Spent quite some time trying to get the hairpin right. I either outbraked myself and ran in too deep or braked too soon and ran over the kerb when I turned in. Such a deceptive corner in the damp and easy to get wrong.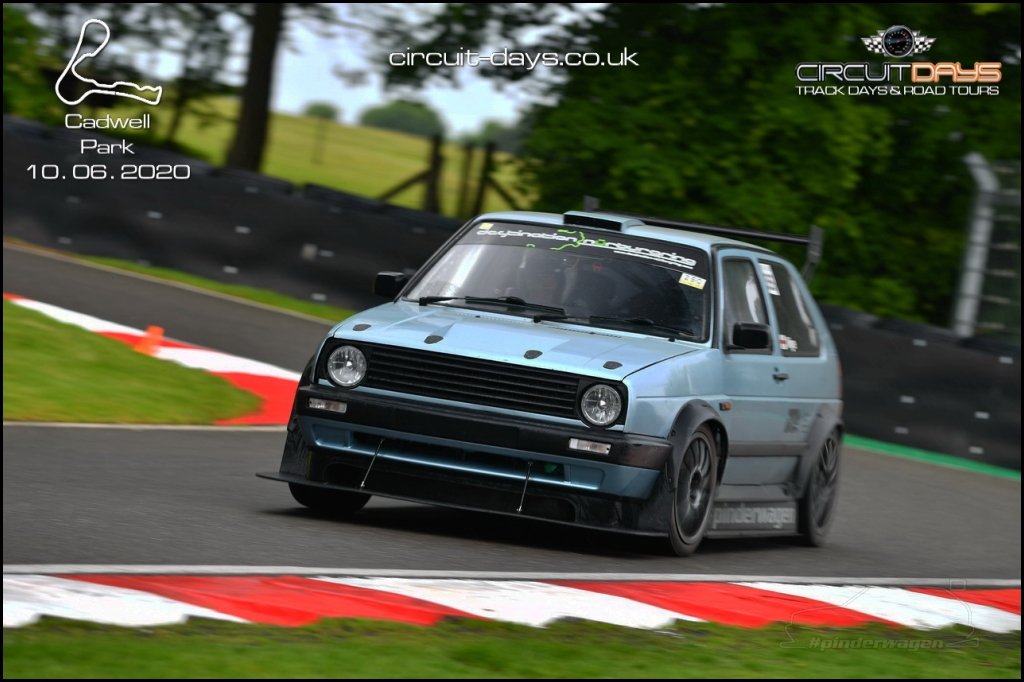 With the CV frailties in mind I always feathered the throttle going over the crest of the mountain. Seemed to work, I had no problems all day.
The conditions remained pretty much unchanged for the rest of the afternoon.
Then, at around 4:15 I came into the pits to refit the RR1's to the front. The rain was falling and the Direzzas are well worn with very little tread remaining. Filled up with fuel and whilst changing wheels Steve wandered across and asked if I was going out again.
"Yes, just swapping these front wheels over. Why?"
'well there is no one else out there..'
"I'll be 5 minutes…"
Finished swapping the wheels and drove to the assembly area. The head marshall motioned me to open my door
"Just so you know, when you finish the marshalls can go home. They've all been issues with catapults…
"
I drove onto the circuit and every marshall was just stood there watching me go past. I think I did 5 laps and then just had to come in.
I've never felt so self conscious driving on track in my life ! I know it shouldn't matter, I'd paid for the tracktime until 5pm and it was 4:55, but for the first time I can ever recall I stopped before the chequered flag with no car problems. 
I came off the track, but the time I had parked up by the trailer and was climbing out of the car, the marshalls were leaving the circuit and driving past on their way home.
Loaded up and if I needed to, I could leave it on the trailer and not take it off until my next trackday. It's so satisfying knowing the car didn't have a single thing that needed looking at. 
By the time I'd finished, the carpark was empty. Most people had already left while I was still on track.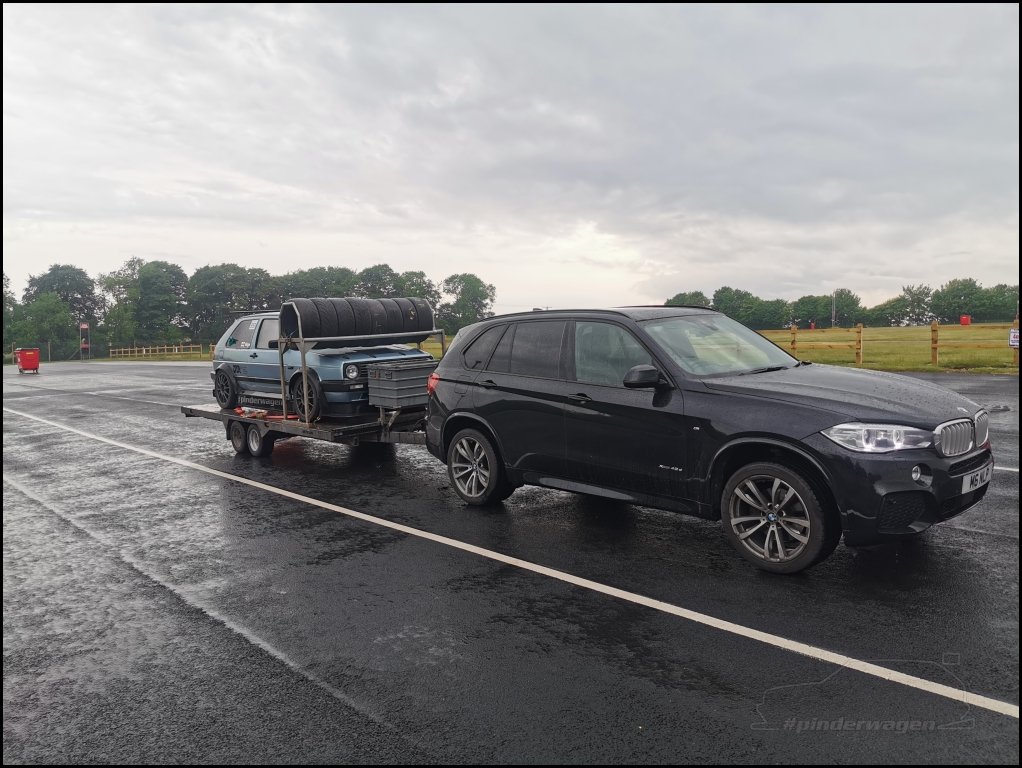 My first post-lockdown track day was wet but a total success. The measures the circuit and TDO put in place meant the day ran really smoothly, I actually prefer the online briefing, it made the morning much more relaxed. I miss taking out passengers but as I mentioned earlier, that's a price I'm happy to pay if it means I can still continue to do track days.