"Nige, you simply have to drive Brands GP, you`ll love it !
". Over the last 10 years I've lost count of the number of people who have said that to me. It looks pretty good when I watch laps on Youtube or when the BTCC are there, but is it really that good ? Openpitlane days there aren`t cheap as the number available through the year are limited and I could never justify the cost of a day there to myself.
I'm 50 this year and there a few things I've been able to tick off my list, one of them was Brands GP. Quite a few of us from Northloop had similar view to me so we decided 2019 would be the year we'd drive it.
I'm limited with my shift pattern and most of the time, it's the date that is more important to me than the actual organiser. Seeing a mid September OPL day come up when I wasn't working and listed as a 90-car limit day certainly appealed. We all agreed that whilst 90 cars on the day is obviously never going to be as quiet as a Goldtrack day, the price was reasonable so we booked it months in advance.

Then I had the oil starvation issue at Ringmeisters. That in itself was bad enough but after my 3 week summer holiday in August I had 3 days to fit the replacement crank and conrods, rebuild the engine, fit it and then drive to Brands for the trackday. That is easily doable, but left me zero time for any sort of shakedown or testing before setting off for Brands. Certainly not an ideal scenario but I simply didn't have time to do anything else apart from get the engine up to temperature on axles stands to check for leaks (there were none), go through the gears and then load it onto the trailer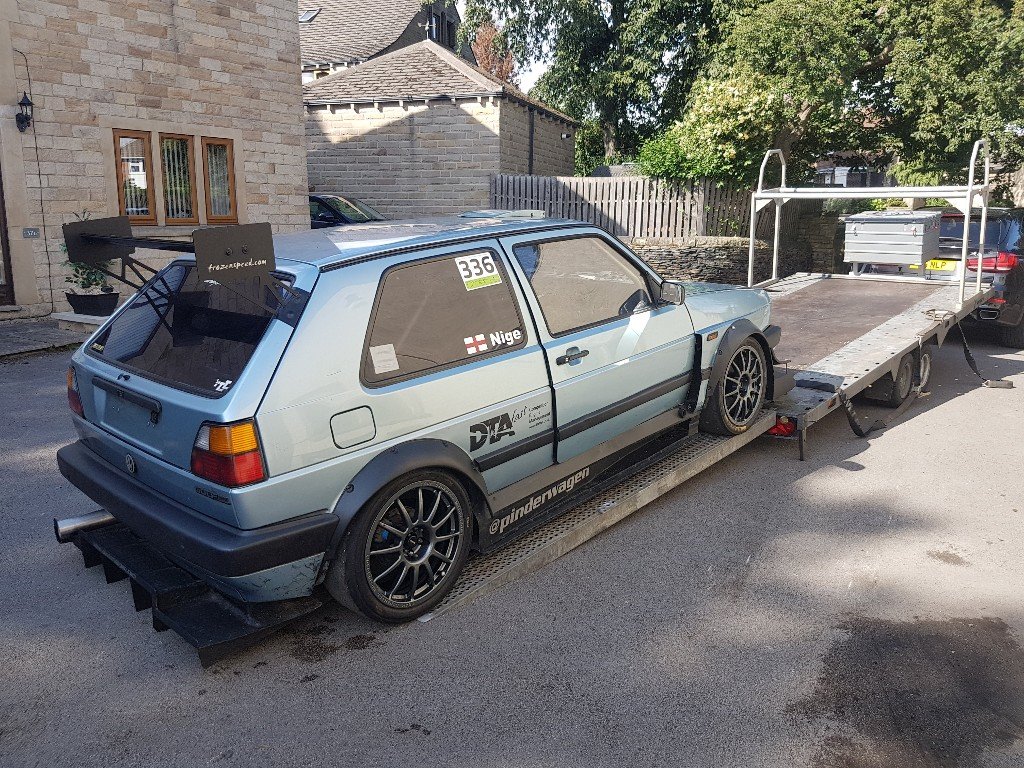 Matt finished work and as soon as he arrived we set off on the 220mile drive down to Kent during rush hour. Wonderful.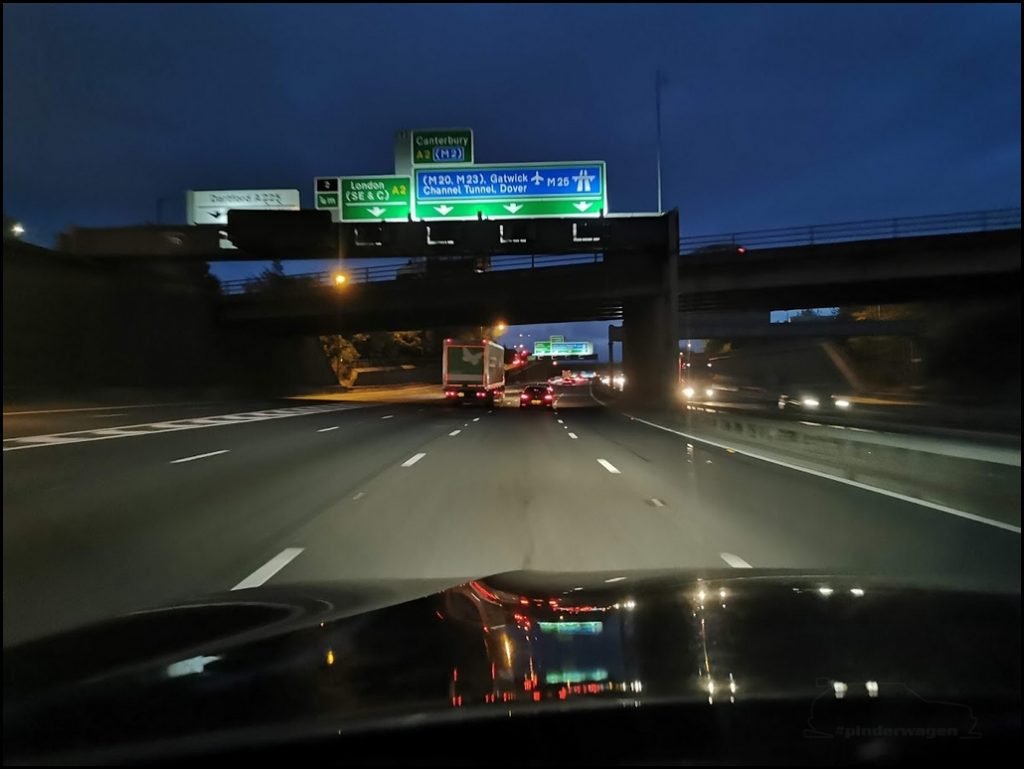 We had booked into the hotel at the circuit entrance and we were able to park the cars in the paddock instead of the publicly accessible carpark next to the hotel. Knowing it was secure meant I could enjoy the evening and we met up with a large group of people and spent a relaxing evening catching up.
Friday morning was warm with clear skies. Perfect conditions and the forecast was glorious. I unloaded the Golf and then went to the briefing.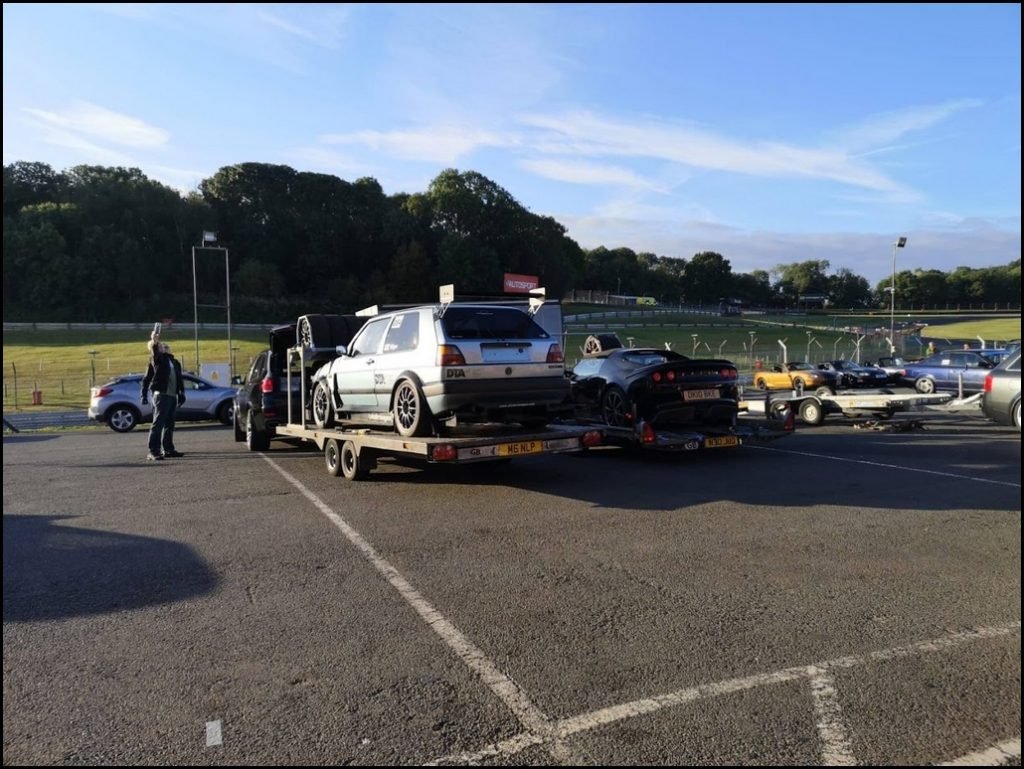 The queue for noise testing was the length of the paddock. This was one thing I wasn't concerned about. I have a 30″ long centre and 18″ rear silencer that I fit for days with strict noise limits, such as Bedford, Thruxton or Brands. As expected it sailed through the noise test with a static reading of only 89dB. I have a smaller rear silencer I fit the rest of the time and save the `quiet`one for days like this, so I don't burn the packing away in the silencer when it`s not needed. They are all interchangeable and it only needs the hanger unclipping, the V band removing and the silencer can be swapped in minutes.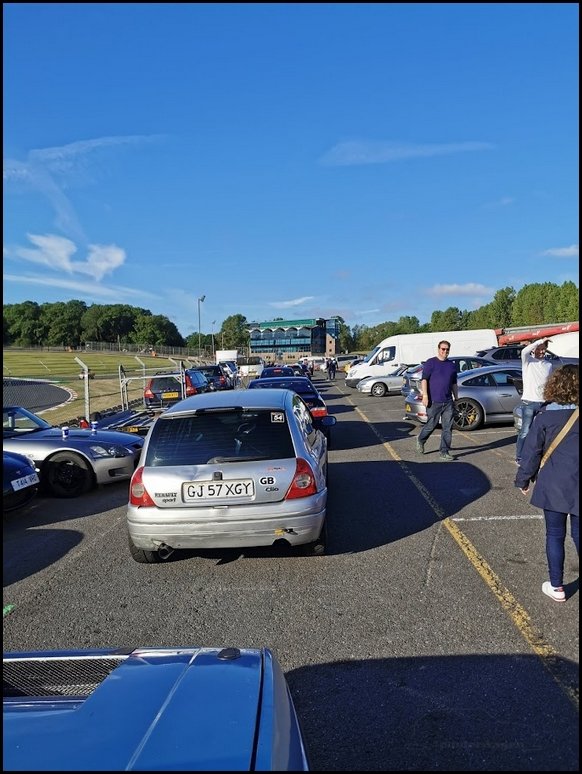 As I`ve said many times recently. I`m happy with how the Golf looks now apart from the hole I cut in the new bumper at Ringmeisters it's fairly tidy !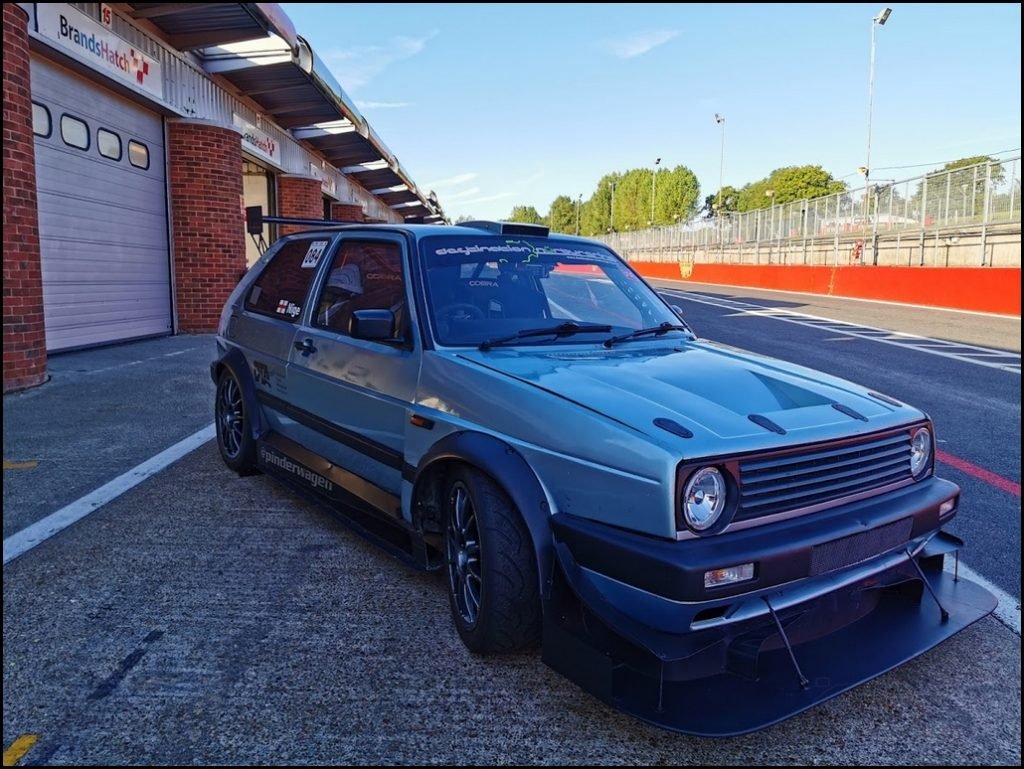 The sighting laps went well, I wasn't really paying attention to the circuit as I was watching the gauges for any signs of an issue. As this was the first time I'd been able to drive it since the rebuild, I was very nervous and didn't enjoy it at all. I honestly didn`t look at any lines or what I thought would be a suitable gear, it was spent getting round slowly and checking oil pressure and temperature was good.
Once I came back into the pits and checked it over I felt much better. I Joined the queue when the track was open and was looking forward to actually learning a new circuit. It doesn`t happen very often and I'd purposefully not watched many videos before today.
The first few laps were tricky, I turned in far too early on the left hander onto the GP loop and Matt & I immediately started discussing the correct lines as the lap progressed. Learning a new circuit is something that doesn't happen often as I've driven most UK tracks over the last 14 years so a new circuit is exciting ! 
Anyone who knows Matt and I is well aware we are extremely critical of my lines. I have found dissecting the lap and analysing my lines whilst lapping is the quickest way for me to improve. We spend almost all the lap talking as we go and quite quickly start to build up a rhythm.
A few laps later the first red flag came out so we trundled back to the pits. I was only running actuator pressure but all the temperatures and pressures were spot on.
Ian was sharing the garage with us and usually a pit garage is somewhere to keep out the rain and the wind, today we used it to keep in the shade out the blazing sun. The weather was absolutely glorious !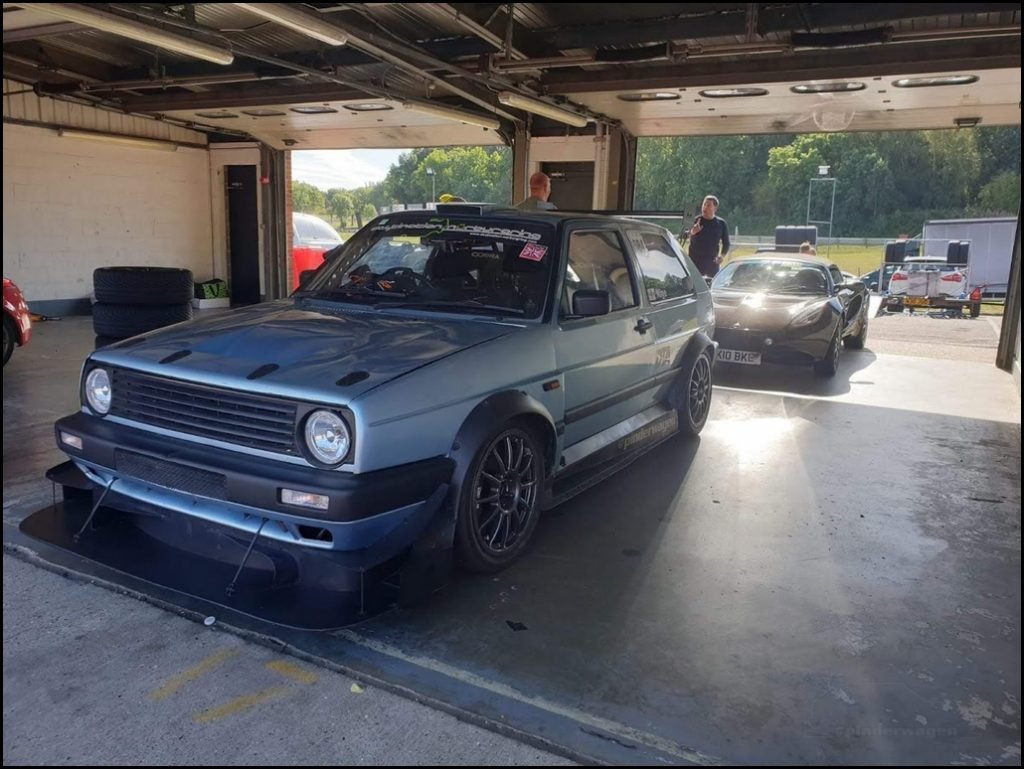 After a quick drink it was time to rejoin the queue to get back on track.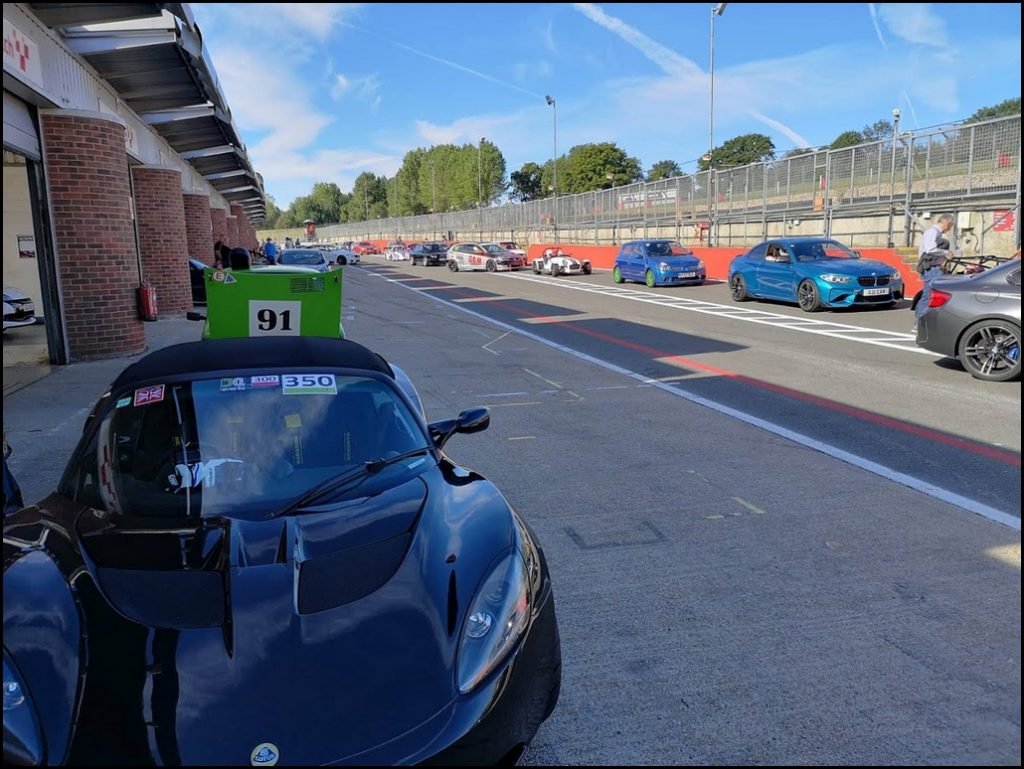 Rob Baxter was the photographer on the day and as usual his photos are top notch. As I mentioned earlier, Matt is a big critic and when I get it wrong and turn in too early, he is quick to let me know. 
I like to think I have enough feel and understanding of what it feels like when I take a wrong line that I can quickly adjust next time round. Traffic made it difficult to always be in the right place though and the learning experience was frustrating at times.
The GP part of the circuit is quick in places with some challenging corners and plenty of gradient changes. 
 I was starting to understand why people liked it so much. It rewards confidence and I was finding I could carry much more speed into corners than I initially thought.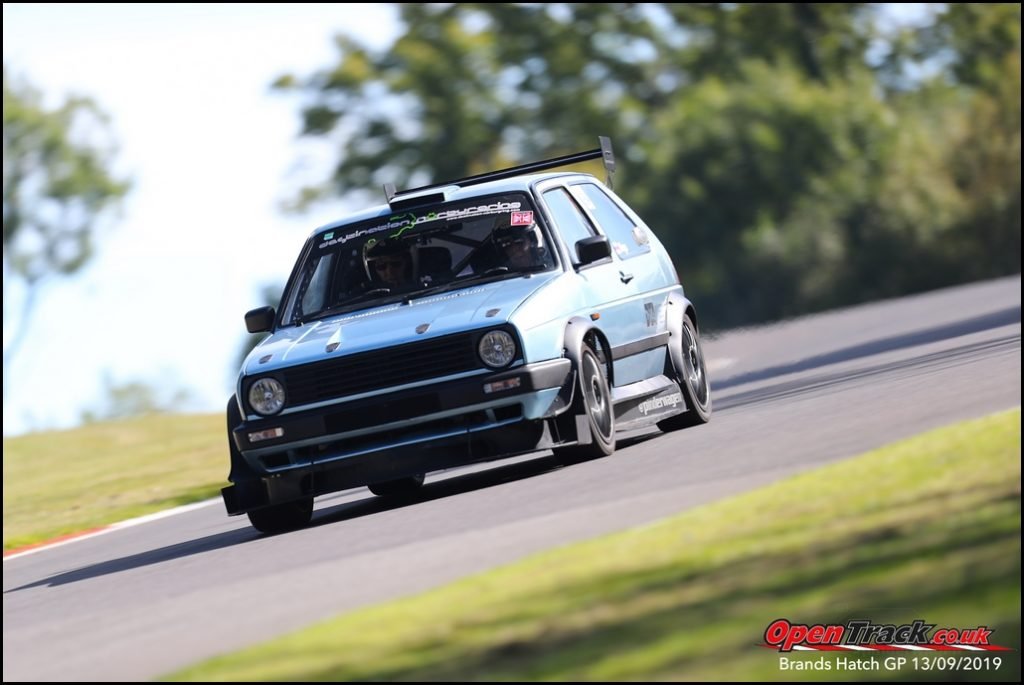 By now it was mid morning and I had a good couple of laps following this Porsche. It always makes me smile hearing that 6 cylinder howl from inside my cabin.
I`m often asked if there is much difference between low, medium and high boost settings. This acceleration through the gears explains the mid and high difference graphically.
These are consecutive laps coming onto the GP circuit. The Red trace is all medium boost of around 0.9 Bar. I get a better exit and am 6mph faster as I accelerate onto the straight.
The next lap (Green trace) I stay on mid boost until shifting into 4th where I'm still 6mph slower than before at 84mph instead of 90mph The red and green acceleration traces are parallel until that point, as you'd expect.
I then press the high boost button and in only 400metres I have gained the 6mph defecit to the mid boost setting and both traces converge at 110mph.  That rate of acceleration continues in 5th, but I ran out of track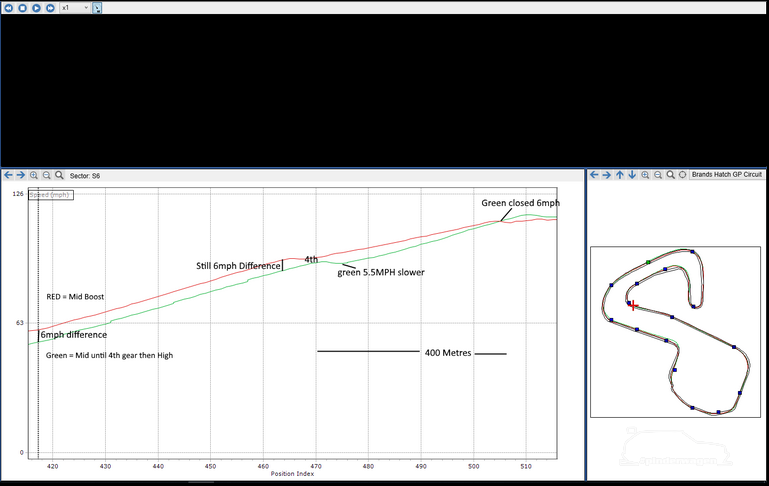 By mid morning I was getting there with my lines. Both Matt and I agreed I'd leave it on medium boost until after lunch, just to ensure I had no CV joint issues.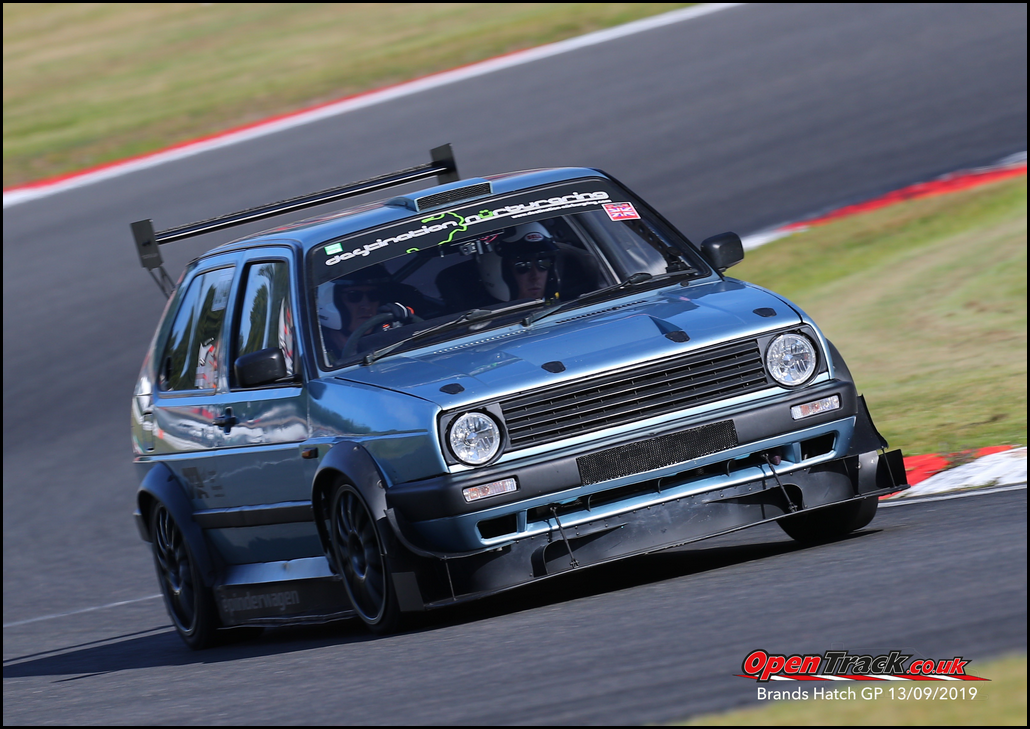 Had a very enjoyable couple of laps behind this Atom. These are the sessions I look forward to. Cars with very differing strengths and weaknesses yet close over a full lap and each driver knowing what they are doing and also knowing the car following is happy to sit there and so you can concentrate on your own driving.

We'd had lots of stoppages by this point, the worst was queuing to get out, coming out of the pits and seeing the red flag by the time I got to the bottom of Paddock hill. Frustrating doesn't cover it.
Caught up with Tim late in the morning and sat behind him for a lap to get some footage of his lovely E36 M3. He said afterwards that whilst he appreciated the video, he spent more time looking in his mirrors than watching his lines 
Had lunch at the cafe on site/ Brands is their headquarters but the food at every other MSV circuit has far more choice and somewhere you can sit inside. I thoguth they'd have done something about that by now 
Martin Hollands called in with a stack of spare discs and pads. The price ? Nothing at all. The teams usually throw them away and all he requested was that I make a donation to Great Ormond Street Childrens Hospital. It goes without saying that I was delighted to make such a donation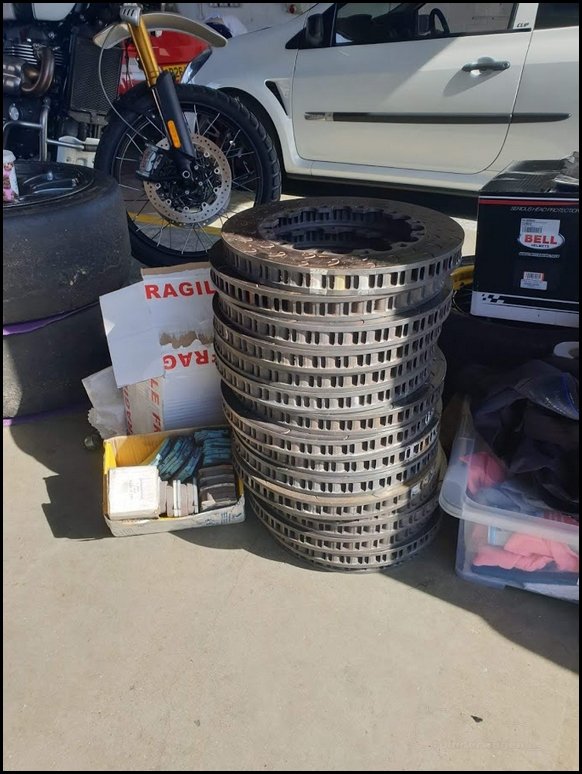 Rob had asked me if I wouldn't mind taking his wife out for a few laps. He's been out with me himself and seen me driving when he's trackside and trusted me to take Rebecca out. 
Everything was going well and I was showing her the difference between medium and high boost. I'm sorry to say I left it on high boost when I ran the kerb at Stirlings and it immediately snapped the CV joint. I was so annoyed !
This was the first Red flag I'd caused for a long time and the CV's had been absolutely fine since I replaced the shafts and joints last year. 
That simple act of running the kerb whilst on high boost immediately caused the falure. At least I confirmed that's the thing that breaks them. I'd been running them all morning on medium boost with no issues whatsoever.
Rob was obviously a little concerned when we stopped at the side of the track but Rebecca told him we were fine. The Marshalls arrived and we waited for the recover truck.
After having no problems all morning my heart sank when it failed. Not only because the CV broke. I knew I could fix that and had spares with em but because I'd caused a red flag and this was already the worst day I've ever been on for red flags and now I'd added another to the count 
 Yes I'm smiling in the photo, we were safe and Rebecca was OK. The car had stopped on the exit of the corner and for a few moments until the approaching cars had passed, we were in a very exposed position and they wasn't anything I could do about it.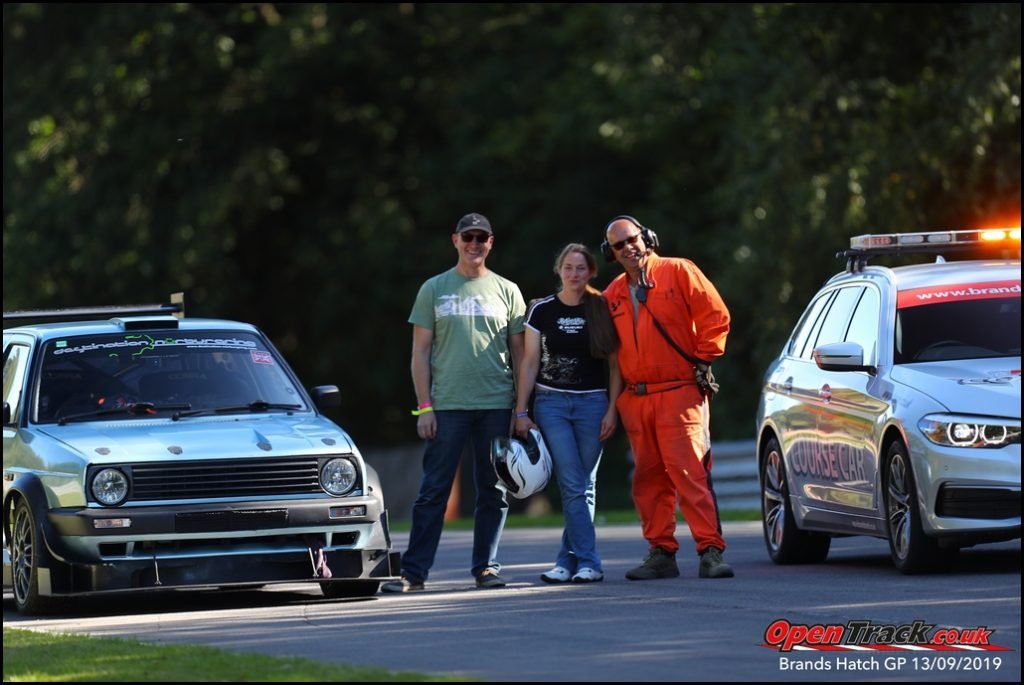 They tried towing me at first, but the wheel wasn't fastened to the hub anymore and it locked against the caliper and started dragging. They had to winch it onto the truck instead.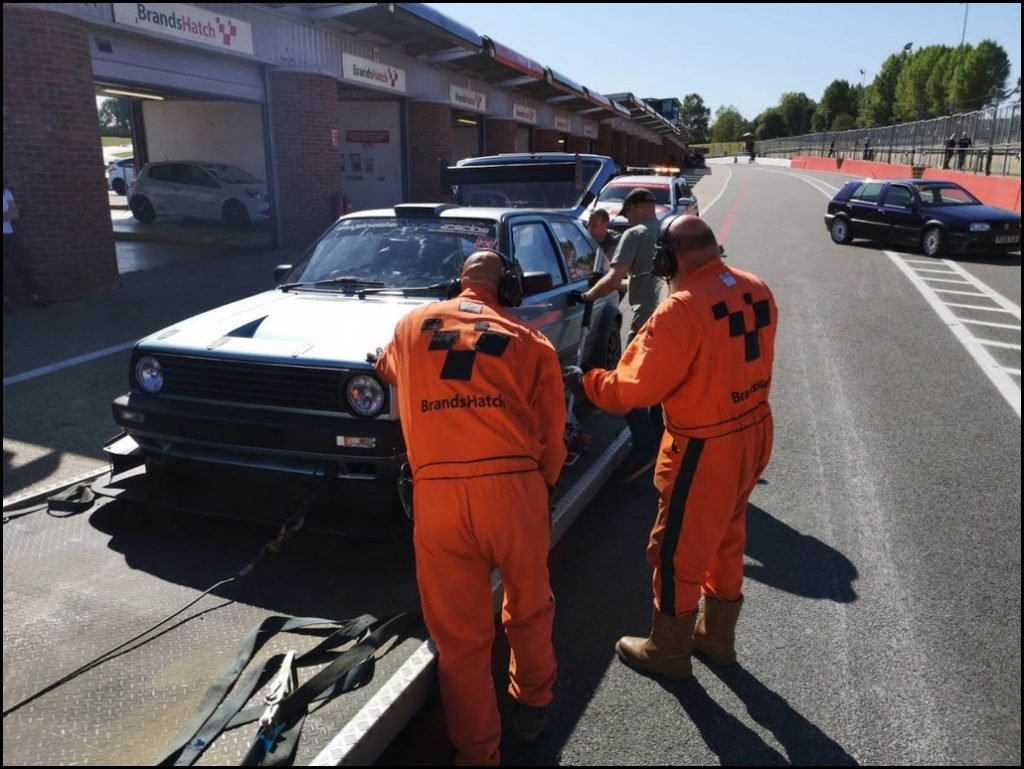 Back in the pitlane and we jacked the front wheel to allow the car to be pulled off the flatbed so they could be ready for the next recovery.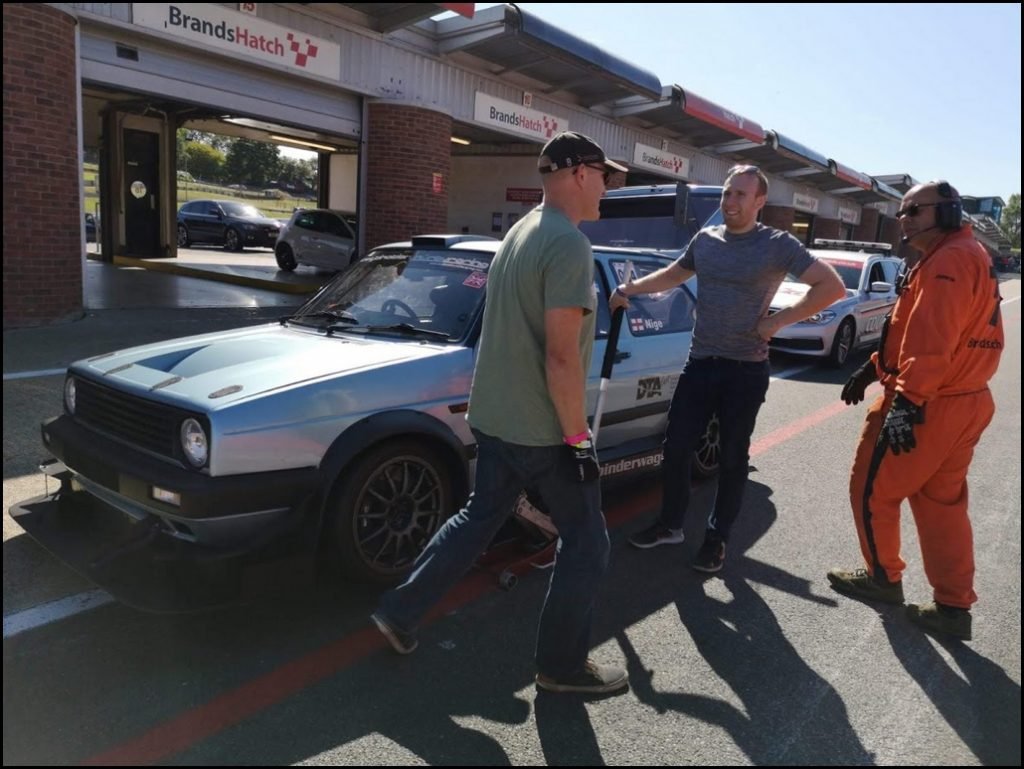 With help from everyone I could grab we managed to get it into the garage and jacked it up.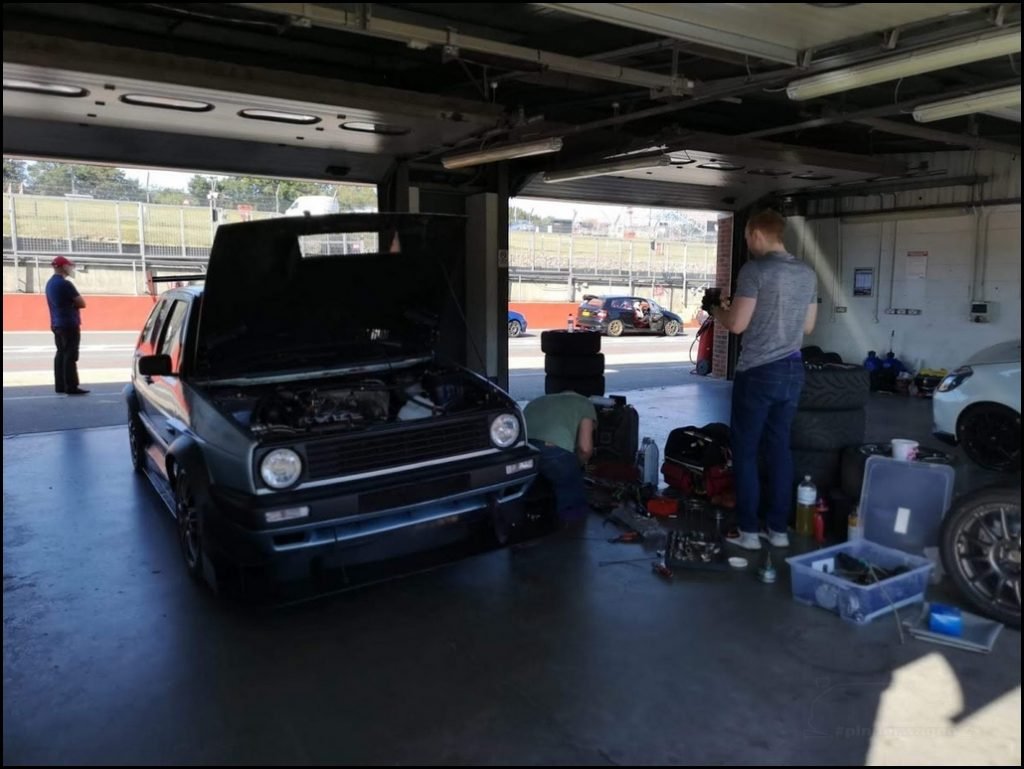 I don't think the disc is supposed to drop onto the floor when you take the wheel off 
This was the 3rd CV I've had fail. I carry ready built driveshafts with CV's fitted. It's a case of removing the front coilover, hub and driveshaft. Press out the old wheel bearing, fit a new one, press in a drive flange then replace the driveshaft and reassemble. I only remove the bolts that don't affect the geometry which means everything is still aligned once refitted.
Matt and I cracked on and swapped it over. 45 minutes later we were ready for go 
As I approached the first braking point the pedal didn't feel right. It wasn't soft but it just seemed to need more pedal pressure than usual. The reading on the dash showed line pressure was as normal but I was't happy so we took it steady and drove back to the pits.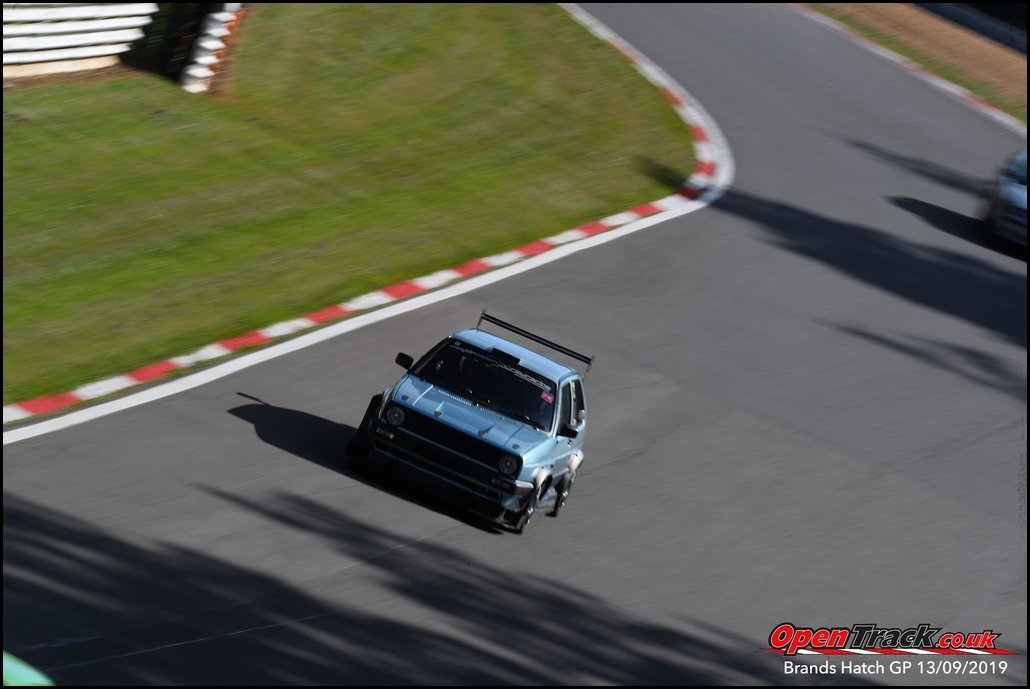 As soon as we removed the wheel and saw brake fluid dripping onto the floor it was obvious the day was over. The loose wheel had caused damage and that was it. i could repair it once home but didn't have the necessary spares to do it here.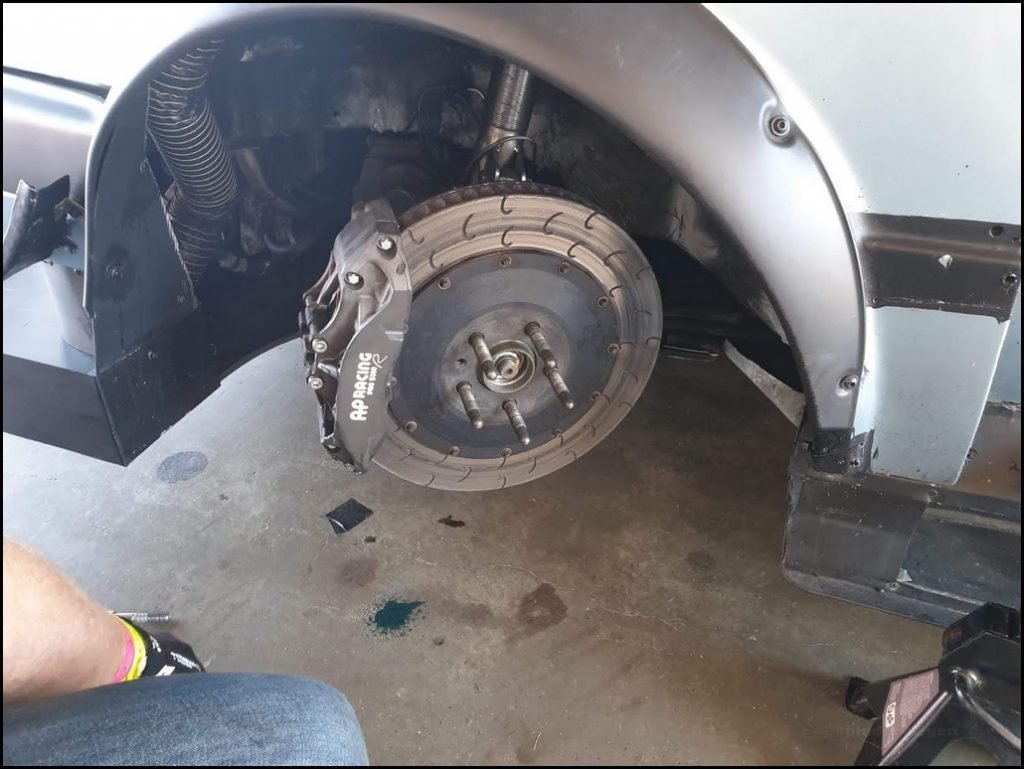 Drove the car back onto the trailer and strapped it down. We hung around and Matt had a few passenger laps whilst I chatted to friends.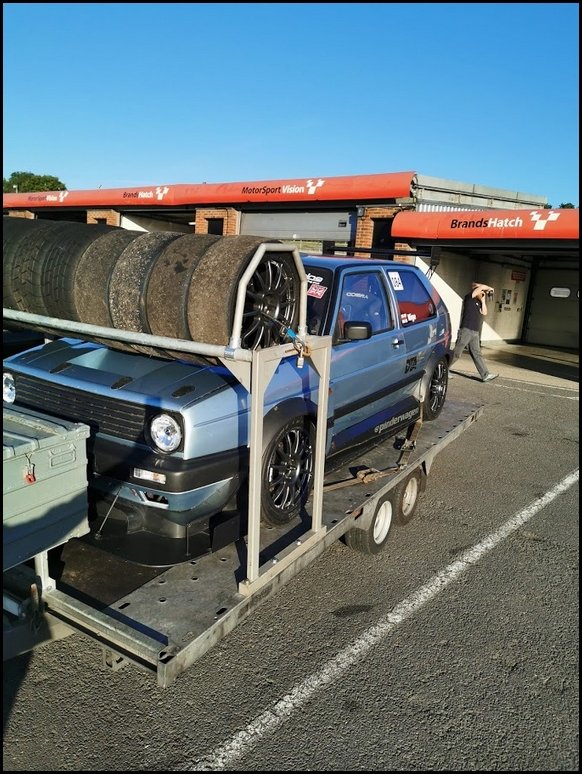 Matt went out with Simon. We'd planned to go out on track together but this was as close as we got this time.
We had a decent drive back, stopping after a couple of hours for a bite to eat at the services.
So far I've explained how the day went but what about Brands GP itself ? Was it as good as people said it would be ?
Honestly I'd say yes it was. I found it a challenging layout but one I could really get into. New UK circuits are rare for me now and learning a new one, especially a track as challenging as this was very rewarding. The huge amount of red flags and pitlane queues was obviously frustrating but I came away having thoroughly enjoyed the circuit. I`ll probably do it again but it`s unlikely to be in the near future.