Lou was off work during half term and came along with me to Donington Park. The Golf hasn't changed a huge amount since I was here 12 months ago but that doesn't make it any less of a challenge. 
After the briefing in the new cafe / restaurant building it was time for the sighting laps. Lou doesn't come out with me on many trackdays but when it's just us two she knows I build up nice and steady and give her time to get used to it. She doesn't like me following close to other cars so I make sure I avoid that.
After the CV joint failure at DN20  I bought 2 new complete SKF driveshafts and had fitted those. As they were new CV's the plan was to be nice and steady on the first few sessions to let them bed in. That's no problem, the sighting laps and the next 2 sessions could be slow and without full power on the bends would be enough to confirm everything was OK.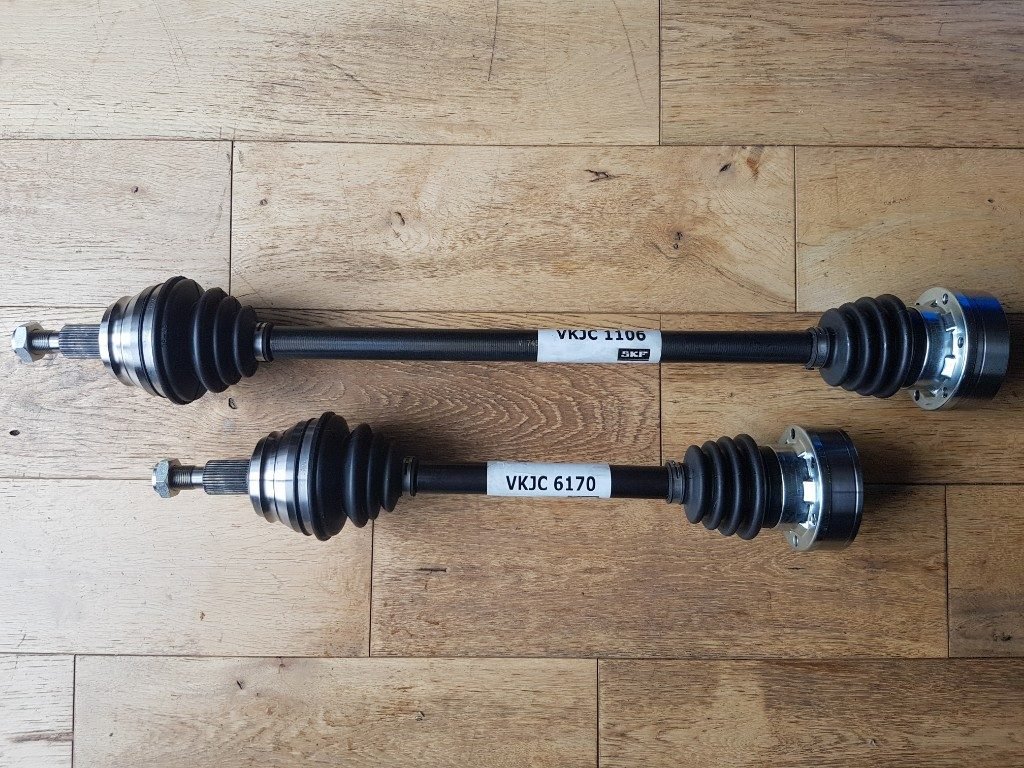 Did the sighters then went straight out for half a dozen more on the Direzzas. Absolutely no problem at all but as it was dry and sunny I decided to fit the slicks instead. Lou was happy with the pace I was driving and said she was happy to come back out with me.
Well, what can I say apart from I cocked up.
On my FIRST lap out of the pits on cold slicks I simply went too fast. You'd think I would know after 12 years and 100's of trackdays I would know to get the tyres warm but I genuinely thought i was going slow enough that it wasn't a problem. 
I turned into coppice and the rear instantly stepped out and I couldn't catch it. 
I think we`d stopped for around a second when Lou turned to me and said "Well, that was a bit shit Nigel"…"I was going to say to you, do your slicks warm up quicker". You can just see her stroppiness and attitude in her comments. 
I deserved it all.
Robert was on hand to capture the moment. You can see the gravel is halfway up the side skirts and the front splitter / floor is sat on it. Initially the marshall tried to tow it out forwards but straight away commented it would rip off the front so pulled me out backwards. I drove slowly down the grass to avoid dropping gravel all over the circuit then had the drive of shame into the pits.
I walked up to Dave, the organiser and apologised profusely for causing the Red flag. If you`ve read my previous reports you'll know it is something I hate. Whilst it doesn't happen often I always feel bad when it occurs.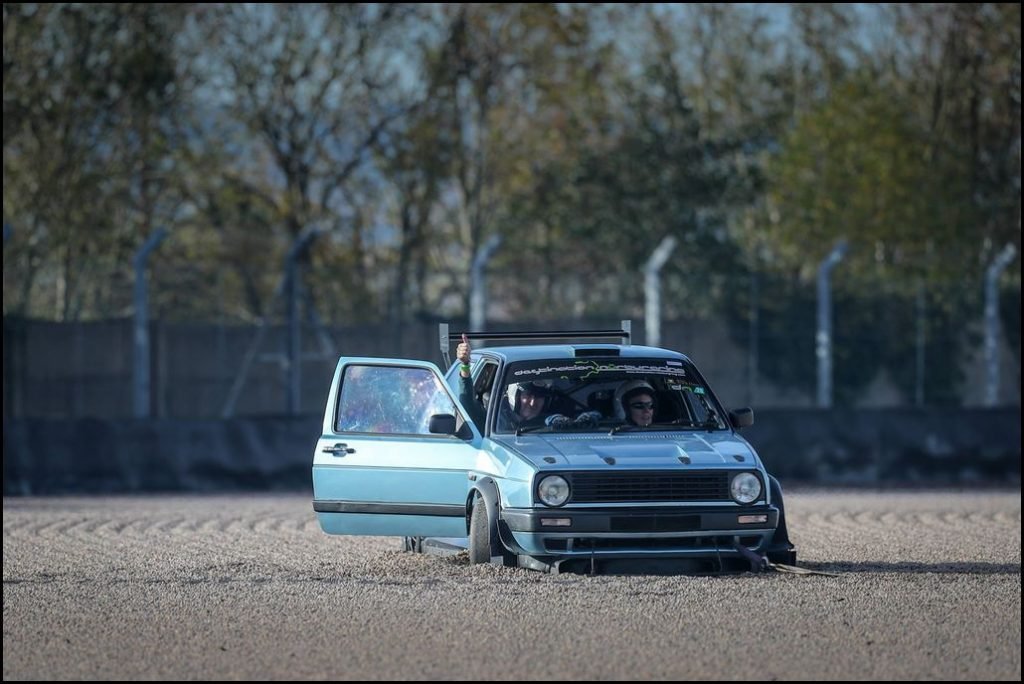 After 45 minutes removing a carrier bag of gravel from under the car, on the wishbones and in places you would't believe it could get to, I carefully ventures back onto the circuit. There had been a few more red flags in the meantime, I wasn't the only one to misjudge the conditions and end up in the gravel. One guy drove out of the pits and straight into the gravel at Redgate !
I spent a good half dozen laps driving nice and steady but explained to Lou you have to load up the tyres or they will never get warm. The fronts are easy but the rears can take a long time on a cool day like this.
The car felt utterly composed through Craners. It still needs approaching with respect but when following I noticed a lot of cars seems to get unsettled by the bump on the left hand apex but the Golf just soaked it up without complaint. It still feels bloody fast though 
I was able to slow down sufficiently to take the kerb on the inside of the old hairpin every lap. In the past I've sometimes struggled to get back to the left of the circuit in time whilst slowing but the brakes were easily up to the job today giving me the necessary feedback to ensure I didn't lockup once.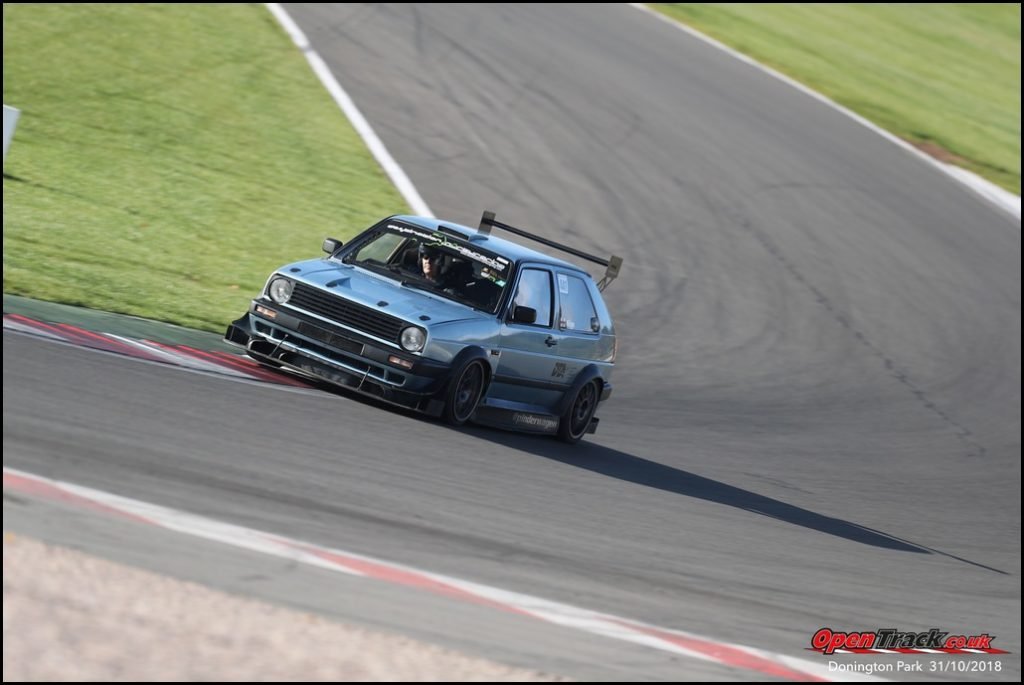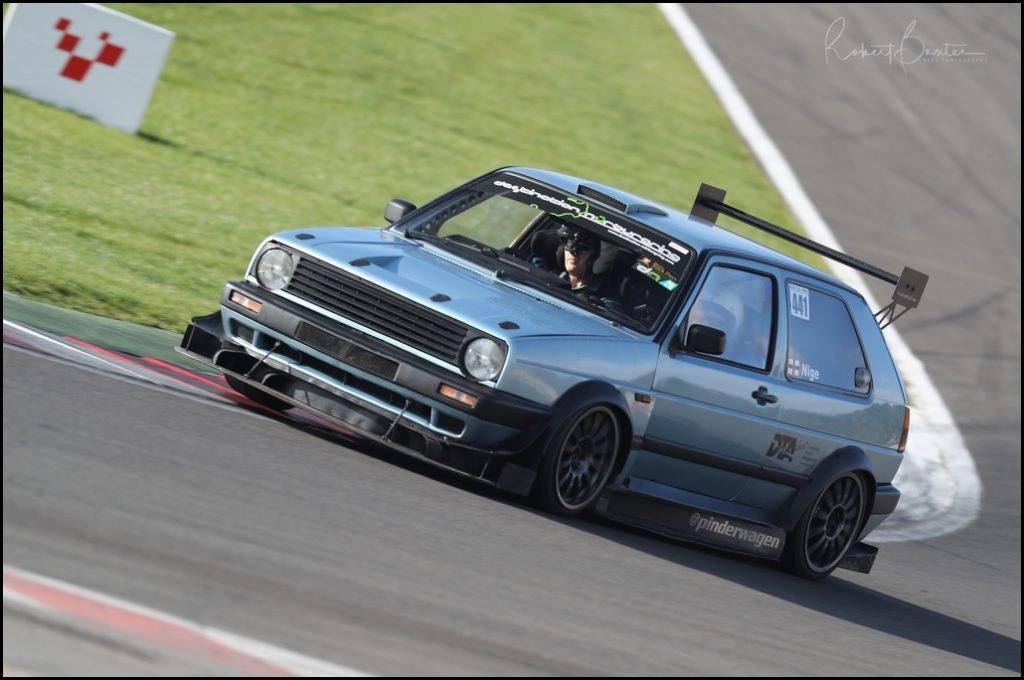 Even though Lou had come for laps she was happy to sit and watch for a few sessions. The car is noticeably quicker with no passenger and certainly changes direction nicely. I was happy to do 10 laps at a time then come back in for a drink and check the car over. Pleasingly there wasn't a single thing wrong with it ! I just put in some fuel and topped up the oil once.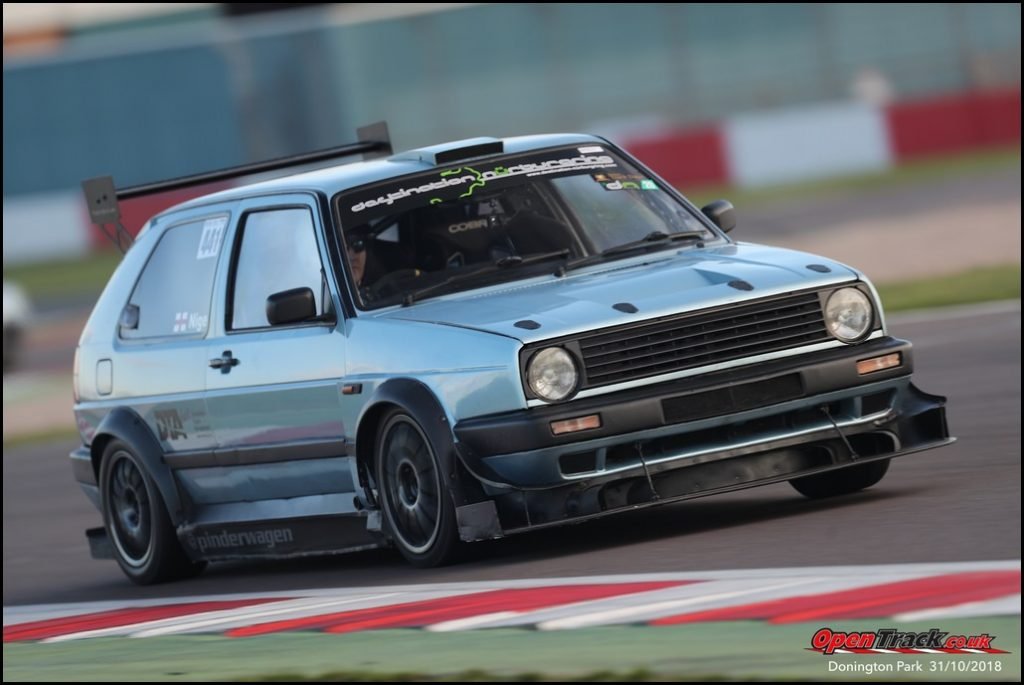 I mounted the digital DTAfast NTDash in the centre of the dashboard. I know it is mounted centrally instead of ahead of the driver. That's a conscious choice. By mounting it centrally, passengers can see the speed, throttle, boost etc and whilst many are happy to just gaze forwards others like to know more about what's happening in more detail. They can see if I lift or not for a corner and when I'm back on the throttle. The shift lights that flash across of the dash are visible in my peripheral vision the same as if they were behind the steering wheel.
It is a fabulous bit of kit, has an inbuilt 4Gb datalogger that logs absolutely everything I need for post trackday log inspection and data overlays on my videos. 
 At some point I'll redo the mounting plate, that was done quickly to get it ready for DN20 and I know it can be neater.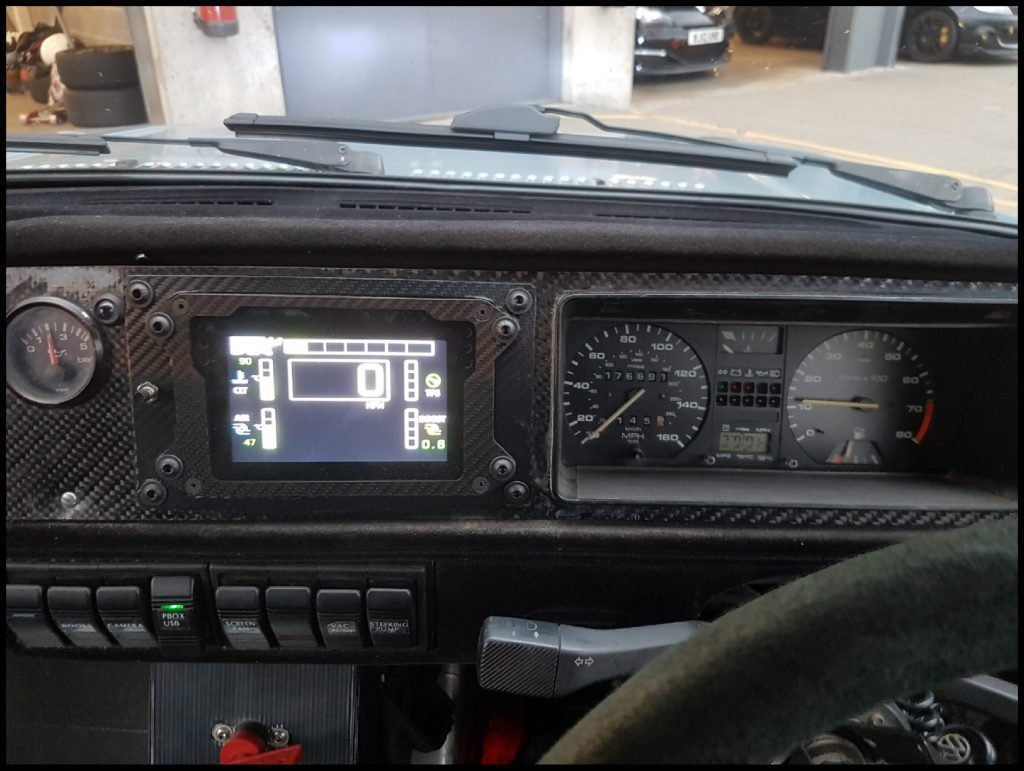 The track conditions were great, it was still chilly but bone dry and I just kept lapping and lapping. I spent a lot of time trying to be smooth and consistent. It makes it more comfortable for the passenger and Lou would let me know if I started getting scruffy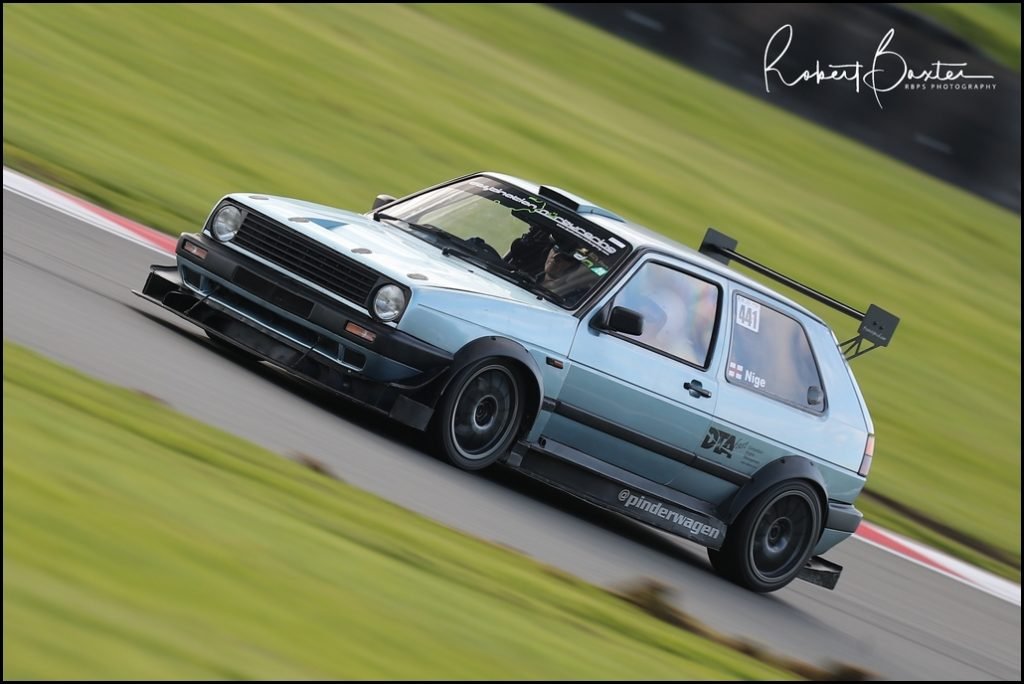 Robert was moving around the circuit getting his usual top-notch photos of the car on track
I first met Robert Baxter back in April 2016 on his first event as a Motorsport photographer. He still remembers me, mostly down to my offroading right in front of him and this photo
He takes fantastic pictures and his panning shots are always pin-sharp. I have offered to take him out for a few laps everytime I see him, but work always gets in the way. Today he said he'd be able to go out for a few laps straight after lunch before going back to taking photos. 
We strapped in and went out as soon as the track opened after the 1 hour lunch break. Outlap felt fine so I started pushing on for the second.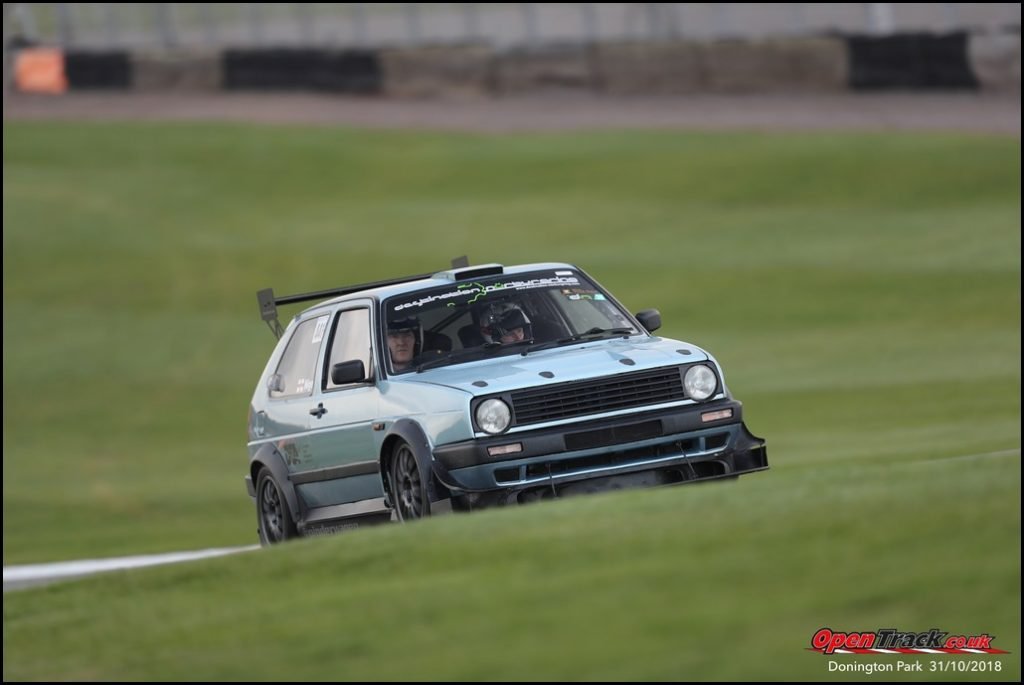 I had a huge slide exiting the old-hairpin and even though I was straight back onto the throttle and caught the slide I wasn't quick enough to get the lock off and stop it going back the other way and completely a 720 spin. That's one way to make the lap memorable I suppose 
The bit you can see fly off is the plastic trip at the bottom of the side skirts.
Back into the pits and he thanked me for the laps. Apparently they were quick, the car felt incredible, right until I spun it…
Why did I spin ? Dead simple, the rear tyres that I'd managed to get warm had cooled over lunch and just didn't have the grip I expected. They cooldown every lunchtime and I know this. I think the pressure of knowing Rob only had 3 laps and wanting to make them decent ones made me push on harder than I usually would with cold tyres. That's twice in one day I had a spin, I couldn't tell you how long ago it was since I had ONE spin, never mind 2 !
The ambient temperature was dropping and rather than fighting the rear slicks all afternoon I decided to fit the 15″ Direzzas on the rear. The tread moves around and allows them to warm up much quicker than slicks and I often run this configuration when it's too cold for Slicks on the rear. Shame I didn't swap them over lunch….
I saw Rob crouched behind the armco by the chicane so took more kerb than usual. As expected he delivered with this ace photo !
The hardest braking zone is at the end of the back straight when I'm slowing from 130mph as hard as I can. I felt zero fade through the pedal and they car stopped lap after lap without complaint. I was pretty surprised to receive these photos showing just how hot the discs were getting ! Even with the twin brake ducts, they still glowed orange. Wow.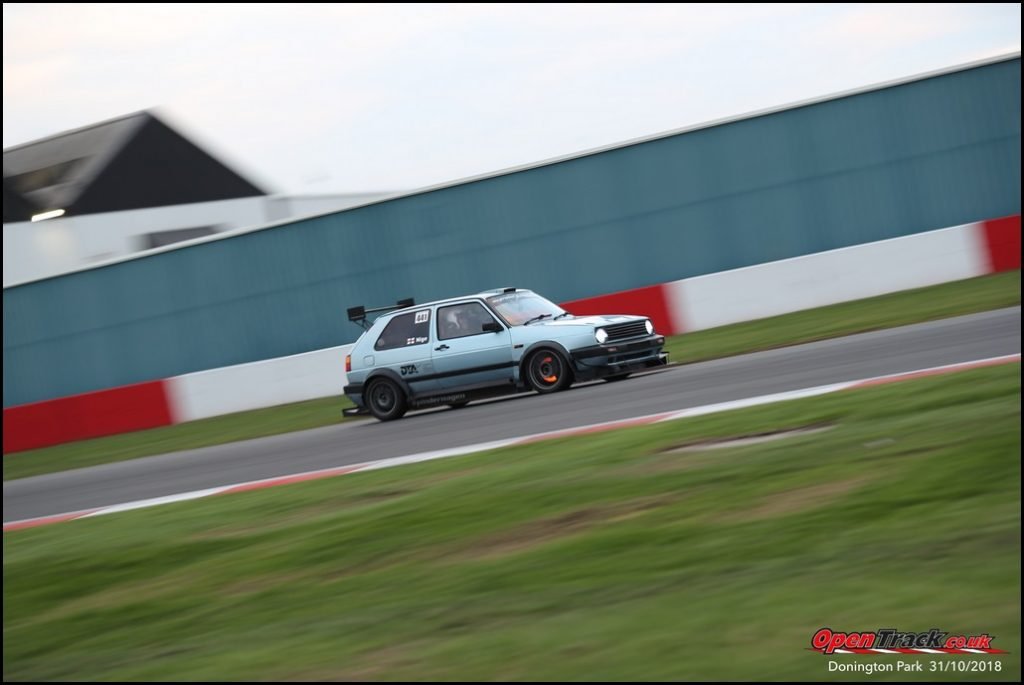 This shows the car doesn't have a massive amount of Dive under braking. I expected more to be honest and whilst it is noticeable, there is no chance of the splitter touching the ground. It gets closer during cornering when the car rolls that braking in a straight line.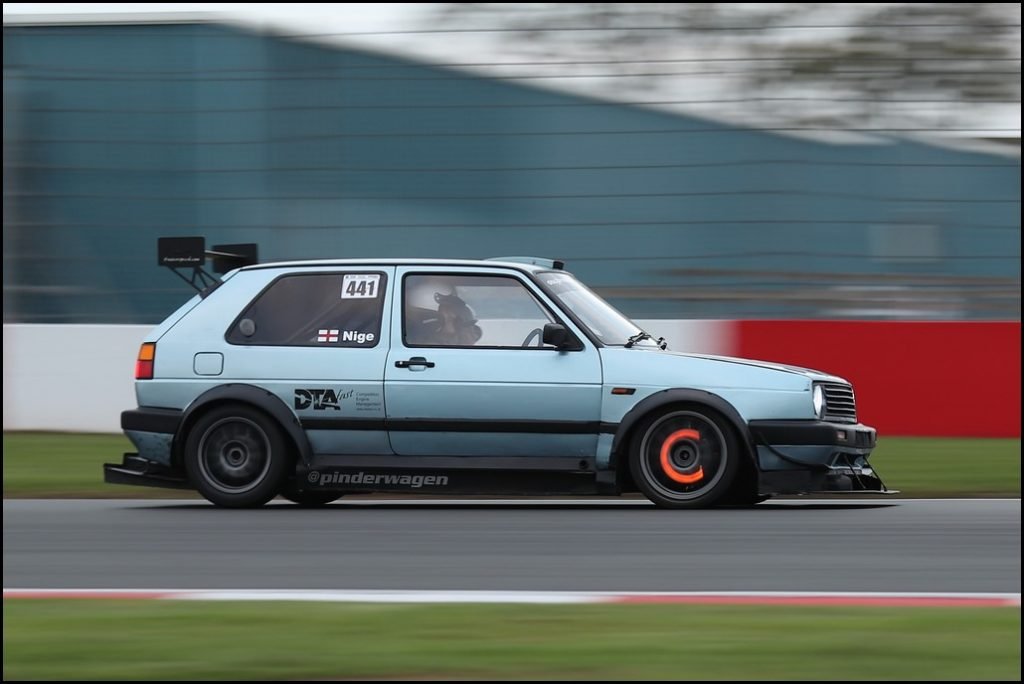 The Red flag came out signifying the end of playtime. Parking up in the pitlane afterwards I commented to Lou how pleased I was that the car had yet again been faultless . This engine is really strong. By making a minor change to my driving style I avoided any possible CV failures.
It is easy to focus on the negative things and people I speak to always remember the tyre blowout or other problems but nobody realises the number of events I lap and lap without having to do anything to the car during the day.  This was one of those days (apart from removing the gravel from under the car 
). I've already made plans to address the CV issue in a more robust manner, that will be tested at Rockingham in a few weeks.
As we started packing up I asked Lou if she'd enjoyed the day. Apart from the trip into the gravel trip she had really enjoyed herself and said she would be happy to do another day with just us 2. Result