I took a couple of guys from work with me to Oulton for the trackday today. They are both keen bikers and have nice road cars but Paul has never been on track before and Callum came with me to Cadwell Park back in 2018. When we arrived it had stopped raining but the circuit was soaked. The plan was to leave the direzzas on for the sighting laps, and then depending on track conditions fit the RR1's or leave it as it was. Met James at the briefing who was running the event, this was the first Track Obsession day I'd done, even though we'd spoken online quite a bit.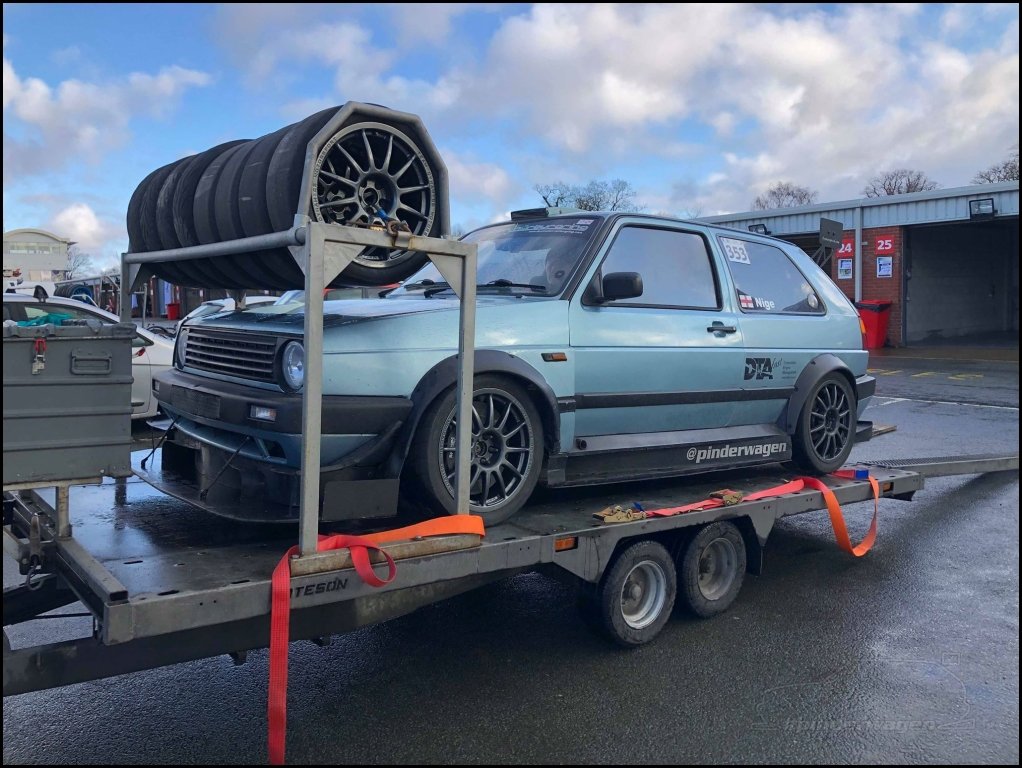 Sighting laps out of the way, I was then noise tested and failed miserably with a static of 108dB. I wasn't particularly concerned and told the noise tester I'd be back in 5 minutes.
I have four exhaust configurations which I can swap between depending on the circuit. Its a full three inch system with provision for two silencers. A 30 inch x 5 inch centre silencer and two different sized rears. They are all connected via self-aligning V-binds.
In the full free flow, noisy set up, I replaced both silencers with straight pipes. I have only run this configuration once, at the Nurburgring and even though it was under the 129dB limit, it was not a pleasant experience. Apart from sounding ridiculously loud in the carpark, it was far too noisy in the cabin and grew tiring in half a lap.
My usual Nurburgring and Spa combination is straight through centre section and small 14 inch rear silencer. This removes the harshness from the noise but is not restrictive. Not having the large centre silencer near the tunnel keeps cabin temps down. I've always wondered how loud this was and this was the setup that I arrived with at Oulton.
The UK setup is to add the centre silencer which only took a few moments. It actually took longer to get the car high enough for me to slide underneath and swap it. When I returned for the noise test it was 96dB and the noise tester looked at me and said, "what have you done?". I replied, "What do you mean?". His response was, "You were way over the limit 10 minutes ago, and now its no where near, but I can't see any bungs fitted.". I quickly explained I was curious what the noise difference was between the two setups and that I would be leaving it on this configuration all day.

The final option is the quiet system which consists of a large rear silencer and the centre silencer. This is used on events such as Thruxton and Bedford which have low limits and usually tests at about 88 or 89dB.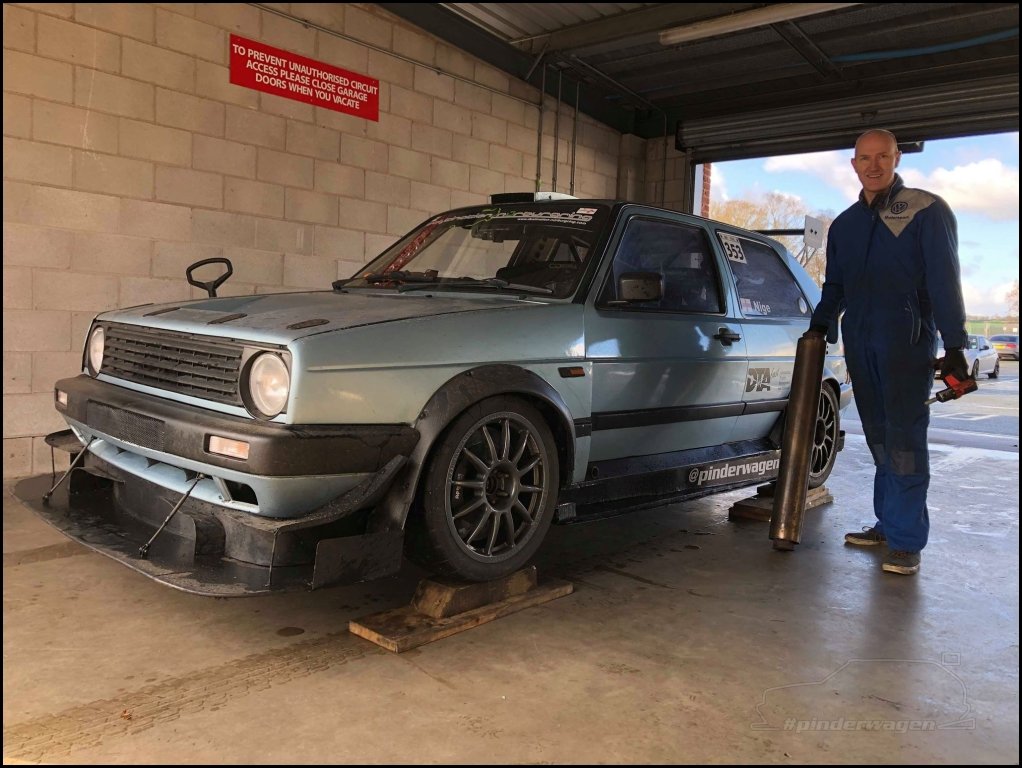 This gap was just enough for me to slither underneath and swap the centre pipe for this silencer.  
We also fitted the wets as there was a lot of standing water and my worn direzzas don't have the clearing capacity for this level of rain. Callum came out with me for the first session and after three or four laps we saw the first red flag of the day. Sadly it turned out to be one of those days where people just couldn't keep it on the tarmac.
It was immediately obvious from the sighting laps, never mind the first laps under open pit lane conditions that conditions were treacherous, yet people seemed to go out with the intention of setting their fastest lap of the day on lap one instead of taking some time and building up to it. This is only a trackday after all…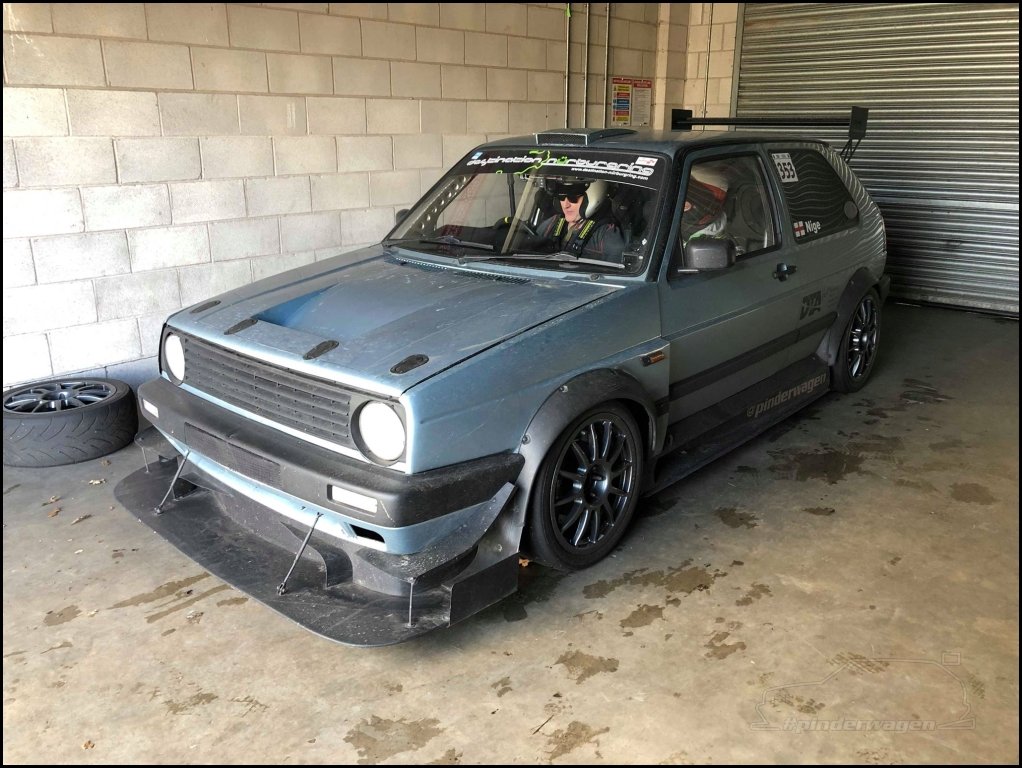 After a few laps the tyres were up to temp and the pressure needed dropping so we came back into the pits to swap passengers at the same time.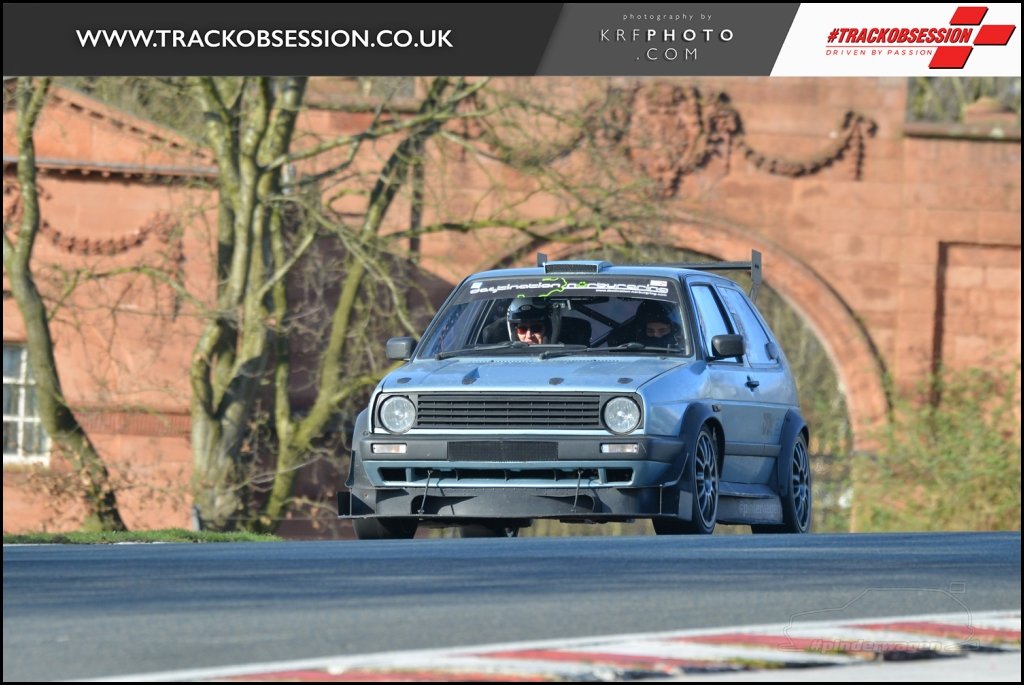 I took Paul out and could tell within a lap that the car was quicker than he expected. You start to notice these things after a lot of trackdays when the passengers right foot starts going for an imaginary brake pedal and you see them retightening their harnesses.
I knew on the second session it was one of those days where I was relaxed and comfortable with how the Golf was handling. With a slight lift of the throttle on corner entry, allowing the rear to slide a little bit and then square up the steering on exit. I was only doing this a very small amount at first just to get used to how it felt. At the end of the session when I was asking if he'd enjoyed it, the thing Paul kept repeating was he couldn't believe how much I instigated slides in the car but how it also felt very controlled. He mentioned this several times throughout the day and as a biker, I can understand how that is a very unusual thing for him to experience.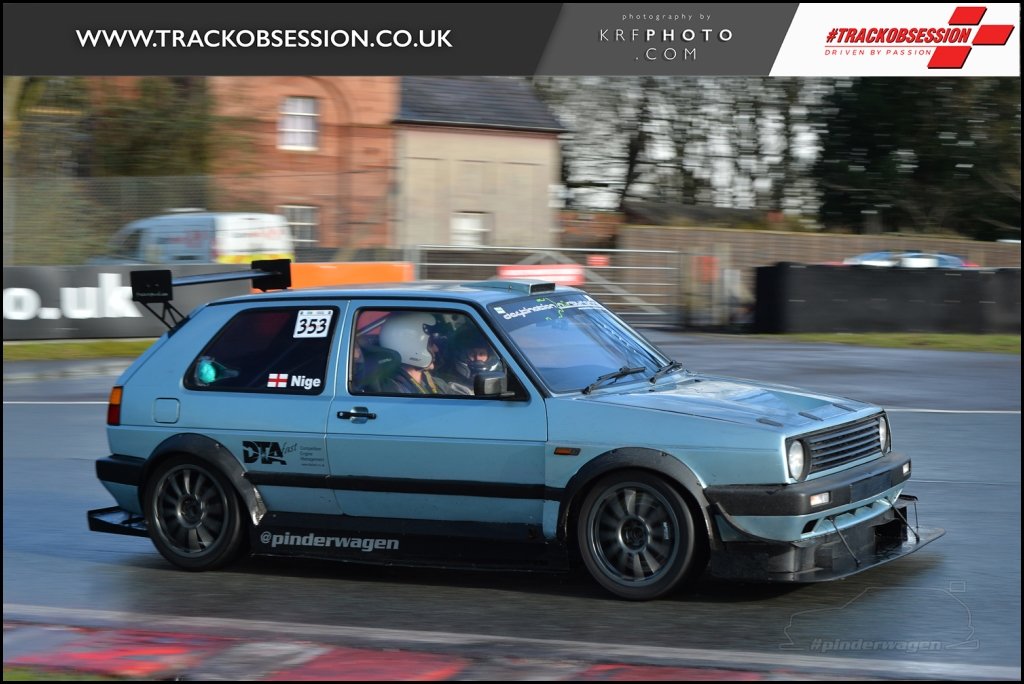 We all agreed that alternating between Callum and Paul would be the plan for the day and the next session out Callum and I had some enjoyable laps.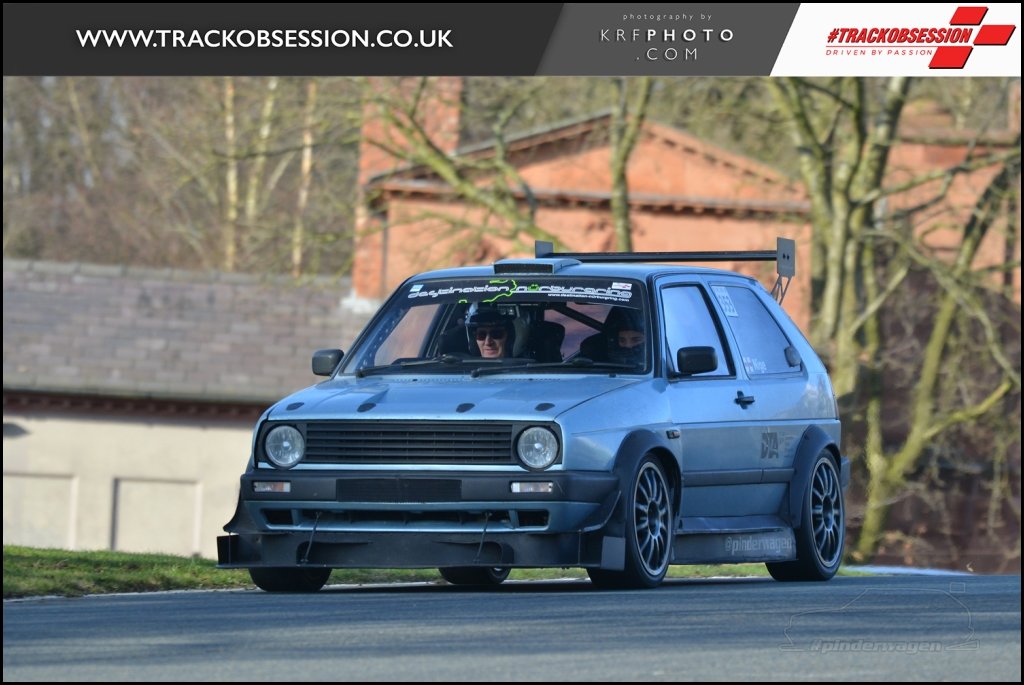 Even though the rain had pretty much stopped, the track was so wet there was no sign of a dry line.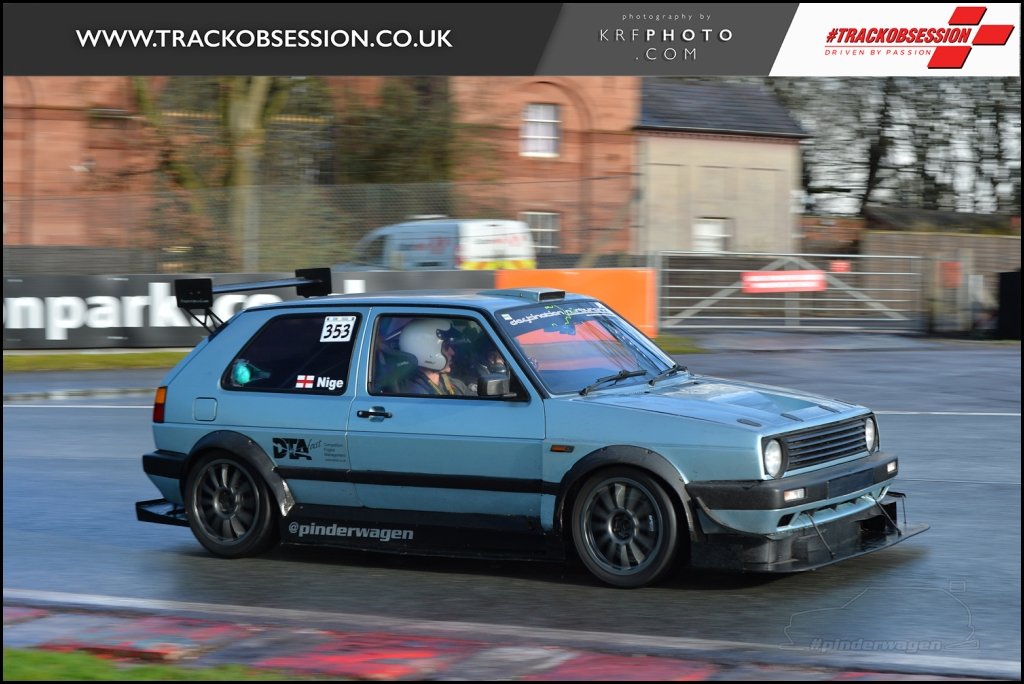 Braking into Lodge was tricky at times, staying to the inside with the grippier tarmac meant you could slow down easily enough but gave you a very tight line for the corner which caused understeer as soon as you crossed onto the dry line. I tried various lines and all of them seemed to be as unsatisfying as each other.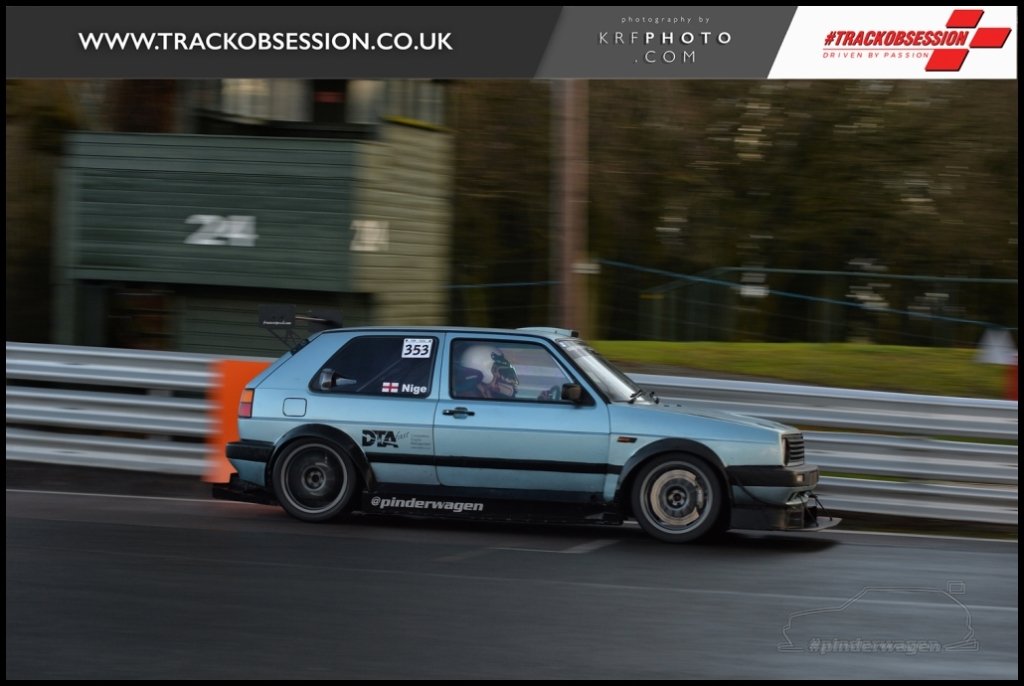 The sun came out late morning but no dry line was forming yet.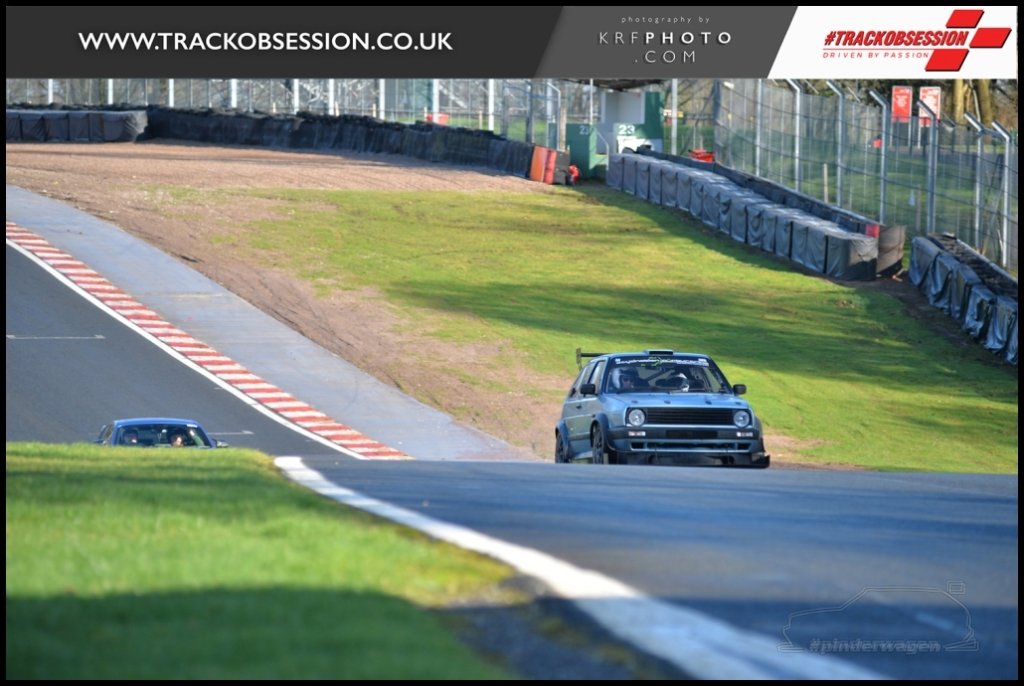 As I took Paul out for a session, I explained to him how if the track was any drier, it would be time to fit the direzzas. Some of the braking zones were probably dry enough already, but there were just enough places with a wet track to leave the RR1's on. Even though we were not on dry tyres or track, it was noticeably quicker this session.
I think this picture helps explain that whilst the track looks to be drying, tyres are still throwing up spray behind the car.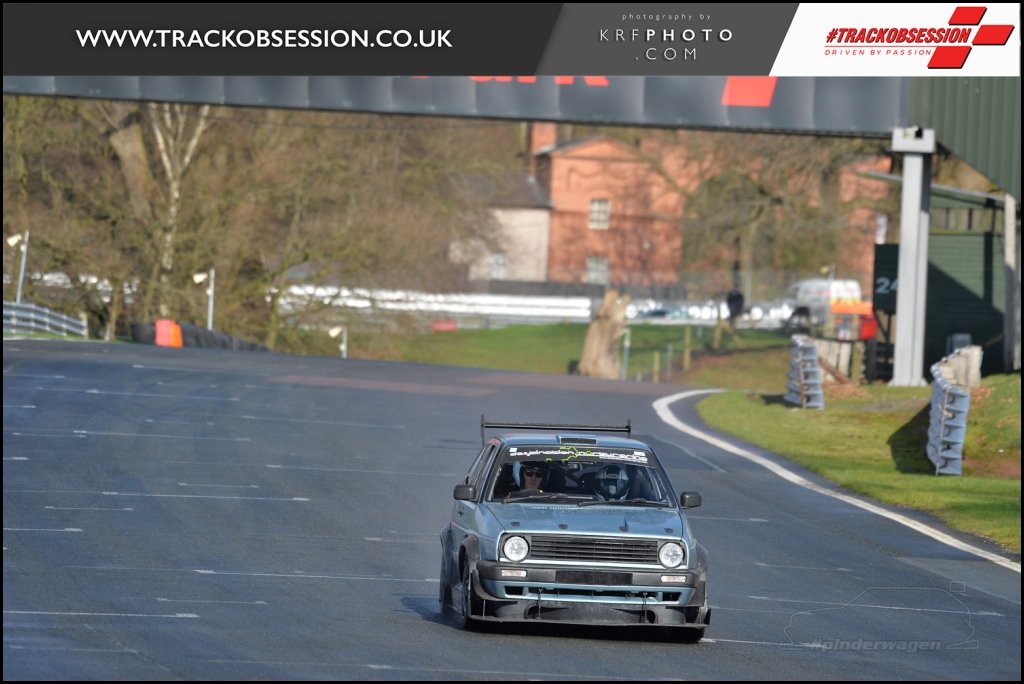 One of the attractions to doing this event was instructor was 2019 BTCC driver Mike Epps. I was supposed to go out with him just before lunch, but as we were about to leave the garage, yet another red flag stopped the morning session so we agreed to go out first thing in the afternoon. After we'd eaten, we swapped to the direzzas and then met up with Mike.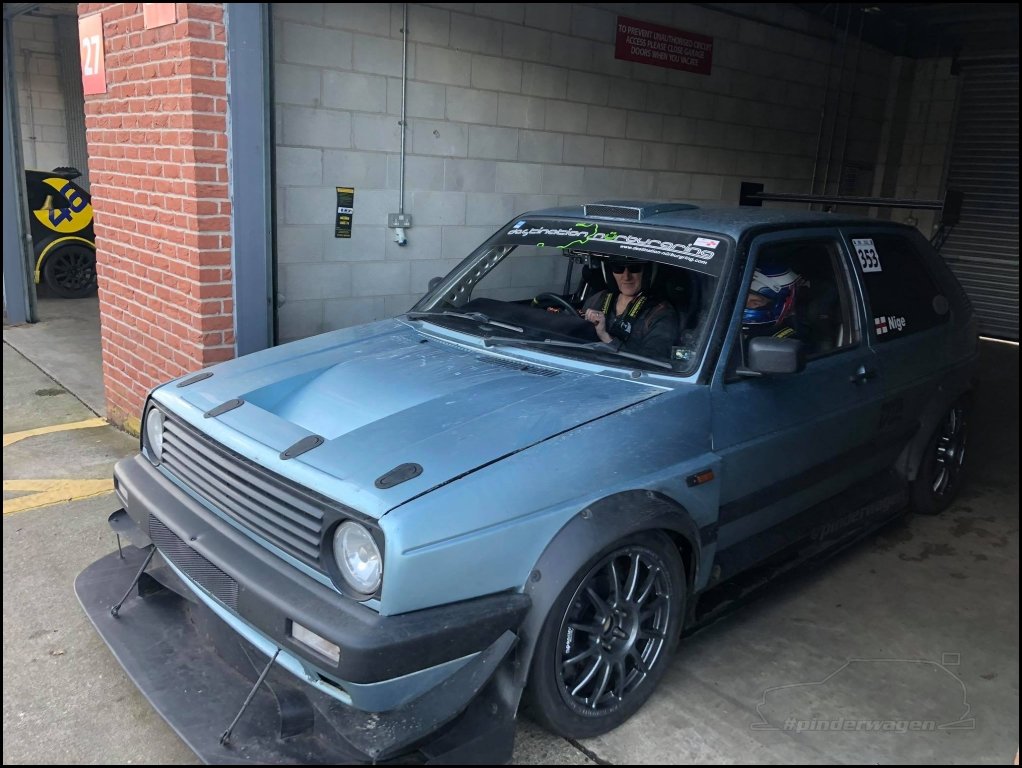 As we were waiting to go out, we had a good talk about the car, my experience and expectations for the session. I explained that feedback on lines I was taking would be useful, but my main aim was for overall feedback on my driving style and habits. I trailbrake into corners and wanted his thoughts on my technique on this corner entry and exit. I am very receptive to constructive feedback even if it is negative, I didn't want Mike getting out of the car saying that was nice and walking away, I wanted more detailed information to help me improve.
I made sure I got my excuses in early by telling him this was the first session on the direzzas and they would take a few laps to warm up and by the end of the session the pressures would be quite high.
I've often felt self conscious when having a very experienced instructor next to me and I think spending that 15 minutes talking before we went out relaxed me enough that I drove my normal style and Mike commented after how I didn't seem tense at all. For the first lap I braked at the same point I had been during the morning session only to find I'd almost stopped before reaching the corner as the track was pretty much dry by now.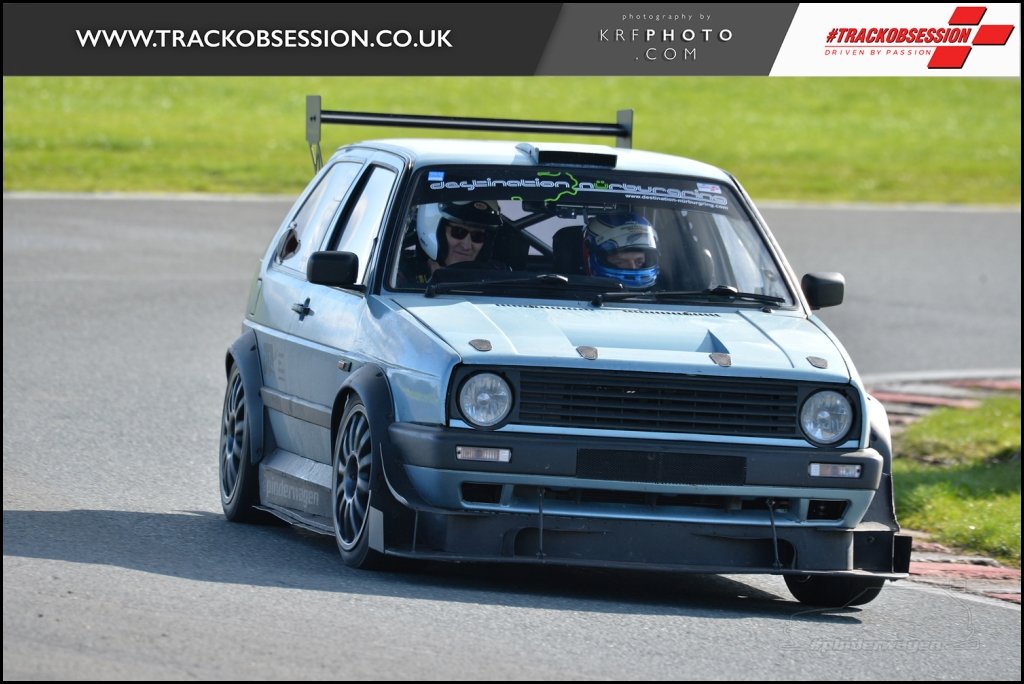 By lap 2, I was pushing on and even though the rear was moving around, all the practise of the morning meant that even in the dry it was no issue. I could see Mike watching everything that was happening with him watching my feet during braking, to watch my heal & toe and also throttle application during corner exit. The first time I pressed the high boost button on the straight, I could see his head looking around trying to work out where the extra power suddenly came from. When I switch from 360 to 440hp its always noticeable inside the car.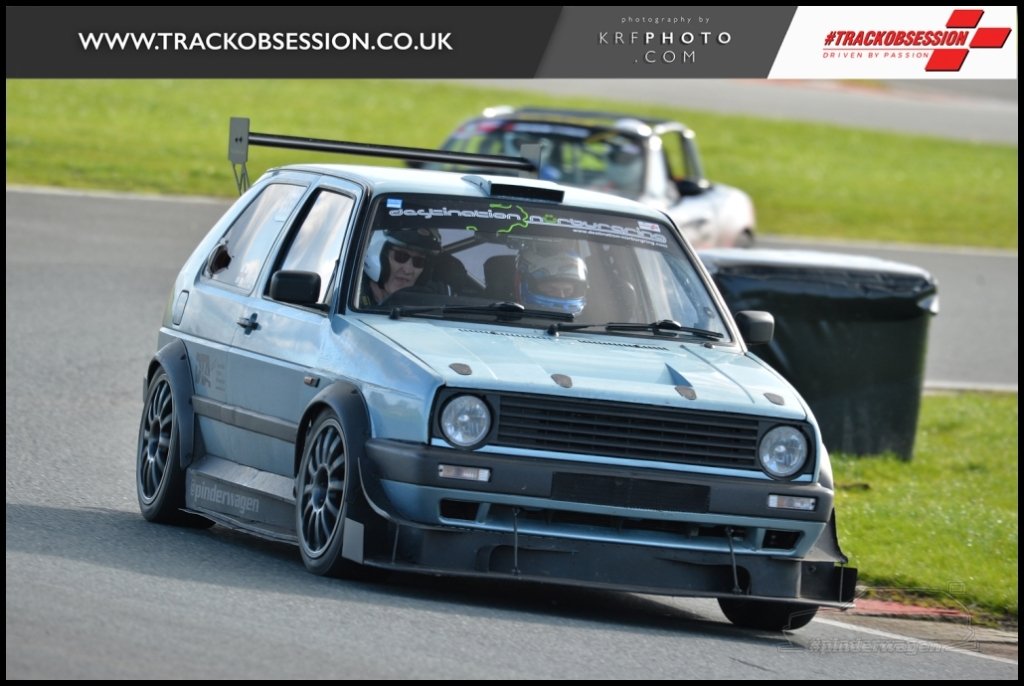 I tried some varying lines on a couple of corners as it was the easiest way for Mike to feel how to car was responding. In the morning I had been taking the wide entry into Druids to straighten up the exit and avoid unsettling the car on the bump on the second apex. Mike was quick to point out that the dry line keeps it tighter all the way through the corner for the shorter distance travelled with same exit speed. The difference inside the car was very noticeable and I could really feel the rear end working much harder than on the wider line.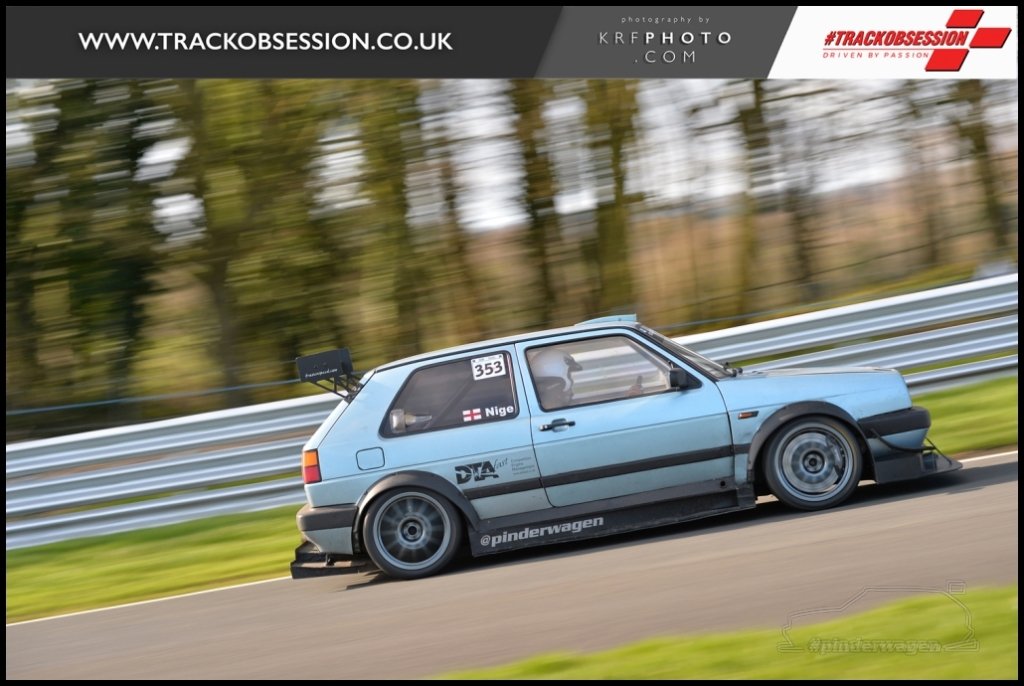 Back in the pits Mike gave me a great deal of feedback and asked what series I raced in. I told him I just did trackdays and don't do any racing. His response was something I've heard quite a lot, although phrased slightly differently. "You've built a right weapon here and you can drive. Why don't you go racing??". I gave him my usual reply which was that I still enjoy trackdays. Whilst I understand the buzz from racing, I don't have any burning desire to change. I would think I would be quicker than some people and slower than others, I don't need to prove that to myself or anyone else. He replied again that he thought that I would really enjoy it and wouldn't be at the back of the grid. He explained that I was very aware of other cars on track and often set up my line to give me a better exit to overtake. We had quite an interesting discussion about racing but he did understand my view that once I'd been racing, I wouldn't necessarily enjoy trackdays as much afterwards.
After adjusting tyre pressures from 38psi on the front back down to sensible levels, Callum came out for his first dry session of the day. Whilst he'd been out at Cadwell in the dry, he'd forgotten just how hard and late I could brake and how much quicker it felt overall. I was very relaxed today and I think that showed in my driving. Its weird how somedays everything just seems to work and you have a very calm attitude.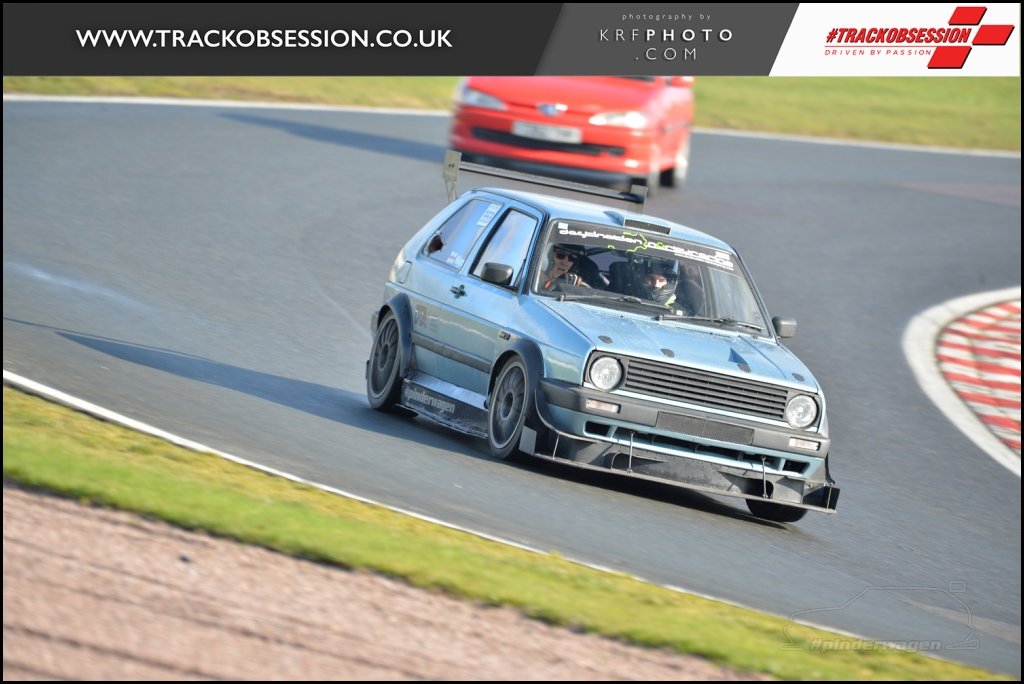 I was looking forward to taking Paul out and his reaction after the first half lap was interesting. I braked very hard and late in every braking zone and even though he drives on the road, he wasn't ready for how well it stopped on hot, sticky tyres. As I drive so many trackdays, I sometimes take the performance of the Golf for granted which is one of the reasons I enjoy taking out passengers so much. Their reactions remind me of just how fast it actually is.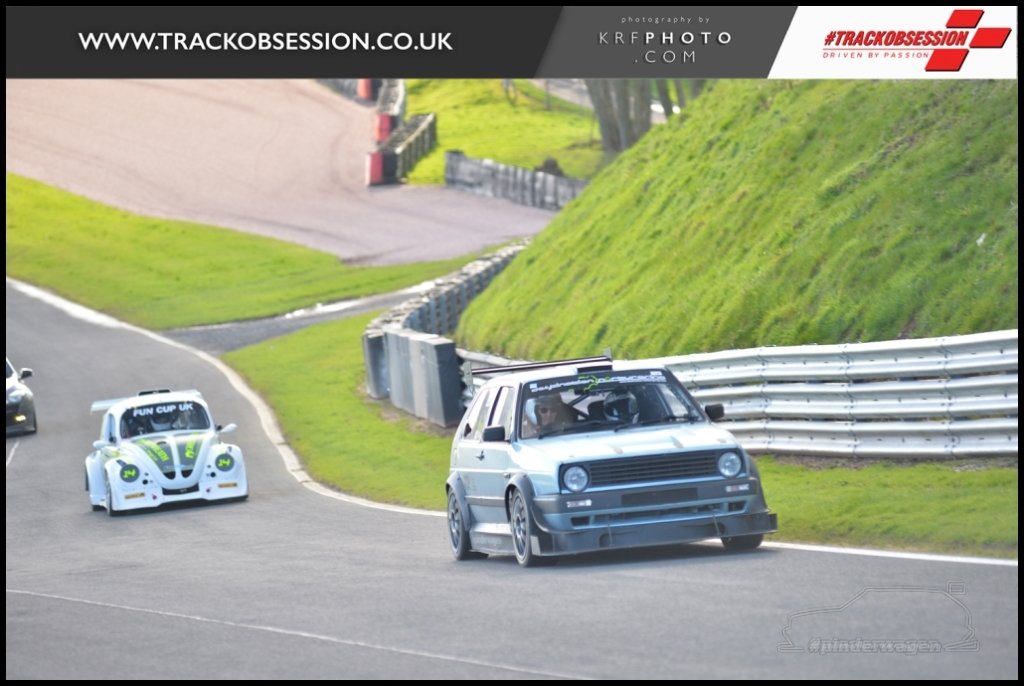 Even though the track was dry, it seemed some drivers still seemed unable to keep it on the tarmac and the number of stoppages really broke the flow of the day. I do feel sorry for organisers on days like this if they haven't oversold the event. The numbers on this day seemed absolutely fine for an Oulton day, but drivers arriving with completely the wrong attitude caused almost as many red flags as the Brands GP trackday last year.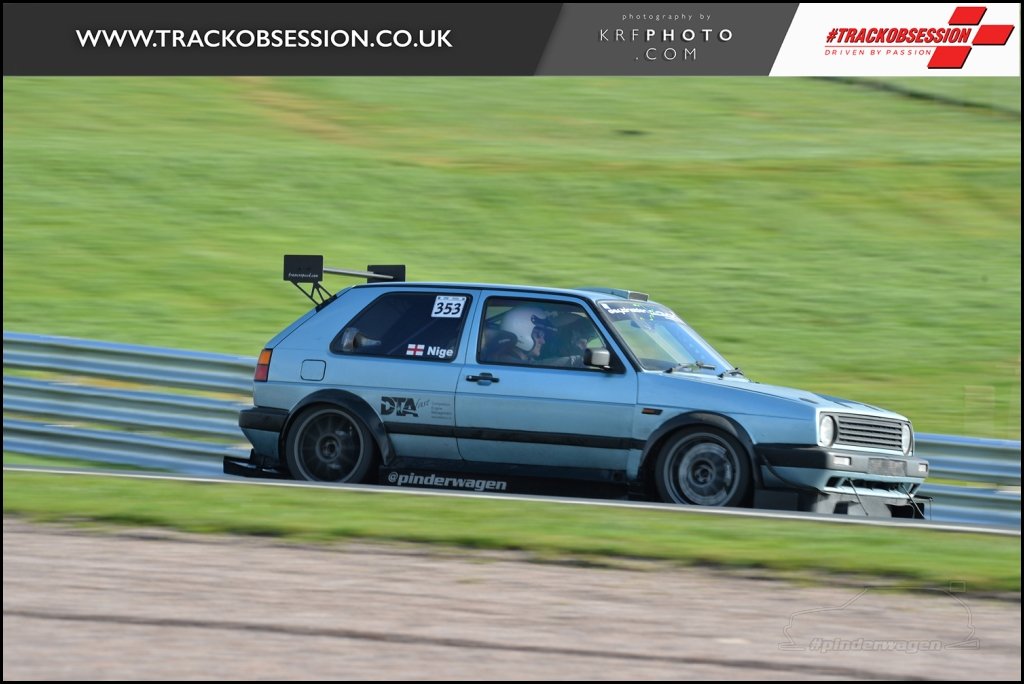 On most UK trackdays the late afternoon sessions are the quietest as quite a few people seem to pack up and go home. Whilst that happened a little bit here, it was still fairly busy.
By the end of the afternoon I'd switched to slicks and was using full boost regularly. This was the first time in the dry since fitting the Gripper diff and I could really feel it working, pulling the front end through the corners. Its still possible to overwhelm the front tyres and thats simply breaks traction and pushes the front end wide. But so long as I am sensible on the throttle in third gear, the diff can do its thing. However, I'm mindful that this extra load will cause a CV failure if I take liberties.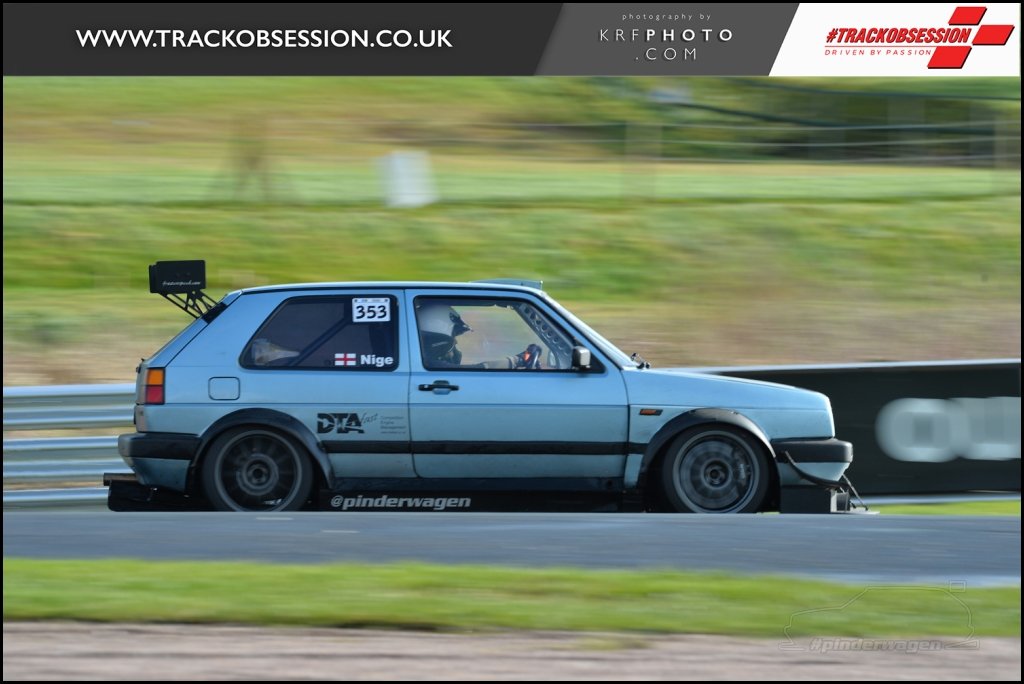 The last session saw me driving till the checkered flag came out which is always a good sign. Knowing I could do the next trackday without having to repair something that had broken meant the drive home was nice and relaxed. Both Callum and Paul really enjoyed the day and Paul explained that experiencing the car from the passenger seat is very different from reading a trip report. He was particularly surprised at how much I had the car moving around in the wet as it was something he simply didn't expect.
Overally a very successful day with quite a few good laps but sadly spoiled by the 13 red flags throughout the day, very few of which were mechanical break downs. I had a chat with James who organised the day and his frustration was evident.
As things worked out, this was my last trackday before lockdown and knowing there was nothing that needed fixing and testing was a relief.