The ongoing lockdown meant the trackdays in the UK and Europe I`d booked in Jan, Feb and March were all cancelled and I was itching to get back out on track. After the extremely positive end to 2020 at Oulton Park last December I didn`t have a great deal to do to the Golf over the winter. A bit of interior tidying up and fixing the splitter mounts after the temporary repair post Cadwell meant I loaded up with no real concerns ahead of Silverstone.
The biggest job I`d done was add a second digital dash.  That`s right  ! I added a display purely for passengers

I hadn`t been able to test it yet as the car is on a  SORN but it works in the driveway and I was looking forward to seeing how it performed on track.
In bright sunlight it will be harder to read but that's why I created the simpler screen with a large high contrast colour scheme and huge MPH & KPH display along with RPM, throttle, Brake and boost. That's the main thing that most passengers ask about. I've lost count of the number of times I get asked "how fast are we going?" but it was easy enough to add the other information at the same time. Now, there is no way I can get away with saying I took a corner flat when the passenger car see exactly what the throttle position was doing
Loading up is always nice and easy with the tilt-bed. You can just see the rear rain light I fitted in place of the VW badge that fell off at Cadwell.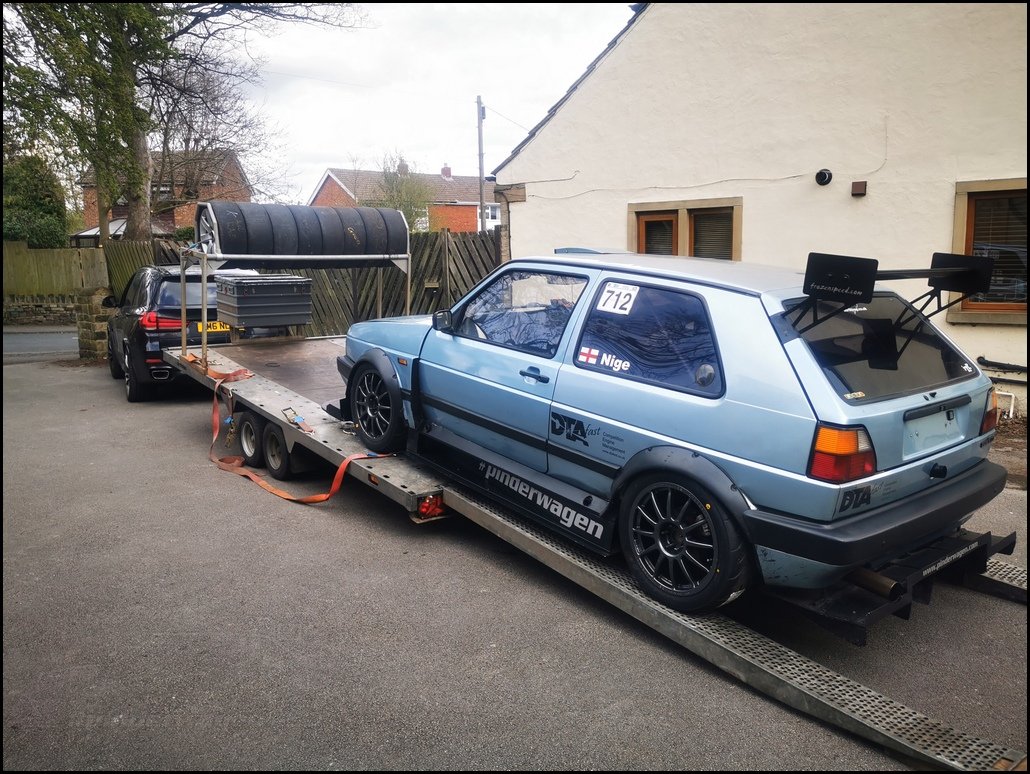 The weather had been glorious sunshine for the previous week and after an 05:30 start I arrived at Silverstone to mostly clear skies. The forecast was for rain to fall later in the morning but I expected to be able to get a good few dry sessions in before then.
The new Circuit Days online briefing system was excellent and definitely amongst the better ones I`ve seen. I'm not sure how I feel about going back to a briefing like it used to be. I understand it from the TDO point of view, it's their way of introducing themselves to the customers but as a driver, being able to turn up, get a band, unload and go out for a sighting lap means a much more relaxed morning. If I get held up in traffic, no big deal before I knew if I missed the main briefing I'd miss tracktime whilst hanging around until I could get the second one, usually once the track was open.
After collecting the bands the sighting laps commenced. I suspect someone had worked on their oil system over the winter and possibly not tightened everything up properly. The reason I think this is that halfway round the first lap they dumped oil all over 1/4 of the circuit causing a red flag and a significant delay to the tracktime for the rest of us.
I know they didn't cause the stoppage on purpose but the view throughout the paddock was pretty unanimous amongst those I spoke to. The first trackday of the year being delayed was frustrating to say the least. It was made worse by the gathering clouds and approaching rain whilst we were all stood in the paddock waiting for it to reopen.
I'd fitted a brand new set of Direzzas and the plan was to heat cycle them during the first session then if it was still dry fit a set of slicks before the rain came. I keep reading about the latest and greatest R rated tyre and even those DZ03G`s have been around for ages now, they are still brilliant tyres and whilst the others are catching up I'm not convinced there is a better option at the moment. They aren't the cheapest but are stable after several heat cycles and don't wear out too quickly. The A052's are probably faster but they don't last as long either.
Steve was in the next garage in his lovely Cayman he's racing this year. A lovely bit of kit it is too, I had a good nose around it and was keen to see how it went out on track during it's shakedown for the upcoming race at Donington.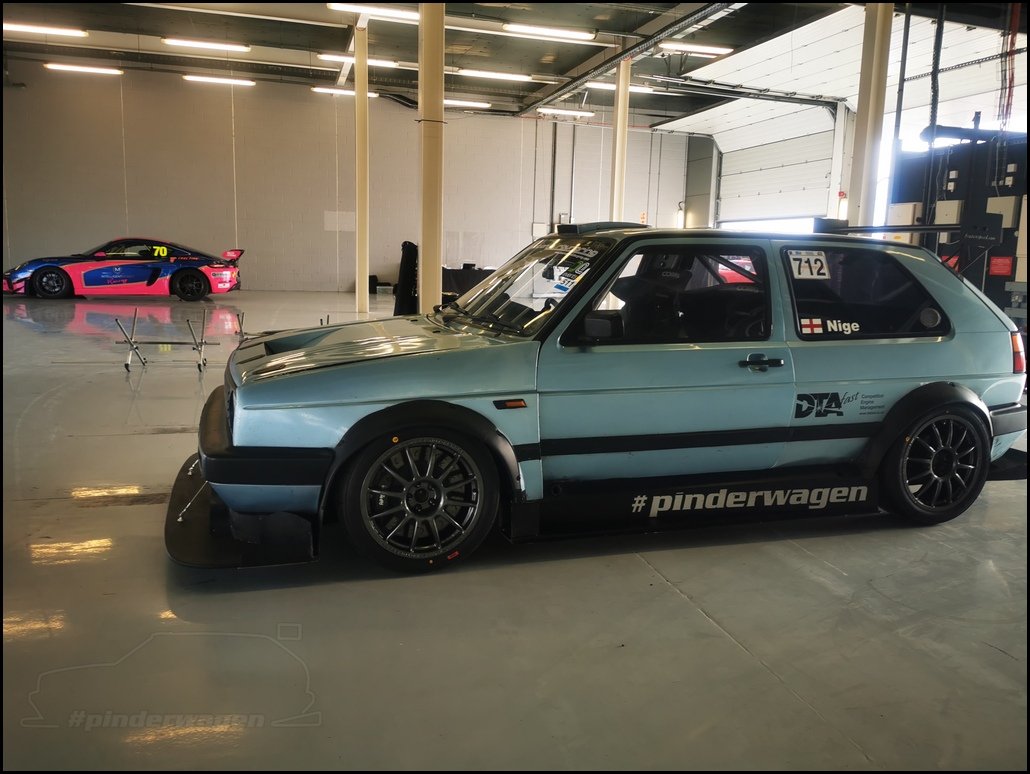 You can see Matt's E36 ahead of me. As there were no passengers allowed at all due to Silverstone blanket restriction it was just me in the Golf and him in his E36. We'd loaded the Golf with his spare wheels and tyres along with the X5 so he could drive down without being surrounded by spares.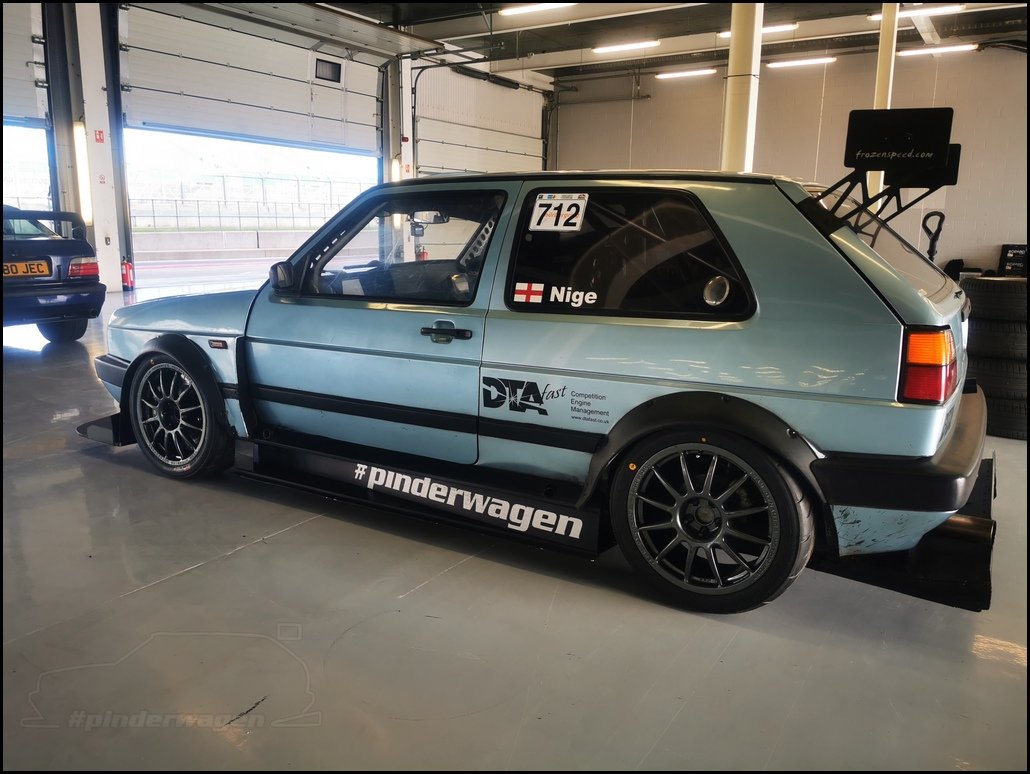 Rather than fit his new tyres, he was trying to wear out an old set of Kumhos he had. By old I mean a set made in 2010
. The sidewalls and tread had no cracking but the actual rubber was very hard, he knew it would take several laps to get them warm and even then they wouldn't be the grippiest tyres.
He wasn't too concerned, Silverstone are one of the venues where so long as you don't do it near other cars, they seem quite relaxed with the rear of the car sliding around so long as it isn't out and out drifting. For Matt, that was perfect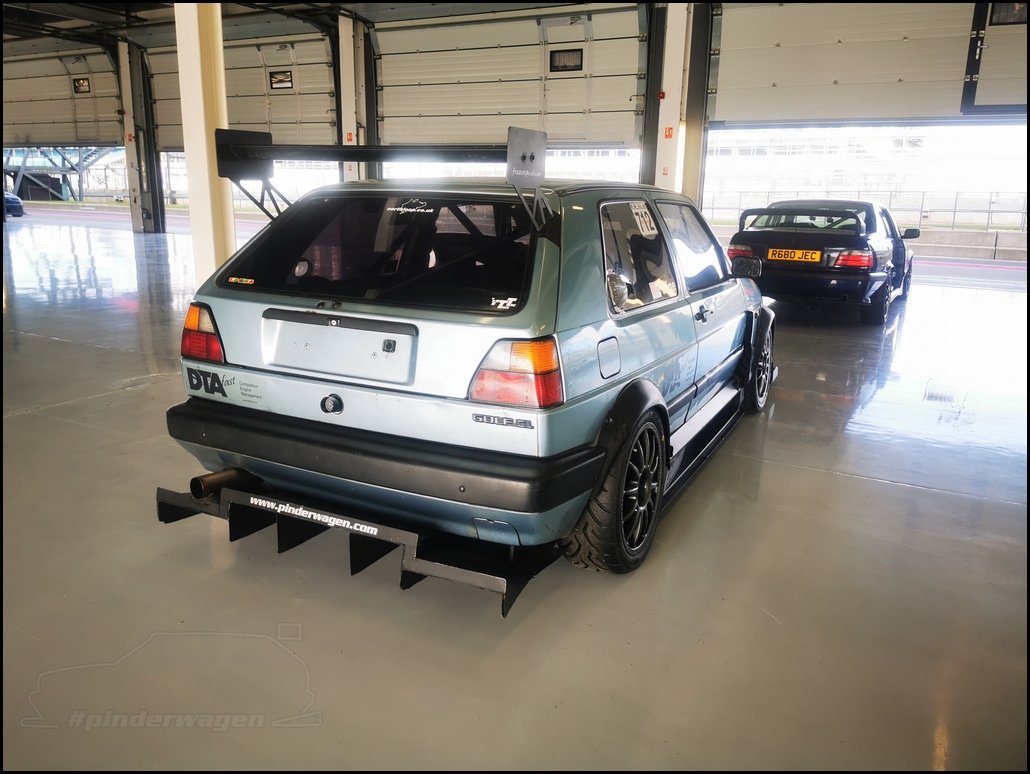 First session out and the track was bone dry and after 15 minutes we came back in to give them a quick once over, swap wheels and then straight back out. We caught up to Luke in his Area 51 prepared Golf and I tagged onto the back of him for a good few laps.
I could have quite easily left the boost control on boost-by-gear but I know he isn't able to run a lot of power due to his class restrictions so I left it on actuator pressure and the cars were incredibly evenly matched on Hanger straight. Even approaching the braking zone for Stowe, we were still absolutely neck and neck which made the session particularly enjoyable. I did suffer from a weird momentary engine stutter when I ran over large kerbs. Once I realised what it was I tried to avoid them for the rest of the session.

One of the things I had done to the Golf was to tweak the front camber, I dropped it to -3degrees and wanted to get some data of tyre temperature across the tread with running less than the usual 3.75degrees I usually run. The front geo was still slight toe in but as usual, I found it particularly noticeable that there was no passenger in the car. Don't get me wrong, I'd much rather have someone sat next to me rather than driving around alone but the difference in braking and acceleration is something I always comment on after the session.
Matt was held up with traffic for a while but then caught up Luke and myself. As we could see the skies starting to darken we passed him and saw clear track ahead of us so pressed on.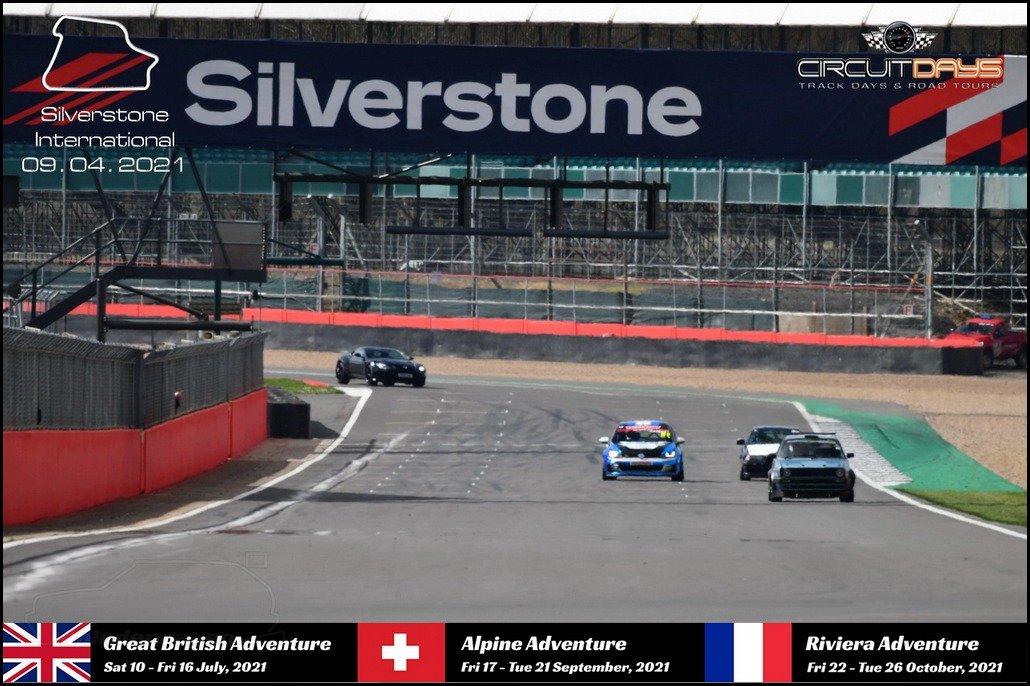 The next lap turned out to be the one of the last dry laps of the day and also the quickest. I didn't use boost-by-gear for the lap but did press the high boost button instead. I wanted to see what the difference was between this method and B-B-G. It's slower but traction through the slow farm section was very strong. For the rest of the day I ran B-B-G, even in the wet and it was just to gather data for myself really.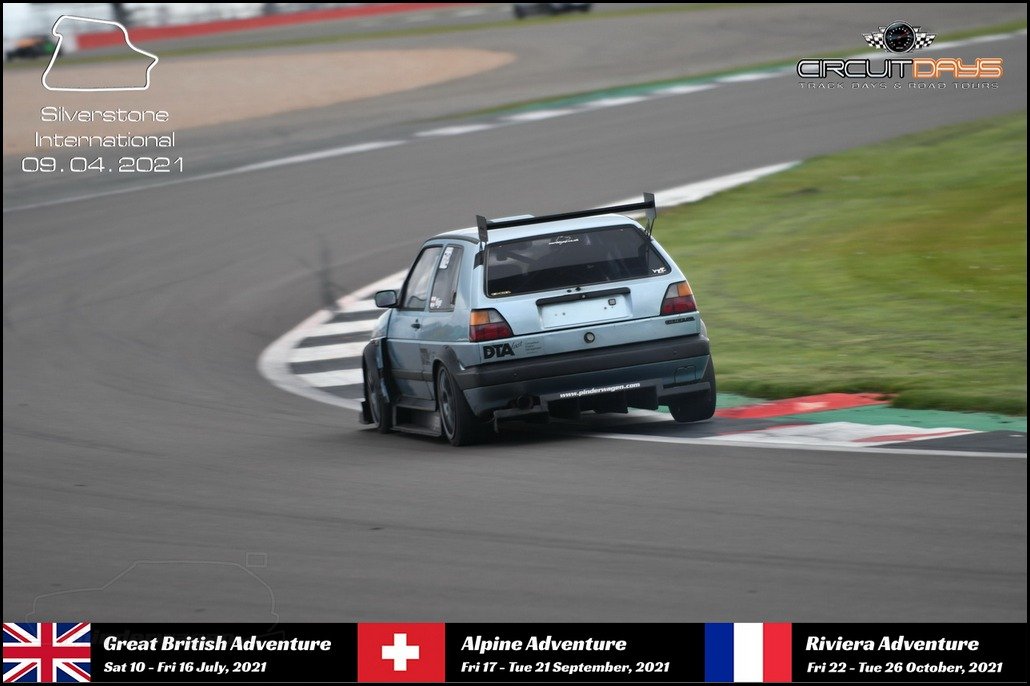 Looking at the data Matt & I were almost identical over a full lap, but as always that doesn't tell the story at all. There are certain corners where we take quite different lines, Stowe in particular. I prefer a wider entry where I'm able to get hard onto the power on exit where Matt takes a tighter line and runs the kerb more. On this video lap I went in a fraction too deep in the braking zone and was even wider than usual but it didn't make a huge difference.
I use the full 1.5Bar button I slowly pull away from Matt by the end of Hanger straight. It's not a lot but is definitely something we both commented on afterwards. High speed cornering and we are very close indeed. I'm able to keep it flat through the fast Farm corner after a dab of brakes for the Abbey (the first corner after the start finish straight). Matt has to modulate the throttle a little to carry the same speed. As usual, he gains under braking but that's nothing new. His car is astonishingly good under the brakes.

Watching the same lap from Matts car and the first thing you notice is the noise. Oh that noise !
The S54 straight 6  BMW engine just sings ! That's with the standard airbox, he's on the lookout for a carbon airbox which will make it sound even better.
If you have read any of these posts before, you'll know I often talk about how I try to be smooth, consistent and don`t overdrive. I'm extremely self-critical of my driving and whenever I take an instructor out I ask them to point out all the areas I can improve. Matt is very similar and watching his incar below you can see he doesn't get flustered but is quite happy with quick steering corrections if necessary.
At the end of the next lap I noticed a few spots of rain so had a gradual cooldown lap. Whilst having a drink the garage the rain came down very heavily indeed. Oli was caught out in it in his heavily modified E46 and quickly dived into the pits until the heavy shower passed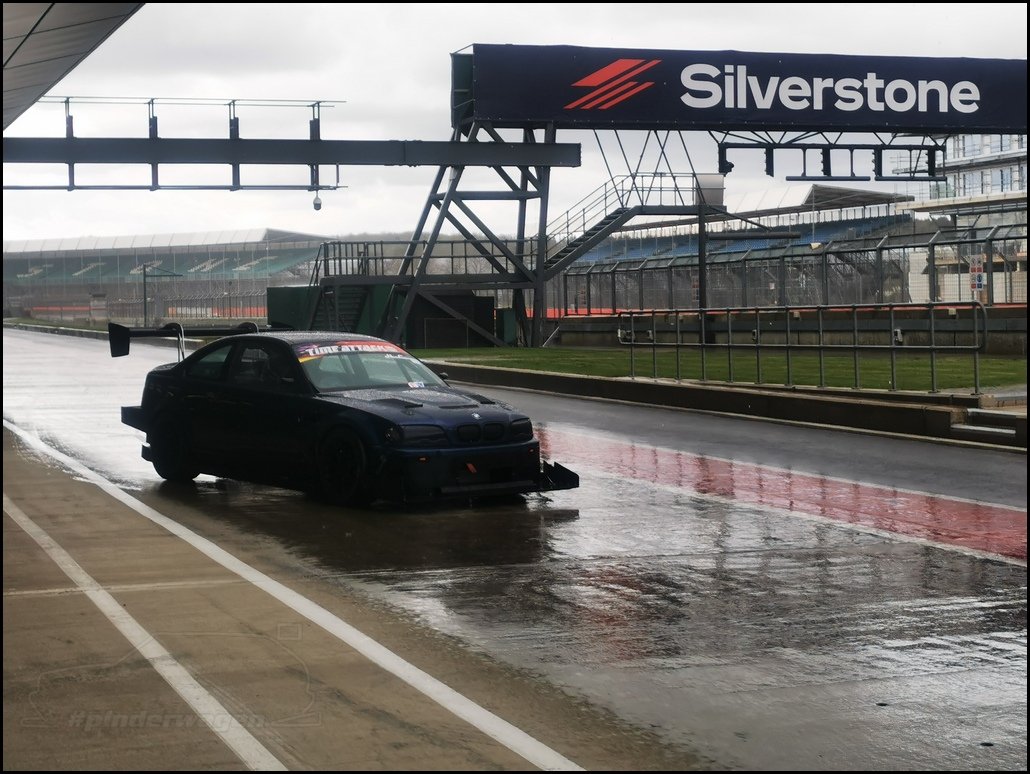 Even though the rain eased off the circuit was soaked so swapped to the R1R`s I was aiming to wear out completely today and then spent some time trying to find the cause of the engine cutting out and dashboard resetting. It only happened during the laps with Luke in the Golf but was something I definitely needed to resolve. It was obviously electrical but it hadn`t happened before. After a few minutes I was able to trace it to the secondary contacts on the back of the main battery isolator. I've had this happen before and had fitted a brand new one over the winter but as I've since found out, the cheap generic ones just aren't that robust. It was easy enough to bypass the ECU cutout circuit for the day and once that was done I didn't have any further issues.
After the trackday I bought a Motamec one and as soon as I opened the box I could see the difference in quality. Hopefully it won't cause me any issues now this is fitted.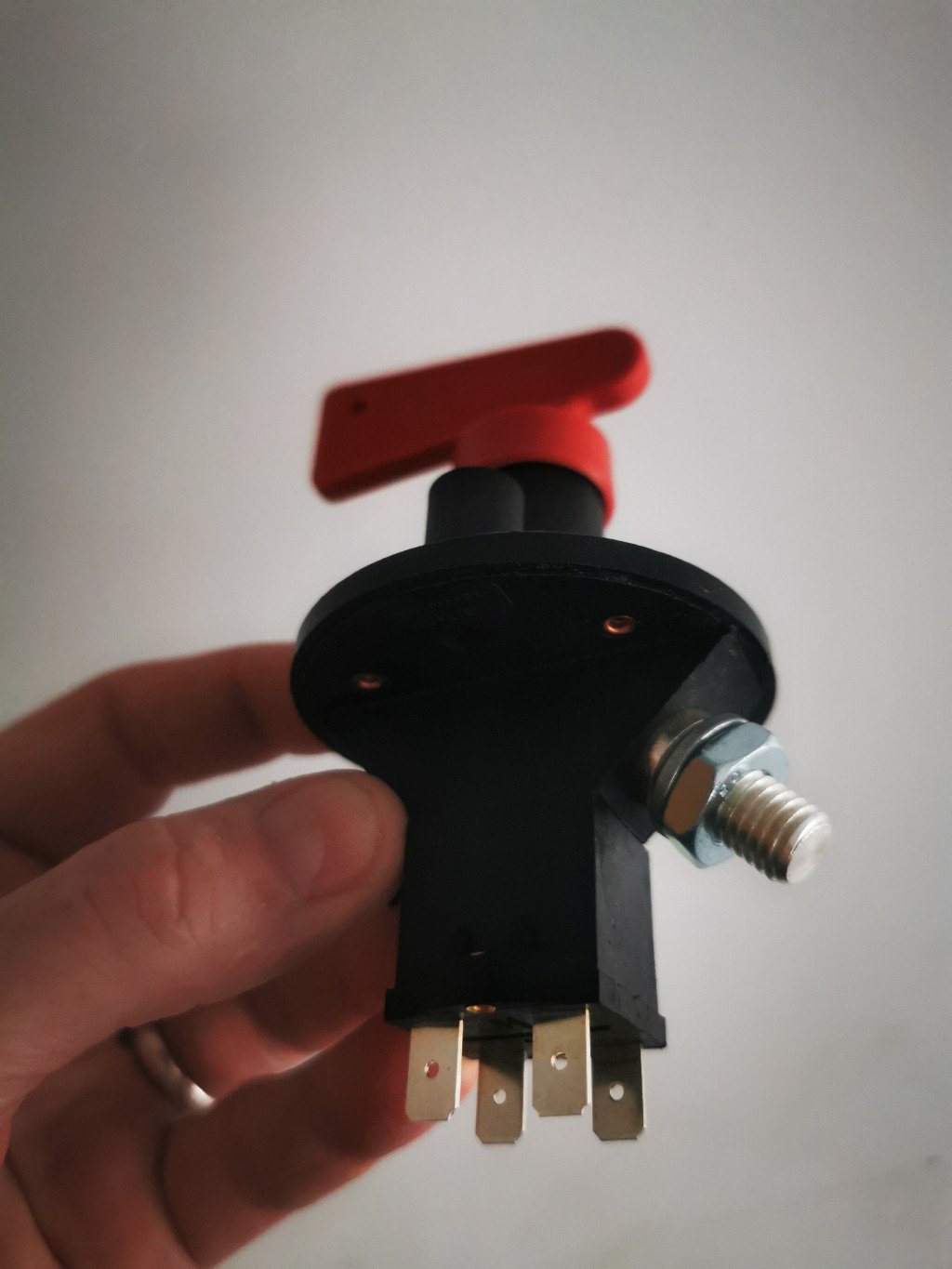 Even though the rain had stopped falling the circuit was very greasy and it took a couple of laps to get any heat into the rear tyres at all. The Club complex in particular was very slippery and the grip didn't really improve for the rest of the day and I really struggled getting traction onto the start/finish straight.
This E36 caught me in traffic and so I let him past.
Tagging onto the back of him for a 25 minute session was some of the most enjoyable laps I've had in ages. Chris races it in the 750 Roadsports Series and he's nowt only quick, but he's very comfortable with someone following close behind. It took me half a lap to realise this was no standard S54 powered E36. On full boost I just had the legs on him over 120mph and ever so slightly closed up but up to then it was neck and neck. That was a first for me against a normally aspirated E36, usually I'm faster than them or if supercharged they pull away from me. Being so close to one was a very pleasant surprise and I made the most of it.
After the session I wandered across to him to have a chat. He seemed to have enjoyed it as much as I did, although he wasn't too forthcoming when I started asking about the engine. "That's not a normal S54 is it?" No. "What have you done to it? " quite a bit. 
Don't read that and think he was being funny about it. Everything was said with a big grin and a definite "I know what you are asking but I'm not telling " approach
Matt was fixing a brake problem with a broken line on his car. We'd been discussing his brake lines at lunchtime as he had made a few adjustments over the winter and after Silverstone was ordering a fully braided set of lines. That was obviously tempting fate as he felt the pedal go long so came straight back into the pits. It took seconds to find a cracked line where it had been caught whilst connecting to the ABS unit during bleeding.  We weren't sure what to do but the Area 51 guys suggested trying Competition Supplies on site. They are near the main entrance and I spoke to the guy in the shop who was initially reluctant to look at it, but when I explained we just needed the end flaring he wandered off and came back a few moments later with a freshly flared end.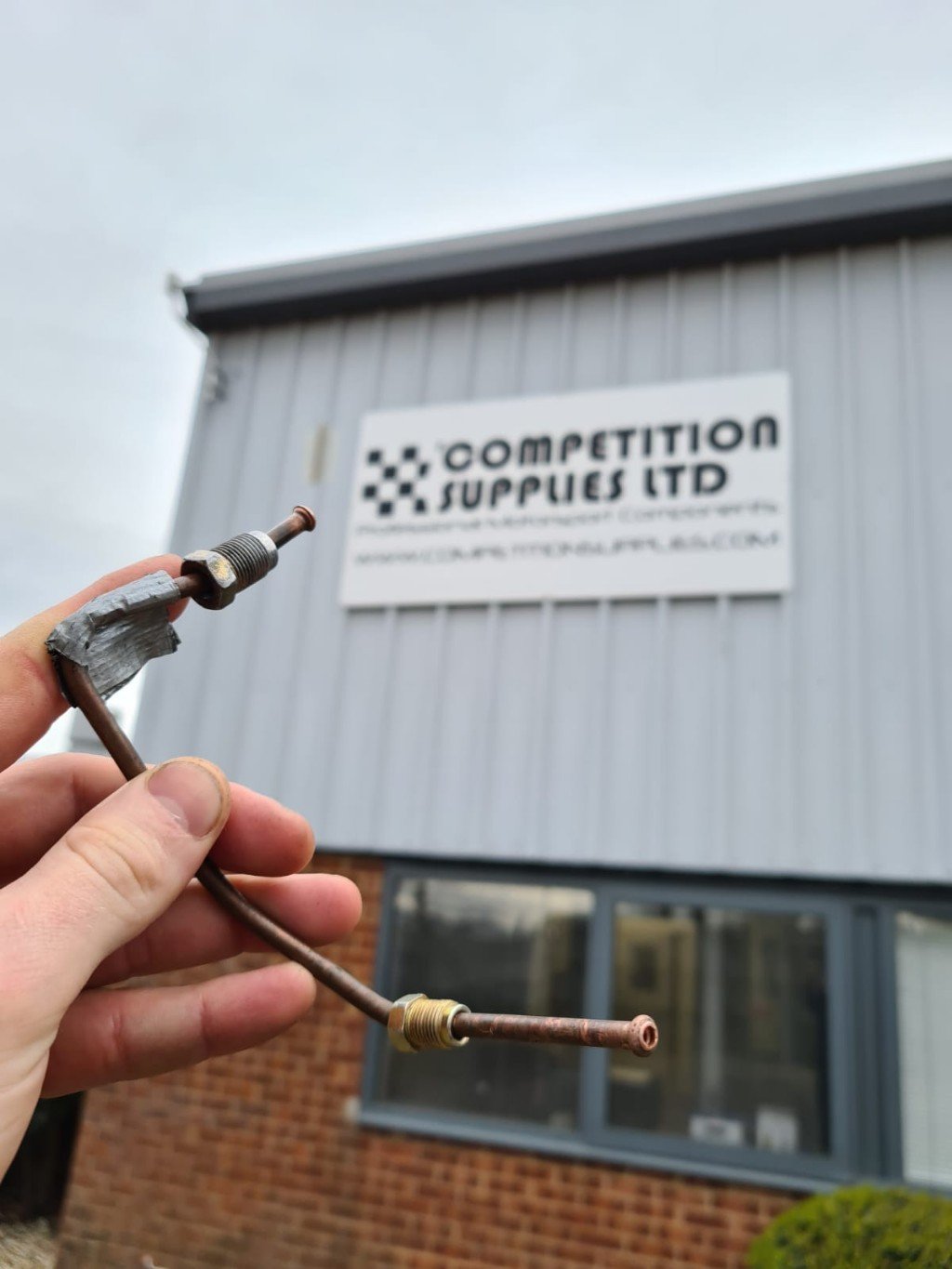 Once the system was fully bled he went back out and we had a brilliant 40 minutes chasing each other. The Silverstone marshalls must be some of the most laid back in the UK (apart from Knockhill !) I was practising some lift-off oversteer and Matt was just booting it for a giggle.

Even though the sun was coming out, it was extremely slow to see any sort of dry line forming at all. As soon as it did there was a short shower and it was wet again but honestly it didn`t really matter. We were just out there having fun and whilst I was thrashing the Golf it took everything I threw at it without complaint.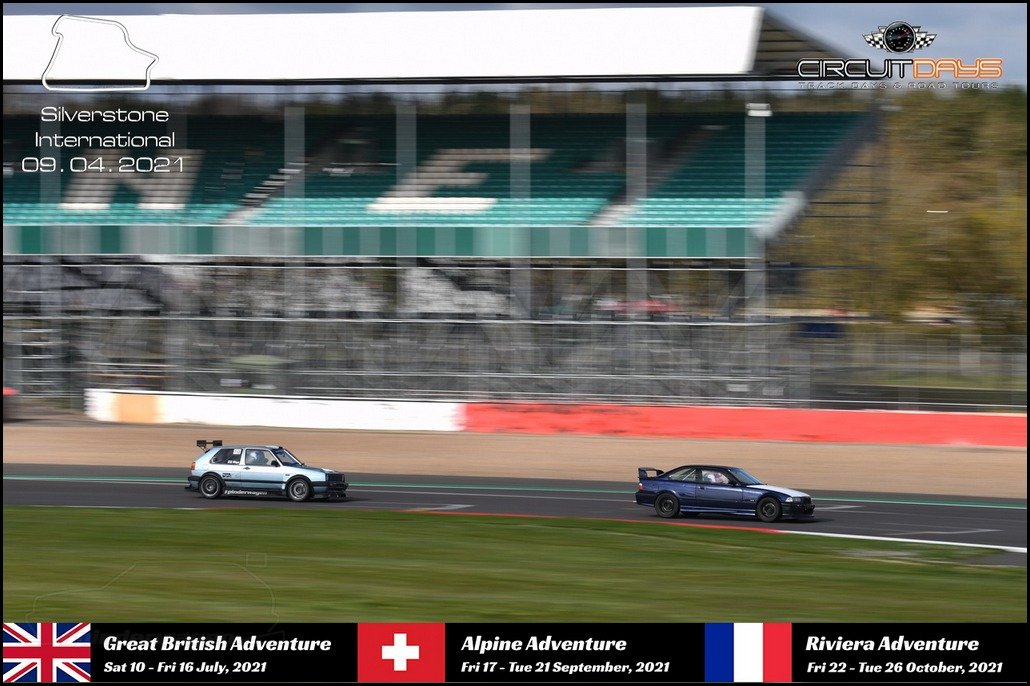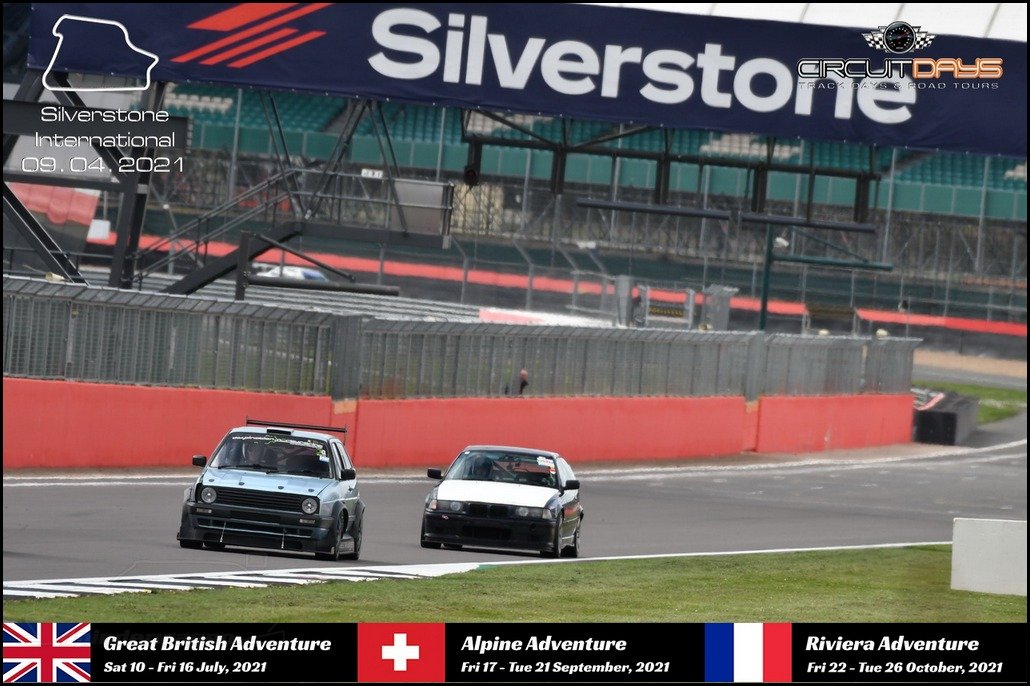 This was the last session of the day and we stayed out for 40 minutes until the chequered flag fell. That was the longest I'd been out in one stint, but I`d also done 3 x 30 minute sessions earlier. All without any mechanical problems
That's 3 trackdays since I fitted the uprated driveshafts and CV's and I have been able to stay out for long sessions with not failures. The only reason I came in was due to a stoppage or usually to give myself a rest. I have taken kerbs whilst on full throttle in 3rd and they took the abuse as designed without complaint. Finally !

Matt swapped back onto the road tyres in preparation for the drive home and I loaded the Golf with the tools and wheels. If I have time I give everything a quick once over before loading onto the trailer as the tyre rack stops me opening the bonnet when it`s strapped down. No engine or gearbox issues to be seen, it was exactly as I started the day.
The R1R`s I wanted to wear out were pretty much finished with only a tiny amount of tread remaining in the middle. That's fine, I have a set of replacements to fit which I'll do before Croft in May.
All strapped down and ready for the drive home. The Golf stayed on the trailer for 2 weeks after this trackday without me even unloading it, nothing needed doing urgently and whilst I gave it the usual once over after the day I was delighted to find nothing had come loose, no leaks or excessive wear anywhere. Brake pads will probably need swapping after Croft but I always have another set with me incase they get too low on the day.
We were some of the last to leave, mostly because we were out lapping until the very end of the day and hadn't bothered loading anything up during the afternoon. It's incredibly satisfying to have days like this and at the moment I'm extremely happy to look back at the end of 2020 and this first trackday of 2021 and be able to report yet again the Golf didn't breakdown, didn't require major repairs whilst on track and the only really thing of note I have to report is a faulty isolator switch I bypassed on the day.
Instead I find myself able to talk more about the actual driving, how well the Golf is handling and considering setup options for Croft that I want to test out. A tweak to the front toe to give a fraction more initial turn-in perhaps but the bump and rebound settings are pretty much as I want. The car does roll on corner entry but not so much that it delays the front end biting and giving me the confidence to get on the power early.
What I often feel frustrated with myself about after a trackday is how I fall into a set speed and comfortably keep circulating at the same pace, by pushing myself against other cars today I felt myself pushing that bit harder than normal, the huge run-offs at Silverstone do give me a lot more confidence to do that compared to Oulton or Cadwell for example but it was still a great way to brush off the winter cobwebs.
My next outing is Croft on May 8th, then I have quite a few other dates booked for the rest of the year
. The Germany trips are completely dependant on the travel and quarantine restrictions and I have a few UK dates planned if they fall through with more to book from October onwards.
I hope to squeeze a Knockhill in somewhere but I'm still waiting for dates later in the year to be announced before booking anything.
June 2 Anglesey
June 7 Bedford
June 29 Nurburgring
July 2nd Nurburgring
July 15 Ringmeisters Prime
July  16 Ringmeisters Prime
August 11 Cadwell
Aug 31 Destination Nurburgring 26
September 1st Destination Nurburgring 26
September 16th Cadwell Park
Oh, the dashboard. Yes, it was a complete and utter success. The new position of the main dash on the steering column is better for me and when I did glance across at the 2nd display, it was updating just as quickly as the main one.
Somewhat surprisingly I`ve had a few messages from people asking if they can support me in some way. I`ve set up a buy-me-a-coffee page for those of you who would like to do so

.