With the ongoing Covid situation the Welsh government were stipulating that all track days were run as sessioned events, whilst frustrating I'd enjoyed the trackways last year under the same circumstances. The days here always start a little bit later than usual so even though the drive is just under 3 hours, it means we don't have to set off ridiculously early.
We had requested that Matt and I, along with Jordan, Tom, Adam, Mike and the others were all put in the same group. This would hopefully mean we could have some good laps with each other.
The forecast was for sun most of the day but with a possibility of showers for the last hour or so. We arrived in Wales to clear skies and I knew that we'd be able to get some dry laps in during the morning sessions at least.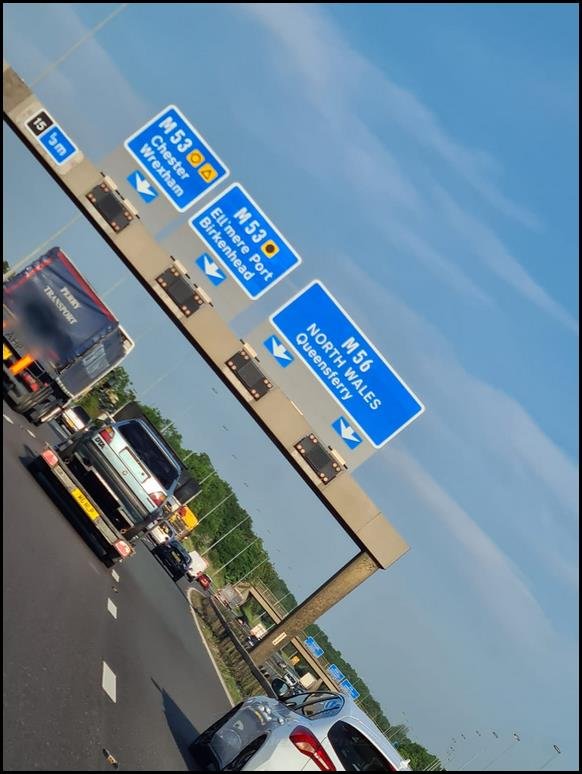 The gazebo provides shelter from the sun as well as the rain whilst it needs two of us to lift out of the car, the setting up process only takes seconds. Matt swapped from his road tyres to a set of slicks, the Golf already had them fitted.
As these were sessioned events and we queued up in the pit lane before venturing onto the circuit, it meant we never ended up out of sync with each other. That's something that despite out best efforts, often happens on an open pit lane track days, one of us will be topping up with fuel or checking tyre pressures while the other goes out on track and after 3 sessions, you can end up with one coming off as the other is going on. Because we knew we'd be on track together, we'd discussed beforehand about following each other fairly closely and then swapping positions after several laps.
Both cars are running identical tyres and the same final drive. Whilst I have more power, the better chassis and aerodynamics of the E36 means our pace is extremely close over a full lap. However, there are noticeable differences in how that pace is delivered, most obvious being through the slow speed Rocket hairpin where the fundamental benefits of RWD allow Matt to gain a small gap.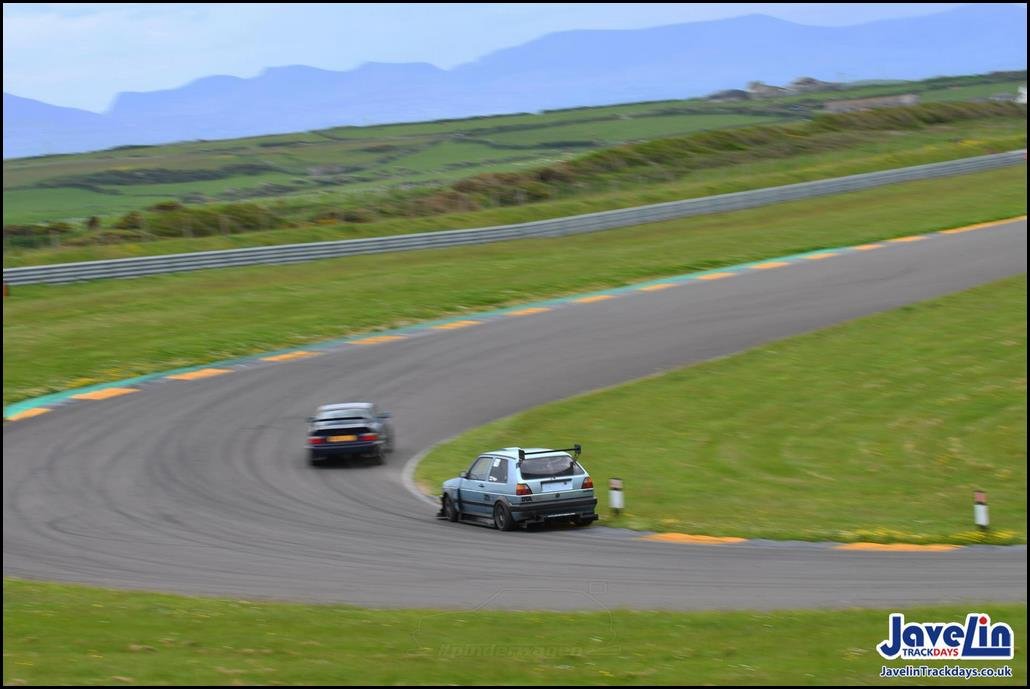 As I did at Croft, I drove another lap whilst giving a running commentary of how I drive Anglesey, but also I pointed out areas where a rear wheel drive car would take a different line. The second lap was actually quite difficult as I intentionally drove badly, making the novice mistakes of turning in to early which is very common at Anglesey. I've had a few messages since posting it from people who drove Anglesey for the first time and found it useful, which was nice. As I discussed after recording the session at Croft, doing these laps also helps me as it really makes me focus on what I am going to do rather than doing it subconsciously.
I enjoy some of the challenges at Anglesey and as the curbs are quite aggressive, there are some that I avoid rather than drive across.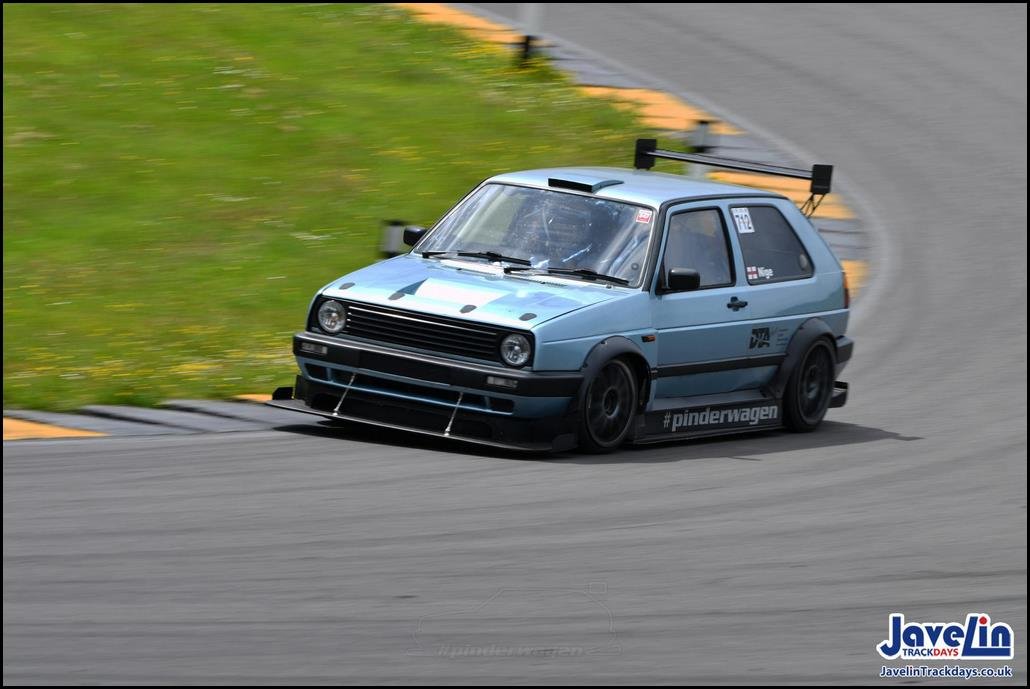 When Matt saw the photographer, he couldn't resist the obligatory skids, which seems to be something every RWD car does on an Anglesey track day.
I had to make do with just a photo of the Golf and the stunning backdrop, although you can't quite see the mountains in the background.
The sessions are 20 minutes on track, 40 minutes off. After each session, I'd have a drink, walk across to the garage the guys were sharing and we'd have a good natter about the session. The problem is you think you've got a long time before the next session, but in reality its not that long. I was almost caught out a couple of times as we were called to queue in the pit lane but I hadn't topped up the fuel after the last laps.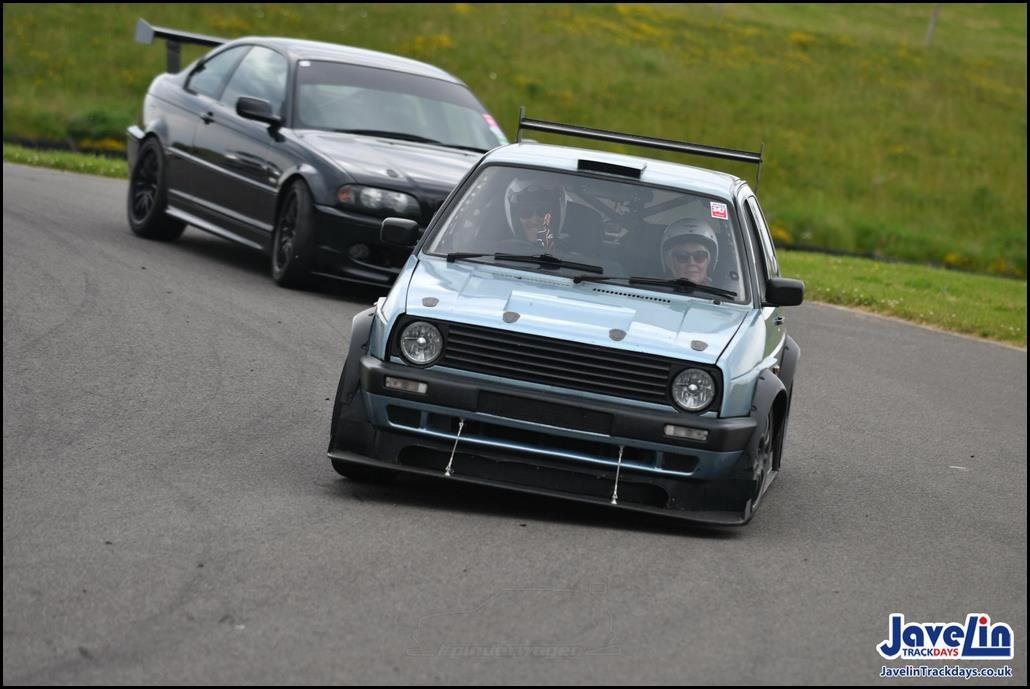 We took several almost worn out tyres with intention of finishing them off today. As the sessions were short, we knew they only had to last 20 minutes. The front left always takes a hammering around here and sure enough, that was the tyre that wore out first. We'd taken plenty spares so never ran out but it meant we could finally get rid of a load of tyres that we knew wouldn't last a full day, but still had some life left.
The clouds were gathering around lunch time as the forecast rain made its way closer to the circuit. They do make a stunning backdrop for the photo though.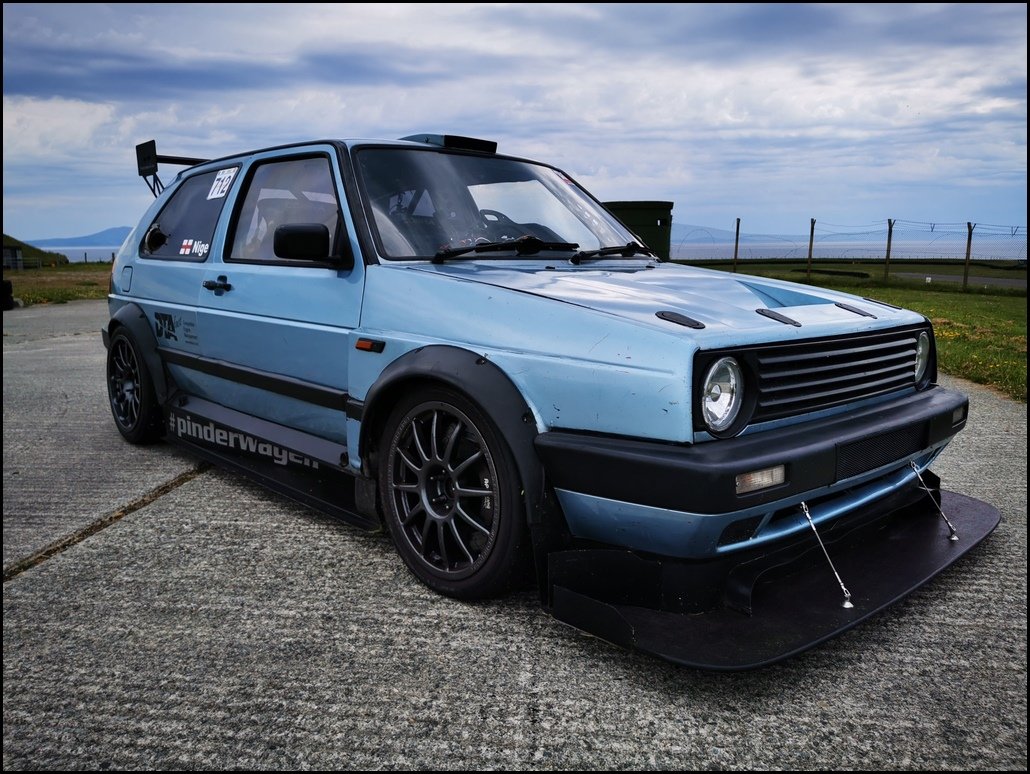 Jord started the session behind me, and as I've found before he's very comfortable following closely. If I know the driver, I have no concern about this. I think at times we were close to being told to leave a larger gap by the marshalls, but as always, we were being respectful of other cars when overtaking.
The train was Matt, Tom, myself and Jord and we lapped in a very close formation for the entire session. We made a point of not driving in a position where it looked like you were trying to overtake the car ahead, I think this was recognised by the marshalls as whilst they blue flagged any slower cars we caught, they didn't wave a flag to us at any point during these laps. I thoroughly enjoyed this close formation driving and all others climbed out of the cars with huge grins on our faces at the end of it. This is what trackdays are about, having fun on track with mates.
Lou is still uncomfortable when I'm lapping close to a stranger, but is far more relaxed when it's with people I know.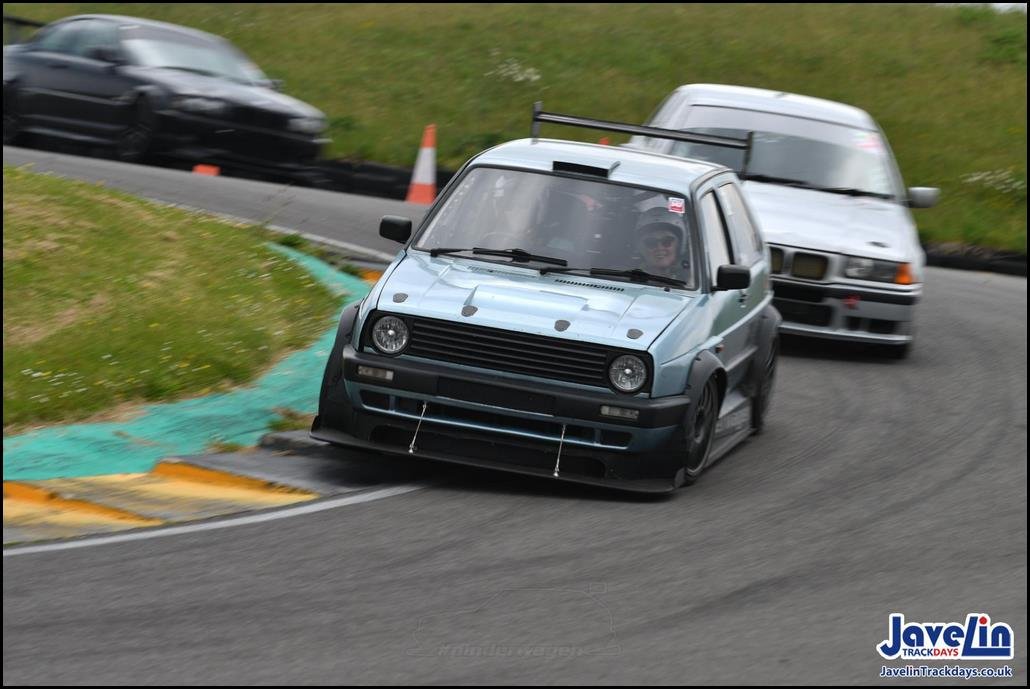 For some reason she feels more comfortable in Matt's E36 !
She had more sessions with Matt than she did with me, that's fine by me ! Less ballast
It's certainly more picturesque than an airfield circuit isn't it.
Whilst entering the first corner, a slower car indicated to let me past which gave me a more acute entry. I thought I'd slowed sufficiently for this but I realized as I ran out wide towards the grass that I had been overly optimistic. No harm done, just a bit of free grass cutting for the circuit.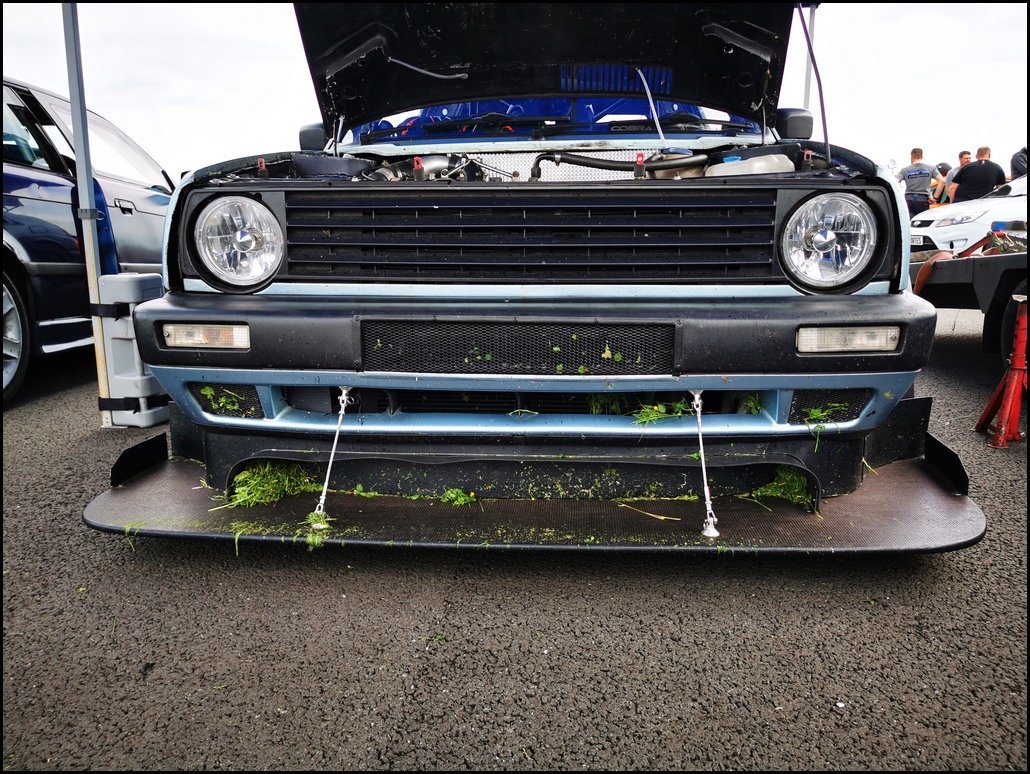 As I have several vents feeding fresh air in to the cabin, the downside of this means that you also get showered with grass clippings if making an off circuit excursion
Matt had fitted his new diff which locks up more than before, we didn't have time to fit the cooler and it turned out that was a mistake. It needed cooling between sessions as the oil was getting too hot and the diff kept opening up allowing the inside wheel to spin up for the last half of the session. Matt rigged up a washer jet to spray the casing between sessions. When the pump was first started the water immediately turned to steam but after 10 minutes, it was much cooler and enabled him to enjoy the next session. Since this trackway, he's fitted the pump and cooler and can lap for 40 minutes without any oil temperature issues in the diff.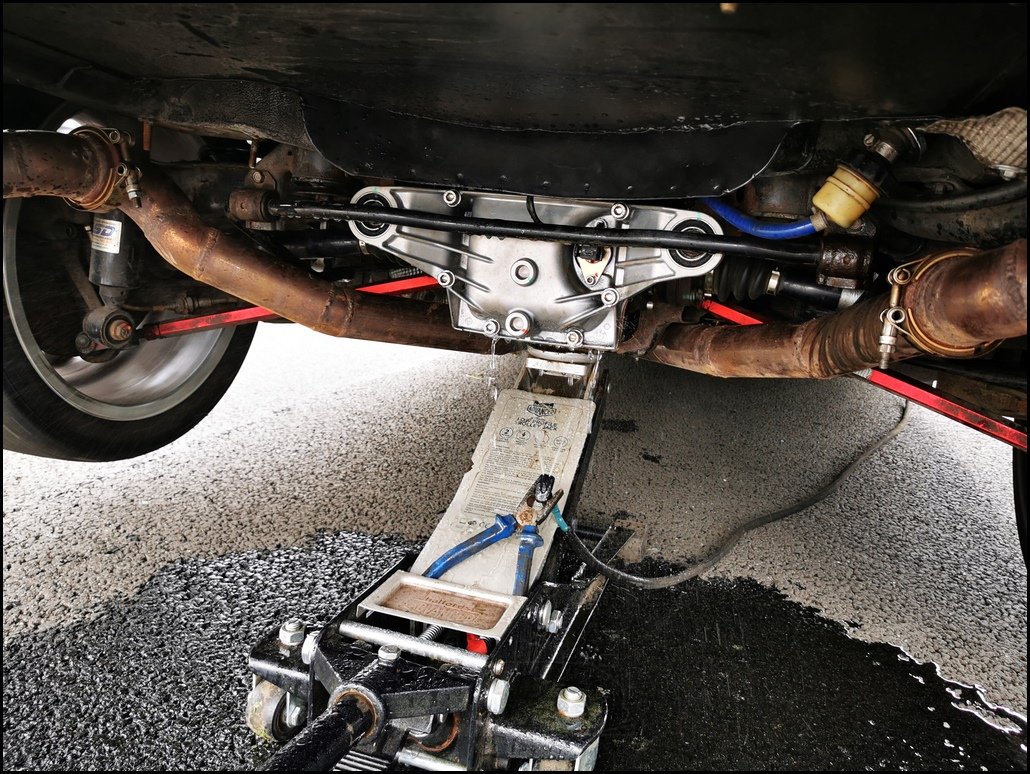 Just before the last session of the day it started raining but there was no standing water on the track. Matt and I looked at each other and said, "Slicks?". The instant reply was, "Yeah
, lets have some fun", and that's exactly what we did. We spent most of the 20 minutes either power oversteer in his case, or liftoff oversteer in mine. I was getting braver and braver on the first corner until I had a little bit of a moment and decided that was my limit for the day. We knew we were doing something right when the Marshall came out of his post by the hairpin, stood 2 meters in front of it and clapped his hands each lap as we drove by. It was a fantastic end to the day, absolutely no concern to lines or times, just doing things in the car you can't do on the roads.
I think this short video sums it up. I couldn't quite link the corners but had good fun trying. Quite why this is only 360p is a mystery.
After packing everything up and strapping the Golf down, I was able to fully appreciate the fact that I'd absolutley thrashed the car for every single session and didn't have a single failure or problem. Wearing tyres out was expected but considering I'd snapped two driveshafts on lower boost last year shows that the new gearbox, custom driveshafts and CV's are as strong as I had hoped.
If given the option, I'd never choose a sessioned day in place of an open pitlane. It means that if you have any problem at all, you could completely miss your allotted slot. Even if you don't have an issue but if someone else does and causes the session to be red flagged and by the time they have been recovered, that is often the end of your 20 minutes. However, that didn't happen today and I was able to fully enjoy all 7 sessions at this fantastic venue.
I always enjoy a day at Anglesey and today was no different. The Golf was reliable and it just makes such a difference when there are no issues to contend with during the day. It may not make for the most exciting report, but it's certainly my preferred way of going about a trackway

Somewhat surprisingly I`ve had a few messages from people asking if they can support me in some way. I`ve set up a buy-me-a-coffee page for those of you who would like to do so

.