Anglesey had initially been booked for the start of July but the Welsh lockdown meant it had to be postponed until the 15th August. In the week before the event I received an email from Javelin explaining that the local government had stipulated that not only were attendees to be split into groups of no more than 30, but the same groups had to be on track by themselves. This meant instead of being open pit lane the day was now a sessioned event.
I don't like session events and I never book them through choice. Javelin gave everyone the option to cancel their place on the day if this new format was not acceptable. I'd only just finished building and fitting my new engine and needed a shake down before DN24 in a couple of weeks. So it looks like I'm doing a session day then…
The format was 20 minutes on, 40 minutes off, 3 sessions in the morning and 3 in the afternoon. That's 2 hours of track time which is plenty for me to have confidence in the engine.
It was with this revised expectation that we set off on our 2 3/4 hour drive across to Anglesey.
Matt was taking his E36 which he drove there whilst I towed in the X5.
Forecast for today was in the high 20's so keeping hydrated between sessions was important. Parked up and unloaded in our marked out area in the paddock. Saw Colin and confirmed we had completed the online briefing and signing on process so he gave us our drivers band and car sticker.
On a day like this I'd usually run slicks. I've said many times they aren't much grippier than the Direzzas but what they do offer is much more resistance to overheating on a hot day like today. The lack of tread block moving around keeps them at a controllable temperature for much longer. My Direzzas were on the legal limit and as these are the tyres I do my road driving on they were now no longer suitable. It's not worth selling them when they get this worn so the plan was to leave them on today until they were completely worn out and ready for the bin.
The sighting laps were also part of the first session, this meant following the pace car for 1 lap, all peeling into the pits and stopping in the pit lane. t the marshall would then wave the green flag signalling the start of the session. This met the requirements of the sighting laps with minimum loss of track time.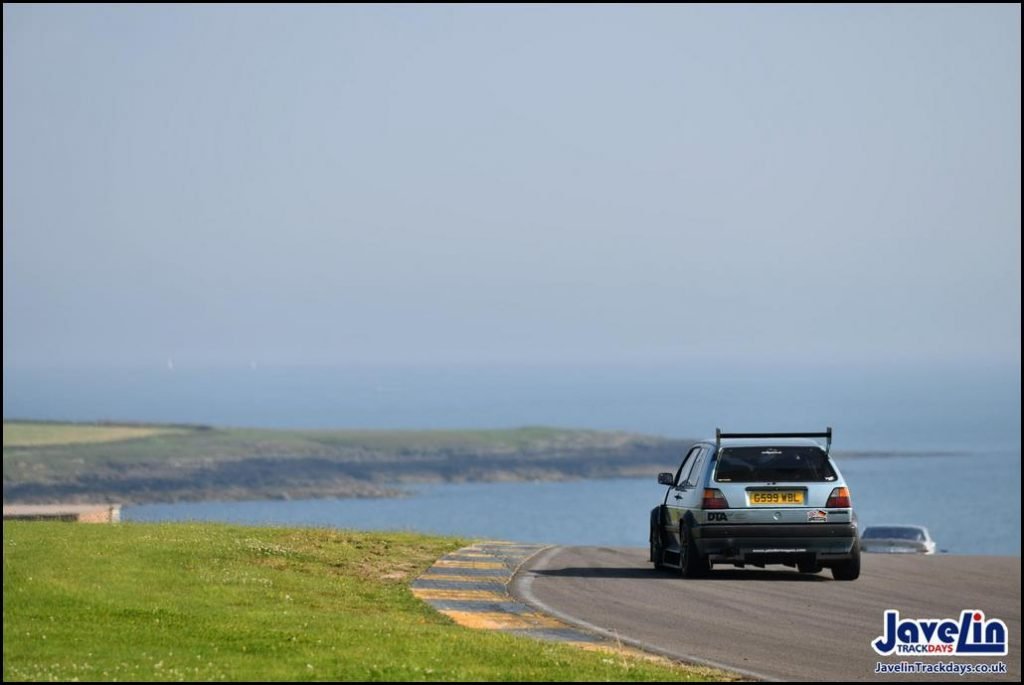 I followed Adam out of the pits and as we approached Rocket hairpin he slowed, indicated to the right and pulled over to a stop. Unfortunately this resulted in the session being in red flagged whilst he was recovered, so we all queued up in the pit lane and waited. By the time recovery vehicle had towed him back to the pits, our session was over. Did I mention I hate sessioned days? 
40 minutes later we were back out for the next session and looking forward to some good laps. Jordan was there in his E36 race car and Matt had arranged to do some chase/follow laps with him. We've known Jordan for several years and I had a very similar session at Spa a few years ago with him. When you know someone and how they drive, laps like those are what you look forward to. Jordan was leading and Matt was behind with Cat as his passenger. 4 laps later, they were both black flagged and had to return to the pit lane where the marshall gave them a telling off for "racing". They both explained they knew each other, were not trying to overtake or outbreak each other but were just following closely and not when in traffic or in close proximity to other cars. This was still classed as unacceptable.
Lou was in the Golf with me and I was building up speed each lap. I turned in a little bit too early into Church and knew as we approached the exit curb that we were going to run wide, as we straddled the curb on the exit, I was saying to Lou, "Don't worry, its all under control", looking in the mirror I could see a huge cloud of dust hanging in the air.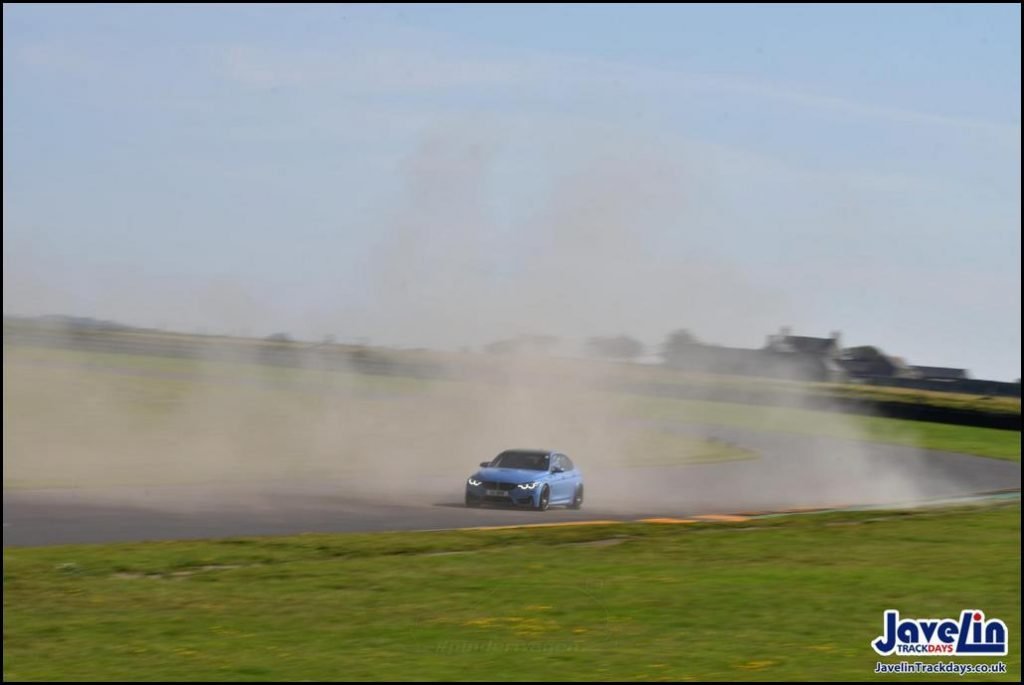 The 20 minutes were just about ideal and as I came into the pits at the end of the session, the front tyres were up at 37 degrees and were definitely getting a bit squirmy, pressure dropped to 26 which meant next time out they'd probably peak at about 30.
Gave the engine good checkover to ensure there was nothing loose and no leaks. I also tweaked the fueling as this was slightly different with the new engine.
Lou went out with Matt, Cat was in with me and we were following each other. On the 4th lap Matt turned a little bit too tightly into the Rocket hairpin and the back stepped out, rather than lift he let is come back and kept the power on then transitioned into the right hander with a nicely held drift all the way through. I thought it was quite a nice, controlled drive. Seeing the black being waved at him at the start finish line, suggested the marshalls didn't share my view.
After a quick telling off he was sent back out for the rest of the session. I was having some great laps and tried medium boost a couple of times on the lap as the previous session had been all actuator pressure but now it was time to start winding it up. Again, no problems and as expected the tyres were 30psi when the session ended.
The third and final session of the morning on the GP layout saw Matt follow me and Jord out of the pits. We'd already spoken about not being as close as Matt and Jord in the first session but still planned some formation lapping. Both Matt and Jord had better traction than me out of Rocket hairpin but on other corners we were equal and in a couple the Golf was better. This is what I particularly enjoy, following cars of a similar overall pace but each of us with our strengths and weaknesses throughout a lap.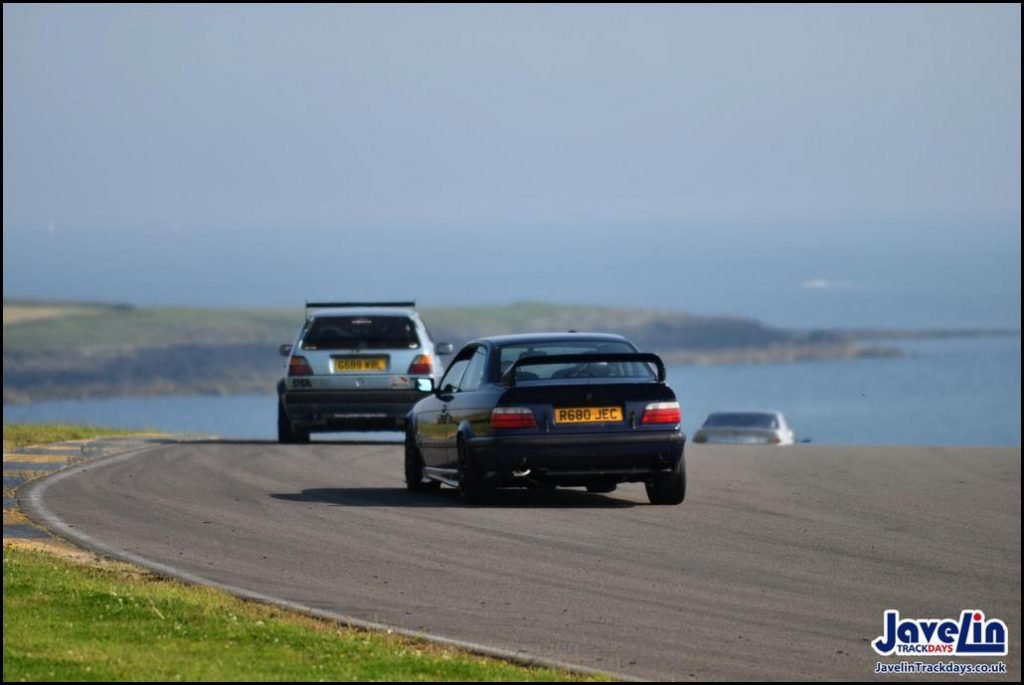 It was disappointing but not wholly unsurprising to see all three of us get a black flag after a few laps. When the marshall was explaining racing wasn't allowed, I replied that we weren't racing, we've done this at loads of track days over the years and were just having fun. We weren't diving past anyone, driving closely through the traffic, causing a nuisance to anyone else or driving on the ragged edge, but he was having none of it
 The rest of the session was lapping independently.
It was now lunch time and I took a walk up to race control. When I asked if I could have a word, I was met with a pretty frosty, "What about?". I explained I was driving the blue Golf with the two BMW's and just wanted to apologise for driving in a way the marshalls found unacceptable. I could see her waiting for me to try justify and explain myself but I didn't which I believe was unexpected.
We then had a pretty pleasant conversation about marshalling their perceptions and expectations of cars on their circuit. I responded explaining we often drive much closer than we were in that session and genuinely thought we were leaving plenty of room. At the end of the conversation I had a much better understanding of her position and I would like to think she understood we weren't idiots, we did know what we were doing and were in control of our vehicles.
We'd taken lunch with us and sat in the sunshine whilst having a break. I did swap the front tyres, side to side to even out the wear as the front left was getting pretty worn by now.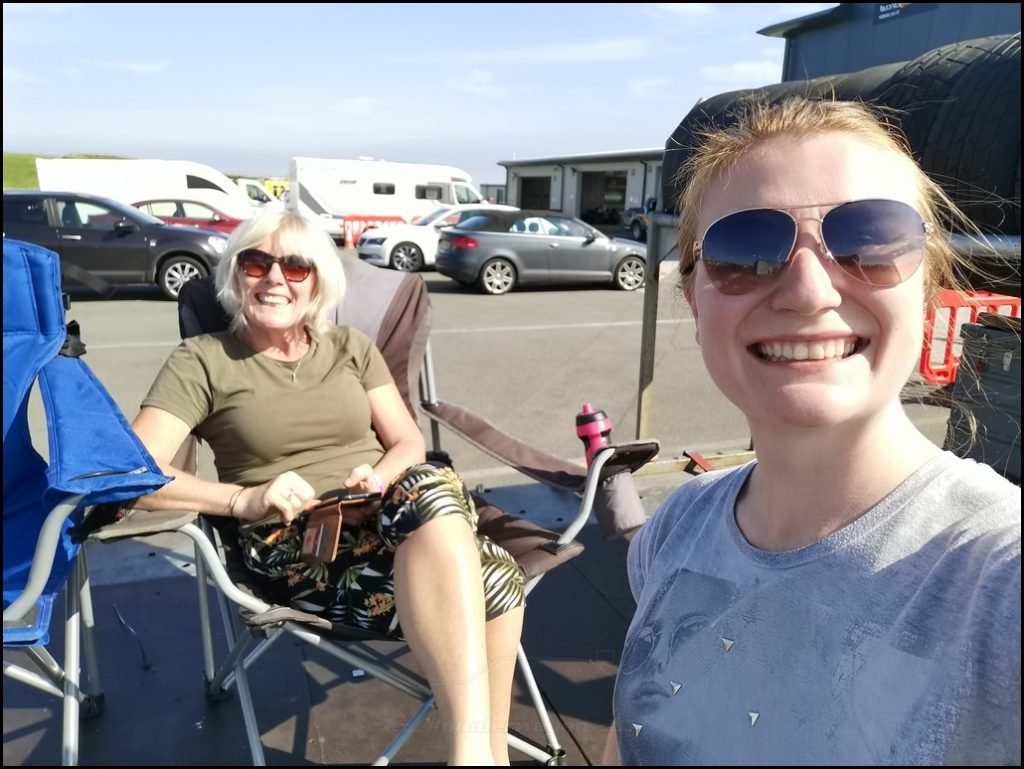 Next session following Matt was the first on the Coastal layout. Javelin switch from the GP to this layout at lunch time which I think is fantastic as it gives 2 different track layouts on the same day. We caught a train of 4 Meganes and a Caterham following behind. After a couple of laps, the Caterham let Matt past, however he refused to move for me despite numerous blue flags over several laps. The 4 Meganes were also ignoring the blue flags being waved at them from several marshall posts over 3 laps.
This was frustrating and on a normal day I would just pit to let them carry on whilst I had a break for 5 minutes, but with this being a session day everyone wanted to maximise their track time, me included. To make it obvious I was significantly quicker and wanted to get past, I made a point of getting good runs out of corners, really closing up to the Caterham to signal my desire to get past. He seemed to be oblivious and I never saw him look in the mirror or at the flags pointed at him. On the 3rd lap I dropped back before the corner and then had a really good drive out of the hairpin, accelerating hard with my left wheel on the exit rumble strip. The aim was two fold, first, to appear quickly in his mirrors and secondly, to make a lot of noise as the car drove over the curbs.
I should know better
. The only time I have CV failures is when accelerating hard, in 3rd gear on 1Bar of boost. That's exactly what I was doing coming out of the hairpin and yes, you guessed it, I broke the CV and lost drive. I free wheeled to the unused part of the circuit which is used on a different layout and waited until the end of the session when I was then towed back into the pits.
I was annoyed, I'd allowed myself to get frustrated with another driver. The circumstances brought about by a sessioned day and being made worse by a driver refusing to let a significantly faster car through. What did surprise me was the complete loss of drive. The Gripper plate diff locks up really well and I'd have expected sufficient drive through the other wheel to get me back to the pits. I opened the bonnet, put it in 1st gear, lifted the clutch whilst Matt looked to see what was happening. The gearbox drive flanges were turning, the wheels were not and only one driveshaft was.
It turned out the nearside driveshaft had completely sheared through where the splines are machined into the steel. This was caused by my excessive curb and power combination. The diff had seen this, send ALL of the torque to the other wheel, which then sheared that driveshaft!
Fortunately, I carry spares
As the driveshafts had sheared, this meant the wheel bearing and drive flange was undamaged and all I had to do was replace both driveshafts.
I just missed the next session, again, another downside of a session day.
Whilst I was working on the car, Colin came across to ask what was wrong. I told him about the Meganes and Caterham refusing to move and asked why the marshalls were black flagging people for driving close to friends but yet hadn't done the same for 5 cars blatantly ignoring blue flags over 3 laps. He replied, the Megane drivers were already been spoken to and asked which Caterham it was which I described. A moment later, a driver came over to complain to Colin about the Meganes. When Colin asked what he was driving, he replied, "A Caterham", going onto describe the same Caterham I'd just told Colin about.
Now Colin knows me very well and usually would have had this discussion with the driver himself but he knows I am not going to go off on someone, start shouting and carrying on or swearing, so he turned toward me, raised an eyebrow and looked back at the driver.
I would say I was quite forceful when explaining to the Caterham driver that he had driven 3 laps with me sat behind him, ignoring blue flags being pointed at him. His response. "I wanted to get past the Meganes". I then explained to him about car body language and track positioning and how not once did he show any inclination to overtake the Meganes, nor did he position his car in such a way as to show them he was quicker and that they should move out of the way. I don't really think he understood what I was trying to explain, which was a shame. Before I'm accused to being a Caterham hater, there were several Caterhams on the day who moved out of the way with no issue, and for whom I moved out of the way for.
Whilst changing driveshafts, the sweat was dripping off me and a couple of guys from the next garage took pity on me. They had brought a fridge with them which was full of ice cold bottles of water and they very generously gave me one, it was extremely refreshing and I was very grateful.
For the final session of the day, Jord, Matt and I went out together again. As we came round the last corner, I saw the circuit manager who I had spoken to earlier watching from the pit wall. By watching, I mean her head was turning, staring at our 3 cars every lap we drove past. After a few laps, I swapped places with Matt as he followed Jord. I left a large gap but Matt appeared to have a slightly different attitude and followed closer. We maintained the same distance throughout the lap and it was a very very enjoyable session. As we drove back into the pits after the chequered flag, the circuit manager nodded her head at each of us and gave us individual thumbs up as we drove past.
Same session from Matt's perspective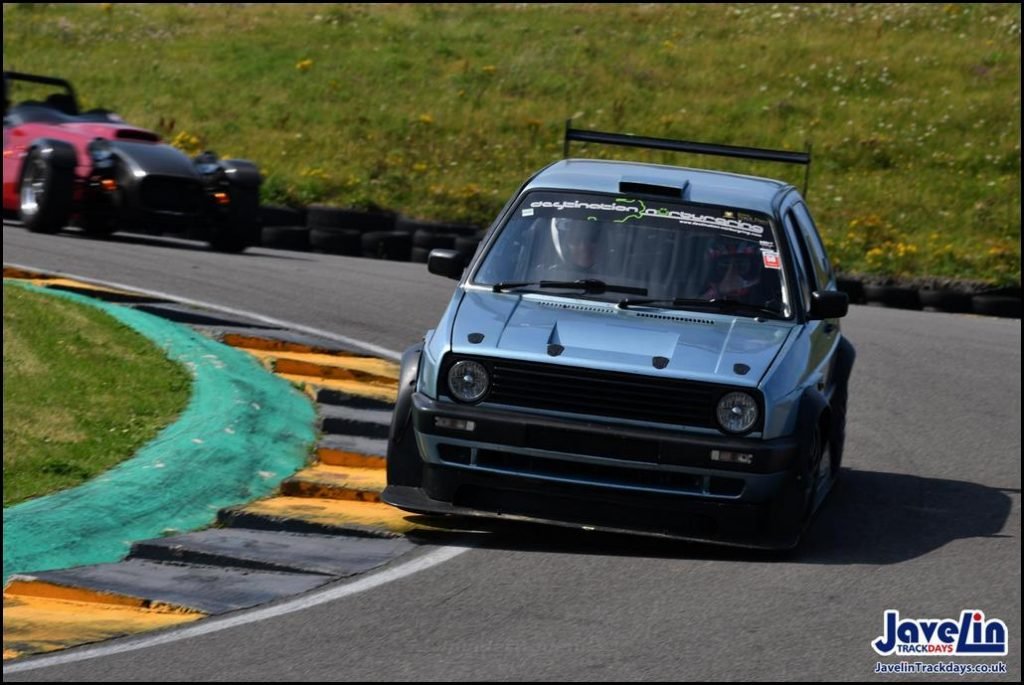 Both cars finished the day in one piece. Phew !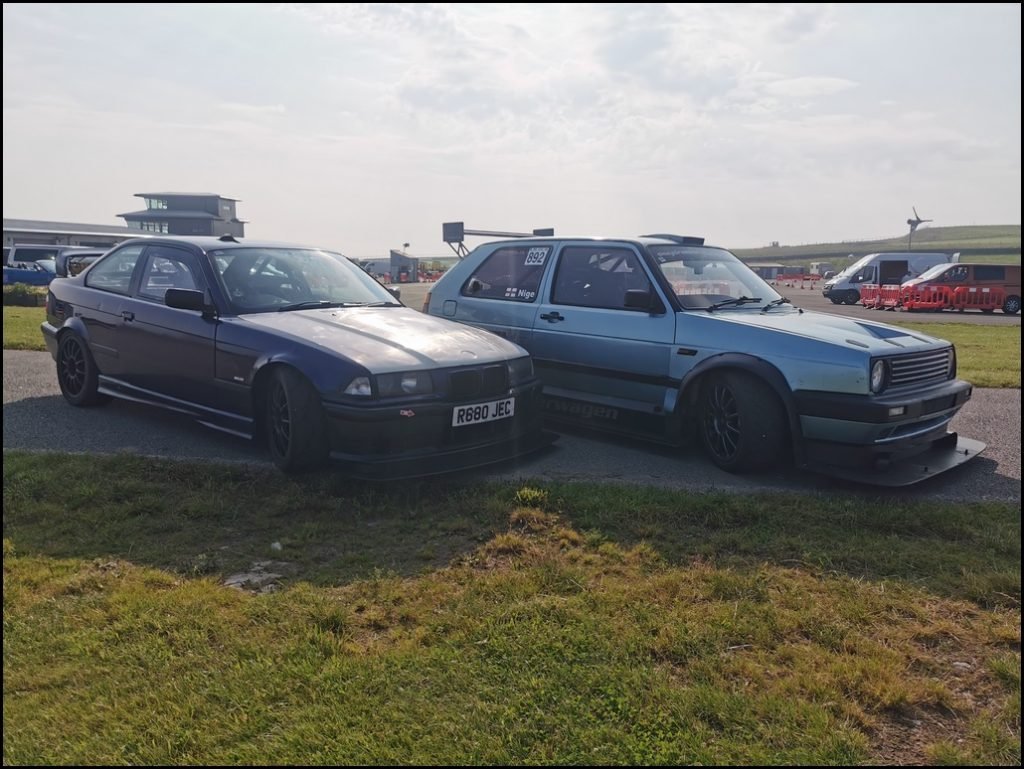 Loaded up after a quick shower before setting off home.
Lou and Cat wanted to walk in the sea so we made a slight detour to a nearby beach on the way.
Driving back I spoke to a few friends and the first question they all asked was, "How was the new engine? How much oil did it use?". I was relieved to be able to reply that it was spot on and oil use was back to normal levels. Even though I was meticulous when building the engine and all the tolerances and torque settings were within spec. There is always that little niggling doubt until you've actually driven it in anger.
The next stop is the Nurburgring for 2 days at DN24 and all I need to do is swap these worn out Direzzas for some replacements and give everything a once over to check there is nothing loose or leaking.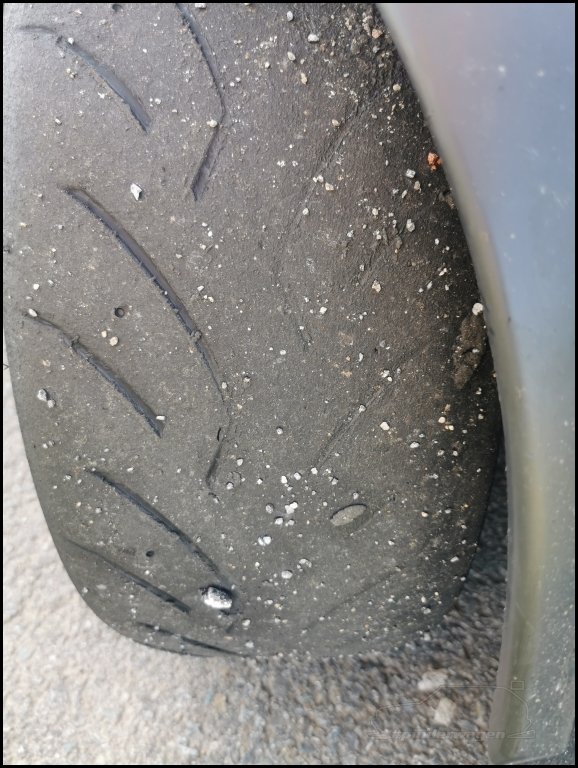 I haven't done a track day at Anglesey for several years but today made me remember just how good a circuit it is and it won't be as long until I am back again.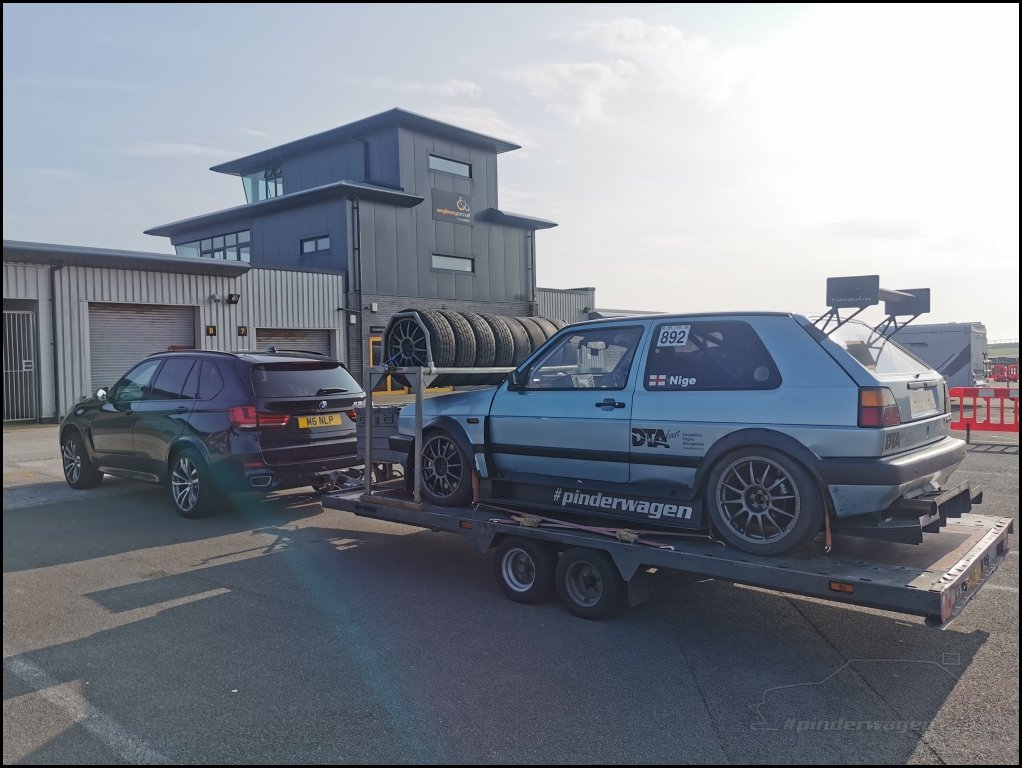 The session day was run as well as it could be, but despite that, I will still always choose a full open pit lane day over a sessioned day if I have the choice. 2020 is a challenging year and sometimes we just have to make the best of the situation in front of you and get on with it.