After the low oil pressure caused the main bearing failure at Ringmeisters in July, I was particularly careful preparing for this event. Not only was it a 2 day Nürburgring trip but the 3rd day was at Spa Francorchamps.
The Golf was ready several days before we were due to leave and all we had to do was load it onto the trailer before driving across to Hull for the ferry. I brought the Golf outside and parked it in the driveway whilst sorting out the trailer in the garage, that meant fitting and loading the tyre rack and attaching the jerry can box then loading up the X5 with the tools and spares. It took a few hours to get everything sorted but we were finished around 13:00, as we weren`t setting off until 15:00 that allowed plenty time for a shower and bite to eat before we set off.
I started the Golf ready to drive it onto the trailer and couldn`t get it to idle. It was misfiring, stalling and generally sounding awful ! It was fine 4 hours ago when I parked it up, what on earth had gone wrong ?? 
Checked the spark plugs as it definitely sounded like a misfire, swapped coil pack but no different. Plugging in the laptop load loaded the DTA software to be presented with a big red warning saying "Short on Sensor 5 Volt Wire !! – 3300mV" 
The engine loom is connected to the ECU via 2 large multi-connectors. One had the high voltage and feed wires, the other the sensor returns. I unplugged the sensor connector, leaving the injectors, coilpack and crank position sensor connected. The error disappeared and as the ECU has a failsafe value for each sensor it fired up and ran smoothly.
OK, so it`s not a fundamental engine issue, but time is ticking and that ferry will not wait.
Unplugged all the underbonnet sensors and started plugging them in one-by-one. The moment I plugged in the oil pressure sensor, Matt shouted the warning reappeared.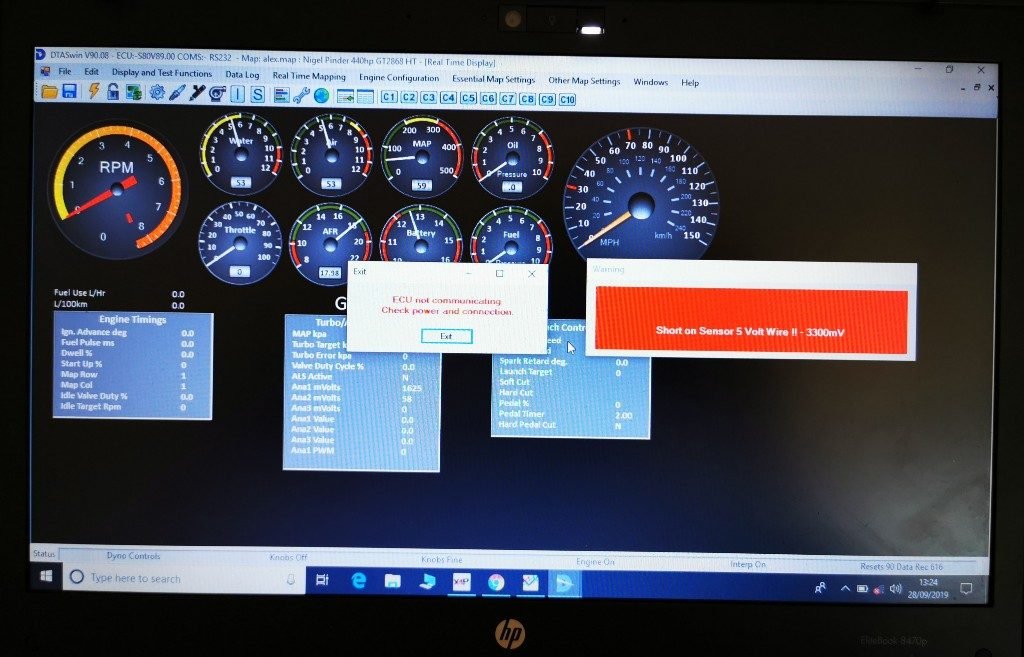 It turned out the plastic cover on top of the sensor sits directly under the vent in the bonnet. Rainwater had been dripping on it for 4 hours and running down the cable and waterlogging the sensor.
By leaving the sensor unplugged the engine ran smoothly. What a relief ! 
The nagging problem to me was this was the oil pressure sensor. I had an engine failure at Ringmeisters due to low oil and now I didn`t have a sensor to warn me of low oil pressure. The accusump was working and should protect the engine, but the lack of warning didn`t feel right and I was very apprehensive about the upcoming days. 
 (I now carry a spare sensor in my toolkit)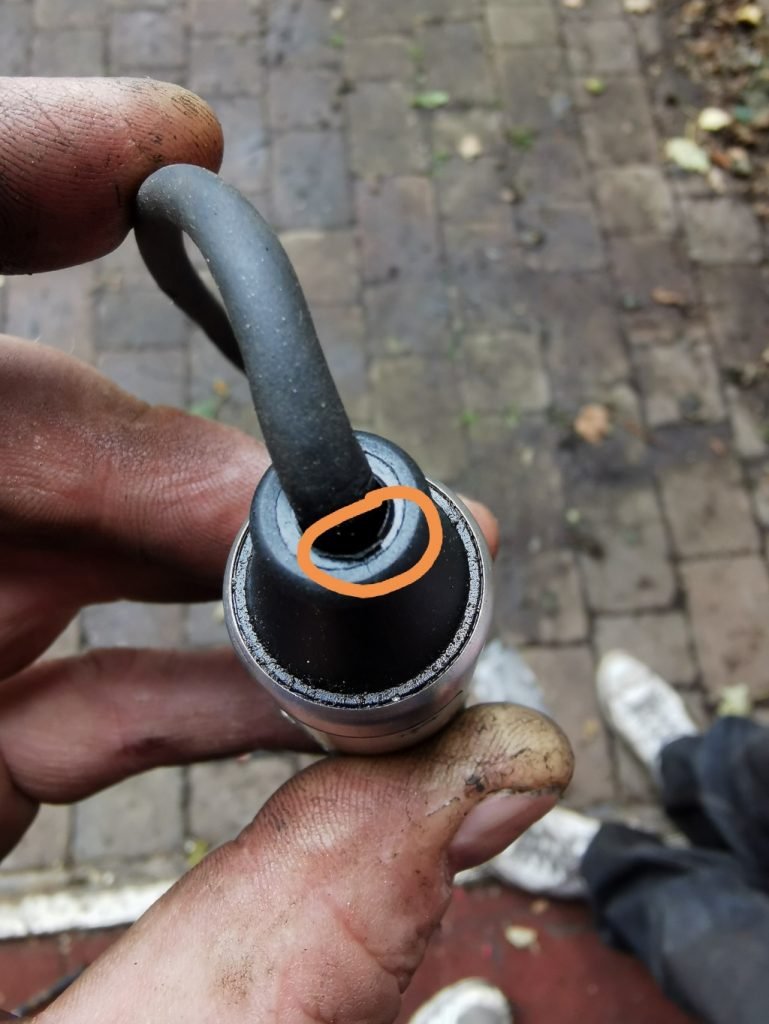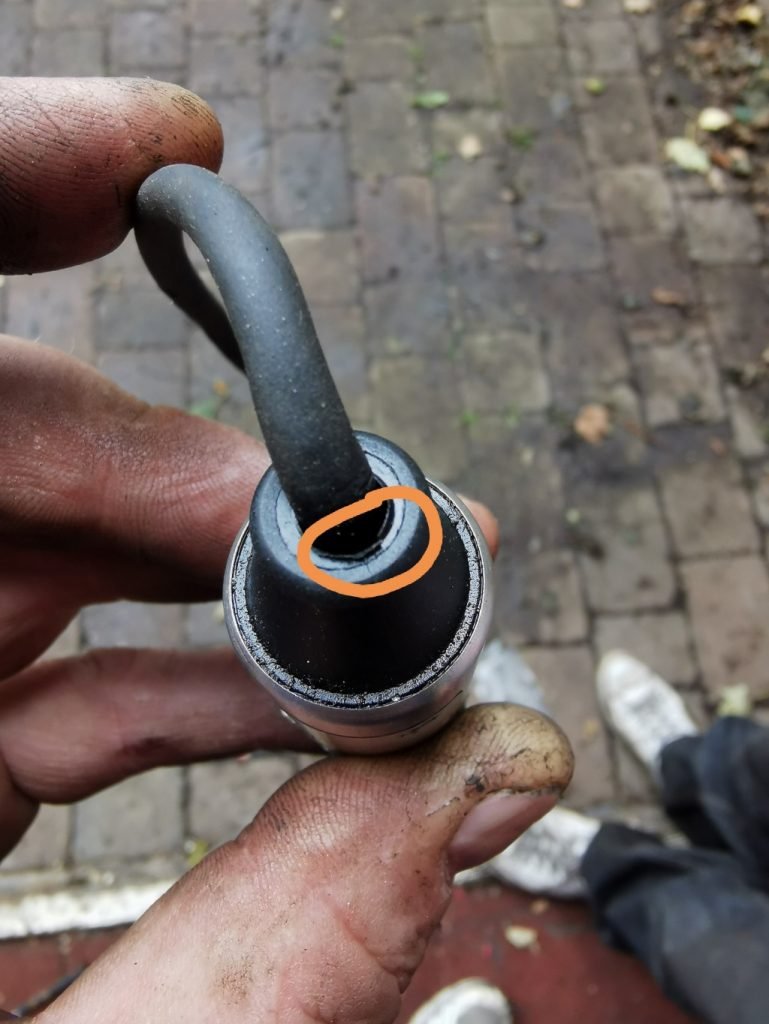 The Golf was driven onto the trailer, strapped down and then I had a quick shower before we set off to Hull for the overnight ferry.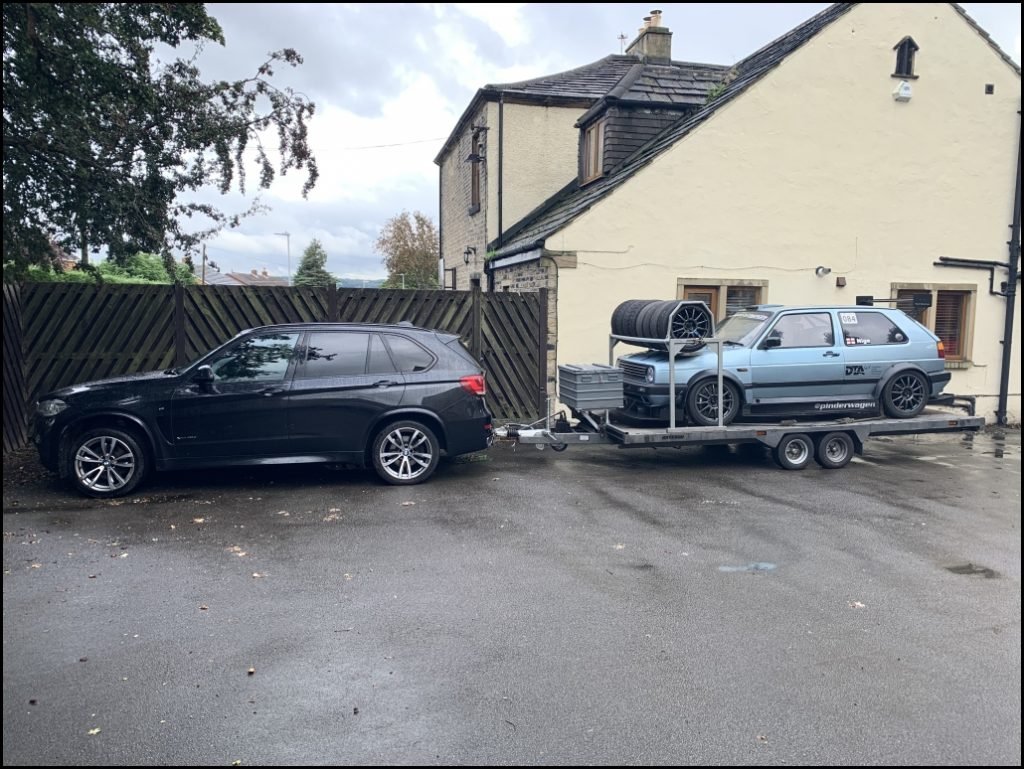 This was not the relaxed start to the trip I was hoping for 
 Instead of being able to take it steady and have a leisurely morning I`d spent part of the faultfinding hour thinking I might not be able to attend the event with a working car.

After a smooth crossing and quick disembarkation, we had a trouble free drive across Europe and saw several UK plates on the journey. Alistair was across again in convoy with his mates in his lovely E46 M3, we stopped for lunch on the way as there was no huge rush to get there.

As usual, I filled up the Golf and Jerry cans with 102ron fuel from the ARAL. Even though the engine was mapped on 98, I feel the improved knock resistance from the 102 is worth the small price premium. I don`t see any performance benefit from it, the spark table is left untouched but the extra peace of mind is worth the little bit extra. In the UK I obviously only run 98.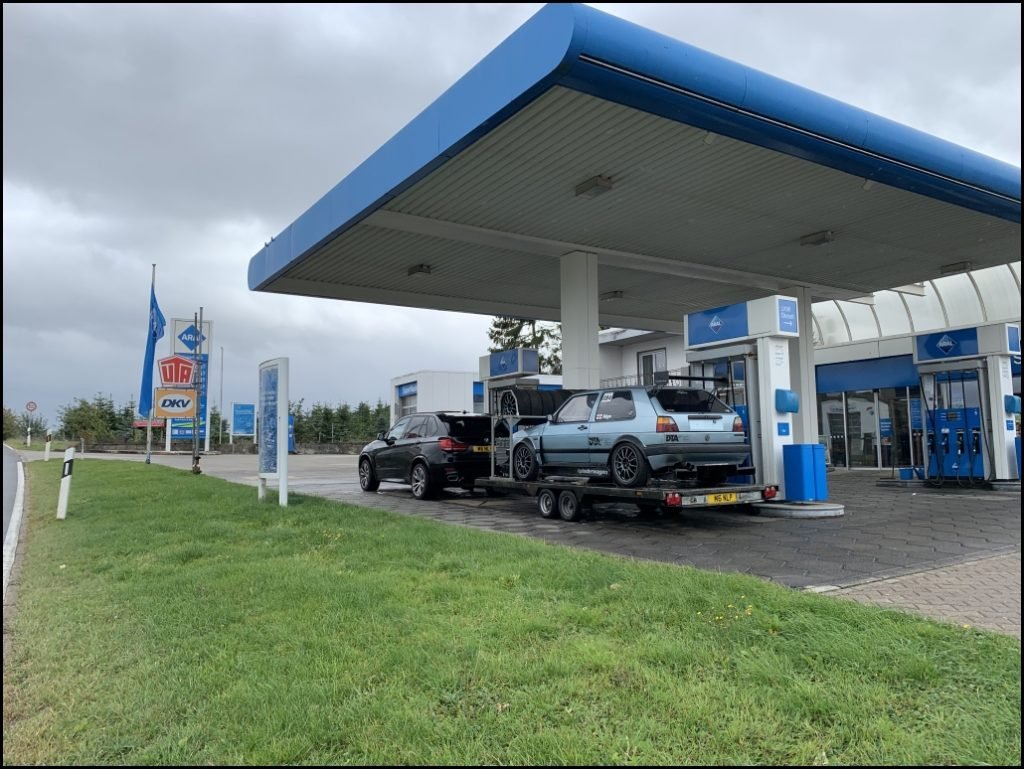 Trailer dropped off at the guest House and then we drove to the Milltek centre to set up for the sign on and briefing.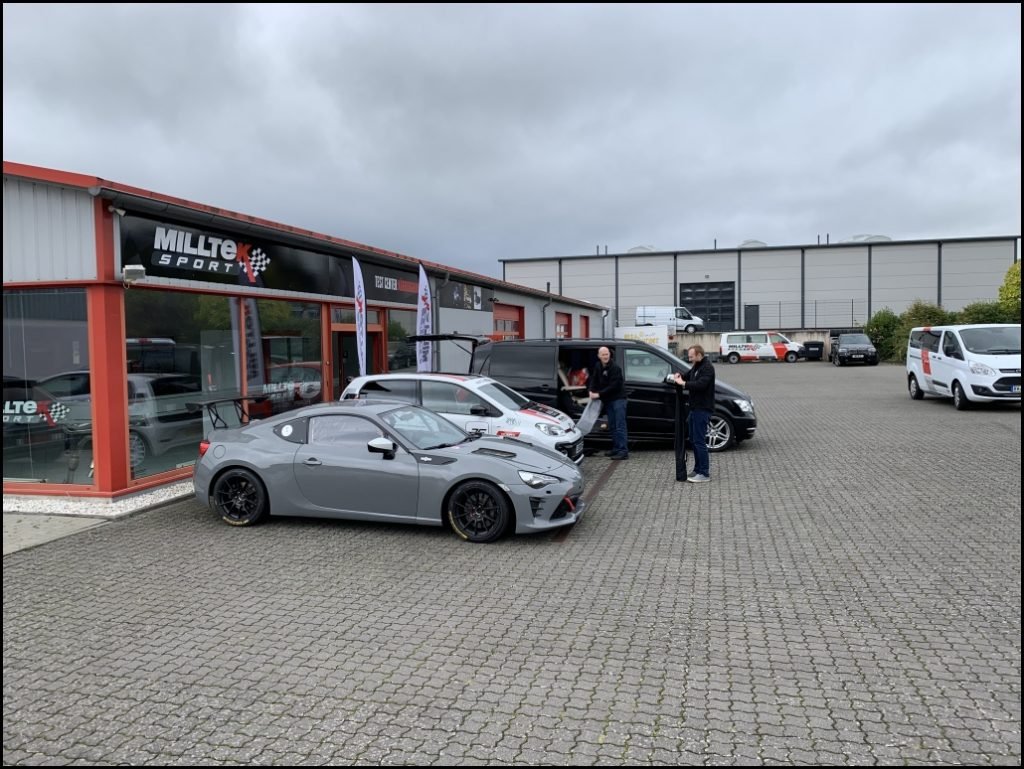 It took us a good couple of hours to get all the packs completed ready for the drivers to arrive. We set up a mini production line, Claire, Karin, Matt, Gav and I, worked really well and efficiently together. I think we finished the last pack 10 minutes before the sign on officially started, although we'd had drivers turning up for the last hour hoping to get signed on.

With sign on in full swing the room quickly filled as people often met up for the first time in months and spent the time waiting for the briefing catching up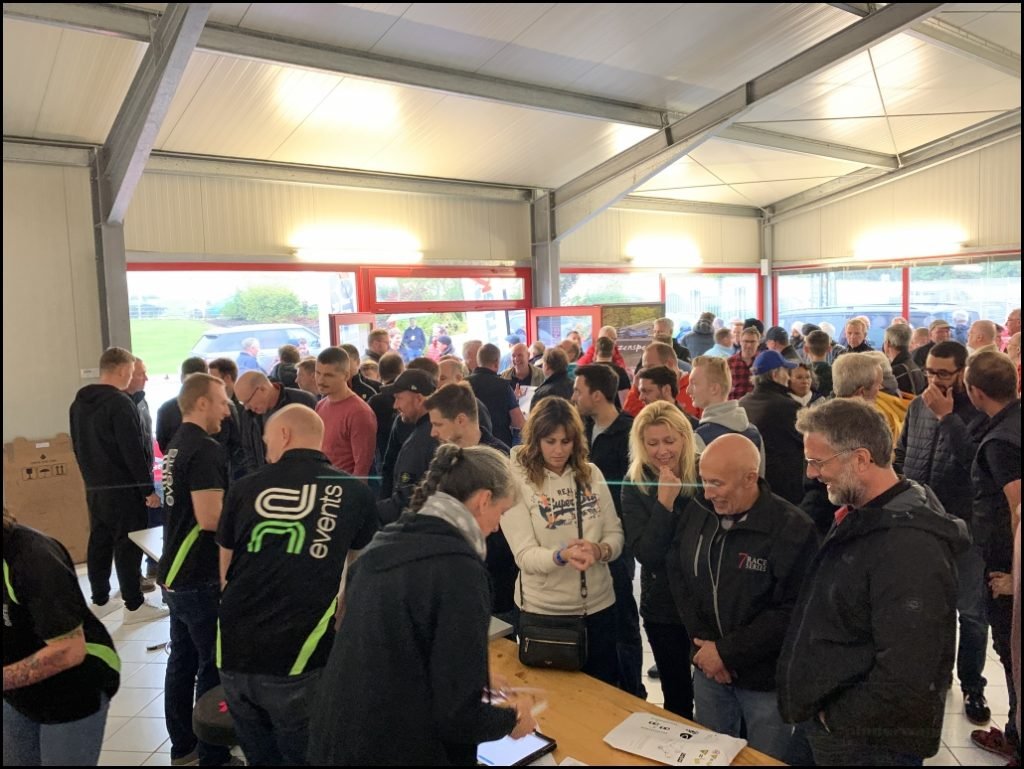 Darren gave the briefing as usual and when he asked if there were any first timers on the event, only 2 or 3 hands went up. It seemed so long ago that I drove my first lap of the Ring and it must be very exciting for those people to be just beginning the journey that for many of us has become such a large part of our lives.

There was an evening track-walk planned and Gav joined Ian & Jude on it. The coach has a guide who explains parts of the track whilst driving and then they stop at certain point to explain things in more detail

Gav. At Ex-Muhle "Nige, it`s so steep ! You just can`t appreciate when driving how steep it actually is " I`ve walked the whole track a couple if times over the years and I agree. When you are driving you simply can't appreciate all the bumps and the gradients involved. The walk up kesselchen is FAR longer than it feels when you driving at 130mph and above that's for sure.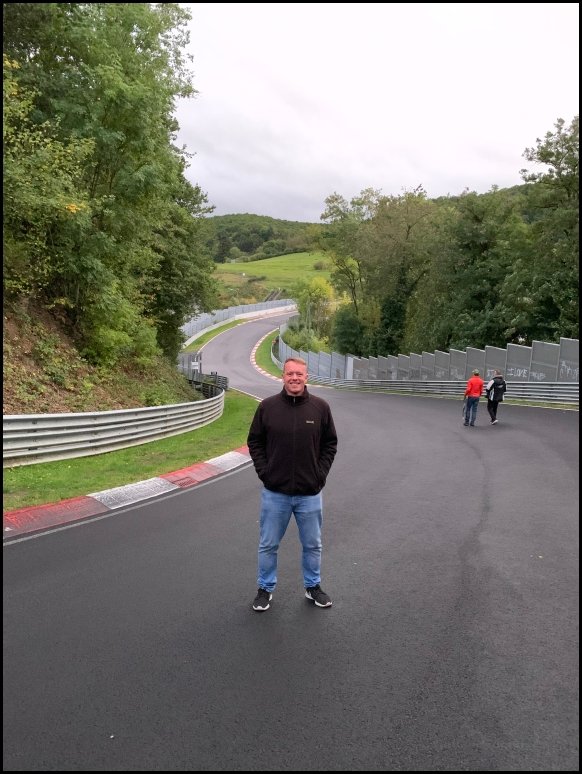 It soon became dark and the tour was over. Back to the guesthouse and after a quick shower we went for the evening meal at the Pizzeria in Nurburg.

No beers here as I`m driving tomorrow so soft drinks are absolutely fine. Whilst I like a beer or 2, when I'm driving on track the next day I stick to juice. Pizzas weren't bad actually and I'd happily go there again. Good service, nice food and within walking distance to the guesthouse.

Alarm was set for 06:00 but yet again I woke well before it went off. Sent a message to the whatsapp group and the number of immediate replies showed I wasn't the only one excited to be here and wide awake well before 06:00 
First job was to unload the Golf and park the trailer in the overflow carpark. Gurds drove his down from the guesthouse and then we wandered around for an hour talking to other drivers.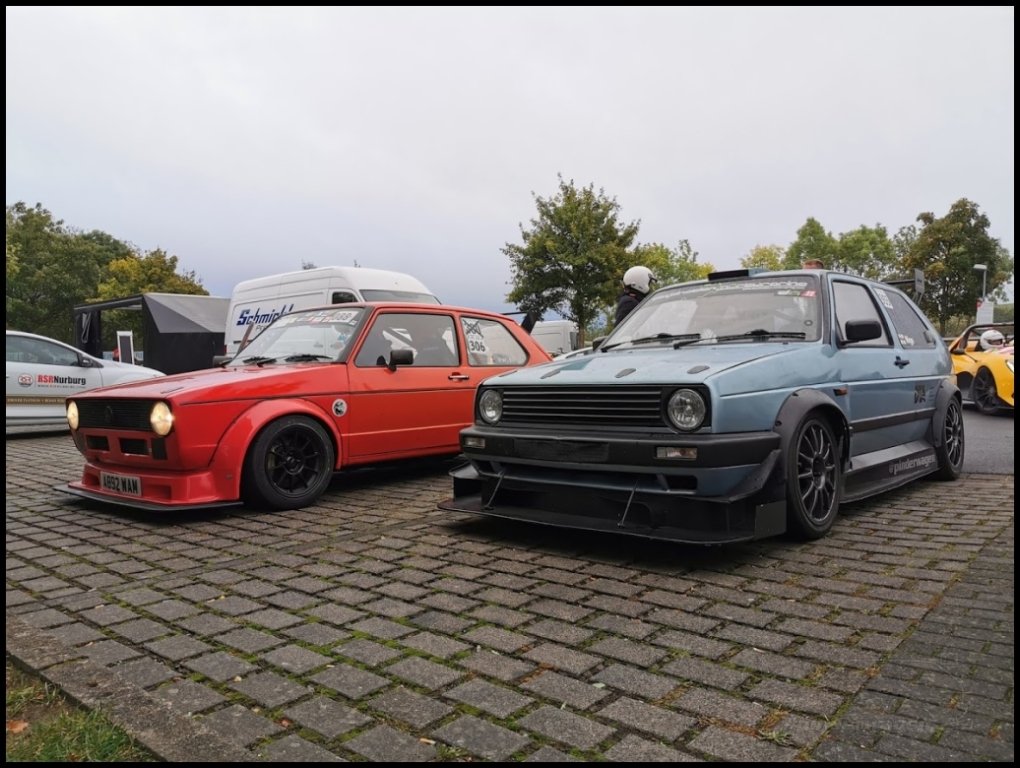 At 08:00 the track open for the 1 hour of sighting laps. These aren`t the usual follow-my-leader type, but simply a way for people to drive the circuit at reduced pace, not overtaking anyone just to refamiliarise themselves with the track. We always speak to the drivers to remind them of this and the fact that when it goes open pitlane it`s overtaking on the left hand side only.

Gav came out with me for the first sighting lap, Gurds followed and I made a point of driving the correct lines but doing it in an exaggerated way so he could see what we`d talked about beforehand. If it was a wide entry, I made it really wide which afterwards he said helped a lot.

I then followed him for a lap so I could see his lines and discuss them afterwards. His overall lines were good but there was definitely some fine tuning that could help. Turning in too early and not running all the way to the outside on the exit was the main area for improvement. That's simply because he hasn't done as many laps as me and is still unsure of certain parts of the circuit and it's something I've seen time and time again with relatively inexperienced Ring drivers. Even if like Gurds they have done plenty of UK stuff, the ring is different and they often subconsciously leave a little bit of extra margin but not running out on a corner exit. All that actually does is make the exit tighter and loads the car up more. I did the same when I first started coming here back in 2005.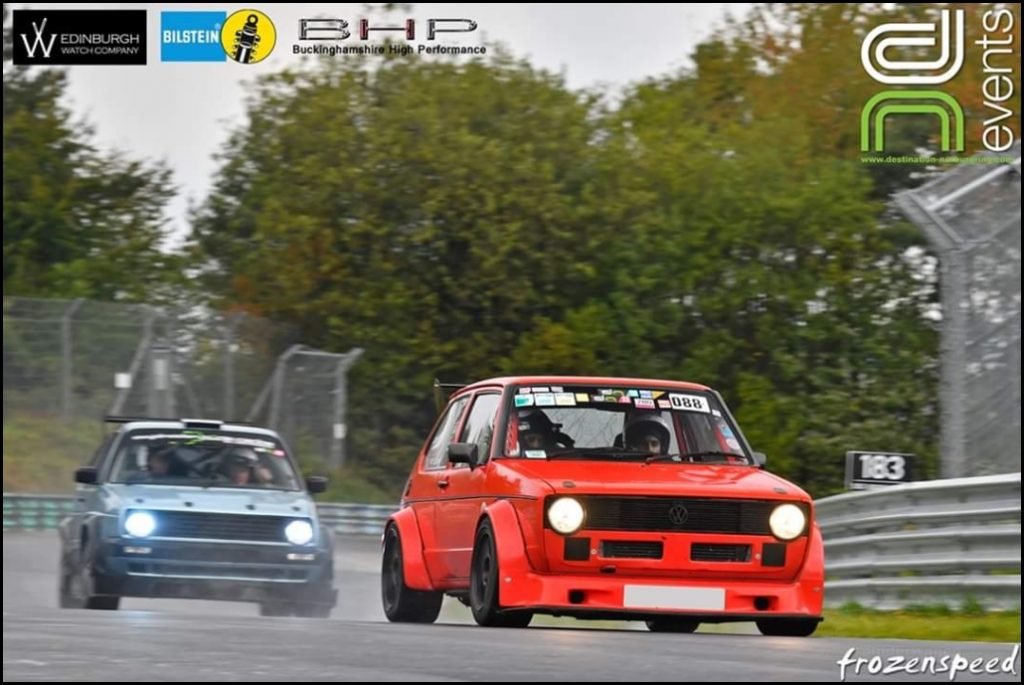 My old windscreen washer hose had perished and I only noticed a few days before the trip, so we used some clear hose we had in the garage. It lasted 2 sighting laps before the heat from the Turbo melted it 
 The weather forecast was decent so I removed the hose and managed without for the rest of the trip.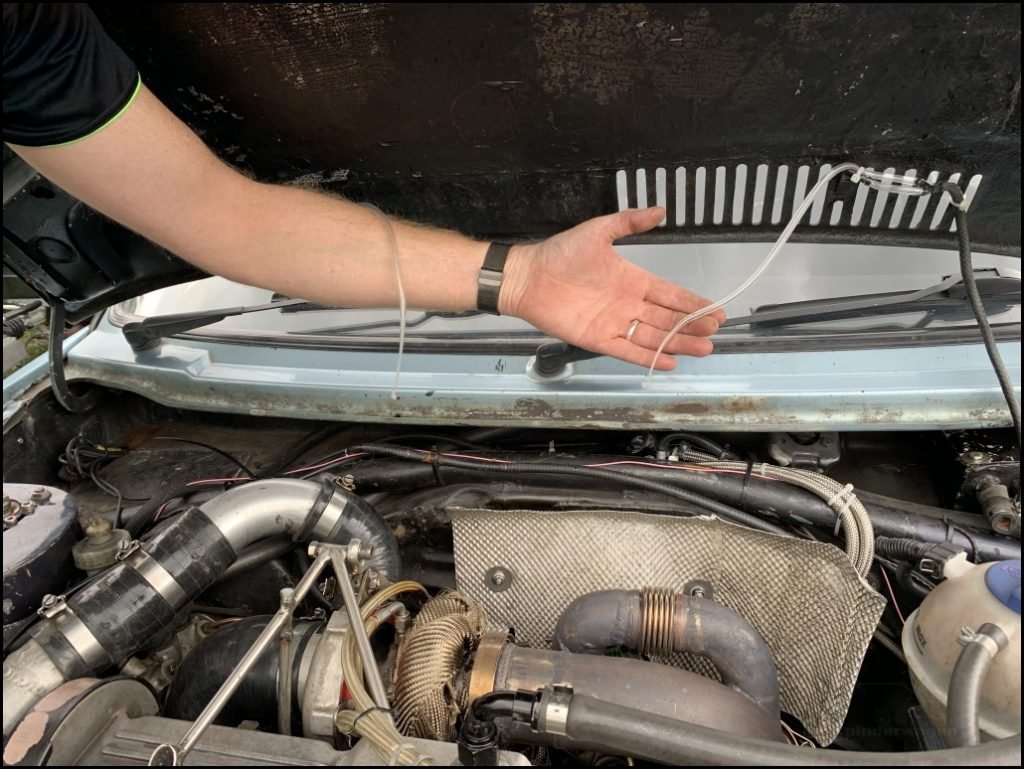 The track was live and it was time to begin lapping at speed. I started off with 2 laps, came in to adjust the tyre pressures and went straight back out for another 2. That`s 4 laps out of the way in the first 3/4 of an hour and no problems to report. The low pressure oil switch hadn`t alarmed so even though I didn't know the exact oil pressure, I knew it wasn't dangerously low at any time. The Accusump was working, the display on my dash showing the accusump capacity and when it was active was working well.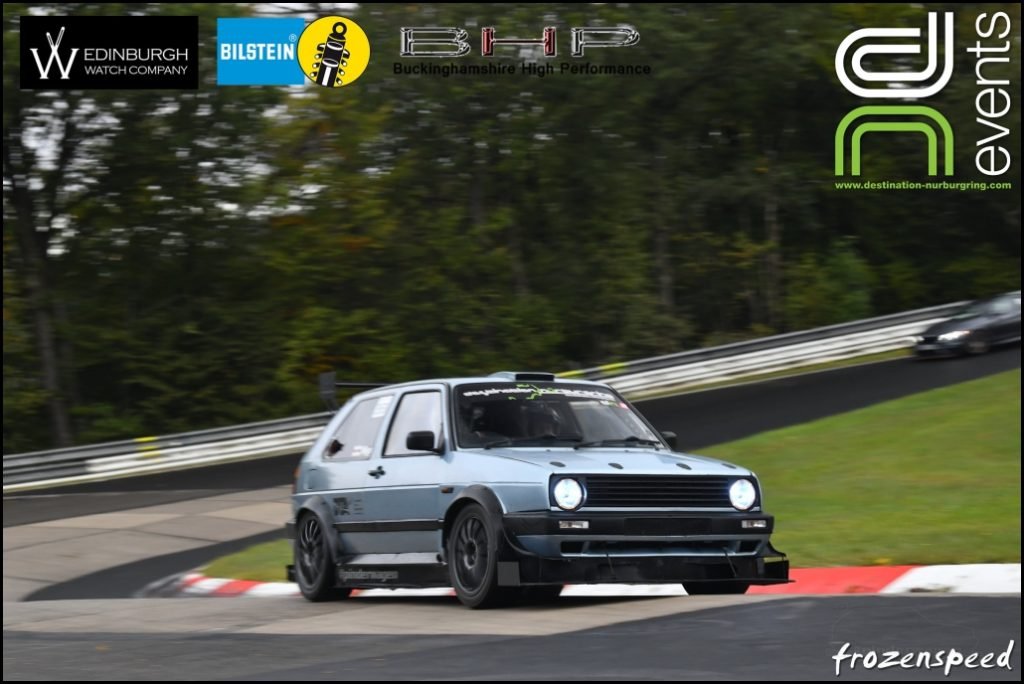 Matt was free and came out for another 2 laps. I think this is the happiest I've been with the Golf for some time. It felt absolutely fantastic. 
 I'm still not using all the braking capacity I have available but I was definitely improving, so much so that even Matt said I was braking harder than usual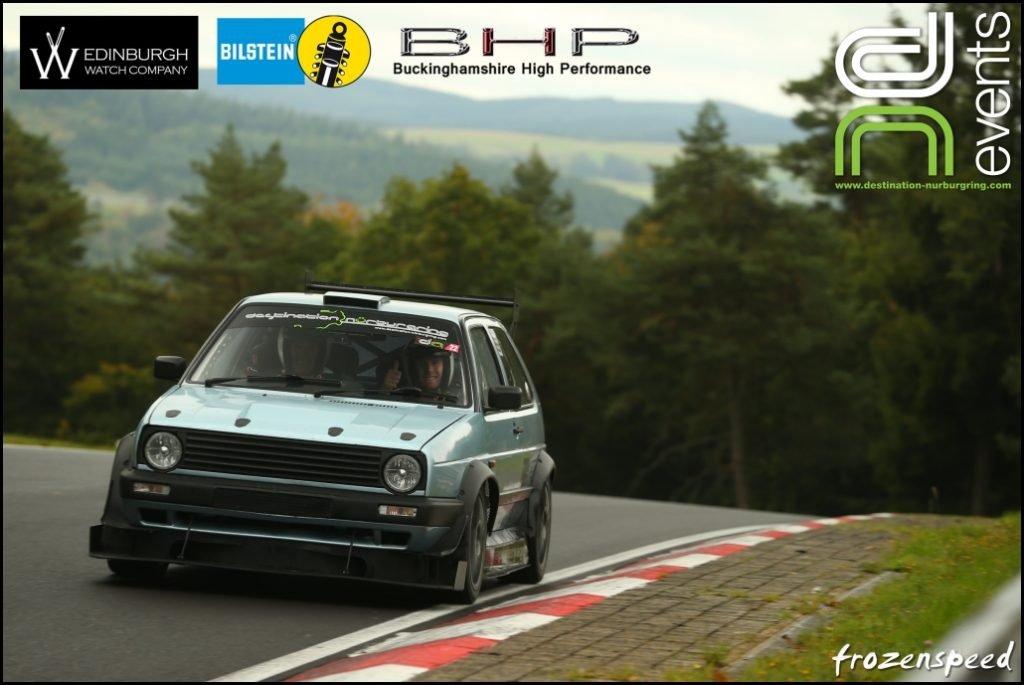 We had a short rain shower that made the tarmac damp so I used the opportunity to pop across to the carpark to fill with fuel and adjust the fuelling.
Once everything was up to temperature, the injector table and boost curve needed a mild tweak. I find that when everything gets hot I sometimes need to adjust the settings a little after any modifications. I never need to touch them again but this was the first time with the new turbo in hot weather as using full boost for sustained periods is something I can't do in the UK. The straights simply aren't long enough. Map adjusted and it was time to get back out on track.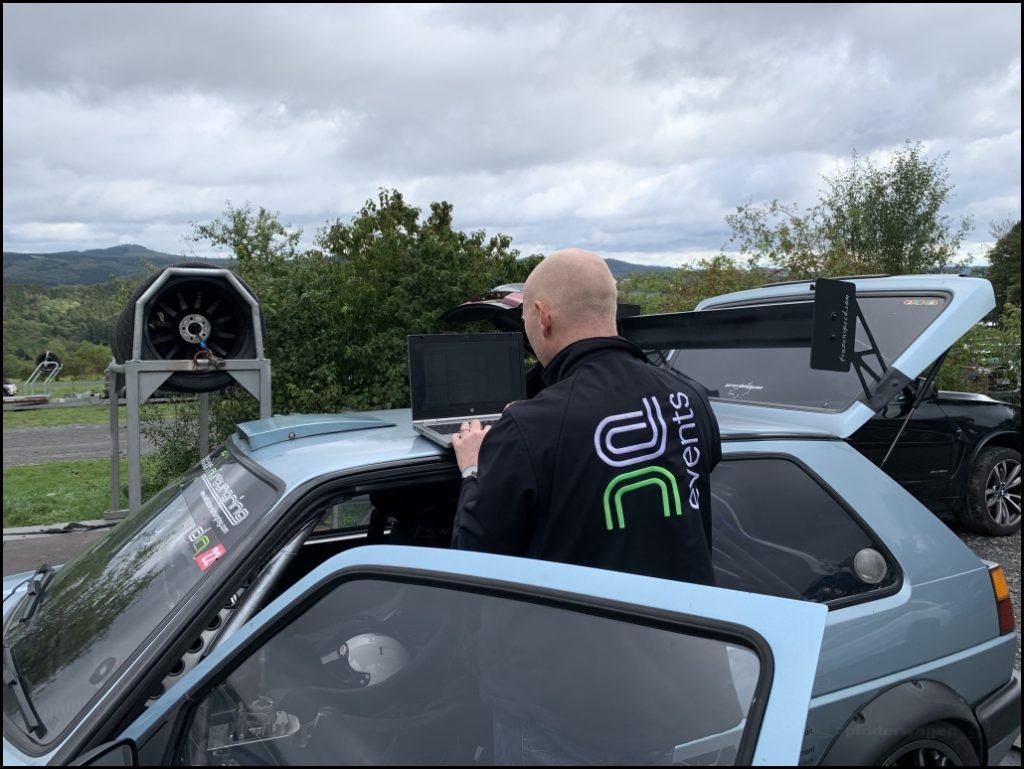 Gav jumped in for a couple of laps and whilst damp in a few places it was rapidly drying and at the end of the second lap a Porsche and Ferrari tagged onto the back of me. I moved across exiting Adenauer Forst as I thought they may have been quicker but they moved to the right, indicating that they wanted to follow.
By Weirseifen the Porsche wanted to go past so I let him by.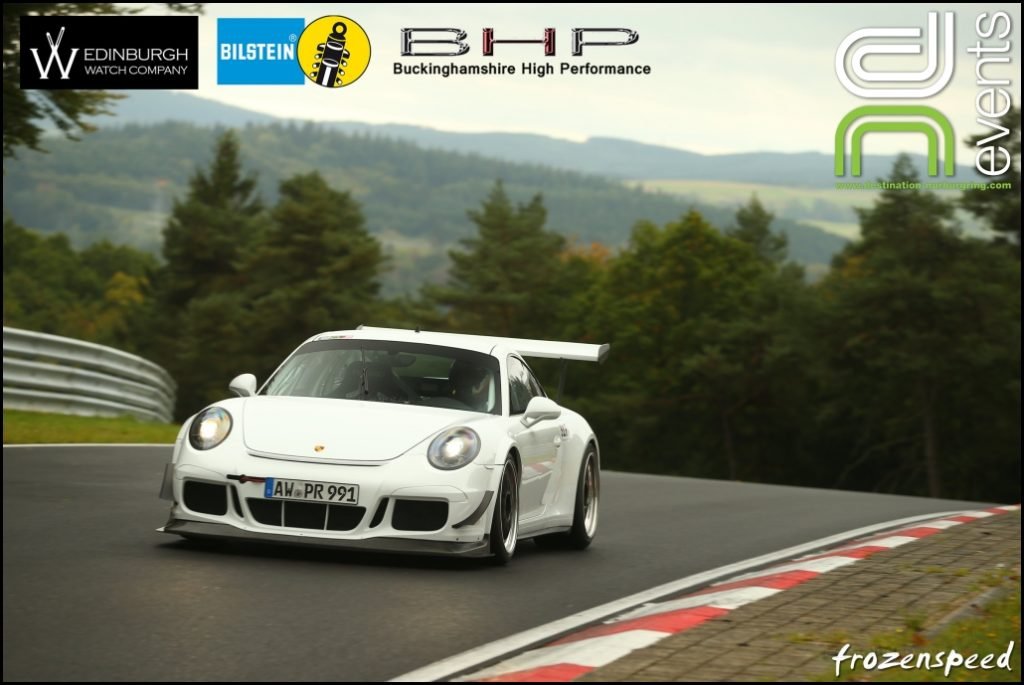 Approaching Breidscheid I moved to let the Ferrari by but he was happy to follow.
What followed was one of those laps. I didn't know the driver so I didn't follow as close as I would with someone I knew but it was still great fun and seeing his exhaust glowing cherry red at the top of Kesselchen made it obvious he was pressing on too.
By the end of the lap Gav was absolutely buzzing he said "Nige, if I don't get another lap this trip I'll be happy. That was amazing ! We were chasing a new Porsche GT3 in a MK2 Golf. This is AWESOME 

!"
Matt came out for another couple of laps, he asked if there was anything niggling me, I was delighted to reply that there wasn't a single issue. The car was running perfectly.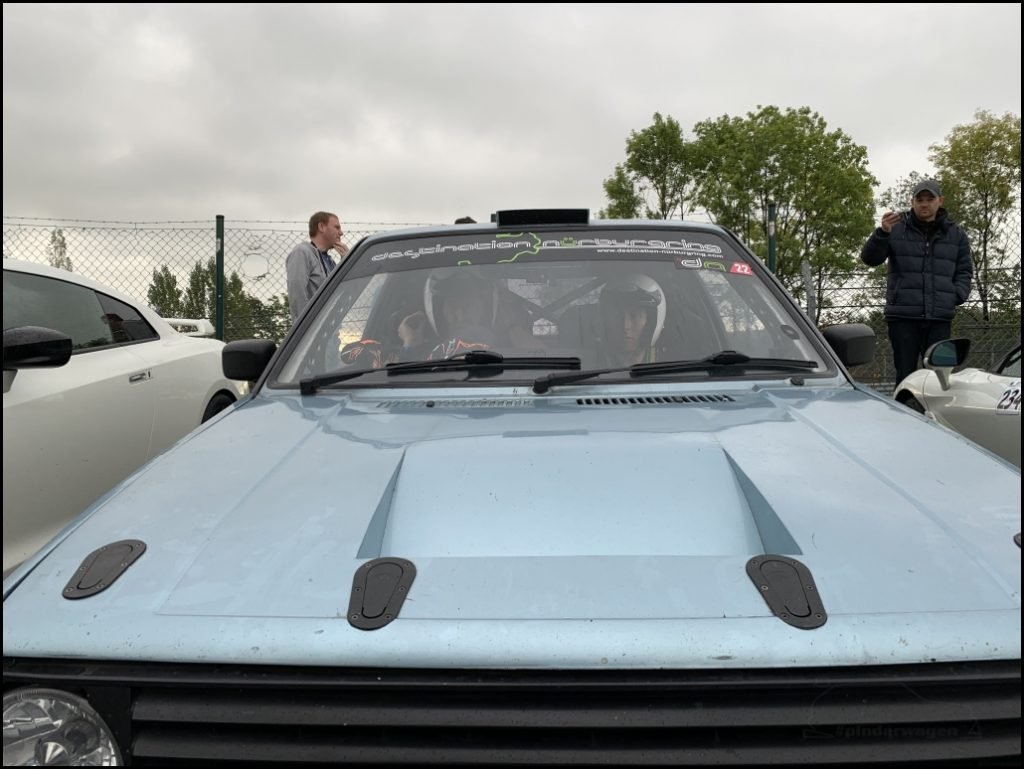 It started drizzling again so back on with the Direzzas for a while. It was one of those days, dry one lap and damp the next. I often leave the slicks on until it's raining heavily but in places there was just a bit too much standing water so for the sake of a quick wheel change I swapped when necessary.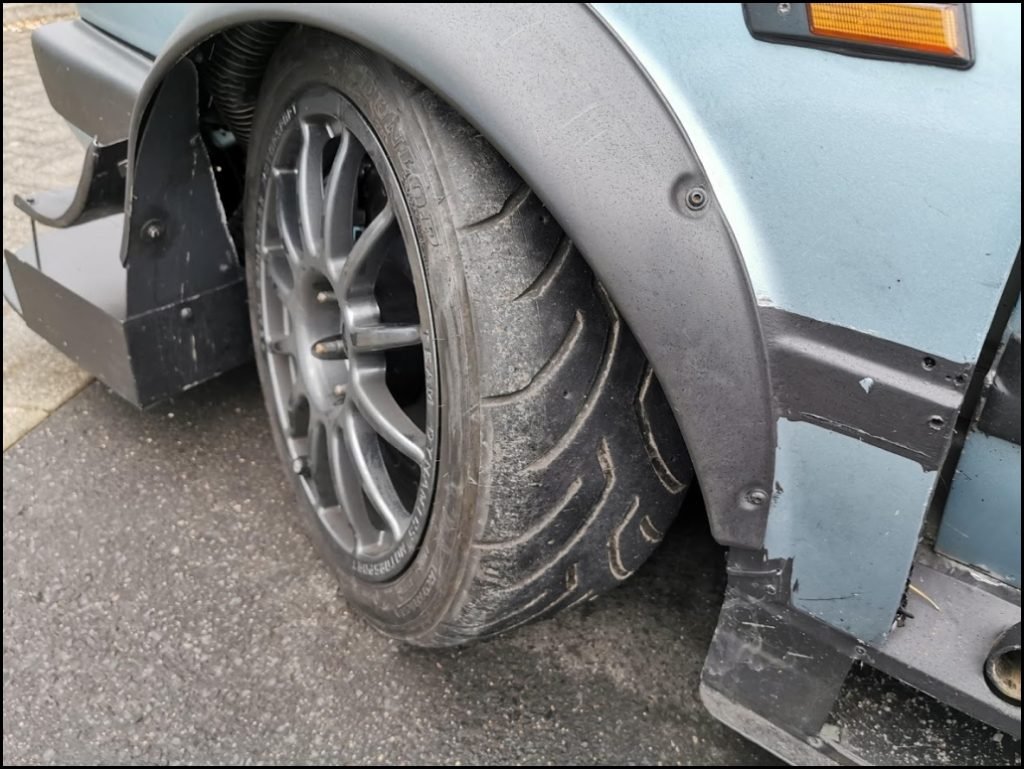 After the laps we pulled into the carpark where I wanted to give it a quick check over.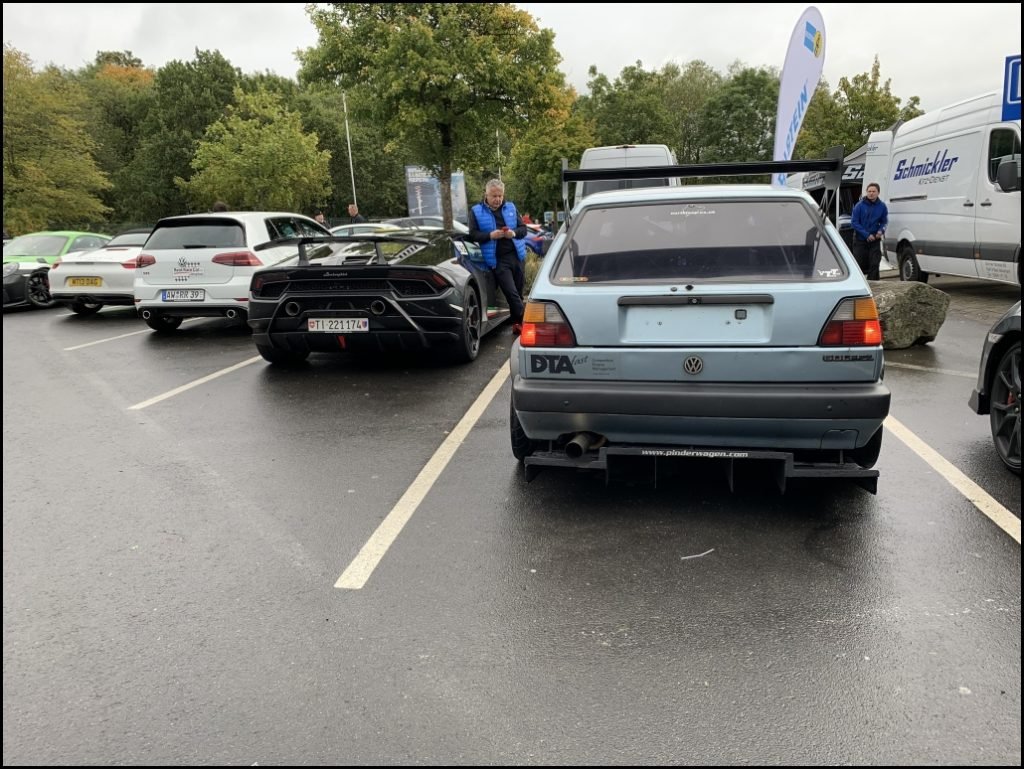 The Golf has been burning oil for quite some time now. New valve stem seals didn't fix it and there is no noticeable smoke from the exhaust. It definitely isn't external so whilst annoying, I know I'm not putting oil on the circuit. What it does mean is that I need to top it up every so often.
Parked up next to a lovely Lamborghini and popped the bonnet. A crowd quickly formed as often happens, the first question was "What's broken ?" Nothing ! It's fine !

I don't think anyone believed me until I pointed out the oil lever was 1/3 way down from max and all it needed was a few hundred ml to top it up 
Everytime I'm on a trackday with mates we end up being on track out of sync with each other so Gurds and I made a conscious effort to do a lap together.

Where else do you see so many GT3RS's together and being driven hard on circuit !. Admittedly here they are taking a break between laps.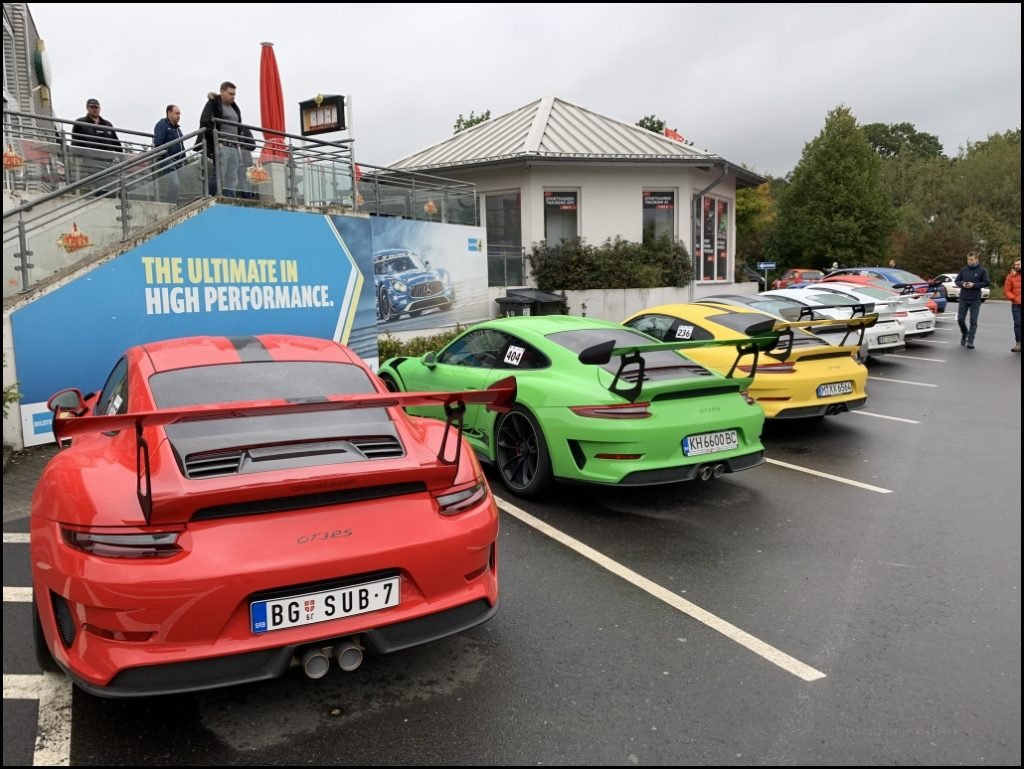 I took Karin out for a lap and as we were over halfway round when the Tyre pressure monitoring system started beeping. The front left was showing 16psi so I backed off. By the end of the lap it was 12psi so I knew I had a puncture. This lap alone made it a very worthwhile £25. Without the warning I wouldn't have known and could easily have had a complete tyre failure. The warning alarm gave me sufficient warning to slow down and drive back nice and steady.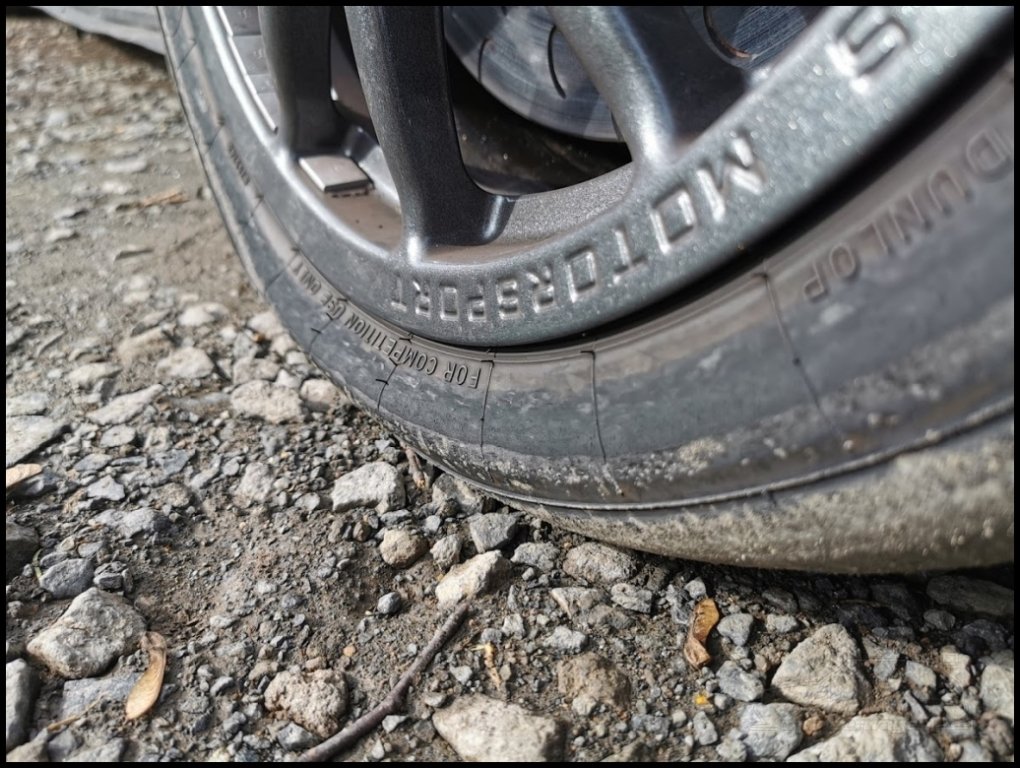 It was late afternoon and I'd been lapping all day with zero engine or other issues. I'm sure everyone who spoke to me could hear the relief in my voice after the disastrous Ringmeisters trip.

Matt was in with me doing a couple of laps on the bounce and we caught Ali near the end of the lap. Rather than pass we sat behind him for a chase lap and it turned out to be a thoroughly enjoyable one too. My line into Miss-Hit-Miss wasn't ideal and we had a bit of a moment midway through the corner. Not what you want at all !
The driver cam wasn't working again so I overlaid some data instead showing the various temperatures of water, air and oil. As you'll see they are extremely stable.
Everytime I have a lap like this I see the appeal of these M3's, they are so good ! Even though they were released 20 years ago, the design still looks clean and with a bit of modification they are proper track weapons too.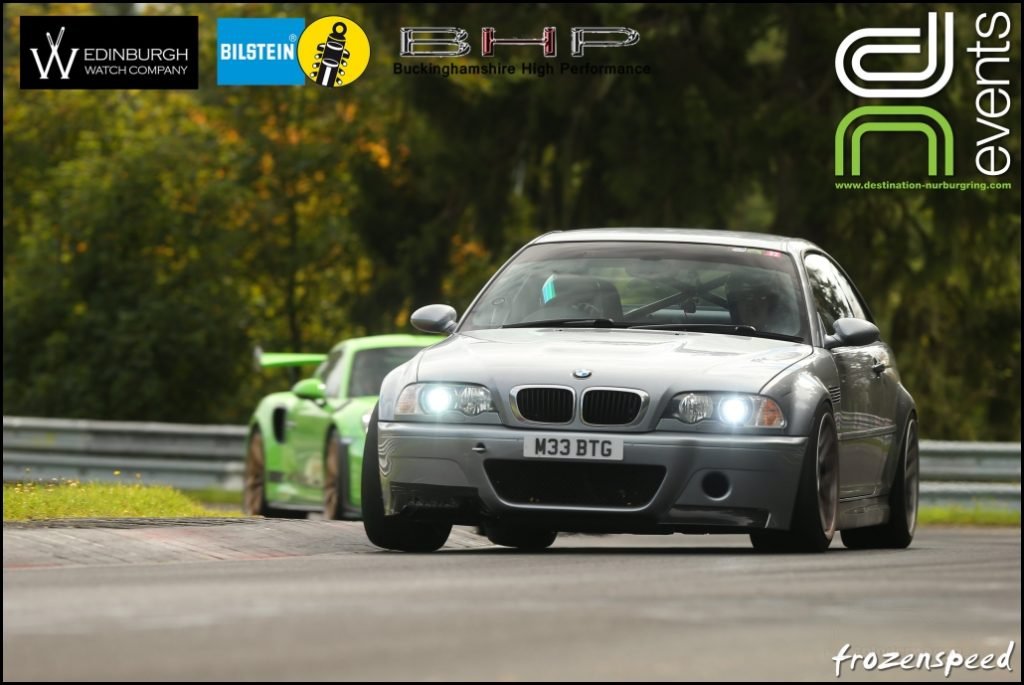 After one more lap it was the end of the day. I had absolutely nothing that needed doing. I don't think I can adequately convey what a relief that was. 

 The first few laps of the day were spent with me watching the accusump operation as much as the track, seeing it working and knowing that was maintaining the oil level was a big relief and by mid morning I just concentrated on driving. I didn`t use high boost that often, I'm still aware of the CV joint weakness so just kept lapping and lapping.
Over 20 laps completed and not a single issue.

After a quick shower we headed down to the Comfy Corner for the group meal. I know we do this every trip but as I`ve said many time, that`s because we always have fantastic food with a great atmosphere. Why wouldn't we go back 
We usually call it a night somewhere between 22:00 and 23:00, whilst I'd like to stay late there is no point spoiling the driving tomorrow by being over tired.

Day 2
Unloaded the car in a wet carpark. It had rained quite heavily overnight and the forecast for today was changeable. It made me even happier I'd had the quick laps in the dry yesterday.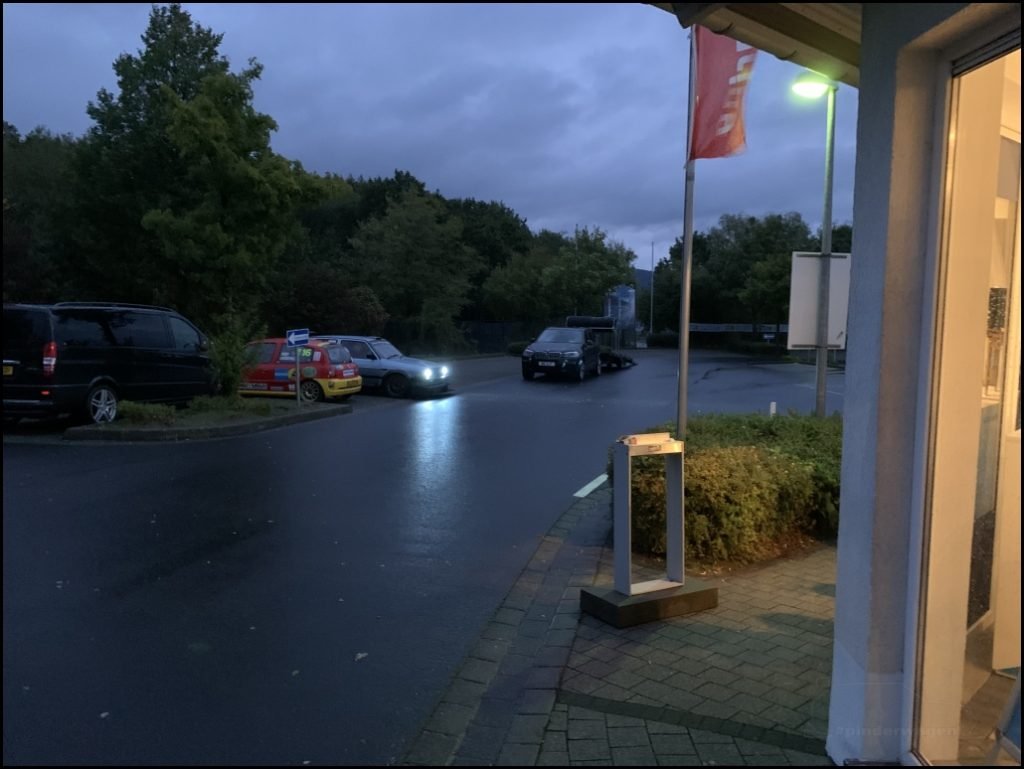 Gurds and I gave the windscreens a clean and then went out for the sighting laps.

This was to be Ram's first EVER driving lap of the Ring ! We'd agreed it made sense to do it on the sighting laps, he wouldn't feel under pressure from other cars and could follow me.

Sahib had been in my passenger seat and I'd talked him round the entire lap, explaining braking points, gearchanges, late apex corners and unsettling bumps. My voice was hoarse by the end of it but he found it informative.

The usual post-lap debrief whilst I borrowed the tyre compressor to set my pressures as they'd dropped overnight.

As the forecast was for rain I went out straight away with the intention of making the most of the damp conditions and get in as many laps as possible before the heavens opened.

The tarmac still had that sheen you get when it's greasy so whilst I had to be careful, I still pressed on. The biggest indicator on photos is the lack of sidewall flex compared to a committed lap in the dry.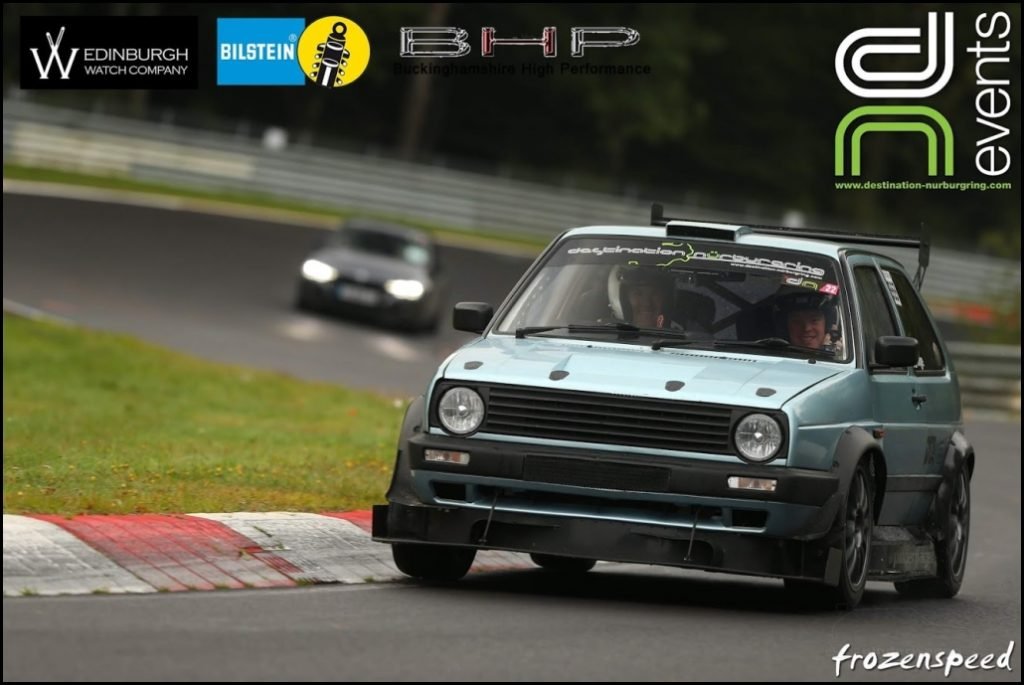 The bodykit on Gurd's car means fitting a splitter is not only a lot easier but it looks a lot better too. Without this bumper the MK1 is very difficult to run with a splitter and still look good. You'll notice mine is quite a bit higher, that's simply because I haven't dropped it since switching from 15'2 to 17″ tyres. That's a job for the winter, it should improve the effect of the splitter quite a bit, as within reason, the lower they are to the ground the better.

By mid morning there was no real sign of a dry line appearing, it kept drizzling every so often just as the track started to dry out. The only solution, more lapping to keep the tyres warm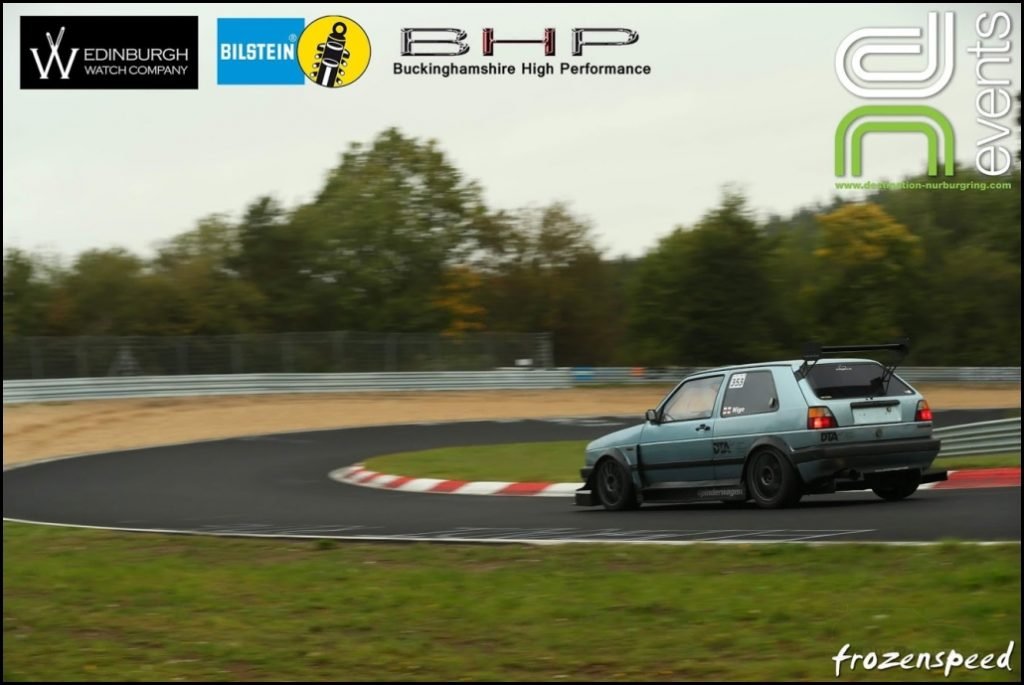 I noticed the AFR was going a bit lean at the top end, not quite sure why. Perhaps it's the low ambient temperatures having some odd effect ? I adjusted the fuelling map a bit to address the issue. It turned out later this was the first indication of a fault that was starting to develop.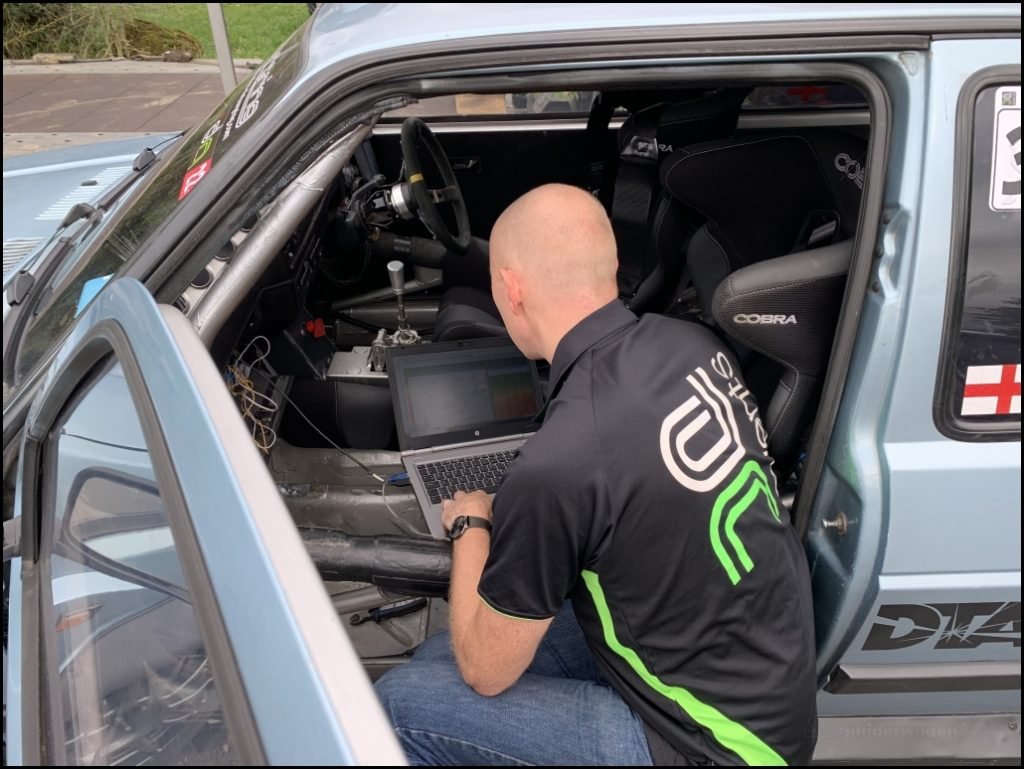 Then the sun came out and I had a good session of lapping, calling back in the pits to swap passengers and going straight back out again. This hour alone left me buzzing. I didn't do any really fast laps, I always hit traffic just when I didn't need it but I was lapping almost continuously and the car didn't miss a beat. I was actually driving to manage the tyres, I can overheat the front's if I do long sessions and this trouble free run enabled me to really start to focus on the little things, lifting that fraction to tuck the nose in instead of relying on the diff to pull it round. They just drop the load on the tyres that little bit but over the lap it made a difference, dropping the fronts by 2degrees C compared to a lap when I just drove as usual. Overall it was slightly slower but very interesting at the same time.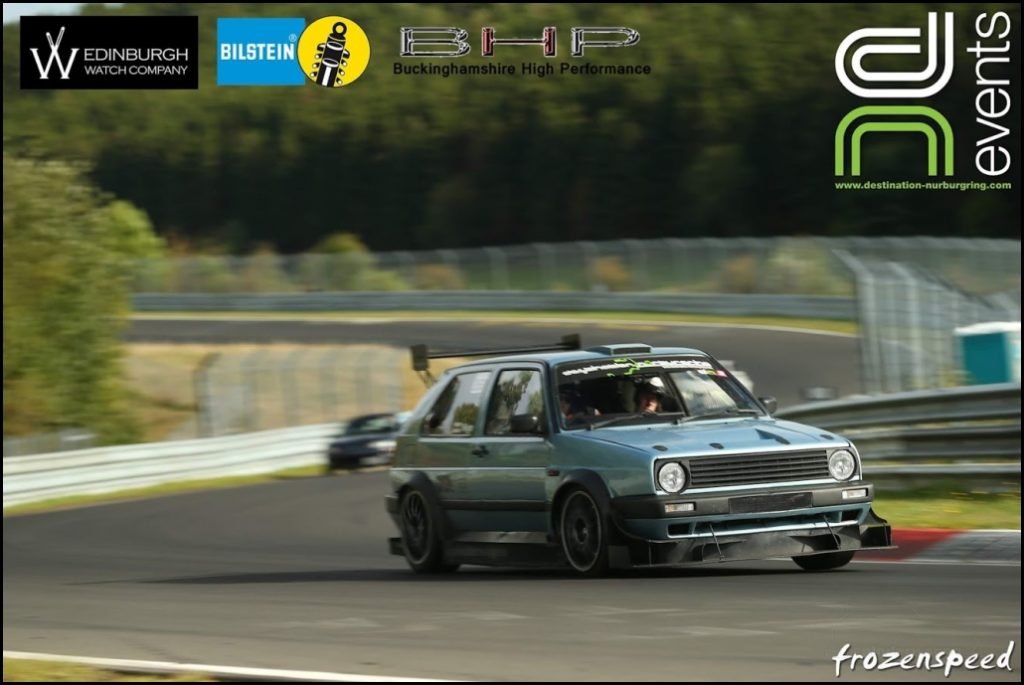 Then the skies started darkening.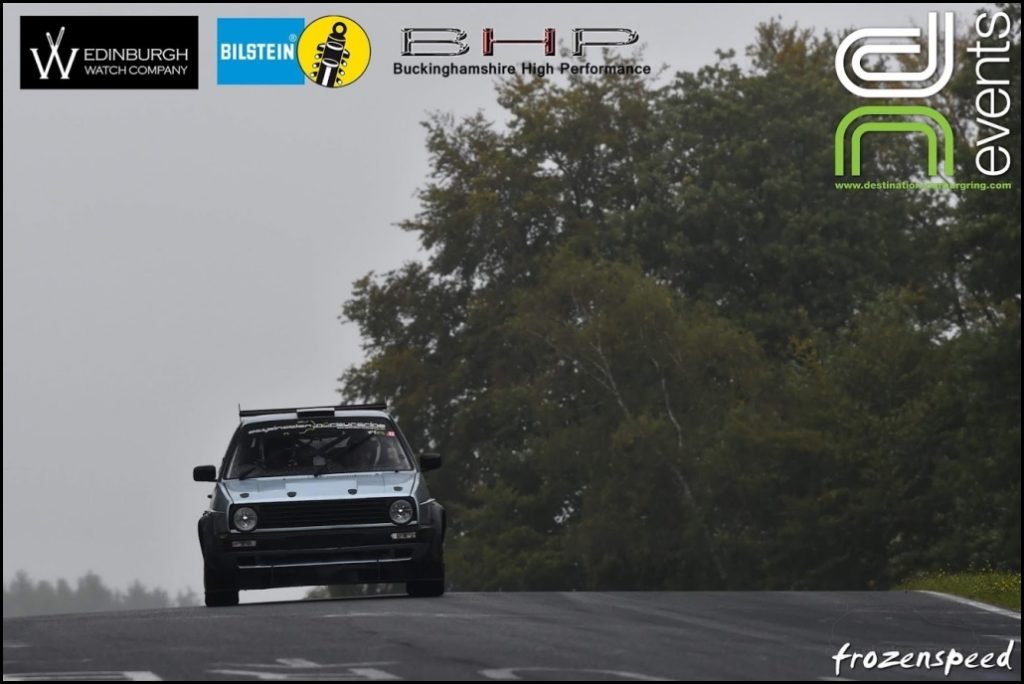 Then it started drizzling.

Across to the carpark and I swapped from the Slicks to the Direzzas. It didn't look like heavy rain was coming but it was wet enough that the slicks were losing temperature quicker than I could build it.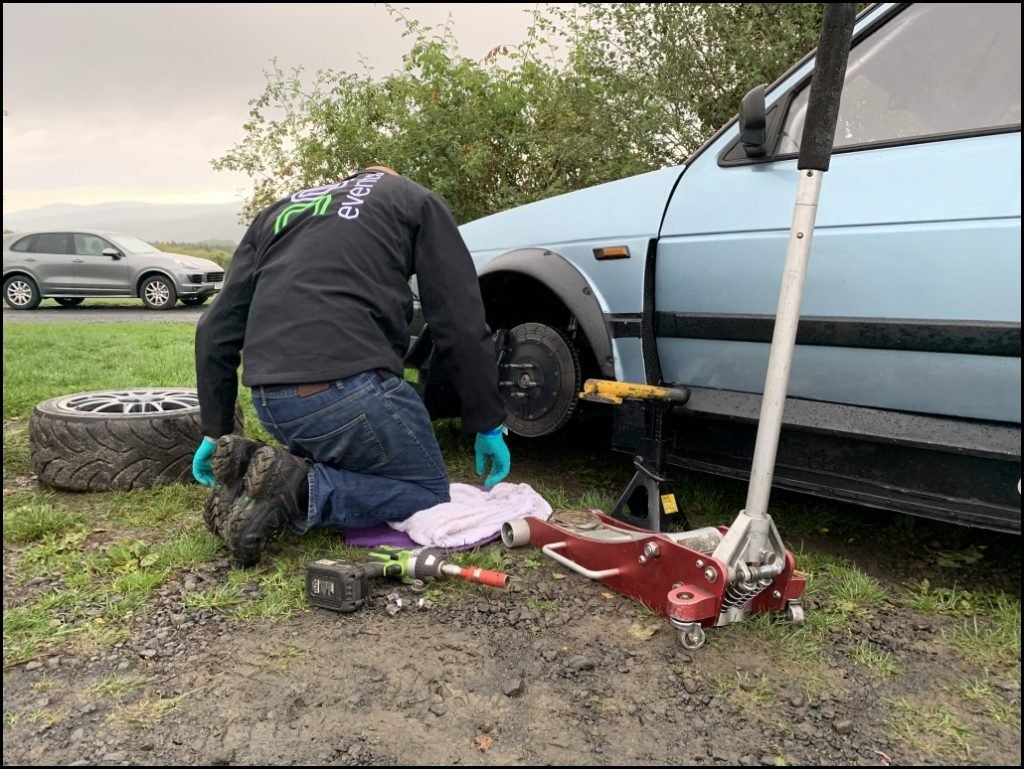 I was on the second lap on the Direzzas when it started raining heavier, they were still clearing the water and the pressures were good but the track surface was in that horrible place where it was greasy as the oils on the tarmac and the amount of water made it pretty slippery in places.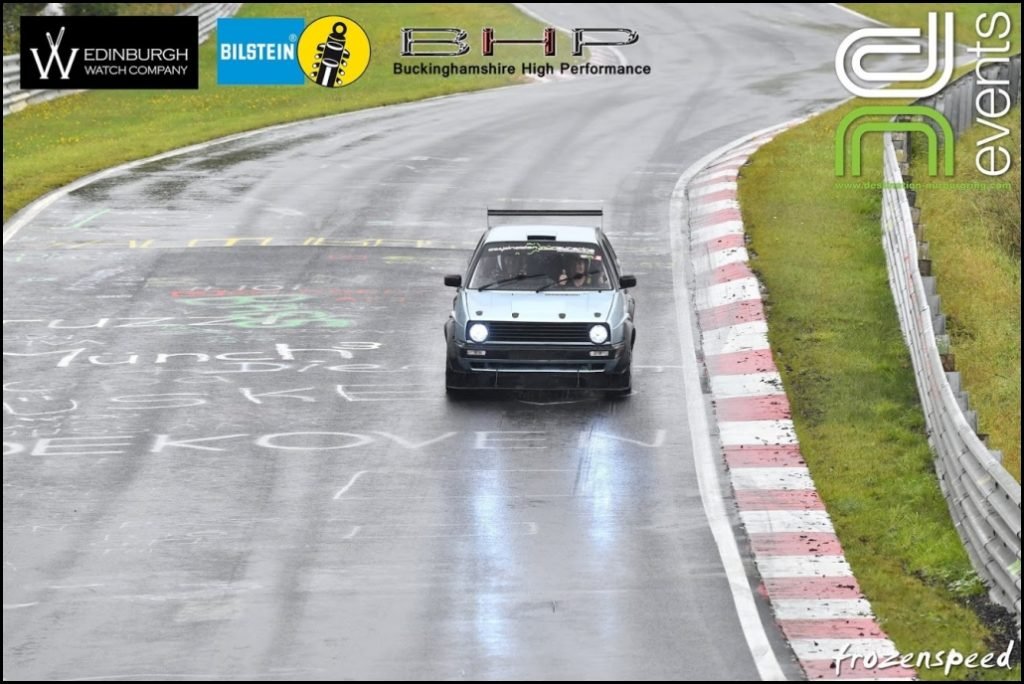 Quite a few cars decided that parking up and having something to eat was a better option.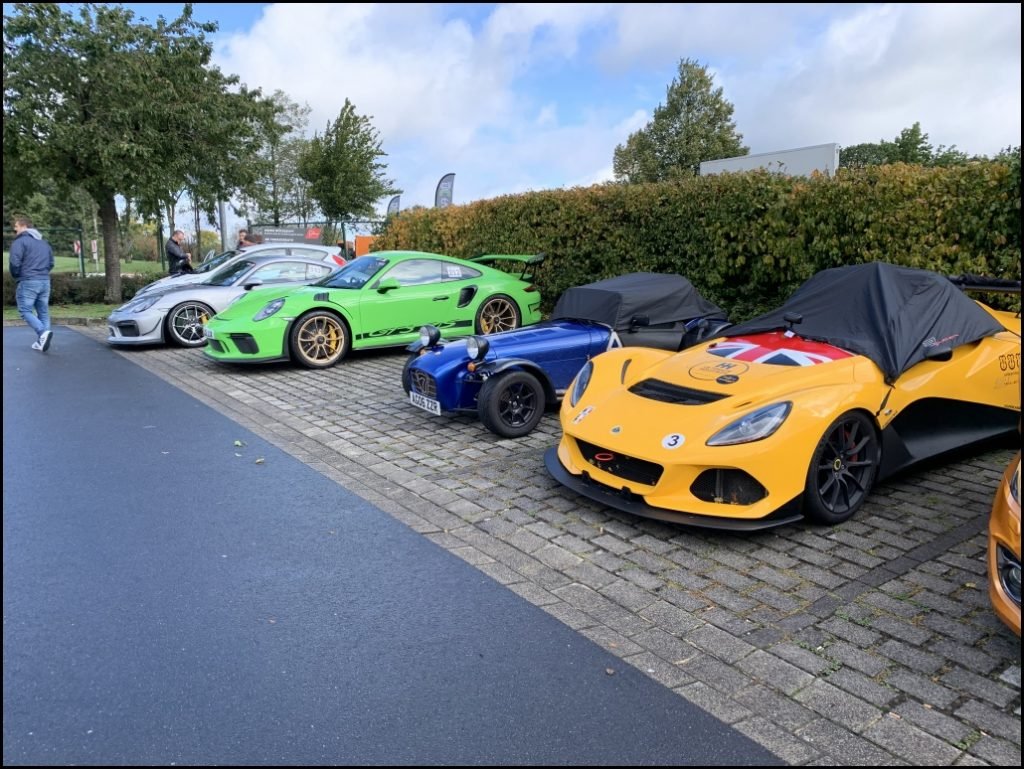 By now it was getting quite overcast and the rain really started to fall. As we arrived at the bottom of the foxhole to standing water I knew this was my last lap on Direzzas, they are quite worn now and are down to just about the legal limit. Clearing standing water is not what they are good it with this little tread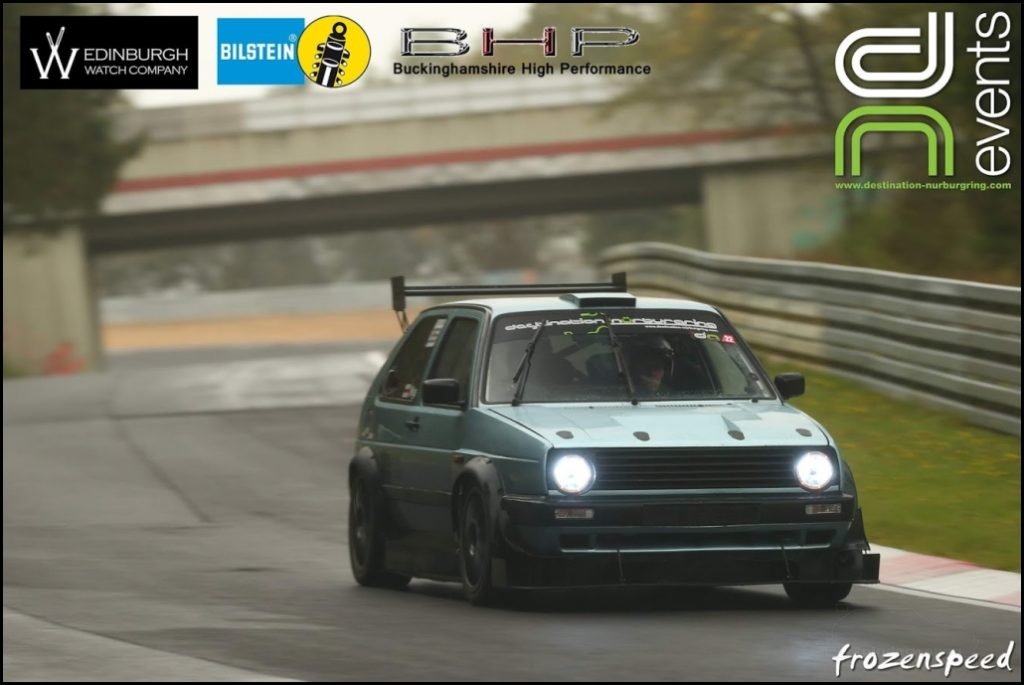 Back into the carpark for a chat, trip to the loo and a drink to rehydrate. What I forgot was to turn off vac pump, gearbox cooler pump and headlights. By the time I came back to start the car the battery was flat.
A quick boost and I was sorted, note the front tyres are so warm they are still dry whilst the rears are still covered in water. It's just so difficult to get temperature into the rears in conditions like this.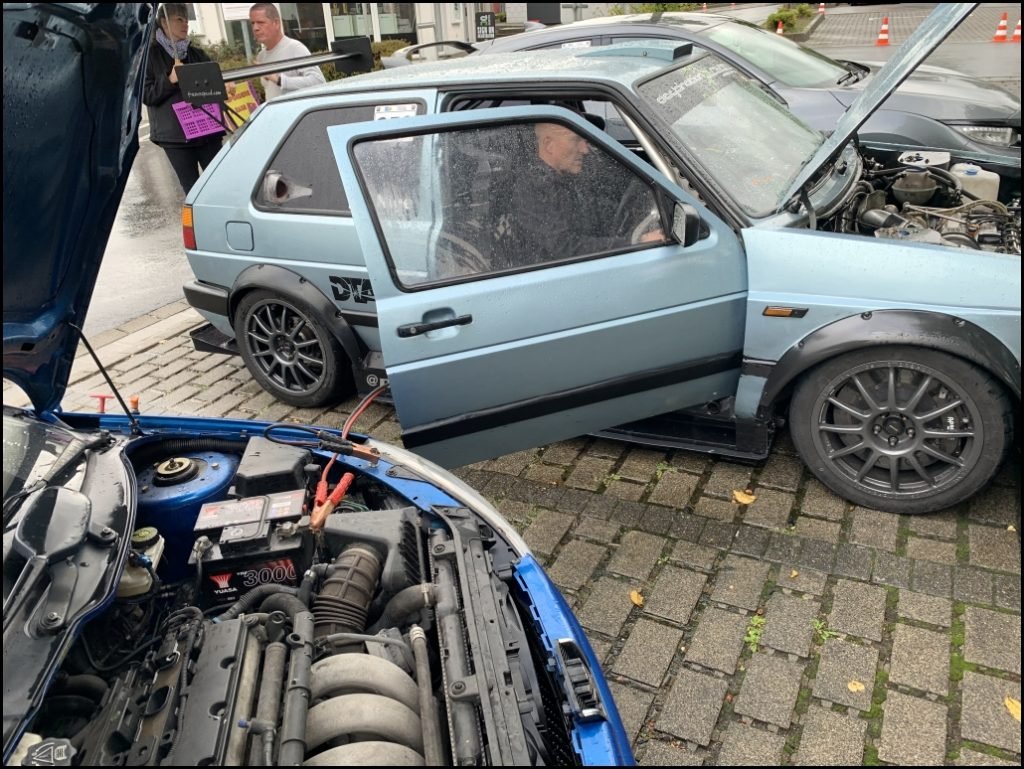 Matt & Gav to the rescue ! They quickly swapped from the Direzzas to the Toyo RR1 tyres which are much better at clearing standing water. Fair play to them both, it was chucking it down by now and they got stuck in and swapped the wheels without complaint.

Matt added a couple of jerry cans of fuel, the hope was I could run until the end of the day without having to stop for fuel again.

By now there was quite a bit of water on the track surface and the tyres did a brilliant job of clearing the water. Obviously they can only do so much and I'm always feeling for the amount of available grip during the lap.
In conditions like this I really appreciate the photographers staying out and getting photos, they are out in all conditions and it's easy to forget that when you are sat in a warm and dry car.

I asked Gurds if he fancied a video lap so he went out with my following. Ram was my passenger. Locking up into Hatzenbach on the standing water Gurds decided to back off and crawl round. He was on AR1's and they just weren't good enough at clearing the large amount of water. There were streams running across the track in places, especially the first half and it required a lot of looking ahead to see them and ensure the wheels were straight and I was on part throttle when crossing them, it's very very easy to aquaplane in conditions like this !
At 9:25 on the video above I spotted Martin taking photos and commented to Ram, my passenger that next time I'll take a bit more kerb and that should hopefully make a decent photo.
Sure enough, the next time round I took more kerb and Martin was there to capture this cracking photo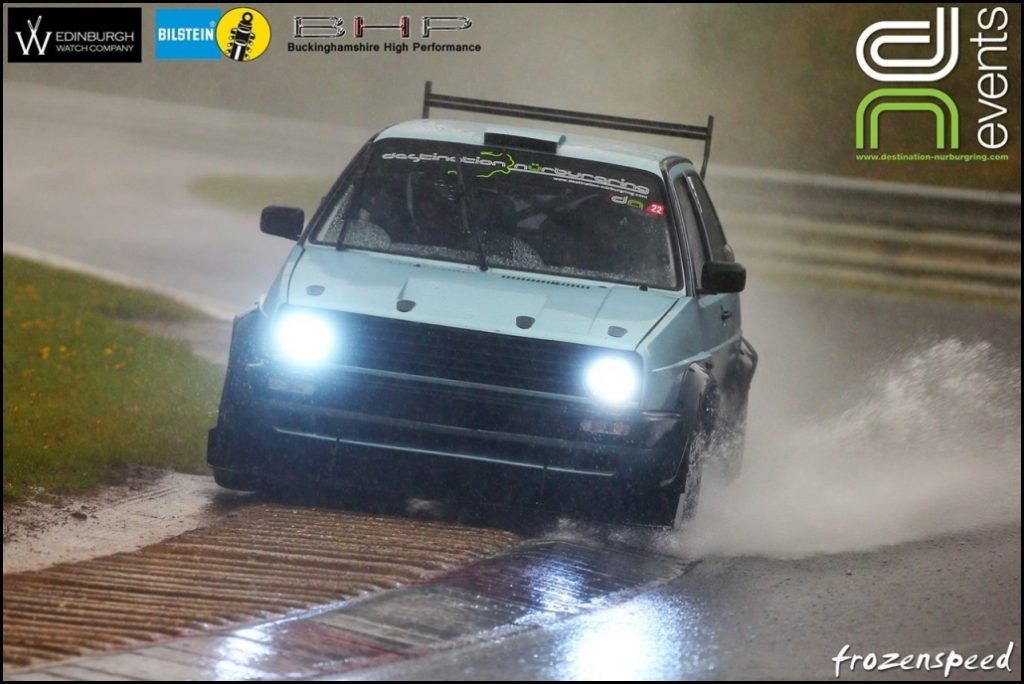 Most people had called it a day but the rain stopped falling and we were able to get 3 back to back laps in before it was the end of the day. This was the only queue I saw over the 2 days !

Neither Gurds or I had any failures over the 2 days and we were able to lap until we'd had enough. After my Ringmeisters issue this was obviously a huge relief. Running a car like this can be a bit of an emotional journey at times, I don't think I've ever felt as bad as I did in July since I crashed my old Golf back in 2007.
Today reminded me why I do this and run a modified MK2 Golf instead of something newer, the satisfaction I get from being able to lap and lap chasing M3`s and GT3`s whilst having a passenger and then doing it again and again is hard to put into words. I climb out of the car with a smile on my face, passengers who haven't been out often get out and can often hardly contain themselves, the performance of the Golf and how it actually feels on circuit is something that surprises passengers time and time again and whilst that was never the intention of the build it is most definitely a nice side effect of this journey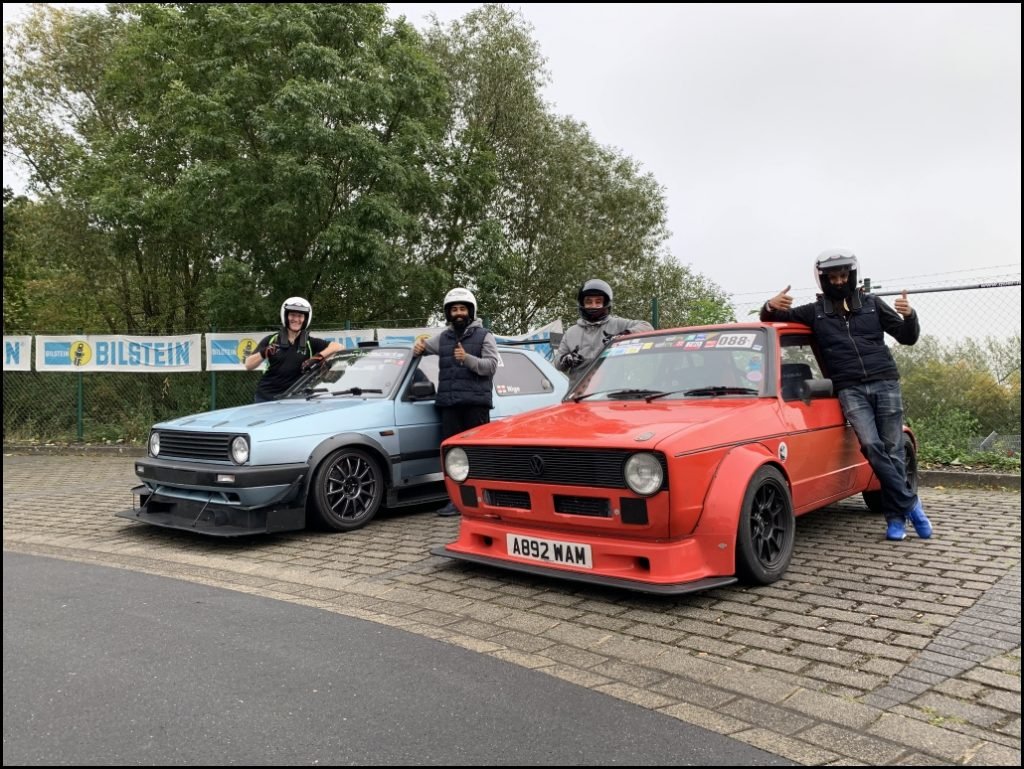 Apart from a self inflicted flat battery I had no real issue with the car (since this event I'd changed the aging gel battery for a new one. It now lasts far longer before running low) . The fuelling issue seemed to get slightly worse but then it started raining so I didn't use high boost anymore and it wasn't an issue. As you'll see in my Spa report, the adjustments I made were a warning of a developing issue…
After everything was tidied away we said goodbye to the rest of the helpers on the event and walked back to the guesthouse for a well deserved shower. The walk up to the Zur-Nurburg only takes around 15 minutes and we met up with the rest of the gang. We'd all had a trouble free trip and were in high spirits ! It didn't matter who you ended up sat next to, all of us were buzzing and were keen to hear about the laps we'd all had on the event.

Usually I'd post a bit about the drive home and that would be it but we had another trackday tomorrow.
At Spa…..