Some time ago, I asked for suggestions on 4-pots for my MK2.
I`d initially run G60`s with 280mm discs for several years. I `upgraded` to the 288`s off the MK3 Golf and later. Whilst offering a noticeably larger pad area, they came with their own problems, most noticeably disc cooling.
The vented part of the disc is vented from the WHEEL side, meaning getting meaningful ducting into the centre of the vanes is almost impossible.
This is the back of a standard MK3 disc, as you can see the inside is solid, nowhere for the air to be ducted to get into the vanes

The vents are opened to the OUTSIDE of the disc, which is useless on a track car.

I could have gone back to the 280`s, they vented better but ultimately didn`t stop as well (when cool) as the 288`s.
After the Club GTi Bedford Trackday in March, I found the issue worse than ever.
After a full cooldown lap of Bedford GT and the discs were still glowing…
It was time to bite the bullet and upgrade the brakes. I`ve managed with the OEM single piston calipers for many years now, with Carbon Lorraine pads, I still had great performance, but I just couldn`t keep them cool. Additional ducting helped a little, but now I`m reaching much higher speeds, the brakes are working harder and are finally crying enough.
I didn`t want to scrimp and buy 2nd hand calipers. Whilst many do, I`ve had enough issues with brakes and wanted the finished product to be RIGHT.
Had a long chat with Hi-Specabout caliper flex and in the end I decided I didn`t really want the usual `RR126` calipers.
However, the RR series need great wheels to clear them.  I COULD sell my 4 sets of wheels and buy 4 new sets of wheels with better brake clearance, but we`re just getting silly and that would only be to gain 10mm or so on the discs. Simply not something I`m doing.
Unless they fitted 16mm or larger spacers, they couldn`t get anything decent to fit. They had an option of the RR caliper with a 126mm pad,but I wanted larger if possible.
They then mentioned their `NEW` RX caliper. Designed to have a reduced outer edge, made for this type of installation, spoke clearance without the need for large spacers. It`s based on the RX132, same pistons and internal fluid design, but obviously a different outboard external half.
Apparently, I`ll be the first person to run these?. They have trialled a set on a customers rally car, but that`s on 13″ wheels with the RX-13 caliper, these will be the first set of RX-15`s out of the factory !!.
The important thing is they can fit a 290mm x 28mm RX-15 caliper with the standard AP 132mm pad, which is available in pretty much every compound you can think of.
So, an order was placed and after much waiting Croft was approaching. I spoke to Hi-Spec and they said they could get me a set, but it wouldn`t be as they`d like. I was prepared to take that and test them at Croft.
I ran them at Croft and the brakes were superb. I was actually able to move the brake bias rearwards a little, which I`ve never been able to do before !
However, there were a few issues that both Hi-Spec and myself wanted to sort out.
I rang them on the day after croft and Geoff, the MD spoke to me to ask about how I found the brakes. These were the first set they`d sold and obviously wanted some feedback.
I explained about the performance and how good it was, but also that there were a couple of areas that needed tweaking. The caliper was too far inboard and the disc was just touching on the lower balljoint on hard cornering, the spokes were a bit too close for comfort the the calipers and they hadn`t had time to anodise the Bells or add their logo to the calipers. He also informed me that in the rush, they`d inadvertently fitted aluminium pistons instead of stainless ones.
He asked me to send the whole lot back, at their cost, along with a hub and wheel and they`d put it right.
Unfortunately, I`m going to Germany for a 2 day trackday on the 22nd and 23rd, but the Golf needed to be on the trailer this weekend. That was a little tighter than I was comfortable with, but he guaranteed they would turn them around and I WOULD have brakes for the ring.
He wanted a hub sending, along with the wheel as when they measured it up, there was sufficient clearance and he wanted to understand why mine was different. I took several measurements myself and then Parcel Force were booked to collect the parcels. One containing the offside caliper, bell, disc and carrier, on with my hub, cv, LBJ, Studs, RC6 Pads, caliper, carrier, hub and rotor.
Guess which box Parcel Farce have lost. Yep, you got it, my bits !!! That`s TWO hubs, wheels and ancillaries they`ve lost
Hi Spec put a LOT of pressure on them to find the box, but they were unsuccessful. Absolute joke and incredibly frustrating.
Time was ticking by and Alex from Hi-Spec rang me to say Geoff was concerned the parcel wouldn`t arrive and they wouldn`t be able to measure and remake the necessary parts. He knew I had the nurburgring trip planned and said he would supply me an entire new kit, by the weekend.?
On Wednesday, I told Alex about the bracket modification I wanted, the bell increasing by 2mm and offsetting by 2mm to clear the LBJ.
On Thursday he rang and said it would be on it`s way. True to their word, I received a parcel at 08:50 on Friday morning.
RX-15 Caliper box.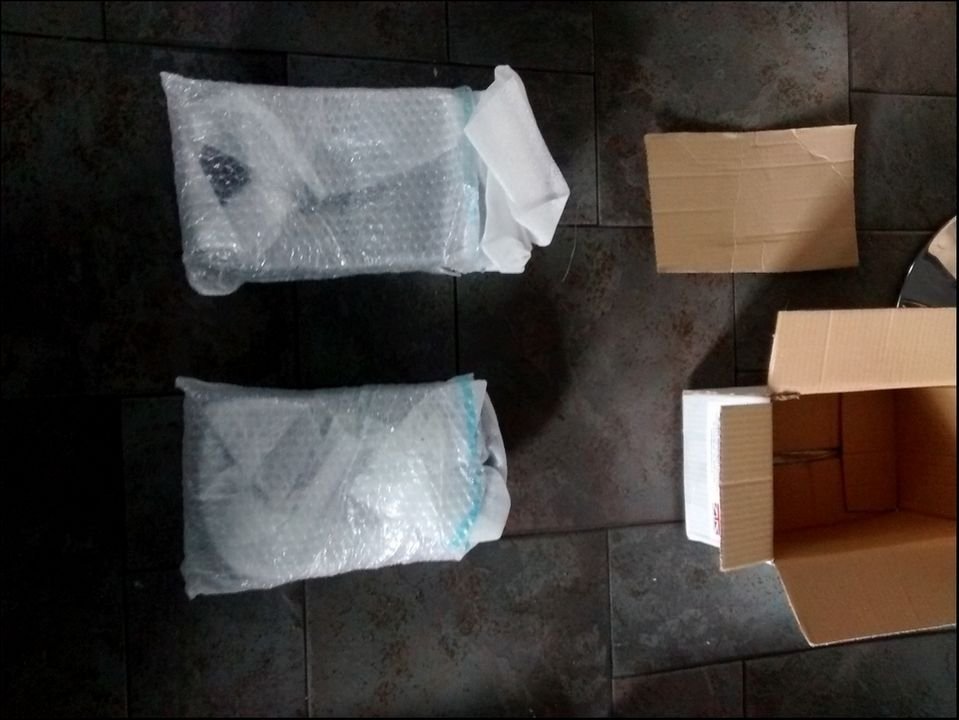 The RX-15 Caliper, built on Thursday, in my hands on Friday.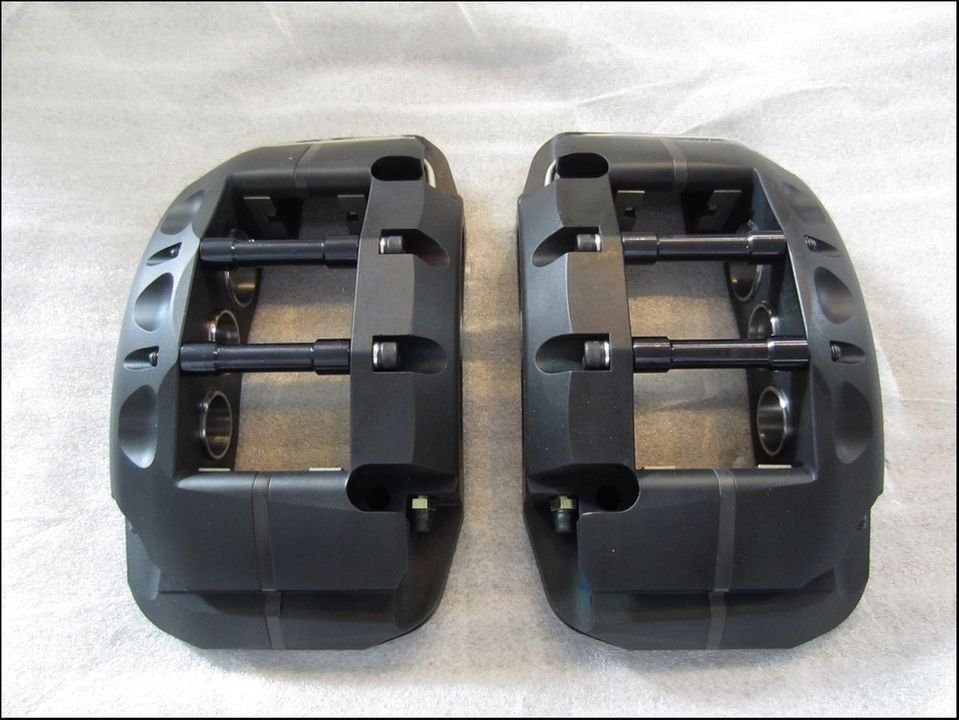 Oh, did I mention it`s 6-pot ?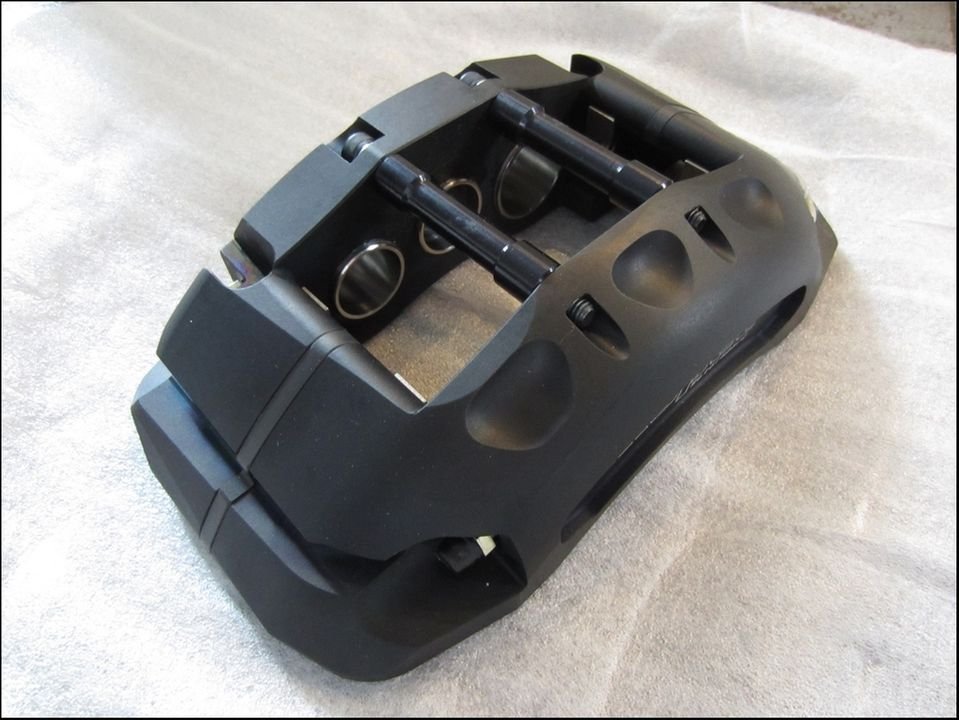 The key to the design is the radiussed outer edge, giving much better spoke clearance on OEM curved spokes.

They achieve this by having all the bolt heads on the INSIDE of the caliper, including the pad locating ones.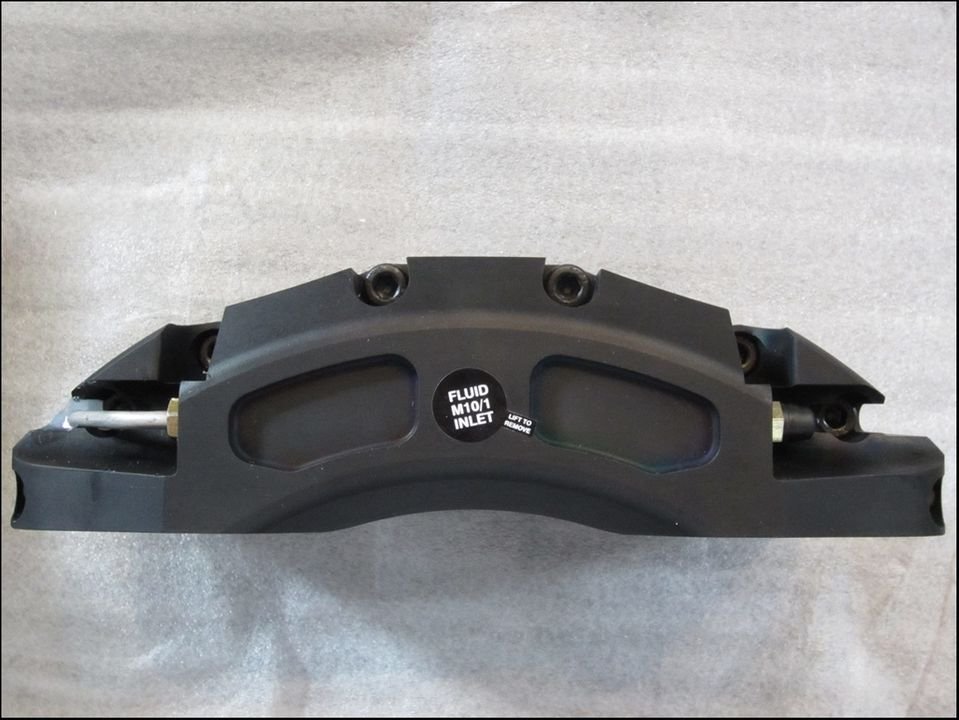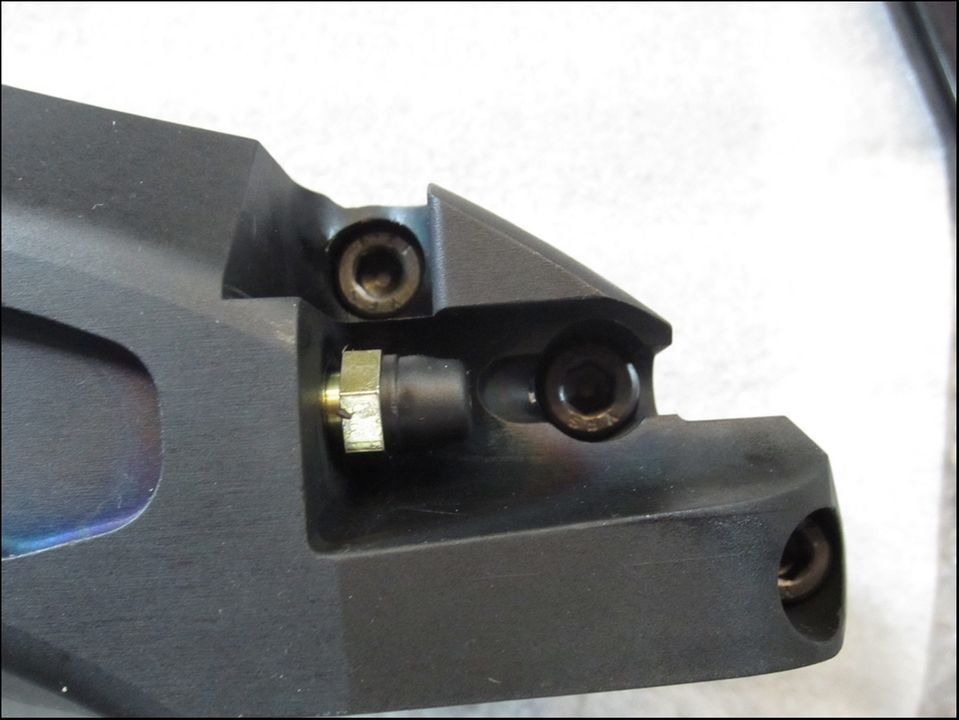 New caliper carrier brackets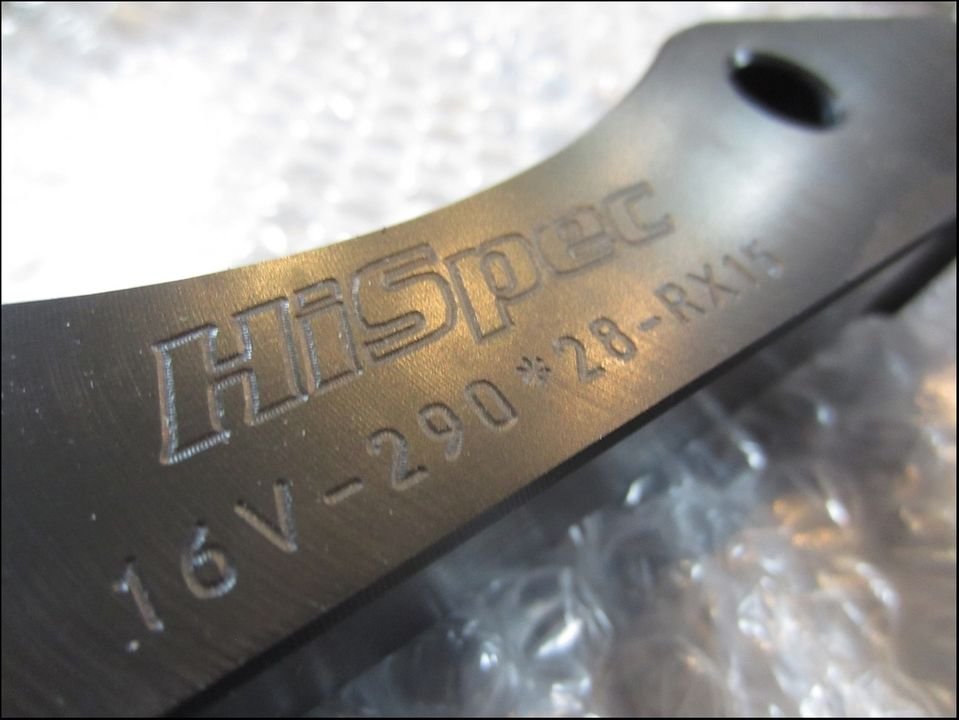 With fixing hardware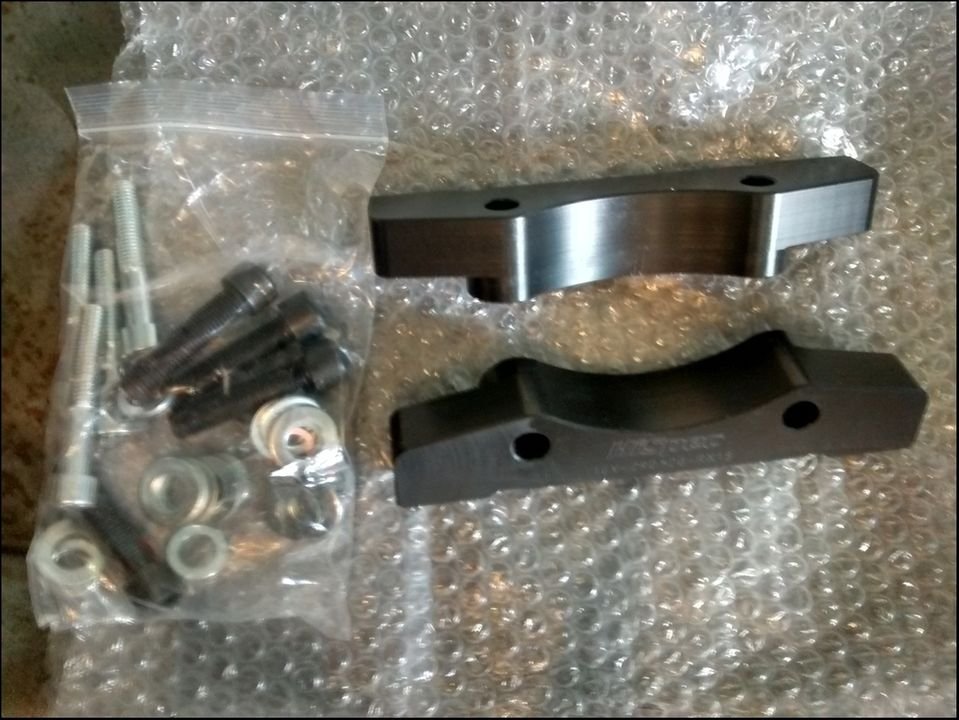 Aluminium bells with an extra 7mm integral spacer

Curved vane rotors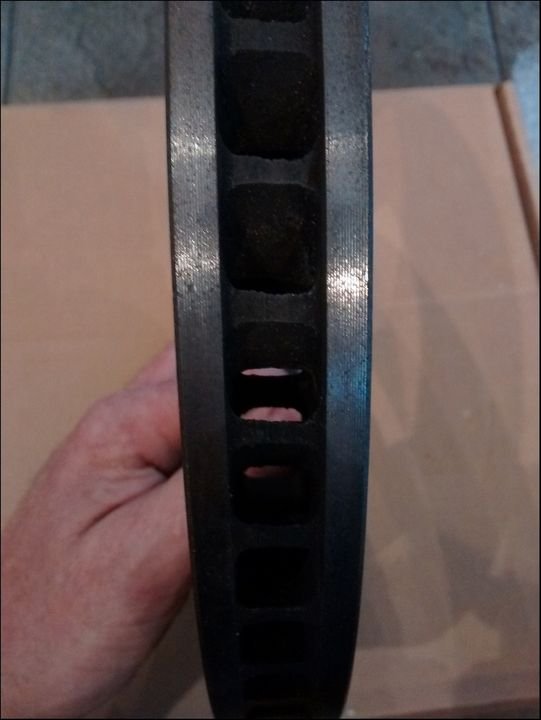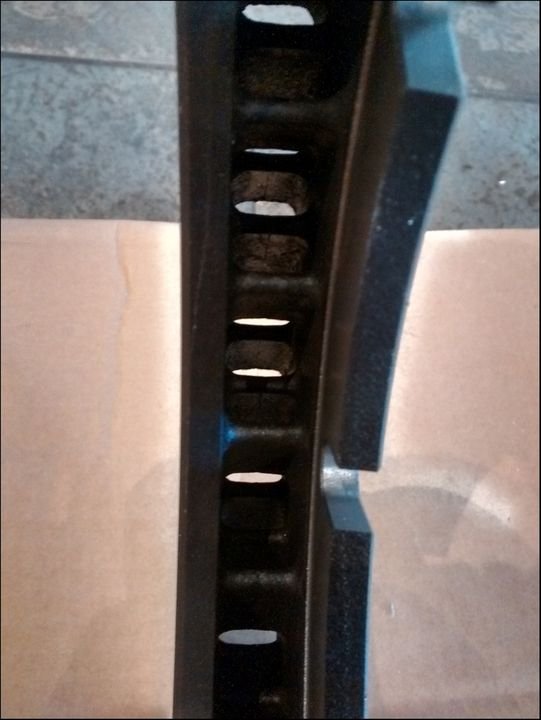 Hi-Spec have a different floating system compared to AP. Where AP drill the discs and slot the bells, Hi Spec do it differently, they have a hole in the Bell and a slot in the rotor.
The thinking being that over time, the sliding of the bobbin in the slot wears the slot and causes issues and requires a new bell. If you have the slots in the rotor, they can run harder bobbins, which don`t need replacing every time, ( they recommend new bobbins every 3rd disc). The wear is all on the rotor, which is a consumable part anyway. Sounds much better if I`m honest.
Slotted rotor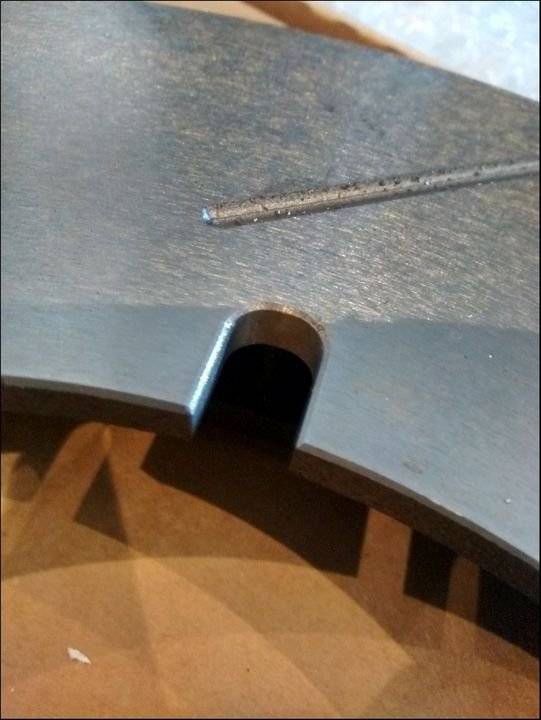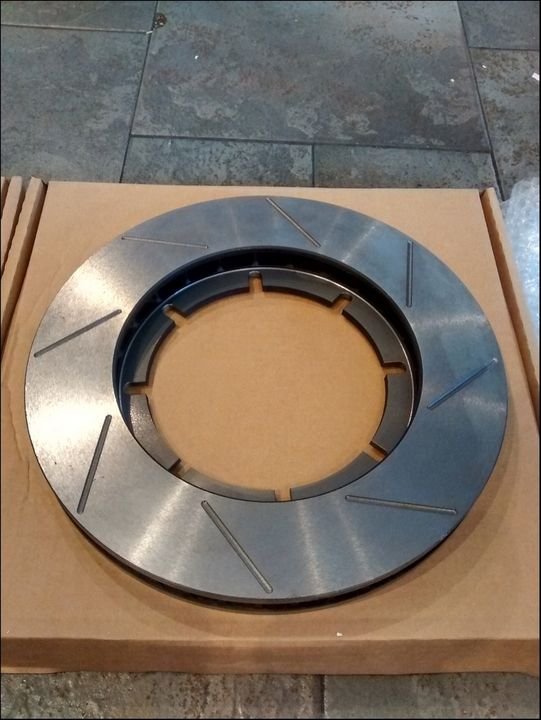 Bobbins, bolts and locking nuts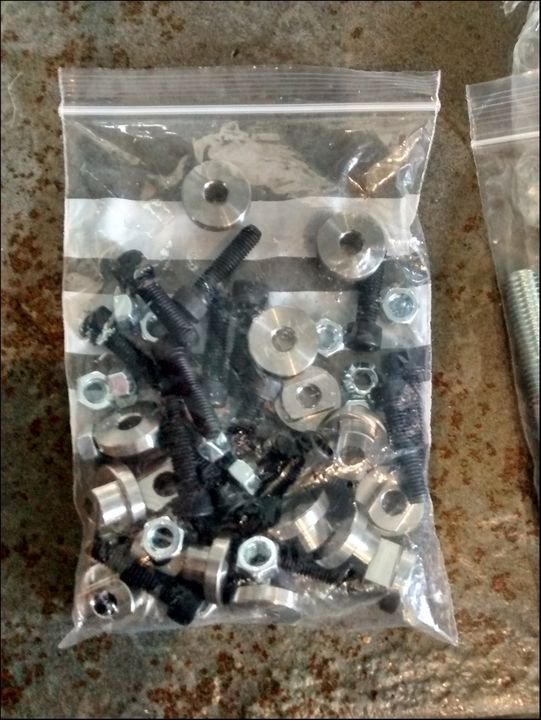 Bell bolted to the Rotor

Close up of the bobbin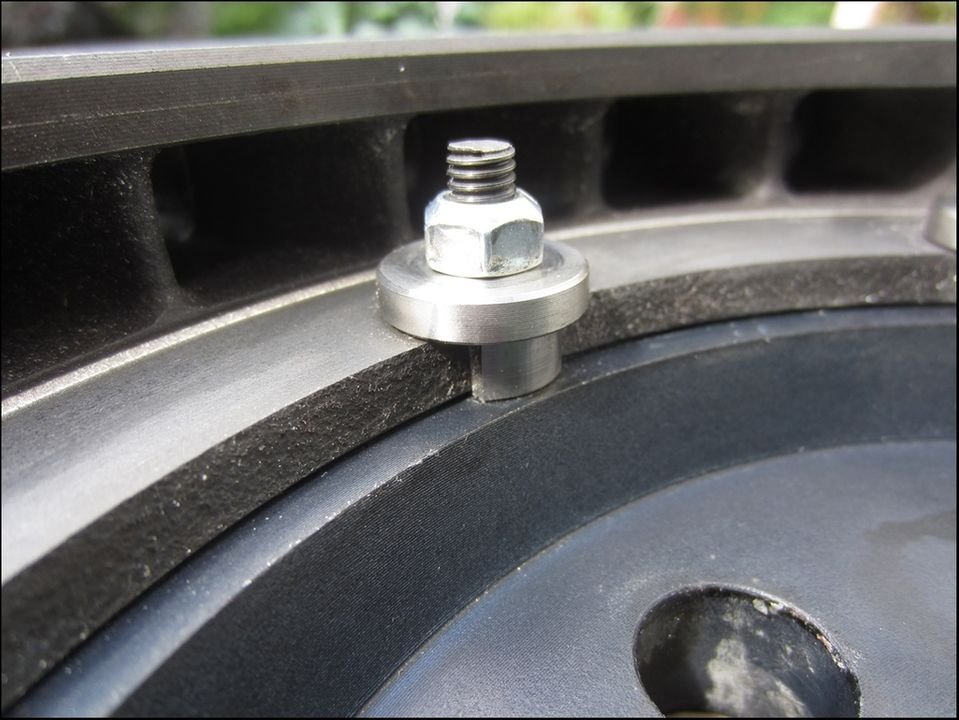 Carrier bolted to the Hub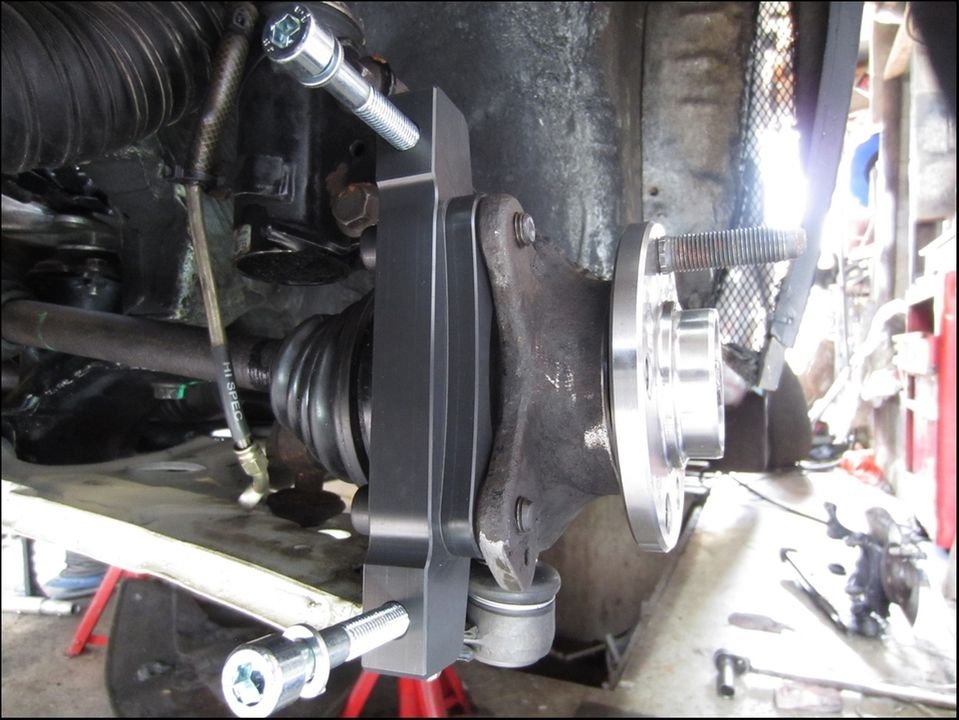 Caliper bolted to the Carrier (Not central as the bell isn`t bolted to the hub)

Time to fit some pads. This caliper uses the common AP 132mm Pad, Available in pretty much every compound you can think of
Carbone Lorraine – 5004W50T17.
Performance Friction – 7767.xx.17.44 (xx is pad compound, eg 01. 17 is thickness and 44 is pre-bedded)
Mintex – MDB 1292
Ferrodo – FRP 216
Pagid – E1361
AP – CP3215D50
I`ve run Carbon Lorraine for the last several years and I can`t fault them. Bite is superb and they have great feel. However, seeing as I now had a world of pad compounds open to me, I wanted to try something else. That being Performance Friction.

08 `Endurance compound`. My preferred choice of the `01` is out of stock and on back order.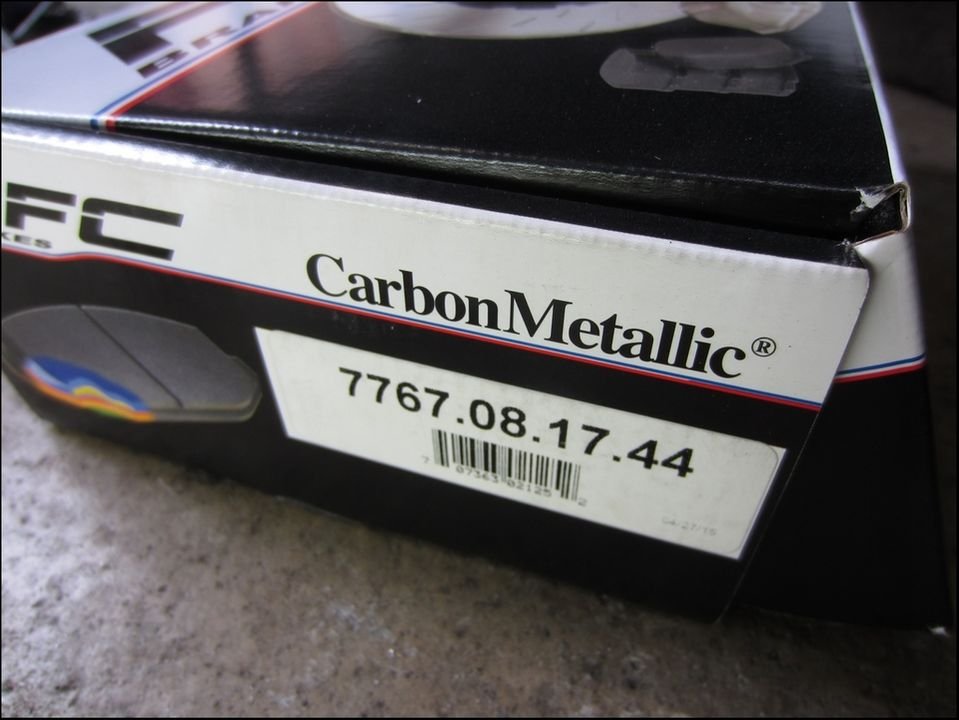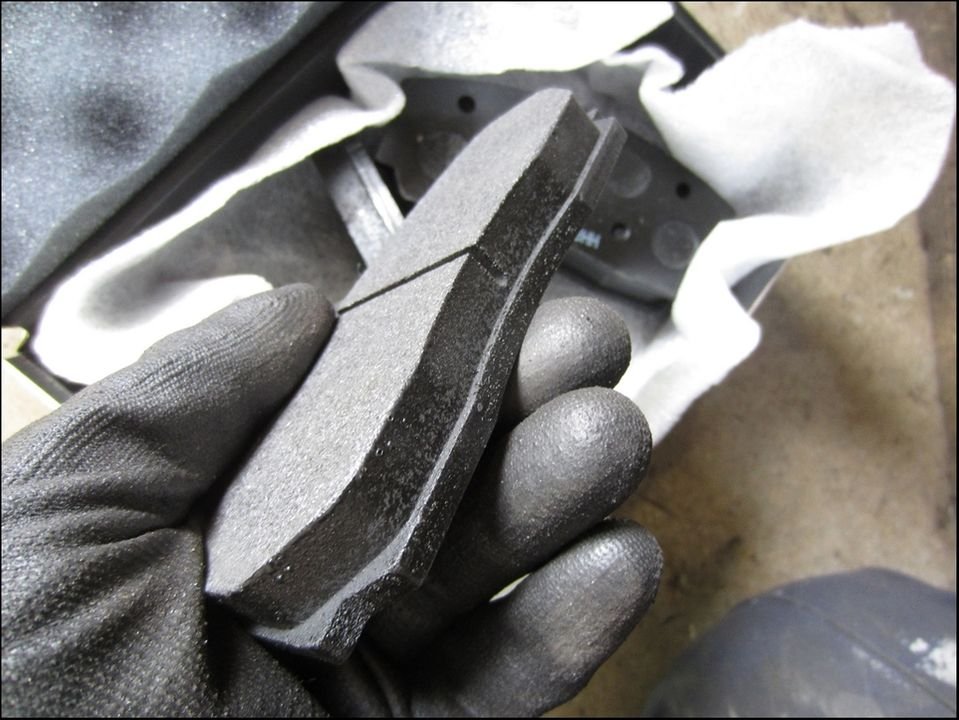 Just under 11.5mm friction material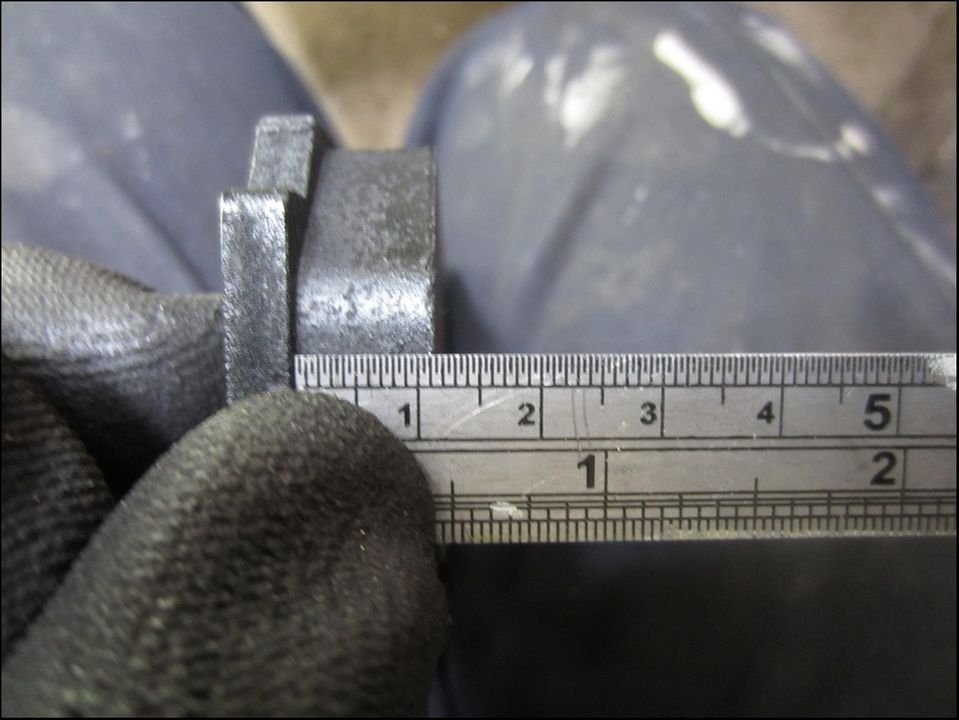 Pads fitted, just about to fit the locating pegs

Plenty balljoint clearance

The only photo I have of it all on the car ! I only just realised that.[:$]

Ta Da !

All bled up and ready for the Nurburgring in a few days.
A few thoughts, Parcel force are useless. They have lost 2 complete front hubs with CV`s wheels etc etc. [:x]
Hi-Spec were somewhat slow in getting the first set of calipers out to me, primarily due to it being the first set they`d made after the prototypes. However, when they realised I had a deadline they made sure I received the kit in time.
Whilst they were very quick to get the kit made last week, it took almost 2 months for the first set to arrive. Just be aware delivery might not be as quick as they initially suggest
They are not great at getting back to the customer and keeping them in the loop. Apart from this week, I've had to do all the chasing there is only one person in sales, Alex, and there appears to be too much work for one person and customer service suffers because of it.
They then, at their cost, paid for me to ship it all back so they could measure and remodify the bits as necessary.
When that was lost (by Parcel Force. Have I mentioned how useless they are ?), Hi Spec built and entire new kit sent it to me in record time.
The brakes, when used at Croft were superb. Really good feel, fantastic stopping power and far better heat control than the single piston OEM brakes and one-piece disc (obviously).
The pads wore 3mm at Croft in 190 track miles, with a few hard braking areas.
They were to within 0.2mm of parallel and all 4 pads wore the same amount.
OEM Hubs are NOT created equal. I know why the original brackets needed shimming. I sourced a new hub last week as I didn`t have any spares after Parcel Force lost both my Nearside ones. When assembled, the face of the drive flange to the mounting face of the caliper mounting `ears` is 2mm different then the other 2 hubs I had !
I rang Alex at Hi-Spec and told him this. "Yeah, it`s a problem. We have off the shelf kits that we have sold loads of, but sometimes a customer will ring and it won`t fit. The disc isn`t central in the caliper.` It took them some time to realise it`s down to manufacturing tolerances on OEM hubs that are having a floating caliper fitted. That floating caliper allows variation in casting and the caliper can take it. Once you go for a fixed caliper design, it needs to be more accurate.
Once I understood that, the original brackets needing shimming made much more sense to me.
I will post back with more feedback after the ring, I`ll be sending the bells back so they can add the mounting hole for the bell > the drive flange (they admitted the machinist forgot in the rush to get them to me in time)
Oh, just for clarification.
I didn`t get a discount from them as I was buying the first set (although I kept asking). I`ve been asked that a few times now….
Pads removed and measured.

Tapering is still occurring, which is not real surprise.

Spoke to Hi-Spec about the wear characteristics and with the accurate wear they were able to understand that the inner pad is cool and tapering less, but the outer pad is getting hotter than ideal and is wearing in a tapered manner. This is something they`ve experienced before and this is exactly the same pattern they see. Unfortunately, I can`t do much about the outer caliper cooling, so I`ll just continue to cool the centre of the disc and hope that keeps things under control.
I found I was able to modulate the brakes better than ever before at DN13. This was from higher speeds than usual too.
When pads wear, they are never quite as `grabby` on the initial pedal press. The more they wear, the harder you usually have to press the pedal.
What I found was that now these are worn to around half the original friction material, the pads aren`t performing as well as when new. However, that` ideal for me ! They were TOO good when new and even though I was learning the brakes, I was locking too often. Now they have worn and aren`t performing as well, I can modulate them easily.
But, because the brakes are so much better than before, I can still EASILY lock them if necessary, so I have the braking performance on tap, but it`s now more useable.
This has caused me to look at all the pads out there and I`m going to try some Pagid`s next. NOT the ubiquitous RS-29, but the more endurance based RS-19. The RS-29 has a higher initial bite and torque than the -19, which is what I DON`T want.
That`s the beauty of these calipers, I can get a pad in pretty much any compound I choose and this is helping me fine-tune the brakes
The PF-08`s are still only half worn, so they`ll last me the rest of this year. I`m going to keep the RC6`s for a heavier braking circuit, in the summer when modulation isn`t quite as critical. Now we`re into Autumn with cooler track temperatures, I don`t think I`d be able to modulate them enough.
All these years chasing the best pads I could get and now they are TOO good. It`s a nice problem to have.