Just to clarify as I`ve received several emails enquiring about coilver servicing. I don`t service coilovers, you need to contact Cornering Force on 01423 202031 or email enquiries@corneringforce.com directly.
Servicing Coilovers ? Why would they even need servicing ?
 I thought exactly the same but felt something didn't appear quite right on the Golf and it seemed to be getting worse. I noticed at Pflanzgarten when at the Nurburgring that I had a double bounce on landing where previously I only had one. I put it down to the 17″ wheels instead of the 15's I'd run previously. Then at Blyton I felt the inside wheel skipping over the bumps and unsettling the front end going round Lancaster which I hadn't felt on my previous visits.
I thought nothing of it but looking back the signs were there that the coilovers were in need of some urgent attention.
Then I removed them to replace a wheel bearing and the damper sank straight into the casing as soon as I removed the spring and top mount. I'm no suspension expert but even I know that's not supposed to happen.
My first call was obviously to KW UK, I explained that I had a set of KW Clubsports and they needed servicing and possibly an internal valve change if necessary to suit my spring rates and use. Unless I had bought the more expensive Competition dampers they would only rebuild mine or any others in the range to OEM standard, regardless of spring rate or use. For a standard road car that would be fine, but my car isn't standard so the values they used to calculate the spring rate and valving may not be applicable to my car. They simply repeated that unless I bought the Competition dampers they wouldn't modify them. 
Rang round quite a few damper rebuild places but it turns out not everyone can service KW coilovers as KW only sell spares to 3 or 4 companies in the UK.
Several people recommended Cornering Force on 01423 202031 after I asked for recommendations on a Facebook group
I gave them a call and after speaking to Simon decided to give them a try. They are fairly local to me so I drove up to have a chat rather than couriering the coilovers as most of their customers do.
After getting all the details of my car, total weight, front to rear weight bias, spring rates, what I actually wanted from the suspension and make of car he was able to calculate the necessary shim, oil and internal valving to suit my application.
Their unit has a very comprehensive machine shop, they don't just service coilovers but also do a huge amount of custom fabrication.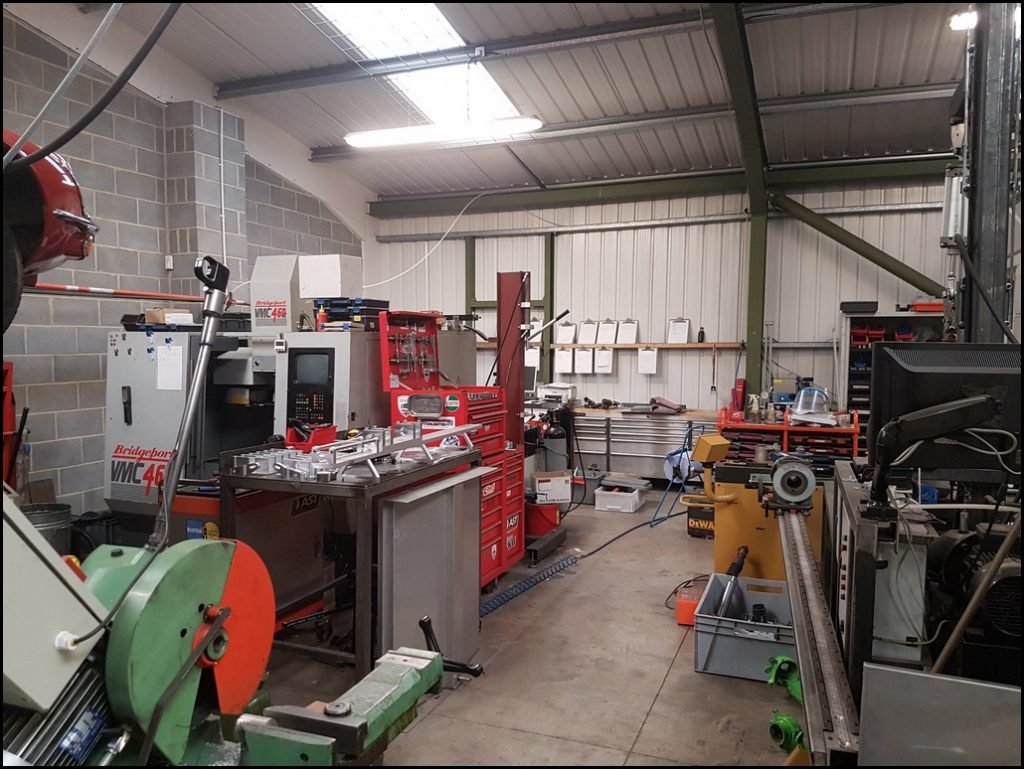 As part of the service they do before and after dyno test of the damper to not only check the condition of the dampers on arrival, but to ensure they are performing as specified after being rebuilt. Mine were low on oil and were not performing as they were supposed to. Compare this graph to the ones later on after the service !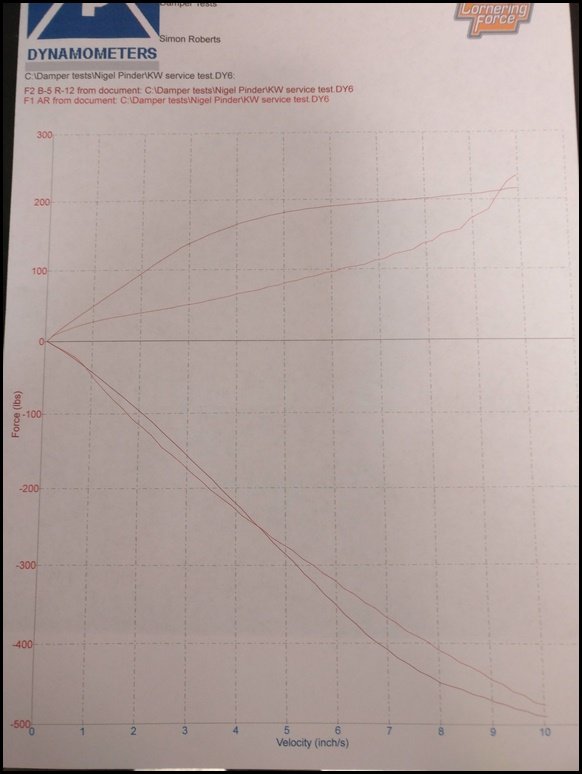 After completely stripping them, Simon then carries out a detailed check of all the components
He found damage to one of the internal shims
My dampers are a twin tube design. The inner tube is where the piston travels and the outer part is the oil reservoir.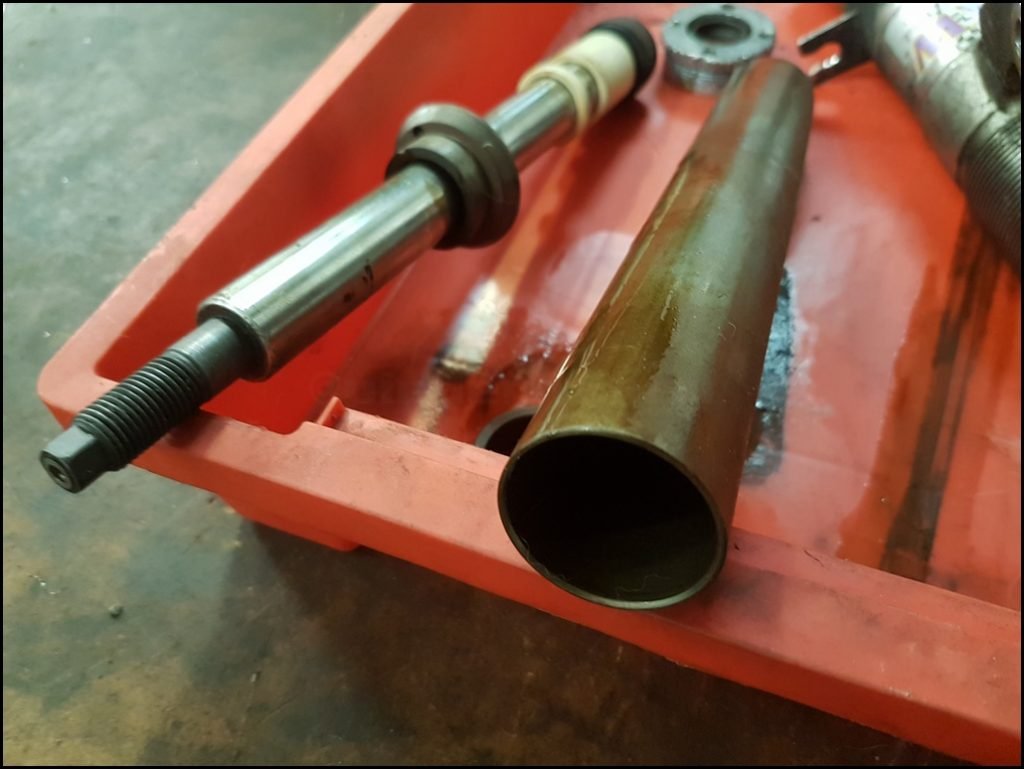 During inspection Simon spotted some cracking in the outer body and across the weld which secures the mounting plates.
  This is apparently pretty unusual ! These cracks are what allowed the oil to leak out over time. I'd always noticed it was dirty in that area but after a few CV boot failures I just put it down to the grease from there instead.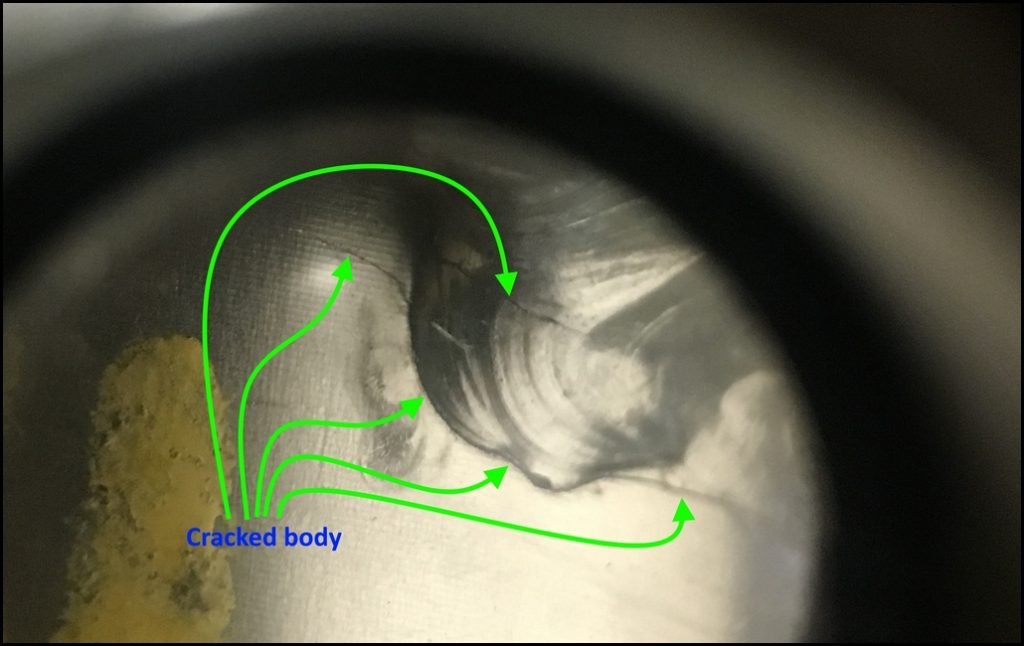 Many places would simply replace the body but Niko was confident he could repair it by grinding out the crack then TIG welding it in 2 stages to first weld the crack and then weld over it. If I wasn't happy with that he would buy a new body but he assured me it was a repair he was capable of doing well.
 This is NOT the part where the piston travels, that`s the inner tube. This is purely the oil reservoir part of the damper
After replacing the seals and damaged parts then rebuilding, they were tested again. One of the good things with the KW coilovers is that the bump and rebound are pretty independent. Adjusting one has very little effect on the other.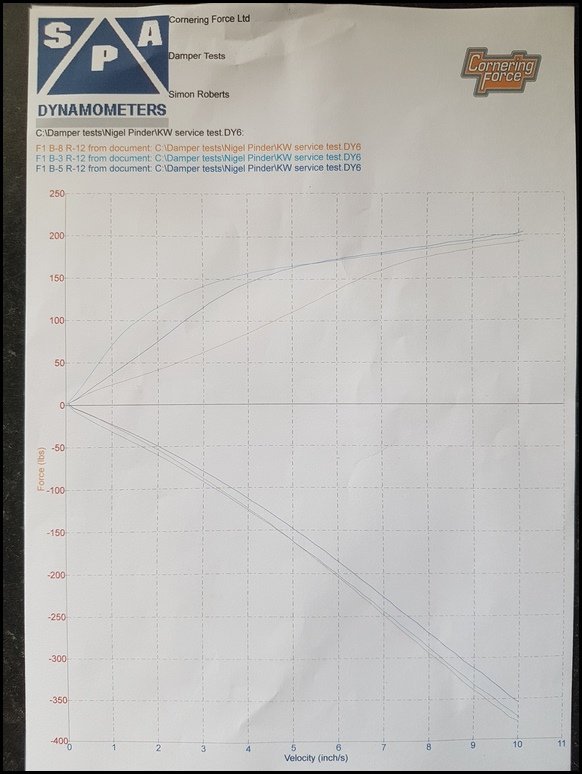 Simon rang to say they were finished and so I drove up to pick them up and whilst I was there Niko showed me around their workshop. They have a large amount of spares for a huge range of dampers.
They keep in stock the most commonly used seals and order in anything else as necessary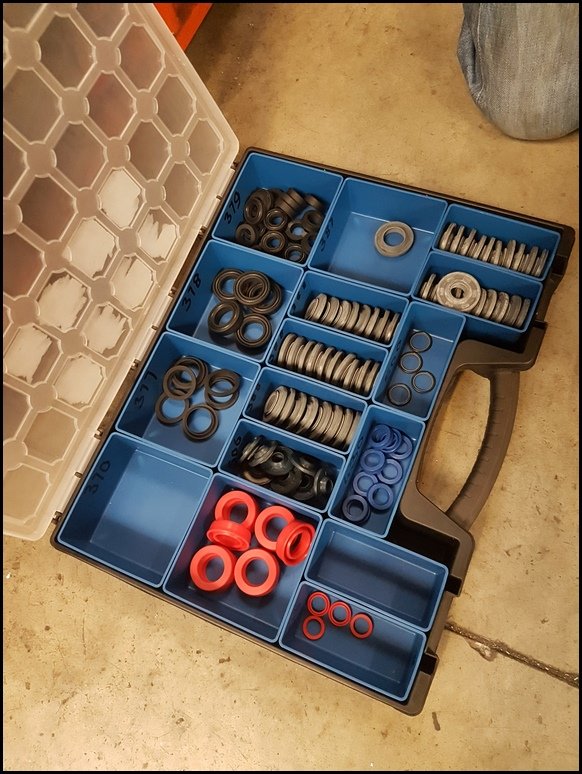 They rebuild everything from KW all the way up to Penske & Nitron.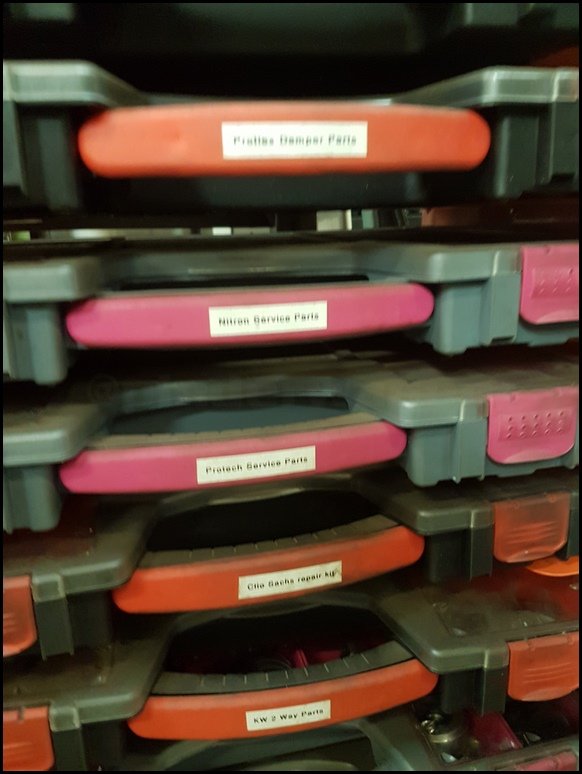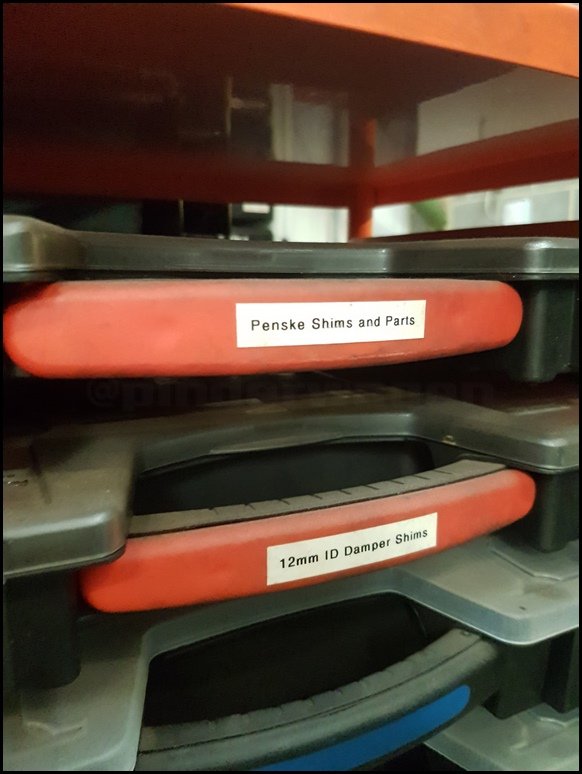 Various sized shims to enable the damping to be customised as necessary.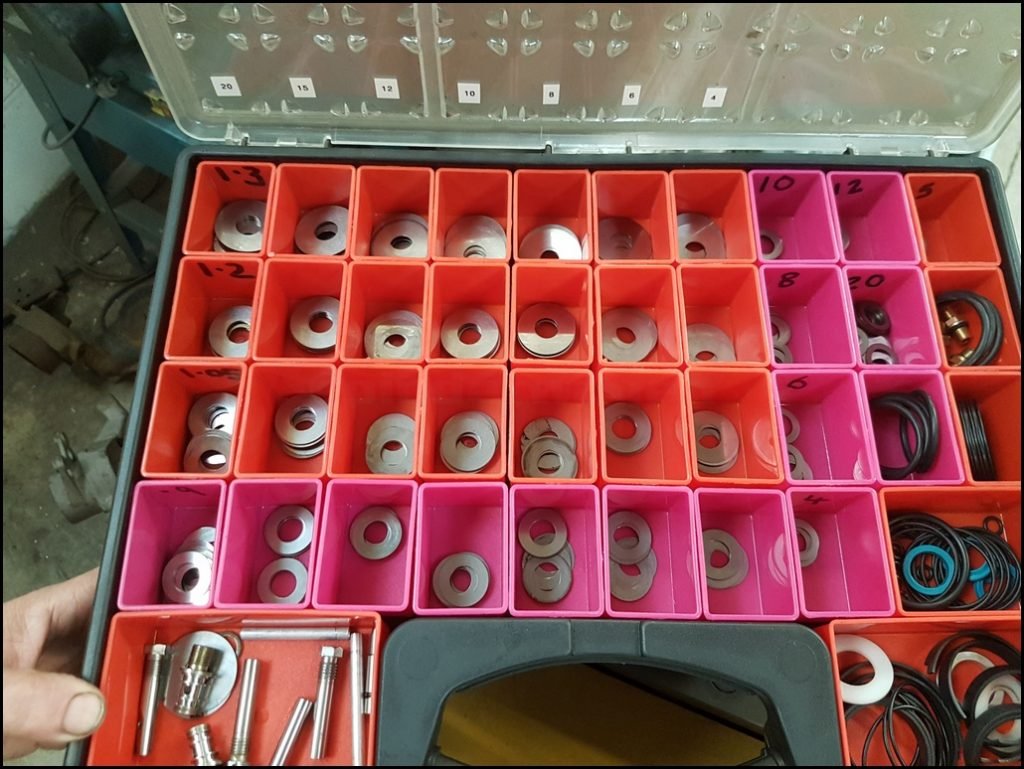 I refitted the dampers and tested them at Donington. I hadn't quite realised just how bad they were ! I think it's because they deteriorated over time rather than suddenly failing that I didn't notice the drop-off in performance. If I`d lost off the fluid from one event to the next I would have felt that but these have deteriorated over the last year.
Suffice to say the difference was immediately noticeable. The damping control over kerbs and through the corners was so much better than before.
 I genuinely hadn't realised just how bad they were. They are no `better` than when they were when new but they are just as good as the day I first fitted them. I'm absolutely delighted with the difference.
I'm sure I'm not the only person who fitted a set of coilovers to their car and hadn't touched them since.
I spend a great deal of time ensuring the car is regularly serviced knowing the abuse it gets but I never even thought about servicing the coilovers. They are oil filled and just like engine or gearbox oil it breaks down over time and even if there was nothing else wrong with them an oil change is necessary to ensure the dampers are performing as designed.
Would I suggest you get you coilovers serviced ? Not necessarily. If they haven`t had a hard life or a lot of track use they may still be working well enough and a service is simply not required. But if there is any doubt and you think they may be a bit iffy or they have been on a track car for more than 2 or 3 years, I'd suggest getting them tested. For the sake of £25 each you'll know if they are in need of a service or are working as designed.
Simon or Niko will advice on servicing costs for the dampers and any extra work necessary. I found their prices to be competitive.
Typical Costs
Testing                 £20 fixed damping, £25 adjustable dampers (each)
Servicing             £95 coilovers, £115 inverted struts (each)
Revalving            £105-£125 depending on type of damper (each – includes a service)
Niko also explained that not only do they do damper repair / servicing, but they do a lot of custom fabrication and he was happy to show me one of the reinforced BMW subframe and custom control arms they'd made.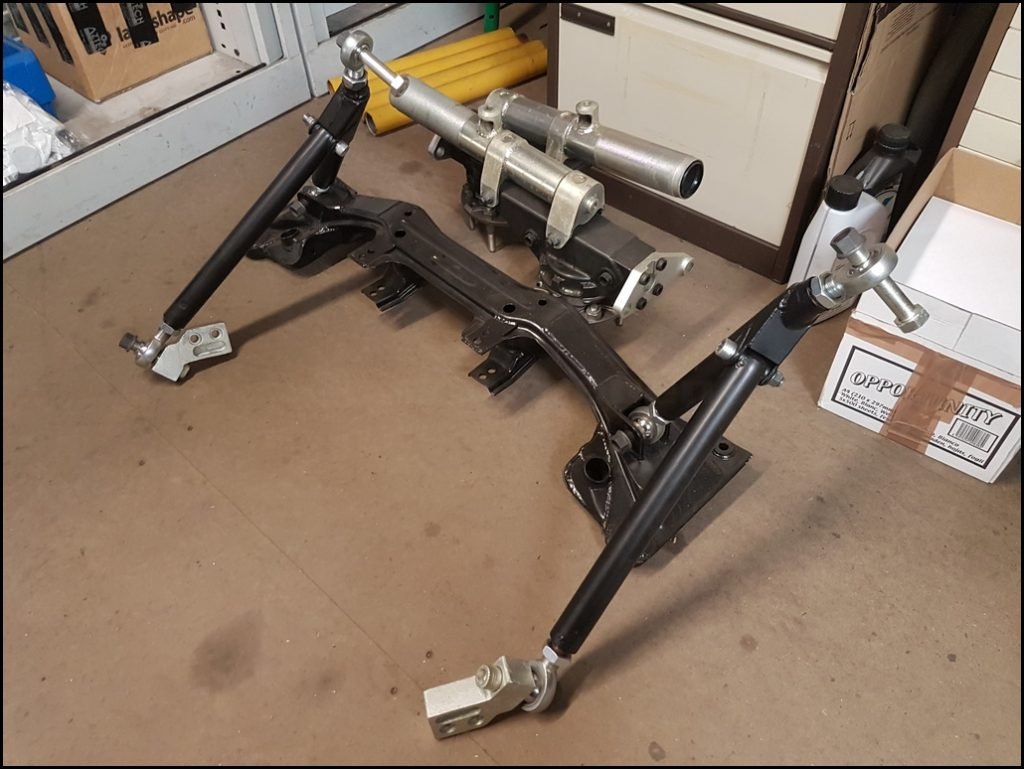 These E30 front hubs are made in house with only the bearing (from a 7 series I think he said) and wheel studs bought externally.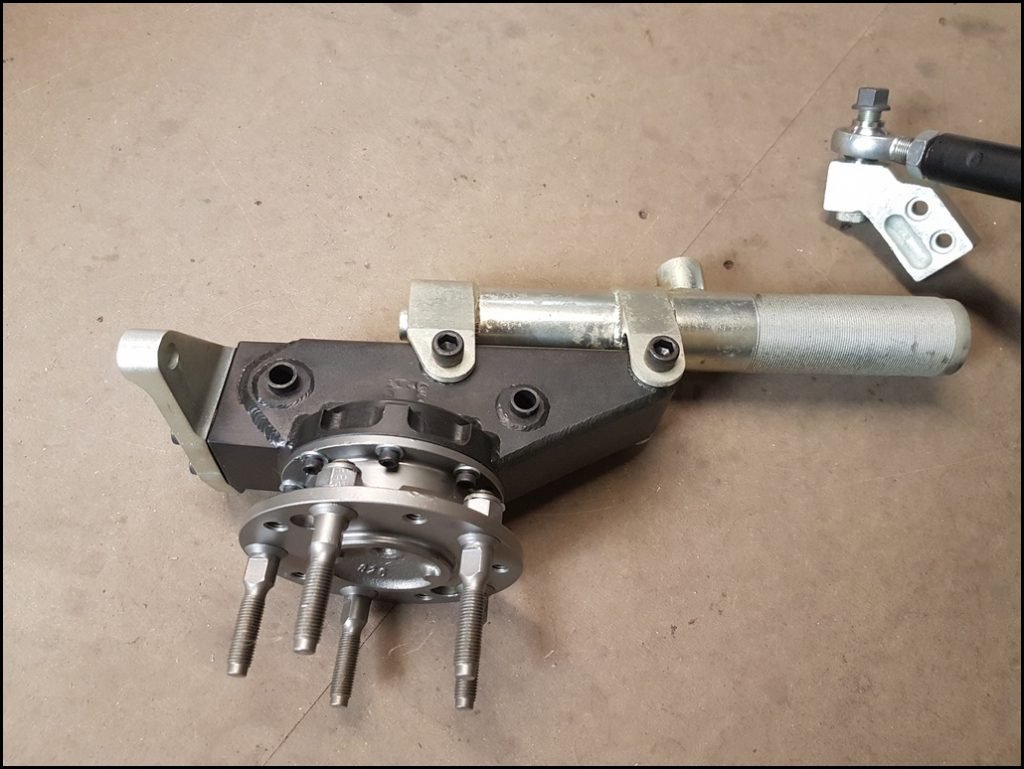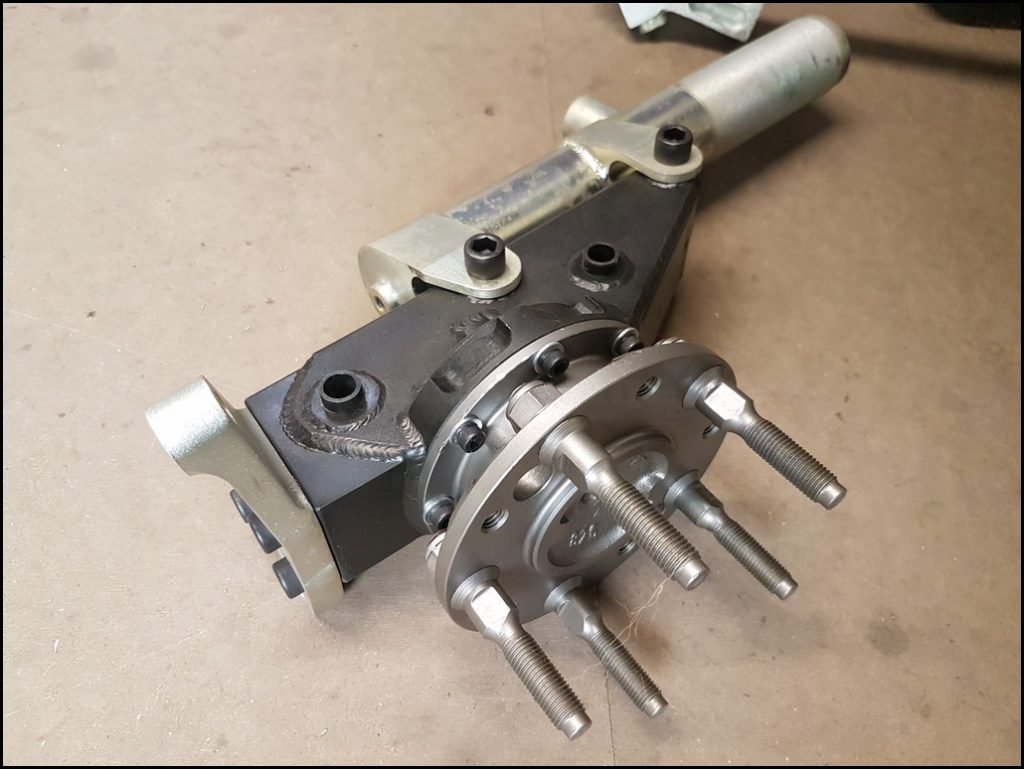 Heavily modified E30 rear arms.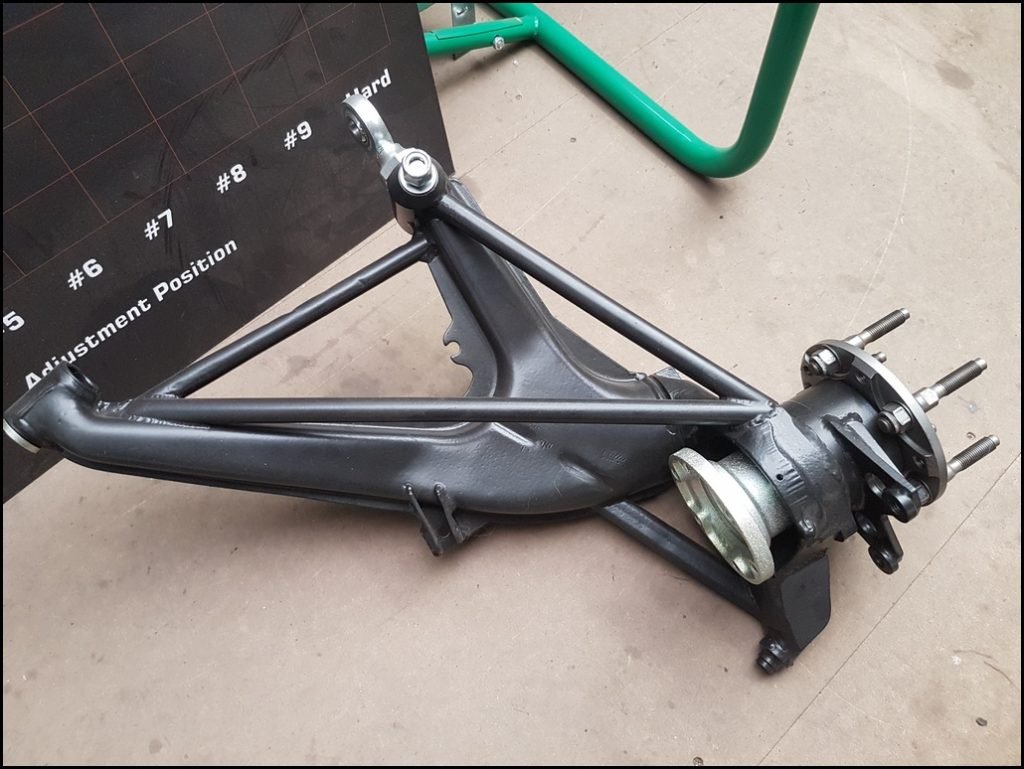 Something that caught my eye are the Blade AntiRoll bars they make. Each one is custom built and is adjustable.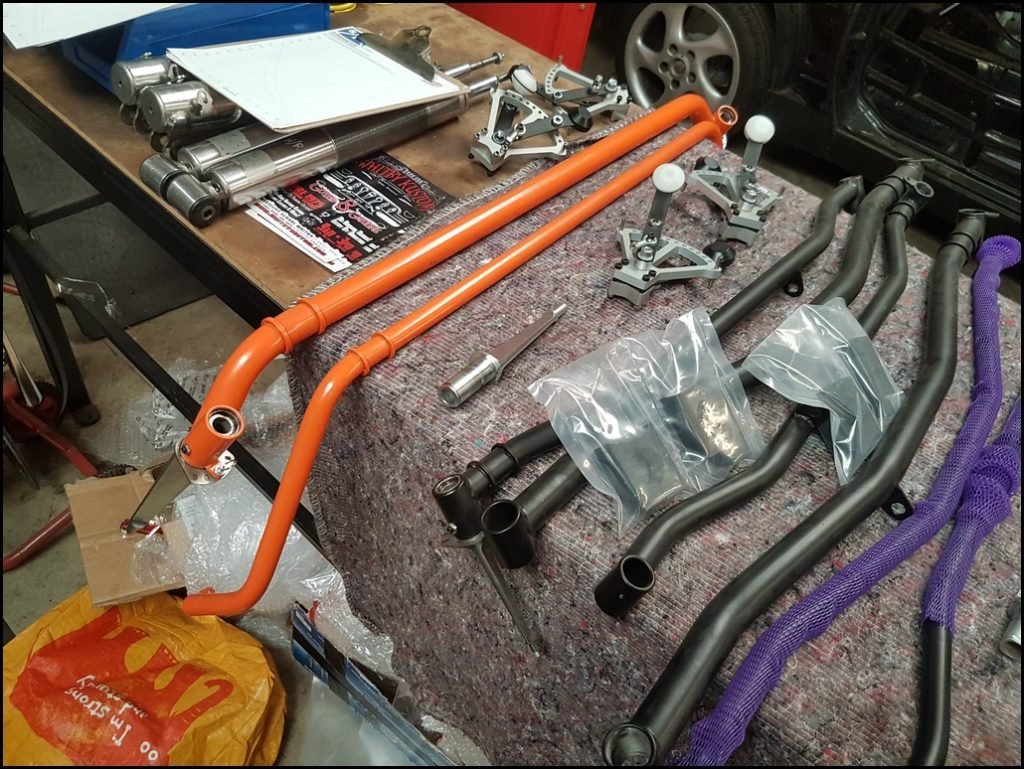 The in-car roll bar adjusters are lovely bits of kit ! Probably a bit over the top for a track car but I can absolutely see the benefit for a race car.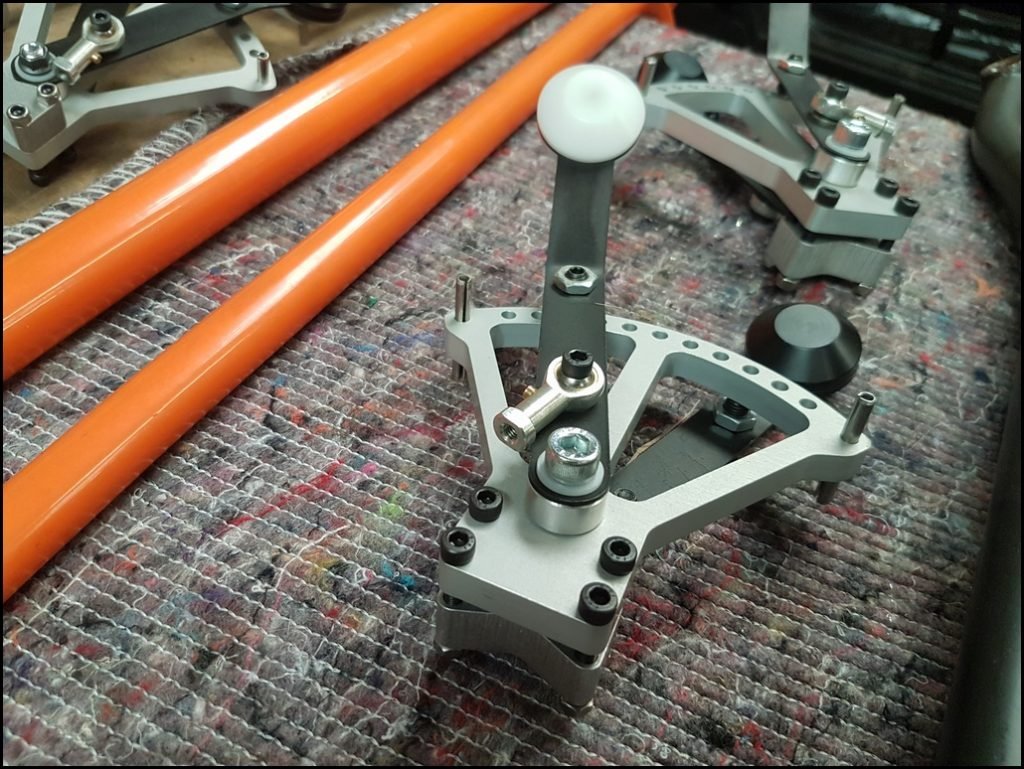 Overall I can't recommend Cornering Force highly enough. They are both incredibly helpful guys and took the time to sit and have a chat with me about what I needed and also answer my many questions about dampers, internal shims and testing. Whilst they could have simply turned around and said I needed a new body, their willingness to repair something that I know KW would have insisted on replacing with new but doing so in a safe and well thought out manner gave me confidence that they aren't just out to make a quick profit but want to foster a long term relationship with their customers.
That's the way it should be and I've already recommended them to several of my friends who were in the same boat of wanting some coilovers servicing but didn't know where to send them.