This was going to be my second ever visit to Thruxton and the first since I turbo charged the car back in 2014. It was fast enough normally aspirated so I was expecting some very high speeds on the UK's fastest circuit. The only work needed on the car after Cadwell, was repairs to the wheel arches. I had ordered some replacements but they hadn't arrived yet so I made the best I could of the old ones. 
Matt and I were booked in to go but after speaking to Gav at work, he joined us on the trip as a passenger. We drove down on Sunday afternoon, stopped after a few hours for a quick bite to eat, and arrived at the circuit around 19:00. Left the car and trailer in the paddock and drove back to the hotel. There was a large group of us going from Northloop and quite a few of us were staying over on Sunday night, so we met up for a meal and to catch up. It was a bit of a strange pub, as at 22:00, one of the staff wandered over and asked if we wouldn't mind paying and leaving as they were locking up. Cut the night short but that probably wasn't a bad thing. 
Woke up the next morning to glorious sunshine on what would turn out to be one of the hottest days of the year. Arrived at the circuit and unloaded the Golf. 
Whilst I was unloading, Nick turned up next to me in his S3. We haven't been on track together for several years, and as both cars have been heavily modified since then, we planned to do several sessions together later in the day. 
Thruxton has the lowest noise limit in the country of 90db. The Golf usually tests somewhere between 89db and 92db, so I was quite apprehensive as I pulled up for noise testing after seeing several cars ahead of me turned away for failing the test. I had taken an extra silencer which could be fitted across the rear of the car in place of the rear bumper if necessary. Reved the car as requested, the tester measured it, asked me to hold the revs again, measured again, and gave me a green sticker. I'd passed!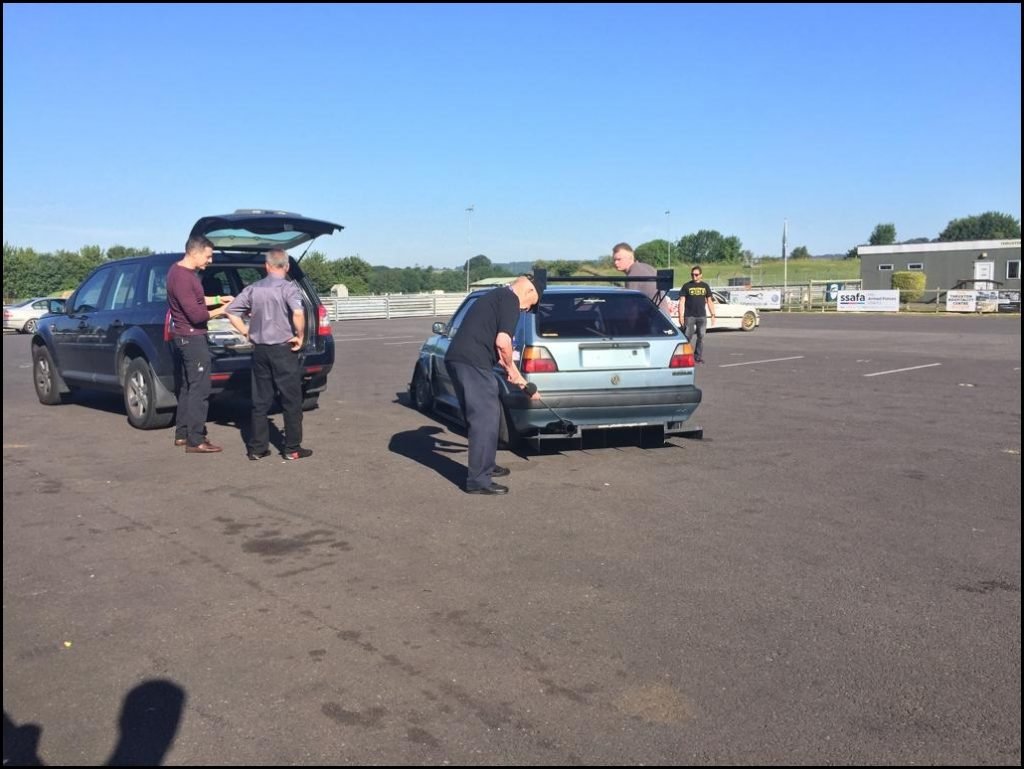 Off for the drivers briefing, which was held in the new building which really helps bring the circuit up to date. 
Sighting laps were next, and once they were completed, it was time for open pitlane. Matt and I went out and did half a dozen laps. I always find that after 2 or 3 laps of a circuit I have previously visited, I can start tweaking the lines as I remember where it goes. Tyre pressures reset, then straight back out again.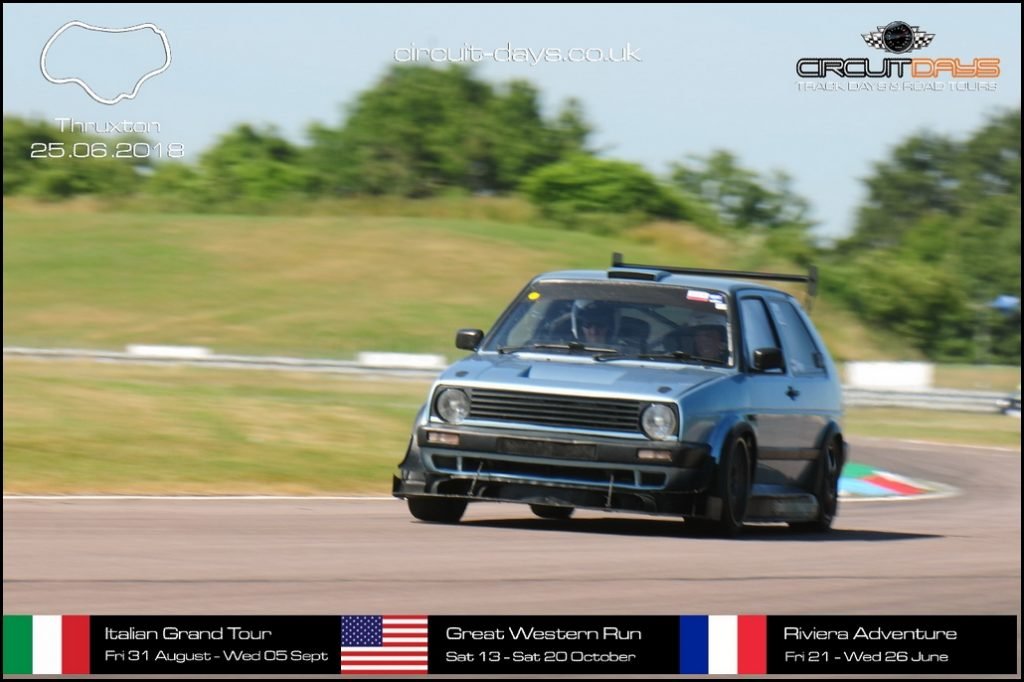 Next session out I caught up with Iain in his Imp. Once again, he was suffering engine issues and after this session he called it a day and went home.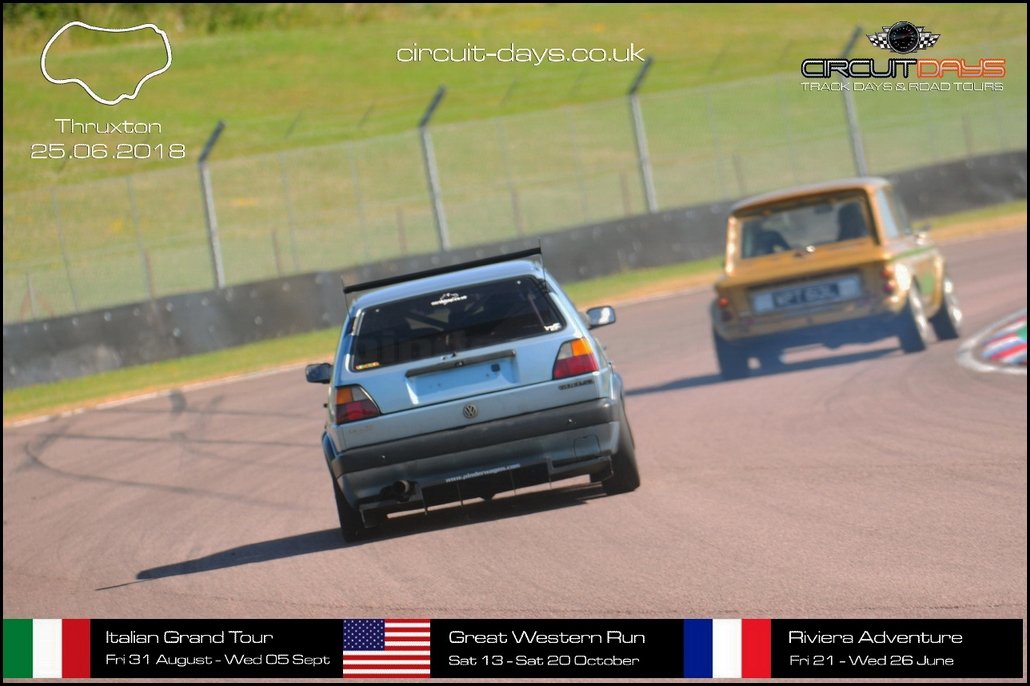 Gav had never been to Thruxton before and I made sure his first lap was at full pace so he could properly appreciate the speed of the car and circuit. The tyres were up to temperature and I was able to carry good speed through Church, hearing a "Bloody hell Nige" 
 from the passenger seat made me chuckle.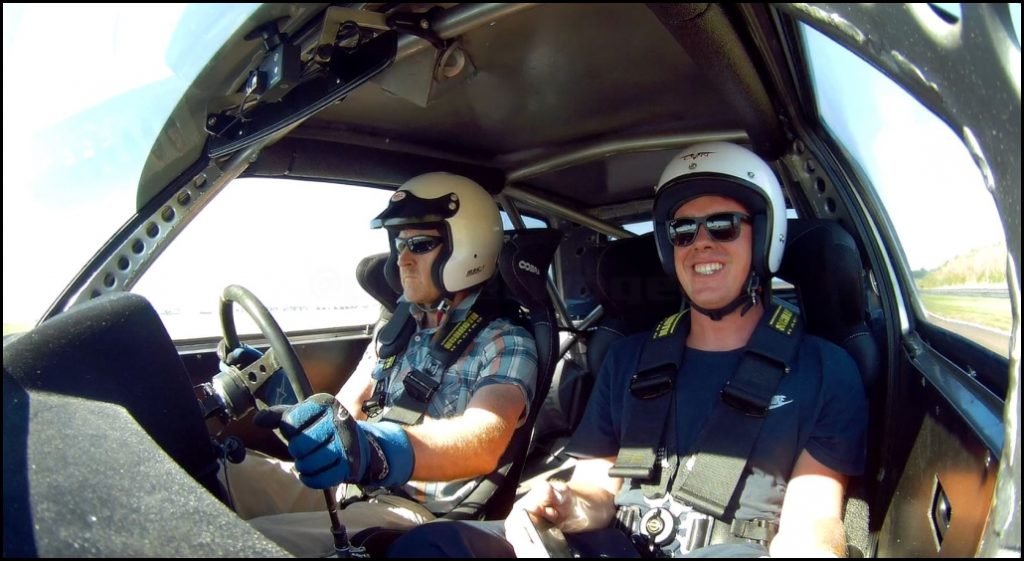 It really is a daunting corner and the bump close to the apex makes it exciting. The next time round, he knew what to expect but I could still see him tensing in the passenger seat 
I was running the 17's again and I am starting to understand how they behave. It needs much less steering input than I am used to but the ability to position the car just where I want with a small roll of the wrists really suits my driving style. I always try to be smooth and consistent and the predictability of the tyres really help. Its mostly down to the sidewall stiffness which is noticeably greater than on the 15″ tyres.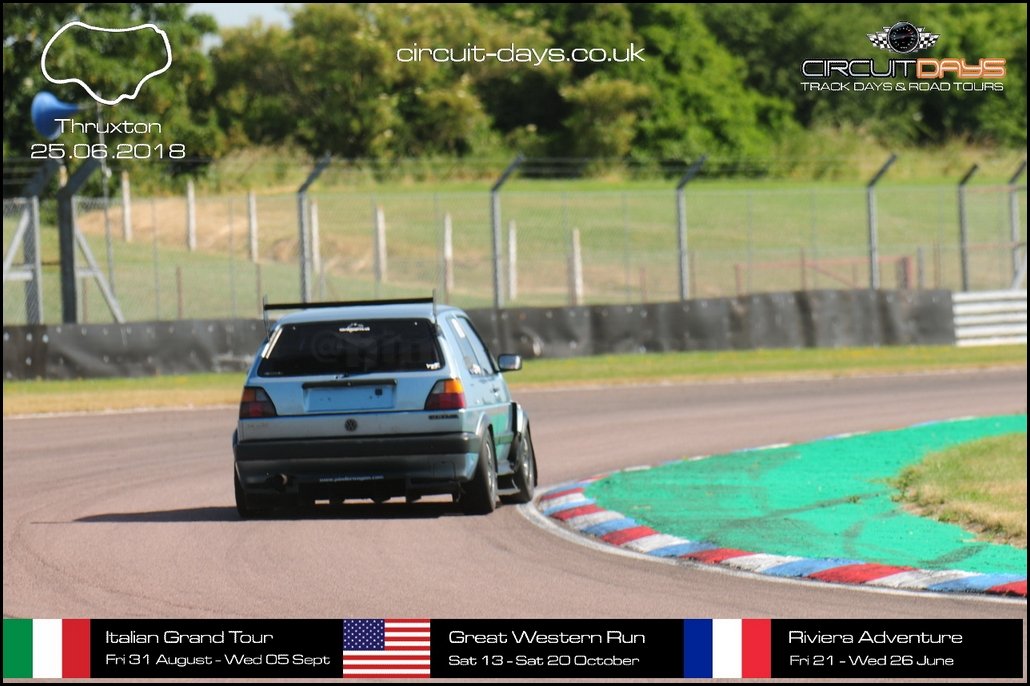 What I have found is that this increases responsiveness from the front and can unsettle the rear as I turn in a little bit too sharply. This is where my 2 days at Spa in the wet earlier this year has really improved my driving. A few years ago, whilst being able to handle the rear moving about, I wasn't particularly comfortable with it. I am now much more relaxed and actually unsettle the rear on purpose at certain times, to straighten up the car on corner exit. I know people who race front wheel drive cars do this all the time to reduce lap times but its not something I've really practiced before. On medium speed corners, its absolutely fine, but turning into Church a little too quickly and having to apply a tiny bit of left hand lock whilst going through the corner, wasn't something I wanted to do often 
The last time we came to Thruxton, Matt was only just starting out on his track driving journey. Its safe to say his enthusiasm exceeded this talent. He'd seen that I didn't need to lift for Church and so on his first ever lap, he tried taking Church flat. The resulting spin and b********g from the organiser was a lesson he's never forgotten, its also one I won't ever let him forget 
As we sat in the car ready to go out with Matt behind the wheel, I didn't think it was necessary to remind him of that spin. He was really looking forward to driving the car as I've addressed everything he didn't like, i.e. brake pedal feel, pedal positioning for easy heel&toe, steering feel and response.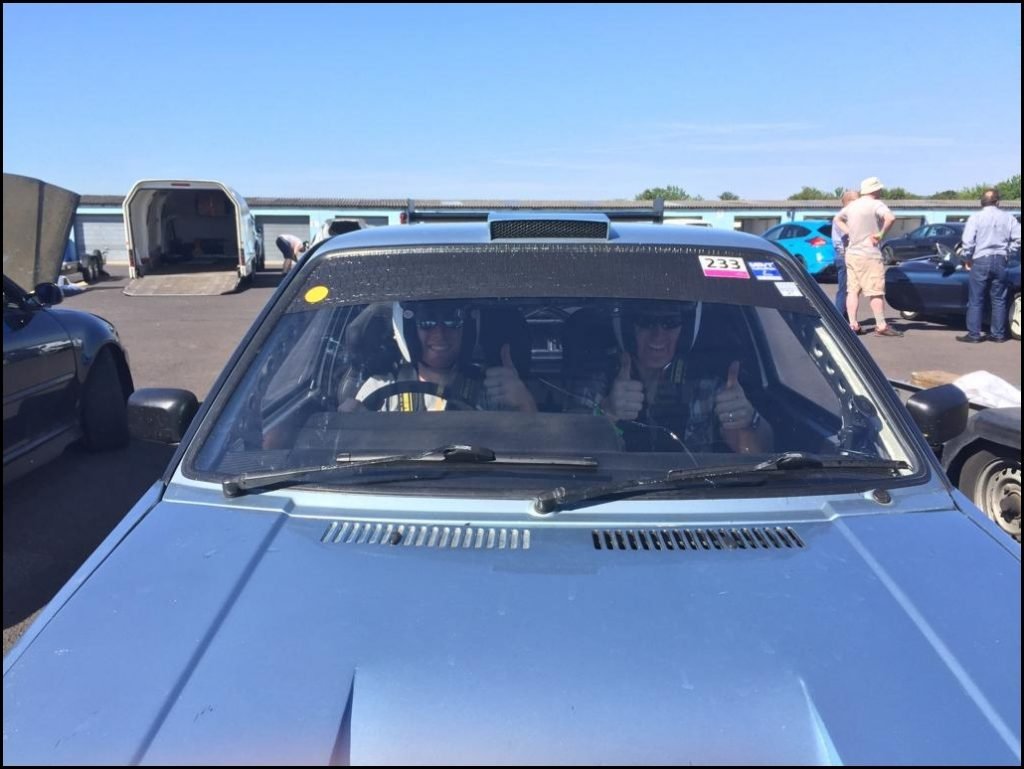 I have also learnt to be quiet for the first few laps and let him learn how to drive the circuit himself rather than try to tell him. I like this approach myself and we are both very similar in that respect. That's not to say I won't take instruction or tips from other people, but there is a certain satisfaction from learning yourself through trial and error and car feedback. Matt was very complimentary of the new 17's, I think a lot of this is because he doesn't have the same vast experience with 15's that I do, where I find it twitchy, he just finds it responsive.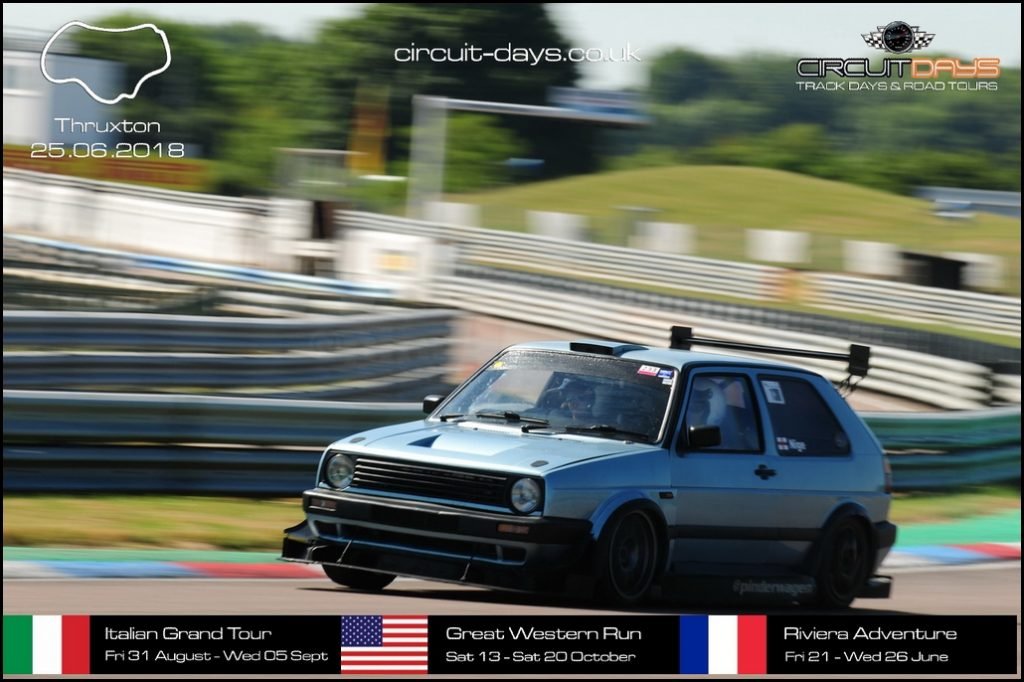 Then I had a mechanical issue 
 I was out on a lap and the car started getting noticeably louder, so much so, that I came in at the end of the lap to investigate.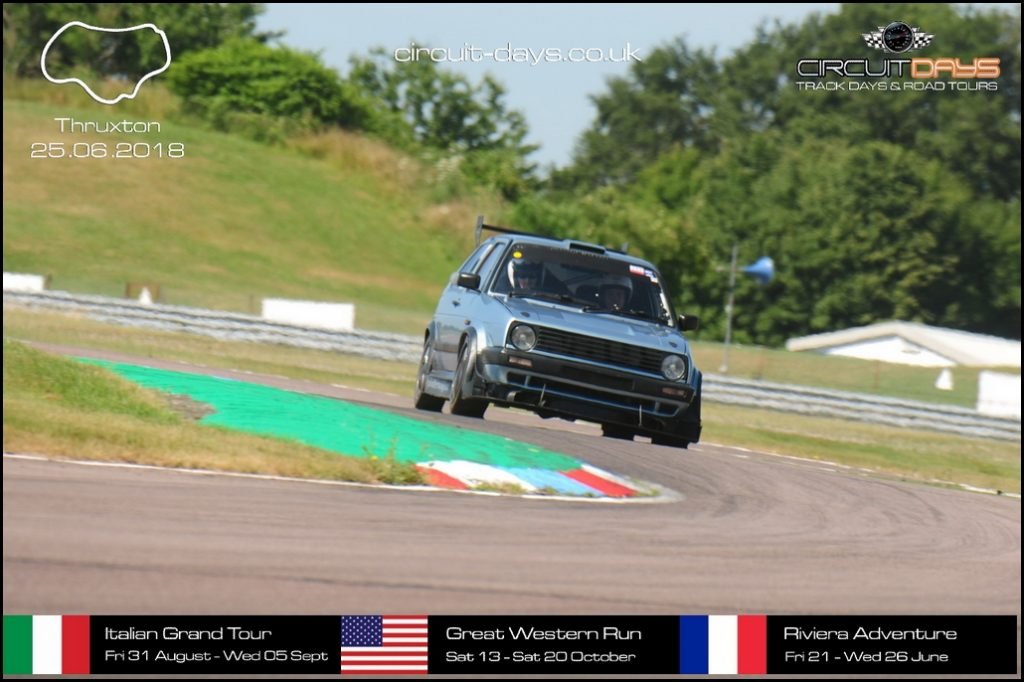 After jacking the car and laying underneath it with the engine running, it didn't take very long to pinpoint the issue. The join where the external wastegate outlet pipe joins the turbo downpipe had failed. I had fitted flexible joints in both the tubes but the vibration and heat and lack of bracing had caused them to fracture. 
Fortunately, I have built the exhaust with several V-Bands which enabled me to easily remove sections for repair in this situation. After removing the offending items, the issue was pretty clear.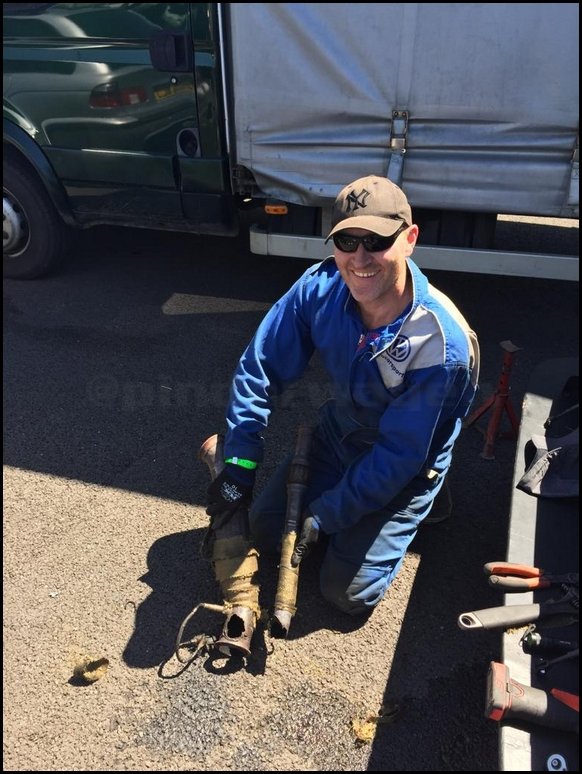 All I needed was a welder. This isn't something I carry around in my tool box. James had called down to spectate and have a chat and very kindly offered to drive me around to find a welder. Our first stop, was the kart center but they only had the facility for brazing. They were able to recommend a local engineering company who may be able to help. 
We drove around, picked up the 2 pieces of pipe and went inside. I briefly explained the issue and asked if they could weld it up for me. It didn't need to be a high quality precision job, just a quick wizz with a mig would be sufficient as I would be able to properly repair it once home and all I needed was it to be gas tight and secure for the afternoon. I'm sad to say, he was a great example of how not to run a business, "Oh we couldn't possibly do that, we'd have to completely remake it to be up to our standard", once again, I explained that wasn't necessary and it just needed a quick temporary repair. 
After refusing to do that, I asked if he could recommend somewhere else locally who would be willing to help. His smug reply of, "No, we're the only ones in the area", said in an almost sneering manner, made both James and I want to reach across the counter and grab him. Walking out of the reception, neither of us could believe how quite rude and unhelpful he had been. As we were driving out of the industrial estate, we saw several old cars outside a unit. Venturing inside, we found the owner and I quickly explained my predicament. He had a mig and was happy for me to do the welding myself. After 10 minutes, the repair was complete and I asked the owner how much he wanted. He replied, he didn't want payment, but I insisted and gave him some money saying, "Have a drink on me, I really appreciate the fact you were willing to help".
He was the exact opposite of the people across the road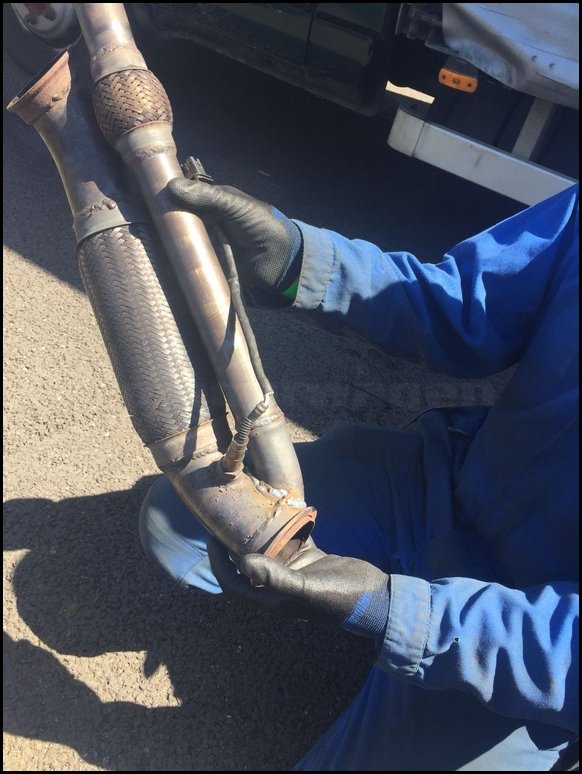 Whilst I could have moved the trailer, unhitched the X5, and driven myself, it made life much easier with less lost track time with James driving. The least I could do was take him out for a long session after refitting the repaired downpipe. 
From listening to people reading these reports who often tell me they enjoy reading the thoughts of passengers in the Golf, I asked James if he would put his thoughts down of his experience in the passenger seat. 
Nige was kind enough to offer a passenger ride in the golf round Thruxton. I've followed the build since it started and I was looking forward to seeing all those changes and modifications I'd seen online into a physical experience – which you can't do behind a screen.

To put my experience in perspective I've only even been on track in road cars – road tyres, usual bolt on modifications.

Pulling out of the pits, the familiarity I have of a MK2 Golf soon went out the window! The surge of torque was instant as the turbo spooled up and we were soon into triple figures.

Thinking that was impressive I wasn't ready at all for the corners. I couldn't get over and still can't get over how well this thing handles. It genuinely made my face hurt. Grip levels are insane, not only running full slicks and all the aero but also all the suspension geo Nige has modified over the years just seemed to come together. Set up wise again I was very impressed, the rear is much more mobile than my MK2 and even at very high speed Nige has no problem with the rear coming round. A simple adjustment of lock and some throttle and you can really feel the diff and turbo spool pulling you where you want to go.

Surprisingly even as a passenger you can really feel the aero working. Hard to describe in words but Planted is the only word I can think of. Towards the end of the session we tagged onto the back of a Clio Cup driver. I have a mate who raced the Clio Cup last year and I know exactly what these drivers are like! Very dominant, sure headed and ballsy. Initially he wasn't too keen on pulling over and letting us past. After a lap or 2 of fairly even battling (backing off on the straights) we got past without sweat.

A lot of people (like me!) talk a lot about the car and how incredible and capable it is. But rarely do you hear much about the guy behind the wheel. It was a really nice to be along side someone with a lot of experience, who was using all of the track, wasn't fighting the car, or having those snappy reactions that make you feel like they have no clue what the car is doing beneath them.

To reflect I can't really put the experience into words. I've never ever been in anything like it and its something I'll never forget. A MK2 Golf should not be able to do this!

Again, thanks Nige!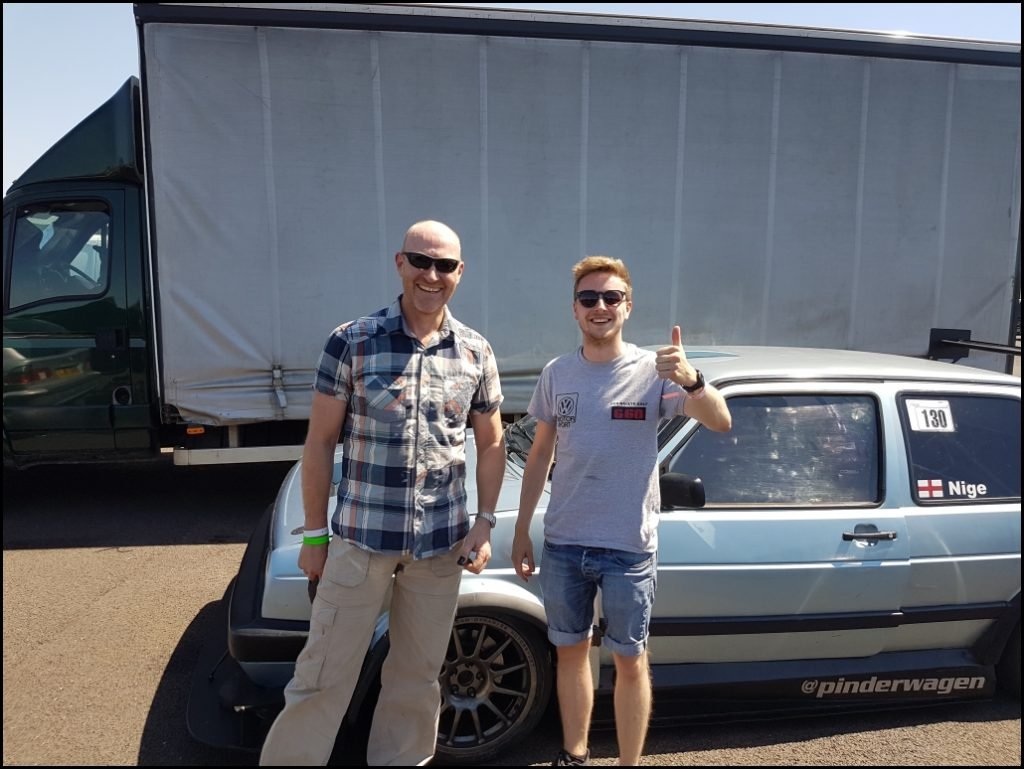 This session with James behind the Clio, quite clearly demonstrates not only the strengths but the weaknesses of the Golf. In particular, the slow speed change of direction and traction through the low speed complex, I just couldn't live with the Clio, medium speed, we were even and in the fast stuff, I could close back up.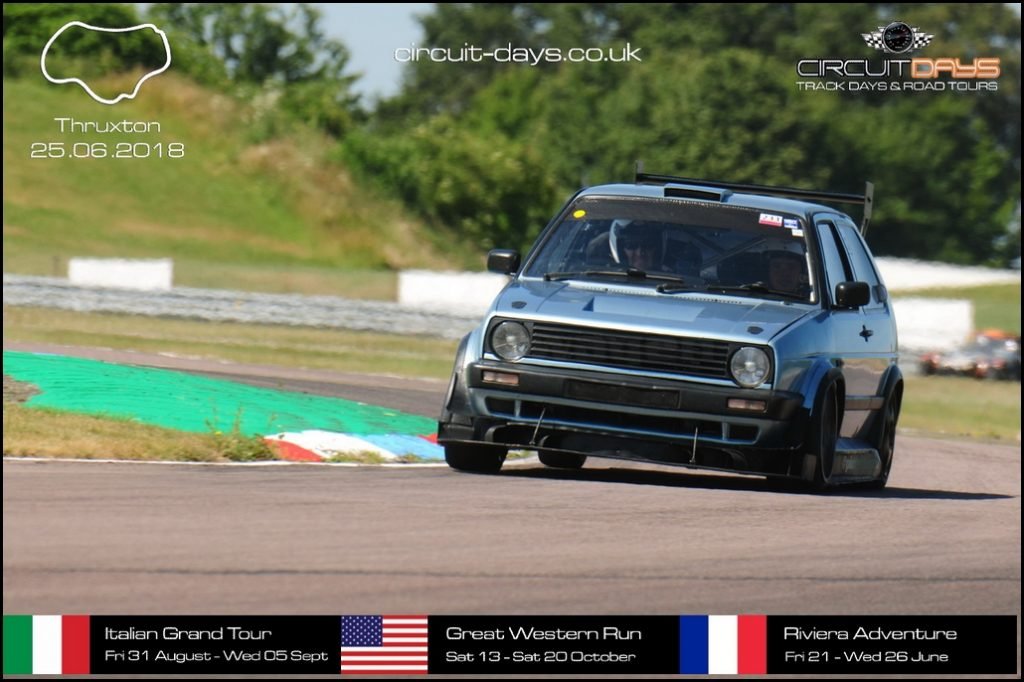 As often happens, I was finding myself sharing the circuit with the same cars each session as our driving and breaks pretty  much matched each others. As a result, Nick and I hadn't yet managed to get our laps together on track. We both waited for the other and then went out together for a session. What followed was a thoroughly enjoyable session. Unknown to me at the time, the camera mount was fractured, causing  huge amount of vibration. I've removed as much as possible with post-processing, but sadly its still rather choppy. 
Initially I was leading, and wasn't surprised to see Nick with more power and less drag being able to sit behind me on the fast stuff. He was saying to his passenger at the time, that he expected me to be faster and that he was only using just over half throttle. 
To say he was shocked when I let him past and followed him and stayed glued to his bumper on part throttle with him unable to pull away, would be an understatement. The effect of the slipstream was massive and to be honest, neither of us could quite believe how much difference it made when following the other car. 
The cars were otherwise very evenly matched which I guess isn't too surprising when you look at both builds and the similarities between them. 
What this session was highlighting, was how marginal my cooling system was. I'd noticed at the end of last year, a lot of the radiator cores had lost their cooling fins and this had an effect on efficiency. Whilst water never went over 96°c, the oil when following was touching 140°c. This is well within the operating range of the oil I use, but was still much higher than usual. 
The cabin temperatures were incredibly high, I don't think I've ever sweated as much from the heat on a track day before. 
There were several cars there running at similar pace to me over the full lap, but each of us had particular areas where our car was better. The Golf was brilliant through Church but the chassis design often left me at a disadvantage on the slow corner exits.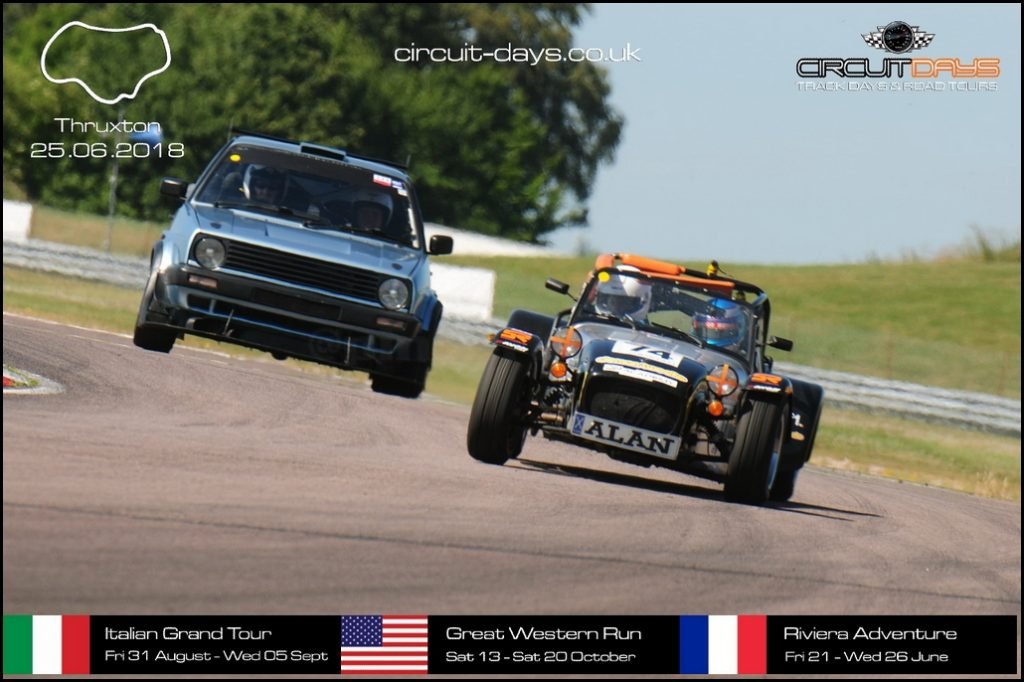 Matt had now driven several sessions and was pretty comfortable at driving the Golf. He took Gav out for a session and I have to admit to being a little bit nervous as I watched them flying round from the pit wall. My concerns were unfounded as Matt drove impeccably all day. I then jumped into the passenger seat of Alex's E36. Matt must have seen me because instead of passing us when he caught up, he sat behind with a huge grin on his face waving for a couple of laps. 
I couldn't believe we were approaching the end of the day and I quickly drove across to Tony and he strapped himself in before we drove out for the last 5 minutes of the day. As we came past the pit wall on the next lap, the circuit staff were waving at us and pointing to their neck. I reached up and everything felt okay and told Tony to do the same. 
"Ah, it appears in my haste to strap myself in, I forgot to fasten my chin strap on my helmet" 
He was quite a mobile passenger, by that I mean, his legs and arms never stayed still as he kept bracing himself against the braking and cornering G-forces in the Golf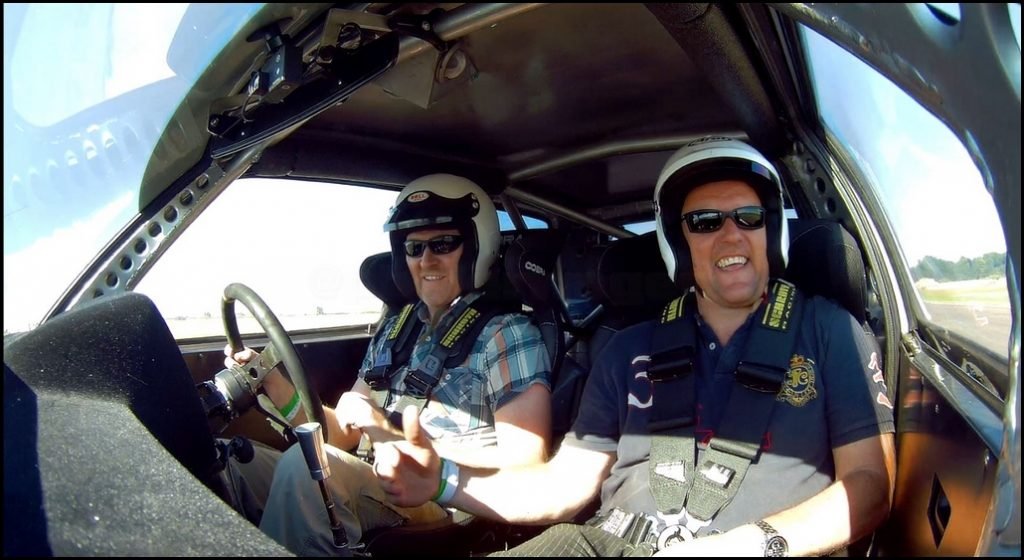 Once the day was over, we loaded up and said our goodbyes before setting off on the 5 hour drive home. I had a huge smile on my face, yes, I'd had the downpipe fracture, but that was the only issue during the day even in the incredibly high temperatures, we'd driven over 210 miles on circuit, the car had felt incredible and all 3 of us had  really enjoyed the day. Gav had not listened to us and decided he didn't need any sun cream. The fact that he looked like a lobster at the end of the day suggested otherwise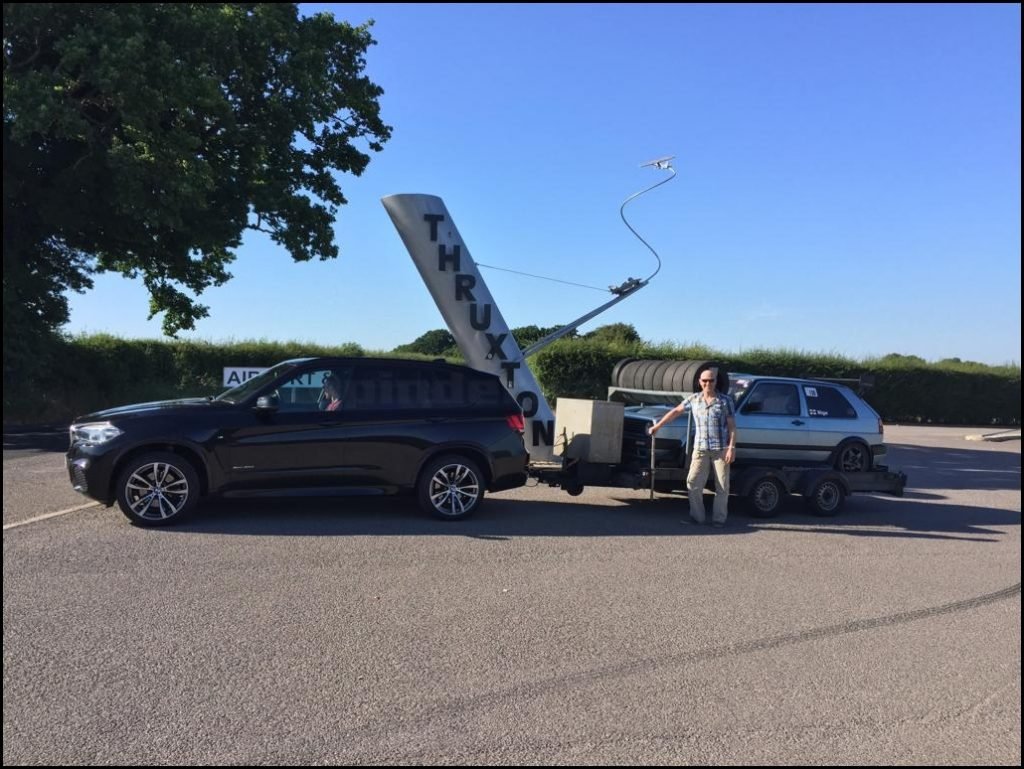 We'd had a very pleasant drive home when we hit some road works around Nottingham which was no issue until a car pulled from the outside lane to the inside lane with no warning causing me to break suddenly. We all felt a bit of a clunk from the trailer but put it down to the trailer brakes engaging.
A mile later as we exited the roadworks and accelerated up to speed we could all head a strange noise coming from behind. Not wanting to risk anything, I pulled onto the hard shoulder. 
The bloody wheel had nearly fallen off!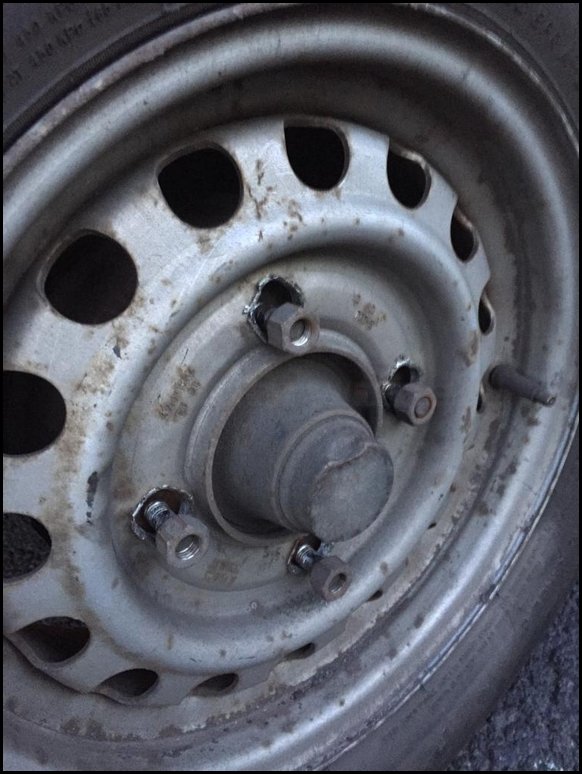 I don't really know how this happened, the wheel hadn't been touched since I serviced the trailer brakes over the winter and since then I have towed over 2,000 miles. I had a spare wheel and we quickly changed this at the side of the motorway. 
Once home, I checked the other 3 wheels and all the wheel nuts were still torqued up correctly. 
This was another highly enjoyable track day with no major issues. Since then I've repaired the downpipe and added extra bracing to stop this happening again. 
Thruxton is one of the fastest circuits in the country and was a fantastic place for me to fully explore the high speed handling characteristics of the car. As James says, its very difficult to put into words quite how different this car feels to a normal MK2 Golf. If I had to list the most commonly used word to describe it from various passengers over the years, it would be "planted". What that one word can't convey is how much confidence that gives me as the driver to press on when driving a MK2 Golf registered in 1990 at what are quite ridiculous speeds. I am well aware that any modern hot hatch can probably keep up with the Golf on most circuits, but to look at it in such simple terms is completely missing the point